After loss, Greensboro still one win away from clinching playoff spot
Hudson Valley hands Quinn Priester rare loss, beats Hoppers 6-5 to stave off elimination
WAPPINGERS FALLS, N.Y. ― Different day, same magic number. Anthony Volpe, the top prospect in the Yankees farm system in the MLB Pipeline rankings, hit a solo home run, walked twice and scored two runs, and the Hudson Valley Renegades staved off elimination with a 6-5 victory over the Greensboro
WAPPINGERS FALLS, N.Y. ― Different day, same magic number.
Anthony Volpe, the top prospect in the Yankees farm system in the MLB Pipeline rankings, hit a solo home run, walked twice and scored two runs, and the Hudson Valley Renegades staved off elimination with a 6-5 victory over the Greensboro Grasshoppers at Dutchess Stadium on Wednesday night.
The Renegades beat Hoppers ace Quinn Priester (7-4, 3.04 ERA), the Pirates' No. 2 prospect, who walked five and allowed five earned runs in 2 2/3 innings.
Lefty-hitting catcher Blake Sabol went 2-for-3 with a home run, a double and two RBIs to lead Greensboro (72-44), which holds a three-game lead on Hudson Valley (69-47) with four games left in their season-ending series.
The Hoppers need to win just one of the remaining four games in this critical series to clinch a postseason spot. Hudson Valley must win all four.
The Bowling Green Hot Rods (79-36) have clinched the top seed and home-field advantage in the High-A East's best-of-five championship series. The teams with the two best records in the 12-team league ― regardless of division ― earn playoff spots, and the Hoppers and Renegades are chasing the No. 2 seed.
The championship series begins with two games at either Greensboro or Hudson Valley on Tuesday and Wednesday, Sept. 21 and 22. Thursday is a travel day to Bowling Green, with games Sept. 24, 25 and 26 if necessary.
Jared Triolo went 2-for-5 with an RBI double for the Hoppers on Wednesday, and lead-off hitter Liover Peguero, a shorstop rated by MLB Pipeline as Pittsburgh's No. 5 prospect, was 2-for-5 with a run scored and his 26th stolen base of the season.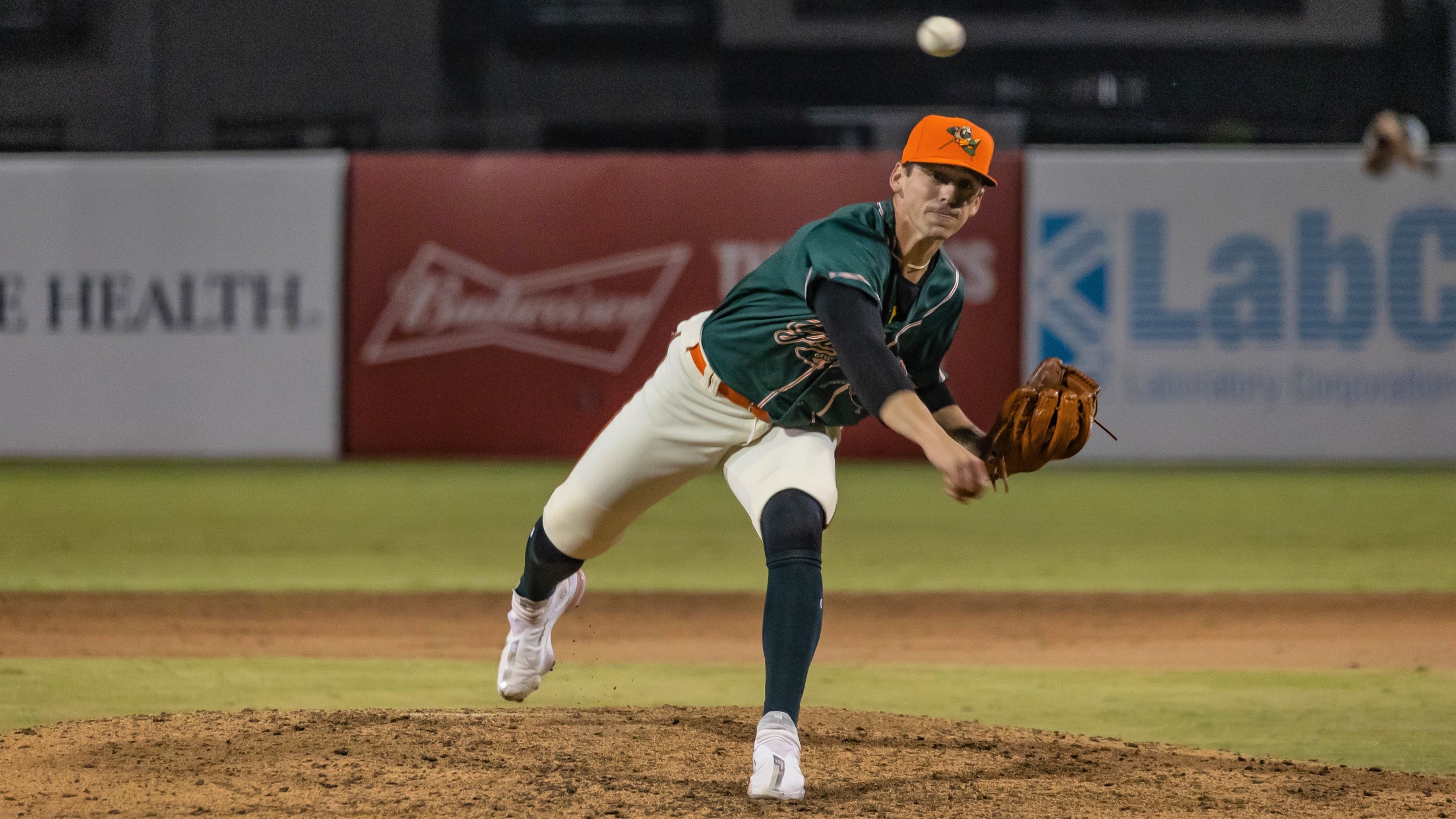 Priester, a right-hander who has been Greensboro's best and most consistent pitcher all season, wasn't sharp Wednesday, throwing just 32 of his 66 pitches for strikes. Reliever Bear Bellomy kept the game in reach, allowing one run and striking out eight in 3 1/3 innings.
Greensboro stranded two baserunners in the seventh inning, and had two more on base in the eighth when Will Matthiessen was thrown out trying to steal third base with two outs.
Notes
Left fielder Lolo Sanchez stayed hot, going 1-for-3 with a walk and a run scored. Sanchez leads the league with 30 stolen bases, 55 walks and 78 runs scored. In his last 30 games, Sanchez has batted .354 (40-for-113) with 29 runs scored.
The Grasshoppers are playing their 20th six-game series of the season. They have won or split 17 of 19 series this season. Since splitting their first five series for a 15-15 record, Greensboro is 57-29 (.663 win percentage).
Greensboro is 35-20 in road games this season, the fewest road losses of any team in the High-A East. Hudson Valley is 36-19 at home.
Greensboro is 20-12 this season against teams that are .500 or above. Hudson Valley, which has played the weakest schedule in the league, is just 2-6 against .500-or-better teams (all eight of those games against the Hoppers).
Hoppers third baseman Jared Triolo leads the High-A East with 124 hits and 28 doubles. He ranks second with a .304 batting average and third with 77 RBIs. Triolo was batting just .217 on June 2, but in 82 games since then he has batted .326 with 25 doubles, 12 home runs, 62 RBIs and 23 stolen bases.
Second baseman Nick Gonzales, the seventh overall pick in the 2020 draft and a player ranked by MLB Pipeline as the Pirates' No. 4 prospect, was the High-A East's player of the month in August. Gonzales got off to a slow start when he went on the injured list with a broken finger in May, and he was batting just .214 on July 15. In his 47 games since then, Gonzales has raised his batting average to .304 by hitting .357 (70-for-196) with 16 doubles, three triples, 12 home runs and 42 RBIs.
First baseman Will Matthiessen has hit safely in 13 of his last 15 games, and he's batting .311 in September.
In his last 16 games, catcher/DH Blake Sabol is 20-for-63 (.317) with five home runs, five doubles, 14 runs scored and 15 RBIs.
In his career at the News & Record, journalist Jeff Mills won 10 national and 12 state writing awards from the Associated Press Sports Editors, the Society for Features Journalism, and the N.C. Press Association.