Hoppers magic number down to 4
Greensboro loses at Jersey Shore, but inches closer to playoff spot as Hudson Valley also loses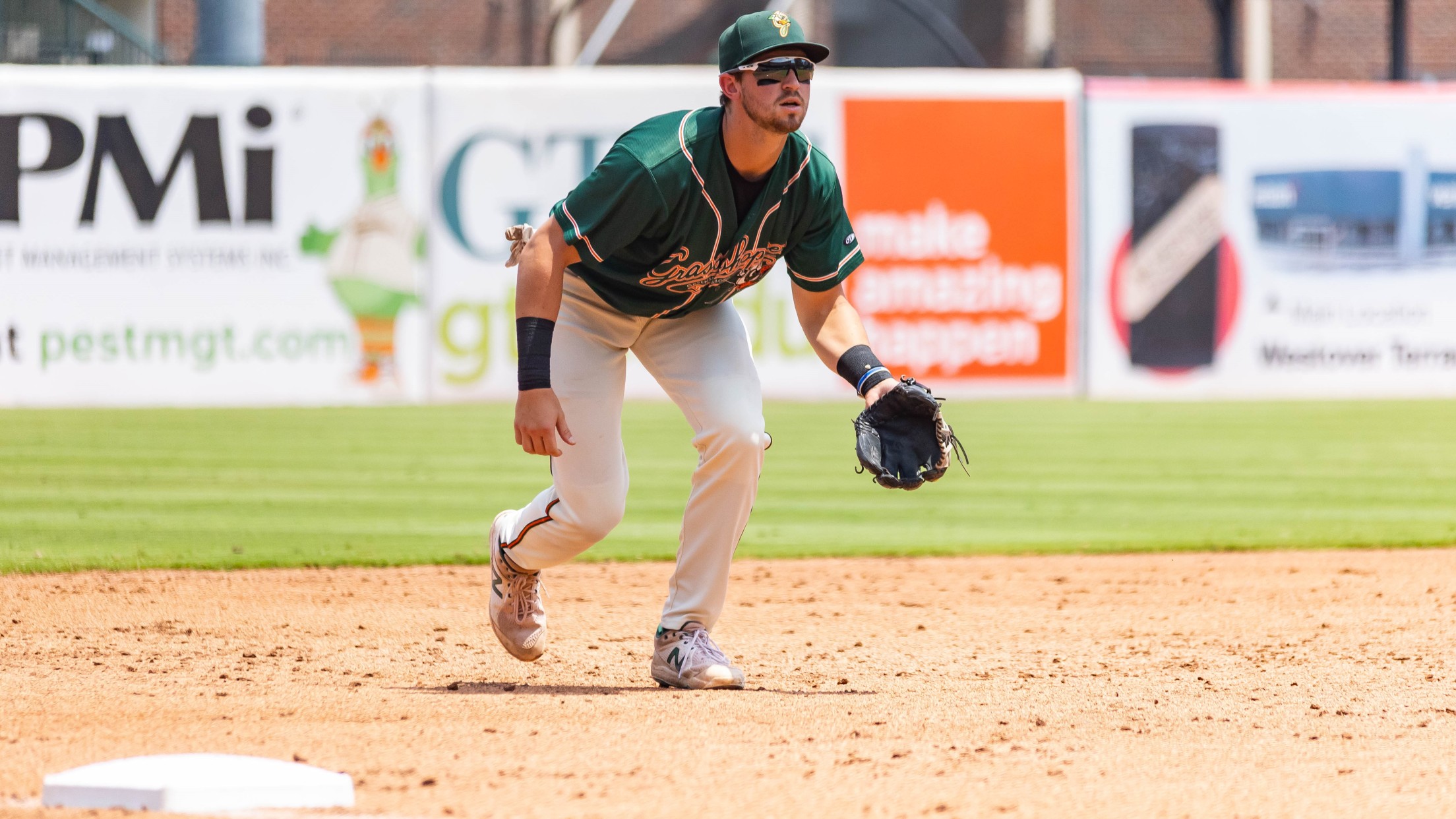 Third baseman Jared Triolo leads the High-A East in hits, and he ranks second in RBIs and batting average. (Jak Kerley/Greensboro Grasshoppers)
LAKEWOOD, N.J. ― Carlos De La Cruz hit a two-out RBI single in the bottom of the seventh inning, starting a three-run rally that broke a 4-4 tie and lifted the Jersey Shore BlueClaws to an 8-5 victory over the Greensboro Grasshoppers at FirstEnergy Field on Thursday night. Jonathan Guzman
LAKEWOOD, N.J. ― Carlos De La Cruz hit a two-out RBI single in the bottom of the seventh inning, starting a three-run rally that broke a 4-4 tie and lifted the Jersey Shore BlueClaws to an 8-5 victory over the Greensboro Grasshoppers at FirstEnergy Field on Thursday night.
Jonathan Guzman followed with a two-run double to cap the rally against losing pitcher Michell Miliano (1-2, 5.40 ERA). Guzman finished 3-for-4 with a home run, a double and three RBIs for the BlueClaws.
Jared Triolo and Lolo Sanchez had two hits apiece to lead the Hoppers, whose magic number to clinch a postseason berth is four.
Liover Peguero, a shortstop rated by MLB Pipeline as the No. 5 prospect in Pittsburgh's farm system, returned to Greensboro's lineup as the designated hitter and went 1-for-5 with an RBI double. Peguero hadn't played in a week after hurting a leg beating out an infield single last Thursday.
Greensboro (71-40) moved closer to a playoff spot despite the loss, because North Division leader Hudson Valley (65-46) also lost Thursday. With nine games left in the regular season ― including six head-to-head next week ― the Hoppers lead the Renegades by six games in the race for the second-best record in the High-A East.
The Grasshoppers trail the first-place Bowling Green Hot Rods (76-35) by five games in the South Division standings, but the Hoppers still control their own playoff destiny.
That's because the two teams with the best regular-season records ― regardless of division ― qualify for the High-A East's best-of-five championship series.
Any combination of Greensboro wins or Hudson Valley losses adding up to four will clinch a playoff spot for the Grasshoppers. The Hoppers close the regular season on the road next week with a six-game series against the Renegades in Wappingers Falls, near Poughkeepsie, N.Y.
The championship series begins with two games at the lower seed's home park Tuesday and Wednesday, Sept. 21 and 22. Thursday is a travel day to the top seed's ballpark, with games Sept. 24, 25 and 26 if necessary.
The Hoppers have won 12 of their last 16 games.
Utility infielder Andres Alvarez has played a key role, filling in for Peguero and second baseman Nick Gonzales and starting the last six games. Alvarez went 1-for-5 with a run scored Thursday, and he has an 11-game hitting streak dating back to Aug. 15, going 19-for-47 (.404) in that span with four home runs, six doubles and 14 runs scored.
Notes
Third baseman Jared Triolo leads the High-A East with 120 hits, and he ranks second with 75 RBIs and a .308 batting average. Triolo was batting just .217 on June 2, but in 78 games since then he has batted .332 with 24 doubles, 12 home runs, 60 RBIs and 23 stolen bases.
Second baseman Nick Gonzales, the seventh overall pick in the 2020 draft and a player ranked by MLB Pipeline as the Pirates' No. 4 prospect, sat out Thursday. Gonzales was the High-A East's player of the month in August. He went on the injured list with a broken finger in May, and he was batting just .214 on July 15. In the 42 games since then, Gonzales has raised his batting average to .303 by hitting .361 (65-for-180) with 14 doubles, three triples, 12 home runs and 40 RBIs.
The Hoppers are playing their 19th six-game series of the season. They have won or split 17 of 18 series so far. Since splitting their first five series of the season, the Grasshoppers are 56-25 (.691 win percentage).
Left fielder Lolo Sanchez leads the league with 29 stolen bases and 53 walks. In his last 25 games, Sanchez has batted .340 (32-for-94) with 24 runs scored.
In his career at the News & Record, journalist Jeff Mills won 10 national and 12 state writing awards from the Associated Press Sports Editors, the Society for Features Journalism, and the N.C. Press Association.