Hoppers win at Hudson Valley, pull one win away from postseason berth
Aaron Shackelford goes 3-for-3 with 3 RBIs, and Lolo Sanchez hits his 17th home run as Hoppers clobber Renegades 10-1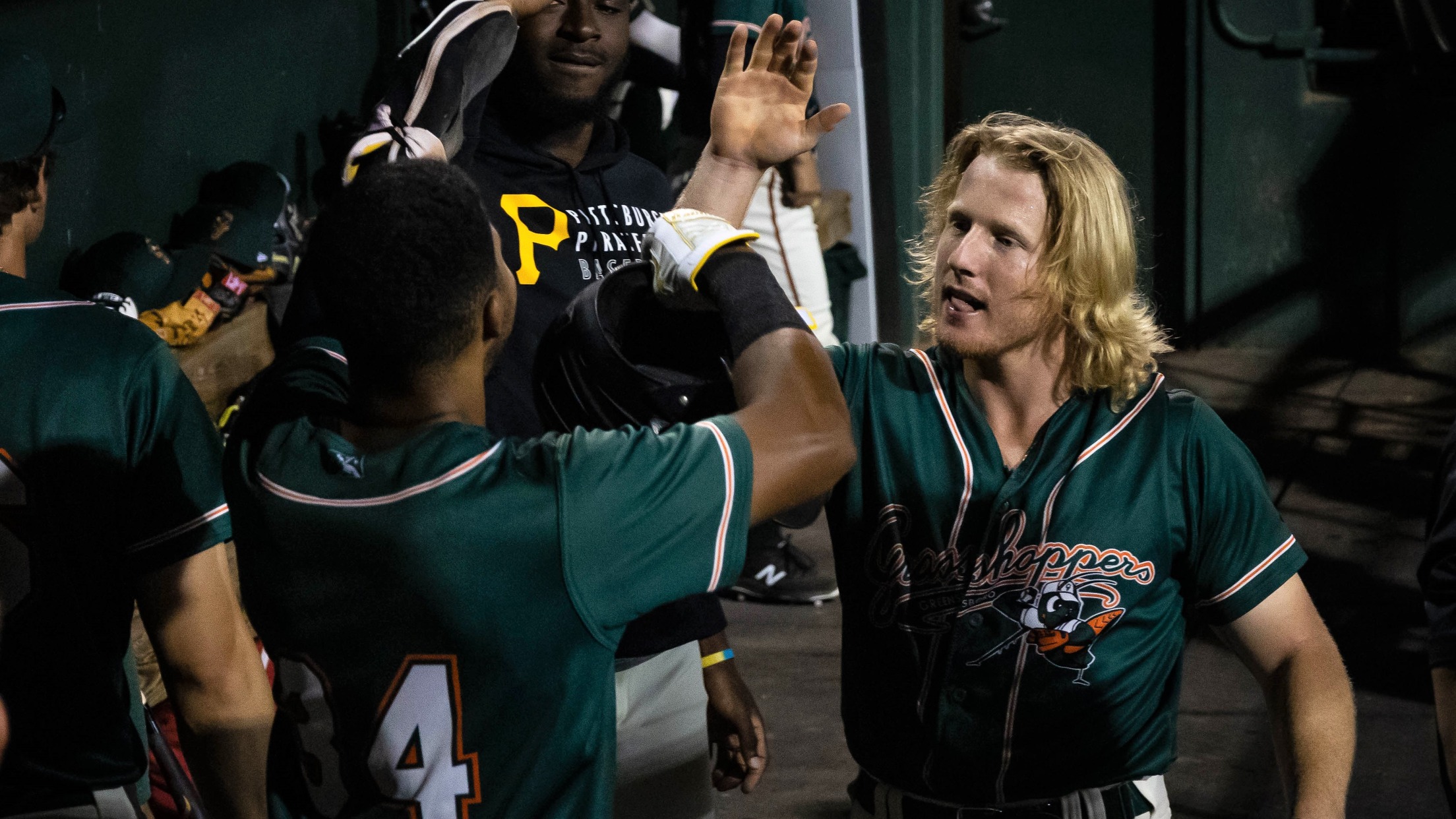 Aaron Shackelford (right) high-fives Lolo Sanchez. Shackelford went 3-for-3 with a double and three RBIs, and Sanchez hit his 17th home run in the Hoppers 10-1 win at Hudson Valley. (Jak Kerley/Greensboro Grasshoppers)
WAPPINGERS FALLS, N.Y. ― One more win. Just one. That's all the Greensboro Grasshoppers need to lock up a spot in next week's High-A East championship series. Aaron Shackelford went 3-for-3 with a double, two walks and three RBIs, and Lolo Sanchez hit his 17th home run and swiped his
WAPPINGERS FALLS, N.Y. ― One more win. Just one.
That's all the Greensboro Grasshoppers need to lock up a spot in next week's High-A East championship series.
Aaron Shackelford went 3-for-3 with a double, two walks and three RBIs, and Lolo Sanchez hit his 17th home run and swiped his league-leading 30th stolen base, leading the Hoppers to a 10-1 victory over the Hudson Valley Renegades at Dutchess Stadium on Tuesday night.
Nick Gonzales went 3-for-4 with a double, two walks and an RBI for Greensboro (72-43), which holds a four-game lead on Hudson Valley (68-47) with five games left in the regular season.
Greensboro needs to win just one of the remaining five games in this critical series to clinch a postseason spot. Hudson Valley must win all five.
The Bowling Green Hot Rods (79-36) have clinched the top seed and home-field advantage in the best-of-five championship series. The teams with the two best records in the 12-team High-A East ― regardless of division ― earn playoff spots, and the Hoppers and Renegades are chasing the No. 2 seed.
The championship series begins with two games at either Greensboro or Hudson Valley on Tuesday and Wednesday, Sept. 21 and 22. Thursday is a travel day to Bowling Green, with games Sept. 24, 25 and 26 if necessary.
The Hoppers pushed Hudson Valley to the brink of elimination Tuesday, scoring 10 runs on 12 hits and 10 walks. All nine men in the lineup reached base at least once.
All that offense backed up a badly-needed solid pitching performance, as Greensboro snapped a four-game losing streak.
Michael Burrows, a right-hander ranked by MLB Pipeline as the No. 14 prospect in Pittsburgh's farm system, made just his second start since returning from the injured list. Burrows (2-2, 2.20 ERA) missed 55 days with an oblique strain, and he has worked under limited pitch-counts in these last two starts.
Burrows threw 50 pitches in three innings Tuesday, allowing one earned run in three innings and striking out three.
Right-hander Domingo Gonzalez (2-2, 6.46 ERA) picked up the win in relief, allowing three hits in five scoreless innings. Newcomer Jack Carey, a right-hander who pitched collegiately at Duke, struck out the side in the ninth inning.
The Hoppers scored four runs in the fourth inning to break a 1-1 tie.
Will Matthiessen hit an RBI single to start the rally. Shackelford hit a two-run single, and Jonah Davis capped it with an RBI double.
Sanchez stayed hot, going 2-for-6 with two runs scored. He leads the league with 30 stolen bases, 54 walks and 77 runs scored. In his last 29 games, Sanchez has batted .355 (39-for-110) with 28 runs scored.
Notes
The Grasshoppers are playeing their 20th six-game series of the season. They have won or split 17 of 19 series this season. Since splitting their first five series for a 15-15 record, Greensboro is 57-28 (.671 win percentage).
Greensboro is 36-19 in road games this season, the fewest road losses of any team in the High-A East. Hudson Valley is 36-19 at home.
Greensboro is 20-11 this season against teams that are .500 or above. Hudson Valley, which has played the weakest schedule in the league, is just 1-6 against above-.500 teams (all seven of those games against the Hoppers).
Hoppers third baseman Jared Triolo went 1-for-5 with an RBI Tuesday. He leads the High-A East with 122 hits and 27 doubles. He ranks second with a .303 batting average and third with 76 RBIs. Triolo was batting just .217 on June 2, but in 81 games since then he has batted .325 with 24 doubles, 12 home runs, 61 RBIs and 23 stolen bases.
Second baseman Nick Gonzales, the seventh overall pick in the 2020 draft and a player ranked by MLB Pipeline as the Pirates' No. 4 prospect, was the High-A East's player of the month in August. Gonzales got off to a slow start when he went on the injured list with a broken finger in May, and he was batting just .214 on July 15. In his 46 games since then, Gonzales has raised his batting average to .302 by hitting .356 (69-for-194) with 15 doubles, three triples, 12 home runs and 42 RBIs.
First baseman Will Matthiessen has hit safely in 12 of his last 14 games, and he's batting .317 in September. The 6-foot-7 Matthiessen is batting .239 with 13 home runs and 61 RBIs in 73 games for Greensboro. He was batting just .145 on July 1.
In his career at the News & Record, journalist Jeff Mills won 10 national and 12 state writing awards from the Associated Press Sports Editors, the Society for Features Journalism, and the N.C. Press Association.