Hoppers pitchers combine on one-hit shutout at Rome
Aaron Shackelford's HR in 9th lifts Greensboro to 2-0 win; Braves break up no-hit bid in 8th inning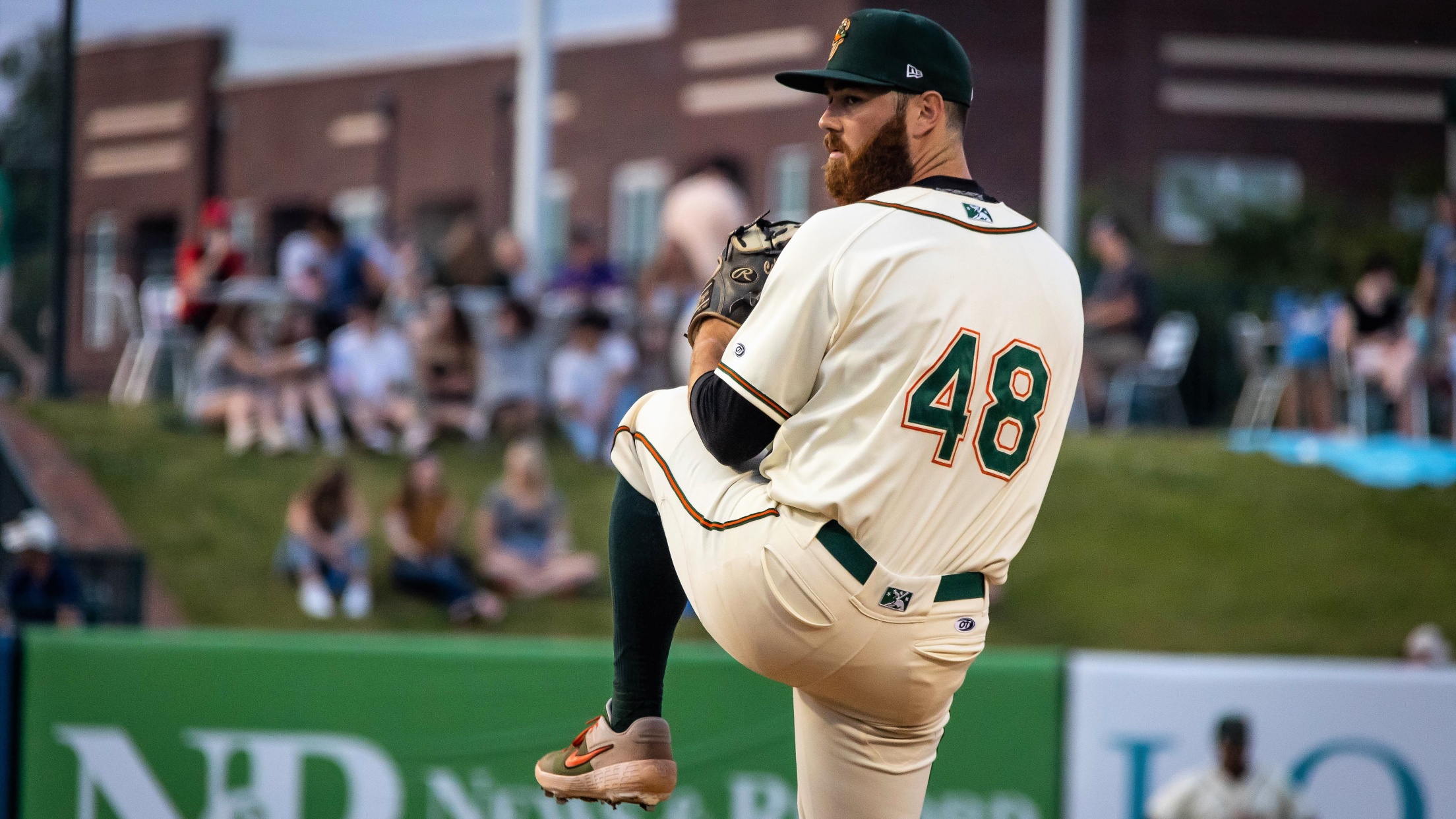 Greensboro relief pitcher Colin Selby picked up the win in a combined one-hit shutout against the Rome Braves. (Jak Kerley/Greensboro Grasshoppers)
ROME, Ga. ― Aaron Shackelford hit a two-out, two-run home run in the top of the ninth inning, and four Greensboro pitchers combined on a one-hit shutout as the Grasshoppers beat the Rome Braves 2-0 on Tuesday night at State Mutual Stadium. Hoppers lead-off hitter Matthew Fraizer went 1-for-3 to
ROME, Ga. ― Aaron Shackelford hit a two-out, two-run home run in the top of the ninth inning, and four Greensboro pitchers combined on a one-hit shutout as the Grasshoppers beat the Rome Braves 2-0 on Tuesday night at State Mutual Stadium.
Hoppers lead-off hitter Matthew Fraizer went 1-for-3 to extend his hitting streak to 11 games, and he walked on a 3-1 pitch to start the ninth inning. Rome reliever Justin Yeager struck out the next two batters, but then Shackelford hit an 0-1 pitch over the fence in right field for his 14th home run of the season.
The late rally backed up outstanding pitching from the Hoppers, who took a no-hit bid into the bottom of the eighth inning before Cody Milligan's single with two outs off Greensboro reliever Colin Selby.
Starting pitcherMichael Burrows, a right-hander ranked by MLB Pipeline as the No. 27 prospect in Pittsburgh's farm system, worked just one inning and retired the side in order on just 10 pitches.
The 21-year-old Burrows was coming off a brilliant effort in his last start, when he no-hit the Asheville Tourists for 5 1/3 innings and struck out 10. He allowed a run on just one hit and threw a season-high 86 pitches in that Wednesday start.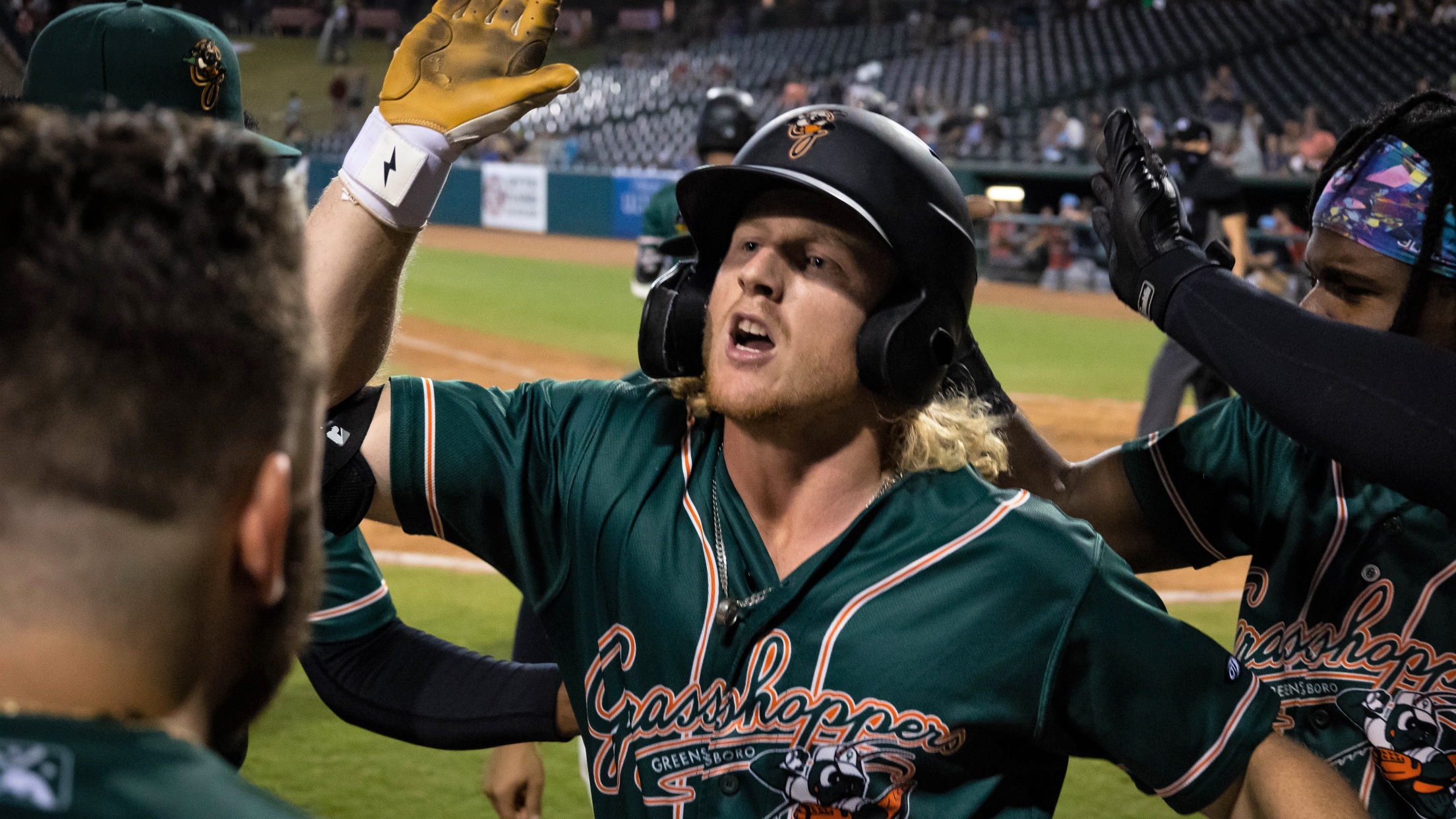 Garrett Leonard followed Burrows with four hitless innings Tuesday, striking out six. Selby (1-1, 6.26 ERA) worked the next three innings, facing just one batter over the minimum and striking out four to pick up the win.
Right-hander Austin Roberts pitched a perfect ninth inning to earn his fifth save.
In all, Greensboro pitchers walked four and struck out 12 in the one-hitter.
The Hoppers had just three hits of their own: Nick Gonzales' single, Fraizer's double in the sixth inning to extend his hitting streak, and Shackelford's home run.
Second-place Greensboro (36-25) has won x of its last x games, and trails the Bowling Green Hot Rods (39-21) by 3 1/2 games in the High-A East's South Division standings.
NOTES: Fraizer is 20-for-42 (.476) during his 11-game hitting streak, and he has hit safely in 15 of his last 16 games. Fraizer had a 16-game hitting streak in early June. ... Fraizer leads the High-A East in batting average (.330), hits (75), runs scored (44) and OPS (1.017). He ranks second in home runs (15) and on-base percentage (.414). ... Shackelford moved into a tie for third in the league with his 14th home run. He is tied for fifth in the league with a team-high 38 RBIs, and 21 of his 41 hits this season have gone for extra bases. ... This was Burrows' 11th start of the season and by far his shortest outing since throwing 46 pitches in four innings in his season debut May 7. Burrows is 2-2 with a 2.25 ERA and 63 strikeouts in 44 innings. He has held opponents to a .139 batting average.
In his career at the News & Record, journalist Jeff Mills won 10 national and 12 state writing awards from the Associated Press Sports Editors, the Society for Features Journalism, and the N.C. Press Association.