Hoppers sweep Dash to win "Battle of I-40" rivalry
Matthiessen's 8 RBIs lead doubleheader sweep as Hoppers run winning streak to 7 in a row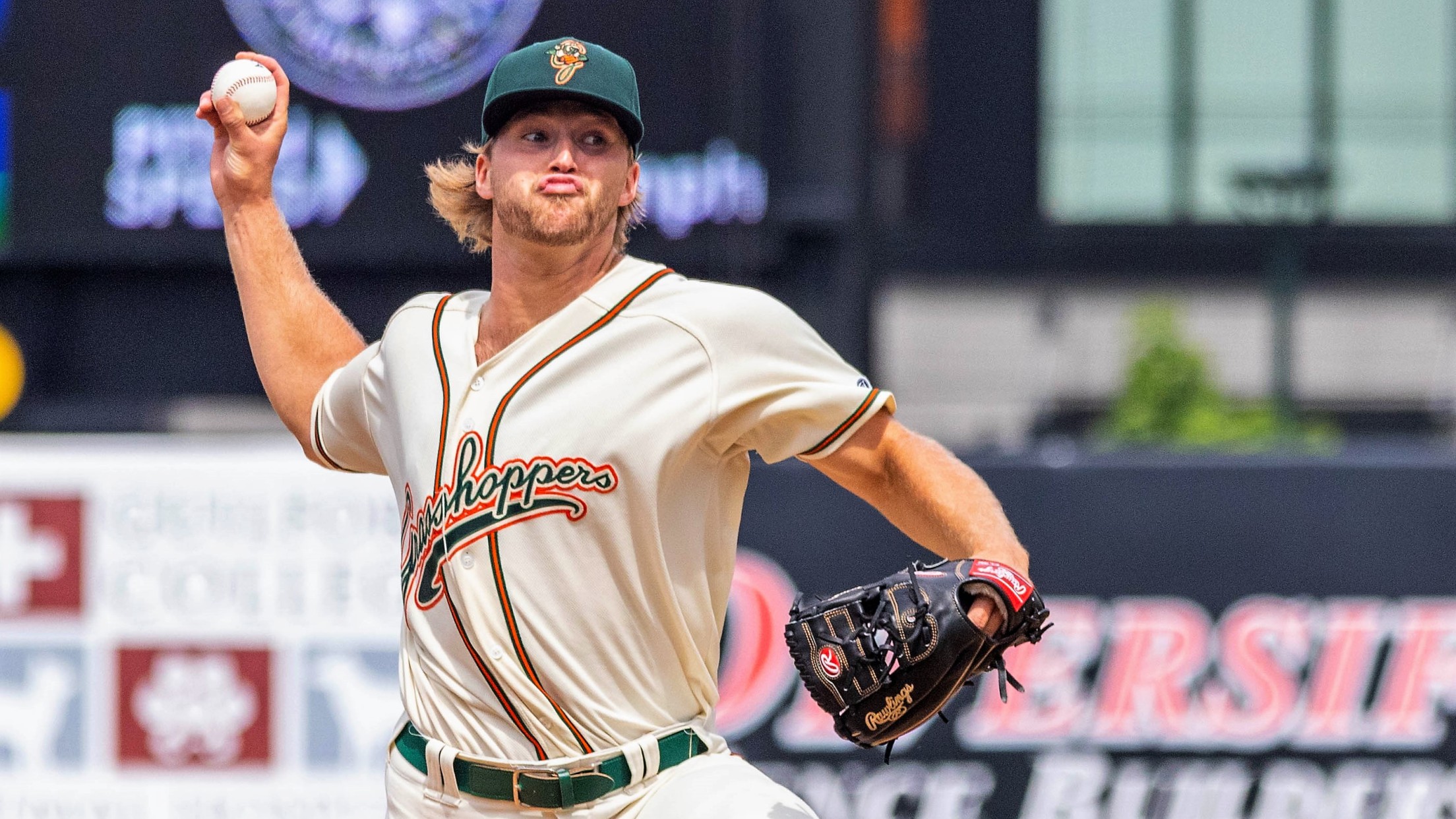 Prized prospect Carmen Mlodzinski returned to Greensboro's starting rotation after a month on the injured list. (Jak Kerley/Greensboro Grasshoppers)
WINSTON-SALEM ― Will Matthiessen homered in both games and combined to go 5-for-8 with eight RBIs, helping the Greensboro Grasshoppers close out the "Battle of I-40" rivalry series with a doubleheader sweep of the Winston-Salem Dash at Truist Stadium on Sunday afternoon. The Hoppers (58-32) finished 17-7 head-to-head against the
WINSTON-SALEM ― Will Matthiessen homered in both games and combined to go 5-for-8 with eight RBIs, helping the Greensboro Grasshoppers close out the "Battle of I-40" rivalry series with a doubleheader sweep of the Winston-Salem Dash at Truist Stadium on Sunday afternoon.
The Hoppers (58-32) finished 17-7 head-to-head against the Dash (33-57) in the "Battle of I-40" season series. This is the first summer since 1968 that teams from neighboring cities Greensboro and Winston-Salem have played in the same league in the minors.
Jared Triolo hit his 12th home run of the season as the Hoppers won the opener 4-1. Lolo Sanchez went 4-for-4 and Liover Peguero 3-for-4 in the second game, leading Greensboro to a 14-3 win.
And the doubleheader saw the return of prized prospect Carmen Mlodzinski, who started the opener and pitched two scoreless innings.
Mlodzinski, a right-hander rated by MLB Pipeline as the No. 11 prospect in Pittsburgh's farm system, came out of his last start July 10 with two outs in the fourth inning after feeling tightness in his pitching shoulder.
Mlodzinski (2-2, 2.51 ERA in 10 starts) threw 30 pitches Sunday in his return from the injured list. He allowed a hit and a walk and struck out two.
Greensboro has won seven games in a row, including a six-game sweep of the series in Winston-Salem.
The Grasshoppers moved two games ahead of the Hudson Valley Renegades (56-34) in the chase for the second-best record in the High-A East with 30 games left in the regular season. The top two teams in the league, regardless of division, qualify for a best-of-five championship series.
The Hoppers hold their playoff destiny in their own hands.
They now return home for a six-game series against the Bowling Green Hot Rods (63-27), who hold a five game lead over Greensboro in the South Division standings. And the Hoppers close the season playing 12 of their last 18 games against North Division leader Hudson Valley.
In Sunday's opener, right-hander J.C. Flowers (5-2, 4.69 ERA) picked up the win in relief, allowing a run in three innings while striking out three. Will Kobos struck out two in a scoreless inning to close the game and earn his fifth save.
Triolo homered in the first inning, and Matthiessen hit a two-run shot in the seventh.
Right-hander Tahnaj Thomas (2-2, 4.53 ERA), rated by MLB Pipeline as the Pirates' No. 6 prospect, started the second game and allowed two runs in five innings, striking out five.
Matthiessen hit a two-run homer, his eighth of the season, doubled, singled and drove in six runs.
Backup catcher Eli Wilson had his best game since his promotion from Class-A Bradenton on July 31, going 2-for-4 with a triple, a double and an RBI. Wilson has three extra-base hits in his last eight at-bats after an 0-for-11 start with the Hoppers.
Andres Alvarez and Yoyner Fajardo both doubled and singled in the game for Greensboro, which pounded out 18 hits in the game.
Notes
Greensboro has won 17 of its last 22 games and is 30-10 since July 1. The Hoppers have won or split all 15 of their six-game series this season.
Henry Davis, the No. 1 overall pick in this year's draft, started at catcher for the first time since joining the Hoppers on Thursday. He went 0-for-2 with a walk in the first game of the doubleheader, then sat out the second game.
Jared Triolo has hit safely in 32 of his last 34 games, batting .357 (50-for-140) with seven doubles, seven home runs, 31 RBIs and 12 stolen bases in that span. He ranks second in the High-A East (behind promoted teammate Matt Fraizer) with a .303 batting average, and Triolo is third in the league with 62 RBIs.
Lefty-hitting Blake Sabol has hit safely in 19 of his last 24 games, going 30-for-91 (.330) with five home runs, six doubles and two triples during that span.
Second baseman Nick Gonzales, who was the seventh overall pick in the 2020 draft and rated by MLB Pipeline as the Pirates' top prospect, has batted .337 (29-for-86) with four home runs, five doubles and a triple in his last 20 games, raising his season batting average to .280.
In his career at the News & Record, journalist Jeff Mills won 10 national and 12 state writing awards from the Associated Press Sports Editors, the Society for Features Journalism, and the N.C. Press Association.