Hoppers stay hot, win 5 of 6 in series at Rome
Nick Gonzales gets four hits, Lolo Sanchez homers and Tahnaj Thomas pitches well in return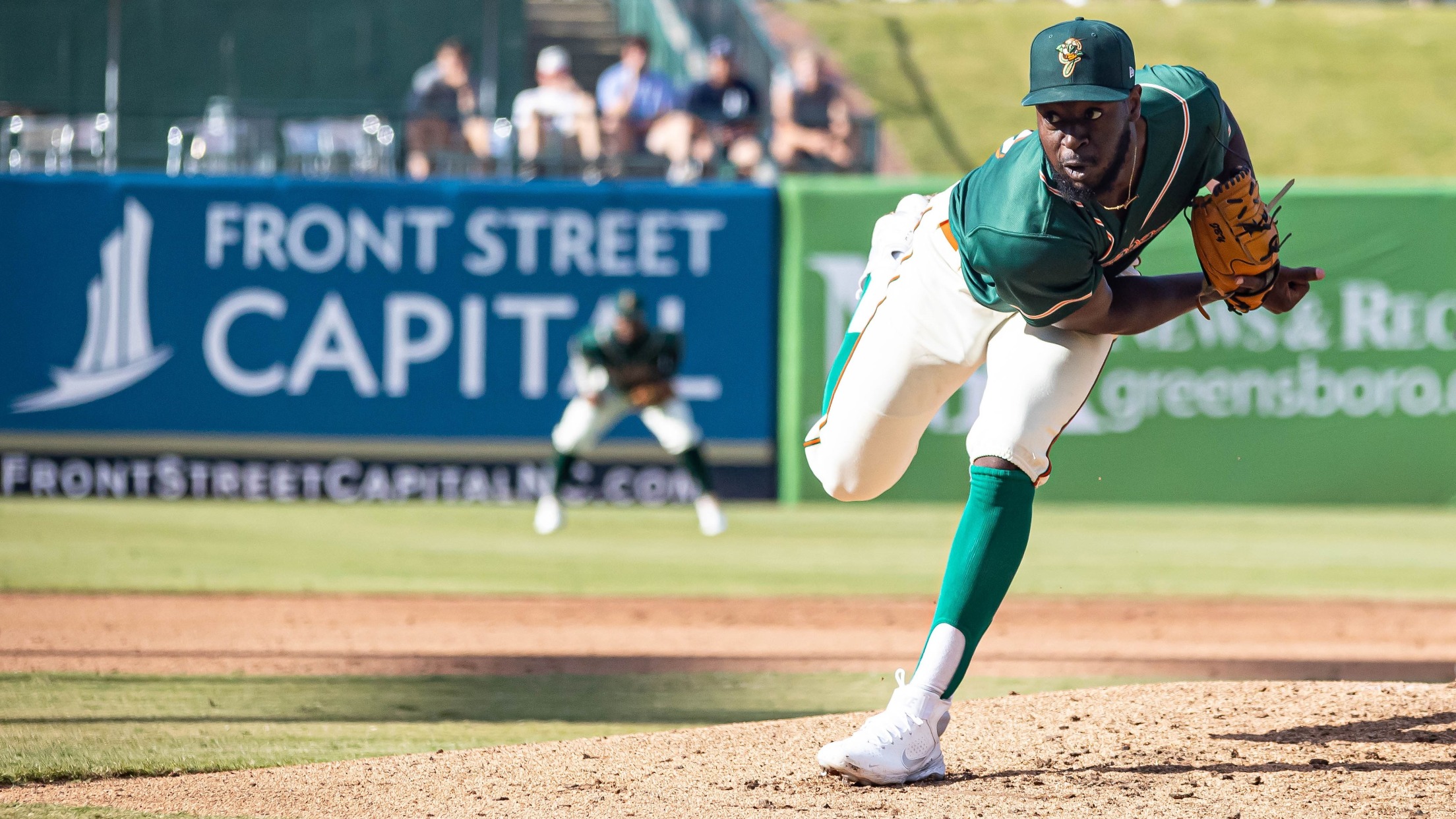 Greensboro's Tahnaj Thomas was sharp in his return to the starting rotation, walking none and striking out four in four innings at Rome. (Jak Kerley/Greensboro Grasshoppers)
ROME, Ga. ― Top prospect Nick Gonzales went 4-for-5 with a triple and an RBI, and Lolo Sanchez hit his ninth home run of the season, helping the Greensboro Grasshoppers to a 7-5 victory over the Rome Braves in their series finale Sunday afternoon at State Mutual Stadium. The Hoppers
ROME, Ga. ― Top prospect Nick Gonzales went 4-for-5 with a triple and an RBI, and Lolo Sanchez hit his ninth home run of the season, helping the Greensboro Grasshoppers to a 7-5 victory over the Rome Braves in their series finale Sunday afternoon at State Mutual Stadium.
The Hoppers won five out of six games in their series at Rome, and they have won 11 of their last 14 games. Greensboro (40-26) kept pace with the first-place Bowling Green Hot Rods (45-21), who have won 10 of their last 11 and lead the High-A East's South Division standings by five games.
Greensboro has Monday off, then opens a six-game series Tuesday in Greenville, S.C., against the Drive.
Right-hander Tahnaj Thomas, who had missed his last two turns in Greensboro's rotation, pitched well in his first start since June 24.
Thomas, a hard-throwing 22-year-old rated by MLB Pipeline as the No. 6 prospect in Pittsburgh's farm system, gave up a run on six hits in four innings. He walked none and struck out four, needing just 59 pitches to get through his longest outing since May 19.
In his previous five starts, Thomas had worked three or fewer innings, walking 20 and striking out 10 in a combined 11 1/3 innings.
Right-hander Alex Manasa (1-1, 5.06 ERA) picked up the win in relief, retiring all 10 batters he faced and striking out four in 3 1/3 innings. Bear Bellomy gave up a solo home run in the ninth, but struck out three and notched his second save.
Hoppers lead-off hitter Matthew Fraizer doubled twice and scored twice, and Sanchez finished 2-for-3 with two runs scored and his team-leading 20th stolen base.
Jared Triolo drove in two runs with a two-out double in the first inning to get Greensboro started, and he swiped third for his 16th stolen base. Gonzales and Liover Peguero set the table for Triolo with back-to-back singles.
NOTES: Gonzales, a 22-year-old second baseman rated by MLB Pipeline as the Pirates' top prospect, broke out of a 2-for-28 slide by going 7-for-12 in the last three games of the Rome series, raising his season batting average to .248. ... Triolo has hit safely in 11 of his last 13 games, going 18-for-54 (.333) and raising his season average to .277. ... Fraizer leads the High-A East with 78 hits and 46 runs scored, and he ranks third with a .312 batting average. ... Fraizer and teammate Aaron Shackelford are tied for third in the league with 15 home runs apiece. ... Fraizer, Shackelford and Triolo share the team lead and are tied for eighth in the league with 39 RBIs each.
In his career at the News & Record, journalist Jeff Mills won 10 national and 12 state writing awards from the Associated Press Sports Editors, the Society for Features Journalism, and the N.C. Press Association.