Gonzales, Macias hit HRs as Hoppers win in series finale
Red-hot Greensboro takes five of six in series with Greenville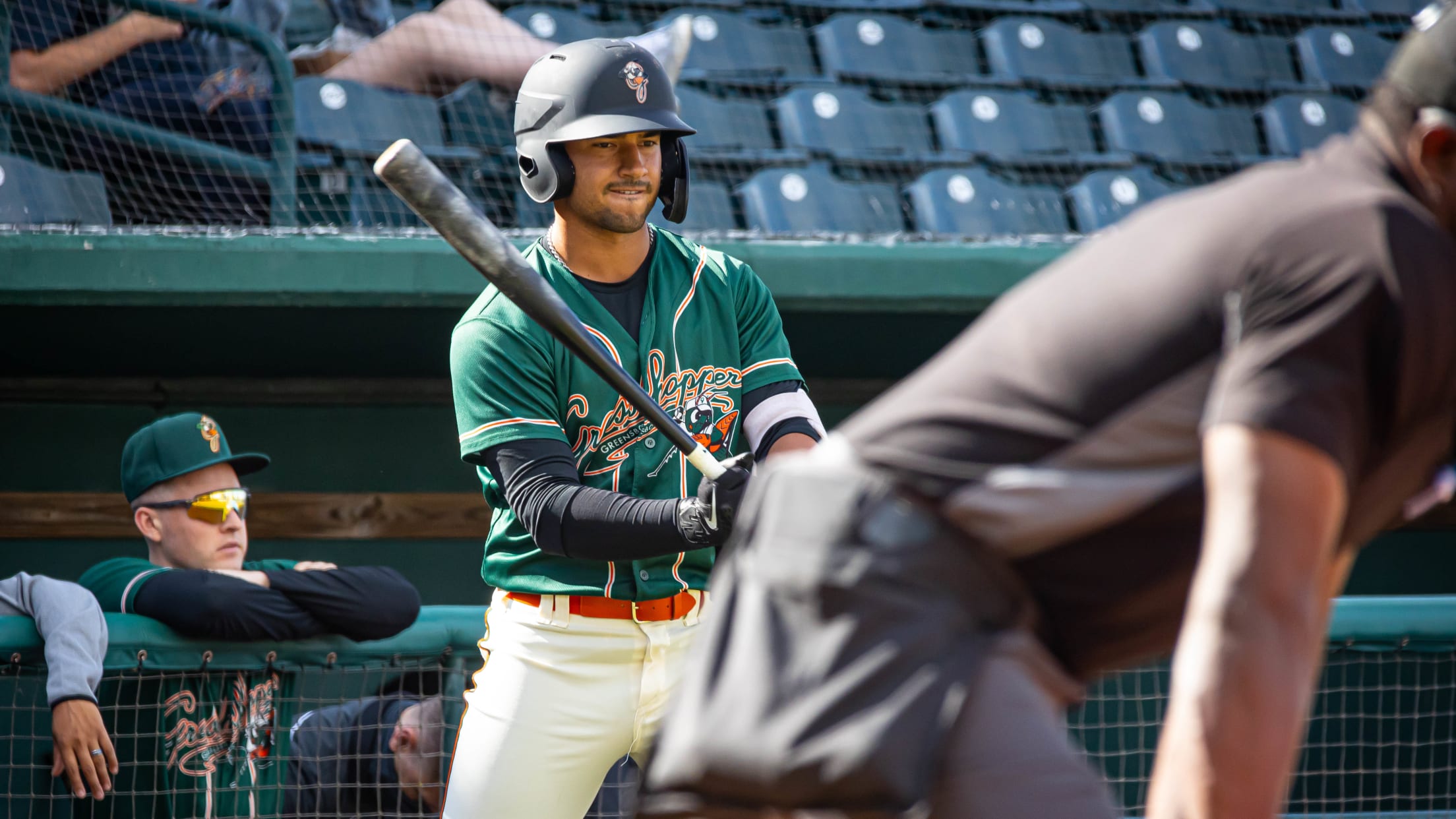 Nick Gonzales returned to the Grasshoppers lineup after missing 32 games with a broken finger. (Jak Kerley/Greensboro Grasshoppers)
GREENSBORO ― Top prospect Nick Gonzales homered in his second consecutive game since returning from the injured list, and Fabricio Macias hit a home run to extend his hitting streak to 10 games, leading the Greensboro Grasshoppers to a 9-5 victory over the Greenville Drive on a sunny Sunday afternoon
GREENSBORO ― Top prospect Nick Gonzales homered in his second consecutive game since returning from the injured list, and Fabricio Macias hit a home run to extend his hitting streak to 10 games, leading the Greensboro Grasshoppers to a 9-5 victory over the Greenville Drive on a sunny Sunday afternoon at First National Bank Field.
The second-place Hoppers (28-20) won five out of six games in their series with the Drive (24-24). They'll make the 10-hour bus ride to Bowling Green, Ky., to take on the first-place Hot Rods (31-15) in a six-game series Tuesday through Sunday.
It's a 486-mile one-way trip ― into a different time zone, no less ― from First National Bank Field to Bowling Green Stadium, by far the longest trip for the Hoppers within the High-A East's South Division.
But they make the trip coming off their best series of the season.
Gonzales, rated by MLB Pipeline as the No. 1 prospect in Pittsburgh's farm system, missed 32 games after breaking the pinky finger on his right hand in a collision at first base last month in Hickory. The seventh overall pick in last year's draft came off the IL on Saturday and homered in his first plate appearance as the designated hitter.
Gonzales returned to second base Sunday afternoon, and he went 1-for-4 with a long two-run home run to opposite field, just to the left of the scoreboard.
Macias, meanwhile, stayed hot. He put the Hoppers on the scoreboard with a solo shot in the second inning off losing pitcher Grant Gambrell (0-2, 8.74 ERA) that extended his hitting streak. He is batting .450 (18-for-40) during those 10 games, and he has hit safely in 18 of his last 20 games. The 23-year-old outfielder from Mexico has 11 multi-hit games during that stretch, and he ranks second in the league with a .333 batting average.
Right-hander J.C. Flowers (2-0, 1.50 ERA) gave up one earned run in five innings to get the win, and Austin Roberts struck out five in the last two innings to pick up his fourth save.
The Hoppers rested four of their regular starters ― third baseman Jared Triolo, catcher Grant Koch, and outfielders Lolo Sanchez and Matt Gorski ― in the matinee game. Three of the reserve players delivered big games.
Left fielder Chase Murray went 3-for-4 with an RBI and three stolen bases. Utility infielder Francisco Acuna went 2-for-3 with a double and two RBIs. And catcher Dylan Shockley hit a clutch two-out RBI single.
NOTES: Two of Greenville's hits in the game were high pop-ups in shallow left field lost in the afternoon sun. Cam Cannon legged out a double on a pop-up shortstop Liover Peguero couldn't find, and neither Peguero nor left fielder Murray could see Wil Dalton's pop-up. The ball struck Murray in the shoulder and bounced away, and Dalton ended up on third base with a triple. ... It was a frustrating series for the Drive, who started the week tied for second place with Greensboro. It boiled over in the afternoon sun, as hitting coach Nate Spears and later manager Iggy Suarez were ejected by plate umpire Clay Williams for arguing balls and strikes.
In his career at the News & Record, journalist Jeff Mills won 10 national and 12 state writing awards from the Associated Press Sports Editors, the Society for Features Journalism, and the N.C. Press Association.