Hoppers win on Ernny Ordoñez's 3-run HR in 10th
Ordoñez goes 3-for-4 and Endy Rodriguez homers again as Greensboro gets extra-inning win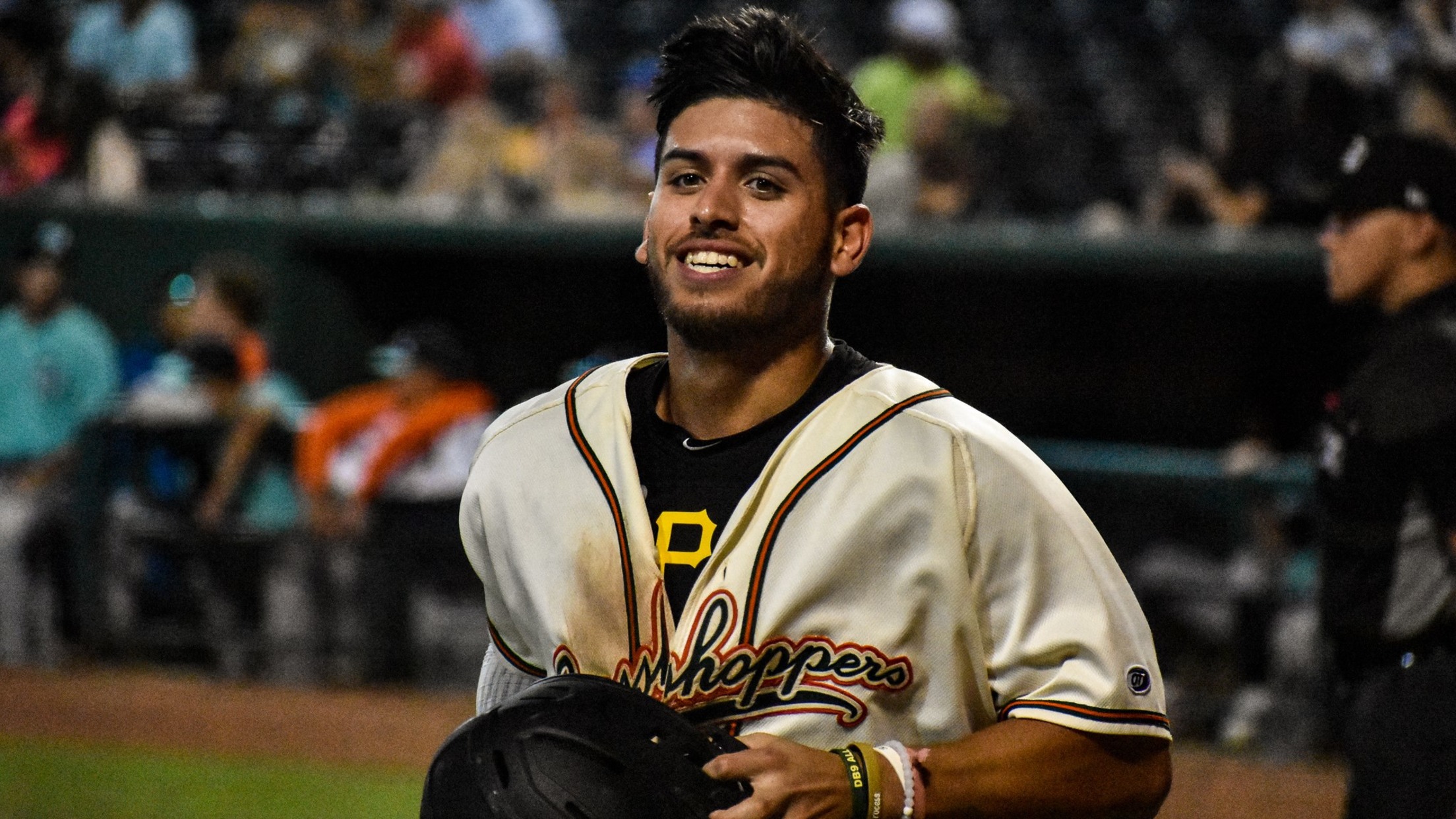 Greensboro Grasshoppers first baseman Ernny Ordoñez hit a game-winning 3-run home run in the 10th inning. (Kaylen Ayres/contributed photo)
GREENSBORO ― Ernny Ordonez hit a three-run home run in the bottom of the 10th inning, lifting the Greensboro Grasshoppers to a wild 8-6 victory over the Winston-Salem Dash at First National Bank Field on Tuesday night. Ordoñez's 12th homer of the season, on an 0-1 pitch from Dash reliever
GREENSBORO ― Ernny Ordonez hit a three-run home run in the bottom of the 10th inning, lifting the Greensboro Grasshoppers to a wild 8-6 victory over the Winston-Salem Dash at First National Bank Field on Tuesday night.
Ordoñez's 12th homer of the season, on an 0-1 pitch from Dash reliever Ty Madrigal (0-2), sailed high into the night sky, hit the top of the fence in left-center field above the GTCC advertisement and bounced straight up in the air.
The Hoppers spilled out of the dugout and mobbed Ordoñez at home plate.
This was Greensboro's fifth walk-off victory of the season, with game-winning hits from Jack Herman, Matt Gorski, Yoyner Fajardo twice and now Ordoñez.
Trailing 6-5 to start the bottom of the 10th, Fajardo was placed at second base according to extra-inning rules, and Hudson Head drew a one-out walk. Ordoñez swung and missed at the first pitch he saw from Madrigal. He swung again on the next pitch … and he didn't miss.
Ordoñez finished the night 3-for-4 with a walk and three RBIs.
Fajardo went 2-for-5 with a 400-foot two-run home run, two runs scored and a stolen base. Endy Rodriguez hit his fifth home run in the last three games, and Jacob Gonzalez finished 2-for-5 with a run scored.
Right-hander Logan Hofmann (1-1) picked up the win in relief, wriggling out of a bases-loaded jam in the top of the 10th inning.
Hard-throwing Oliver Mateo, who shares the closer's role, struggled mightily in the 10th. He threw two wild pitches to allow the inherited runner to score, hit two batters with pitches, committed a balk and walked a batter.
Hofmann came on with the bases loaded and no outs, and he threw a pitch that skipped past catcher Rodriguez. But the Hoppers caught a break. The ball bounced hard off the brick backstop, deflecting straight back to Rodriguez, who caught it and easily tagged out the runner trying to score from third.
Hofmann struck out Luis Mieses, and one batter later coaxed a bases-loaded grounder from Tyler Osik to end the threat.
Greensboro trailed 5-3 in the eighth inning, but tied it when Dash third baseman Bryan Ramos made a costly throwing error after fielding Fajardo's sharp grounder that allowed two runs to score.
NOTES
The Hoppers were 0-for-10 with runners in scoring position Tuesday until Ordoñez's home run, stranding nine baserunners.
In the four games since the All-Star break, catcher Endy Rodriguez is 7-for-14 (.500) with five home runs, four walks, eight runs scored and eight RBIs, raising his season batting average to .287. The versatile 22-year-old is rated by MLB Pipeline as Pittsburgh's No. 6 prospect, and he has played four positions ― catcher, first base, second base and left field ― this season.
Tuesday's starter Nick Garcia ranks third among qualifiers in the South Atlantic League with a 3.73 ERA. He worked six solid innings in his 18th game of the season, but didn't figure in the decision. Garcia is one of two pitchers in the league to throw a complete-game shutout this season. He has struck out 77 in 79 ⅔ innings, and he has held opponents to a .216 batting average.
In his career at the News & Record, journalist Jeff Mills won 10 national and 12 state writing awards from the Associated Press Sports Editors, the Society for Features Journalism, and the N.C. Press Association.