Hoppers close regular season with victory, No. 2 seed in title series
Greensboro players finish 1-2-3 in batting title race; Hoppers to host first two games of championship series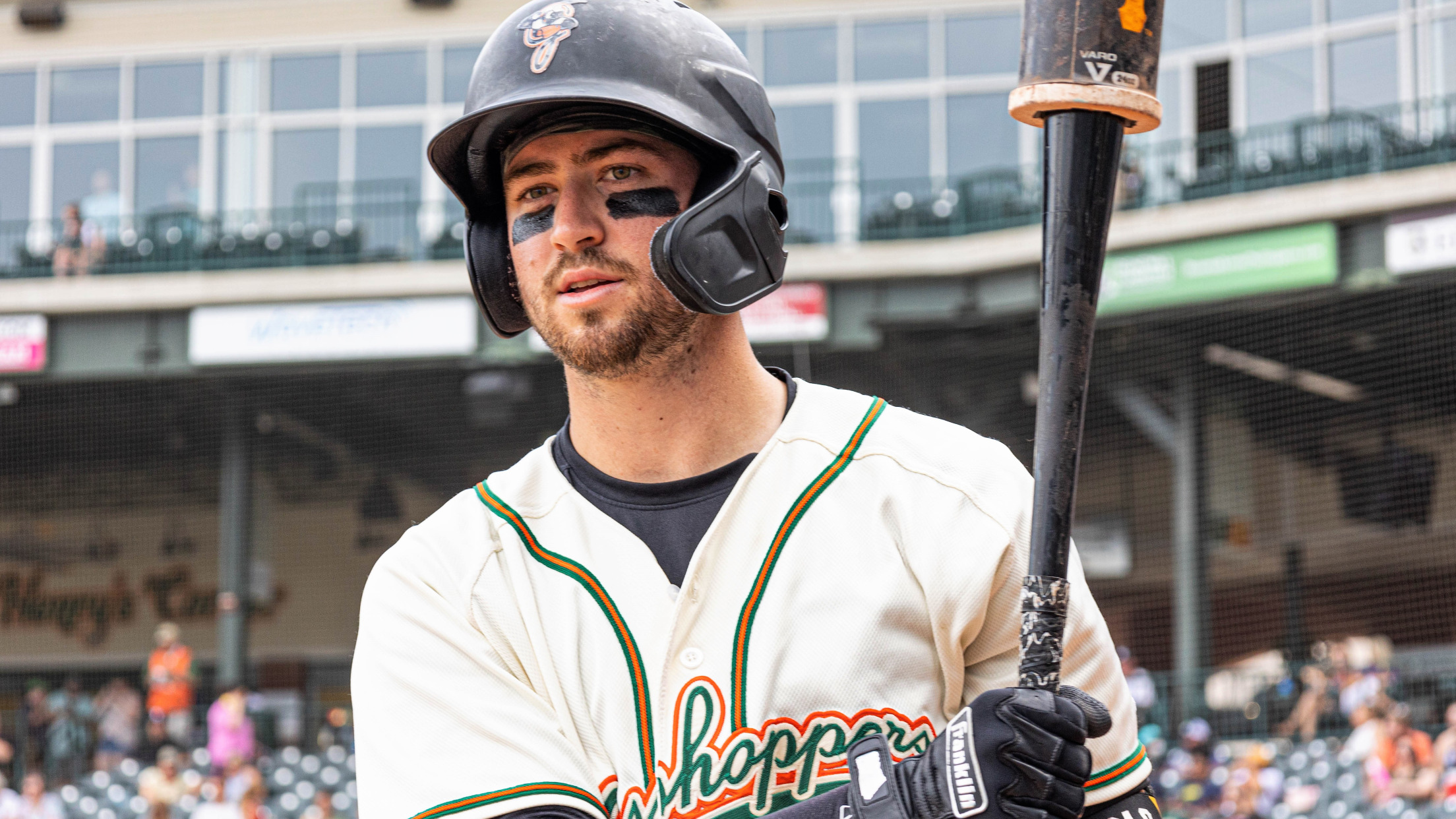 Greensboro third baseman Jared Triolo doubled and scored the go-ahead run in the regular-season finale. Triolo led the High-A East in hits, doubles and finishes second in the batting title chase. (Jak Kerley/Greensboro Grasshoppers)
WAPPINGERS FALLS, N.Y. ― The regular season is over. And now it's on to the championship series. Will Matthiessen's RBI single in the top of the seventh inning drove home Jared Triolo with the go-ahead run as the Greensboro Grasshoppers beat the Hudson Valley Renegades 6-5 at Dutchess Stadium on
WAPPINGERS FALLS, N.Y. ― The regular season is over. And now it's on to the championship series.
Will Matthiessen's RBI single in the top of the seventh inning drove home Jared Triolo with the go-ahead run as the Greensboro Grasshoppers beat the Hudson Valley Renegades 6-5 at Dutchess Stadium on Sunday afternoon, the last day of the regular season.
With the win, the Grasshoppers split the series 3-3. They finish the summer winning or splitting 18 of 20 six-game series this magical season to finishing with the second-best record in the 12-team league.
Now comes the best-of-five High-A East Championship series.
The second-seeded Hoppers (74-46) will host the top-seeded Bowling Green Hot Rods (82-36) in Games 1 and 2 of the championship series at 6:30 p.m. on Tuesday and Wednesday at First National Bank Field in Greensboro. Thursday is a travel day to Bowling Green, which hosts Games 3, 4 and 5 (if necessary) Sept. 24-26.
The Hoppers finish the season with the top three hitters in the league. Matthew Fraizer, who played 75 games in Greensboro before his promotion to Class-AA Altoona, won the batting title with a .314 average and led the league with a .979 OPS. Triolo finished second with a .304 batting average and led the league in hits (128) and doubles (29). Nick Gonzales finished third with a .302 average and second with a .950 OPS.
Greensboro won the last game of the regular season like it has so many others this season, by rallying late.
With the score tied 5-5 in the seventh inning, Triolo hit a two-out double. Matthiessen then lined the first pitch he saw from losing pitcher Edgar Barclay (1-3, 5.65 ERA) up the middle for a run-scoring single.
Right-hander Michell Miliano (2-2, 6.30 ERA) picked up the win in relief, pitching two scoreless innings. Austin Roberts retired all six batters he faced in the last two innings, striking out three, to notch his team-best ninth save.
Gonzales, who is ranked by MLB Pipeline as the No. 4 prospect in Pittsburgh's farm system, went 2-for-3 and hit his 18th home run of the season.
Matthiessen finished 2-for-5 with two RBIs, and catcher Blake Sabol hit an RBI double. Utility infielder Andres Alvarez got the start at second base and went 2-for-5 with his 10th stolen base and a run scored.
Carmen Mlodzinski, a right-hander rated by MLB Pipeline as the Pirates' No. 10 prospect, came off the injured list Friday and got the start. He went just one inning, allowing four runs and throwing 35 pitches in his first appearance in 16 days.
Notes
Bowling Green and Greensboro have played two series this season. The Hoppers are 5-7 in head-to-head games against the Hot Rods.
Greensboro and Bowling Green finished the season with identical 38-22 records in road games this season, best in the league.
Greensboro went 22-14 this season against teams that are .500 or above. Bowling Green was 15-9, while North Division champ Hudson Valley (71-49) played the weakest schedule in the league and went just 4-8 against .500-or-better competition, all 12 of those games vs. the Hoppers.
The Grasshoppers went 15-15 to start the season, splitting each of their first five series. Greensboro went 59-31 (.656 win percentage) the rest of the way.
Left fielder Lolo Sanchez sat out the finale, and he closed the regular season with hits in 10 of his last 11 games. Sanchez led the league with 30 stolen bases and 79 runs scored, and he ranked second with 55 walks. In his last 32 games, Sanchez batted .344 (42-for-122) with 30 runs scored.
Third baseman Jared Triolo finished third in the league with 78 RBIs. Triolo was batting just .217 on June 2, but in 85 games after that he batted .325 with 26 doubles, 13 home runs, 63 RBIs and 24 stolen bases.
First baseman Will Matthiessen hit safely in 16 of his last 18 games, and he batted .314 (22-for-70) with three homers, 18 RBIs and 20 runs scored in that stretch. Matthiessen was batting just .145 on July 1, but finished the season at .245.
In his last 20 games, left-hitting catcher/DH Blake Sabol went 24-for-75 (.320) with five home runs, six doubles, 14 runs scored and 16 RBIs.
In his career at the News & Record, journalist Jeff Mills won 10 national and 12 state writing awards from the Associated Press Sports Editors, the Society for Features Journalism, and the N.C. Press Association.