Hoppers win opener in Greenville,  12th win in last 15 games
Grant Ford's strong start, Jared Triolo's three hits lead Greensboro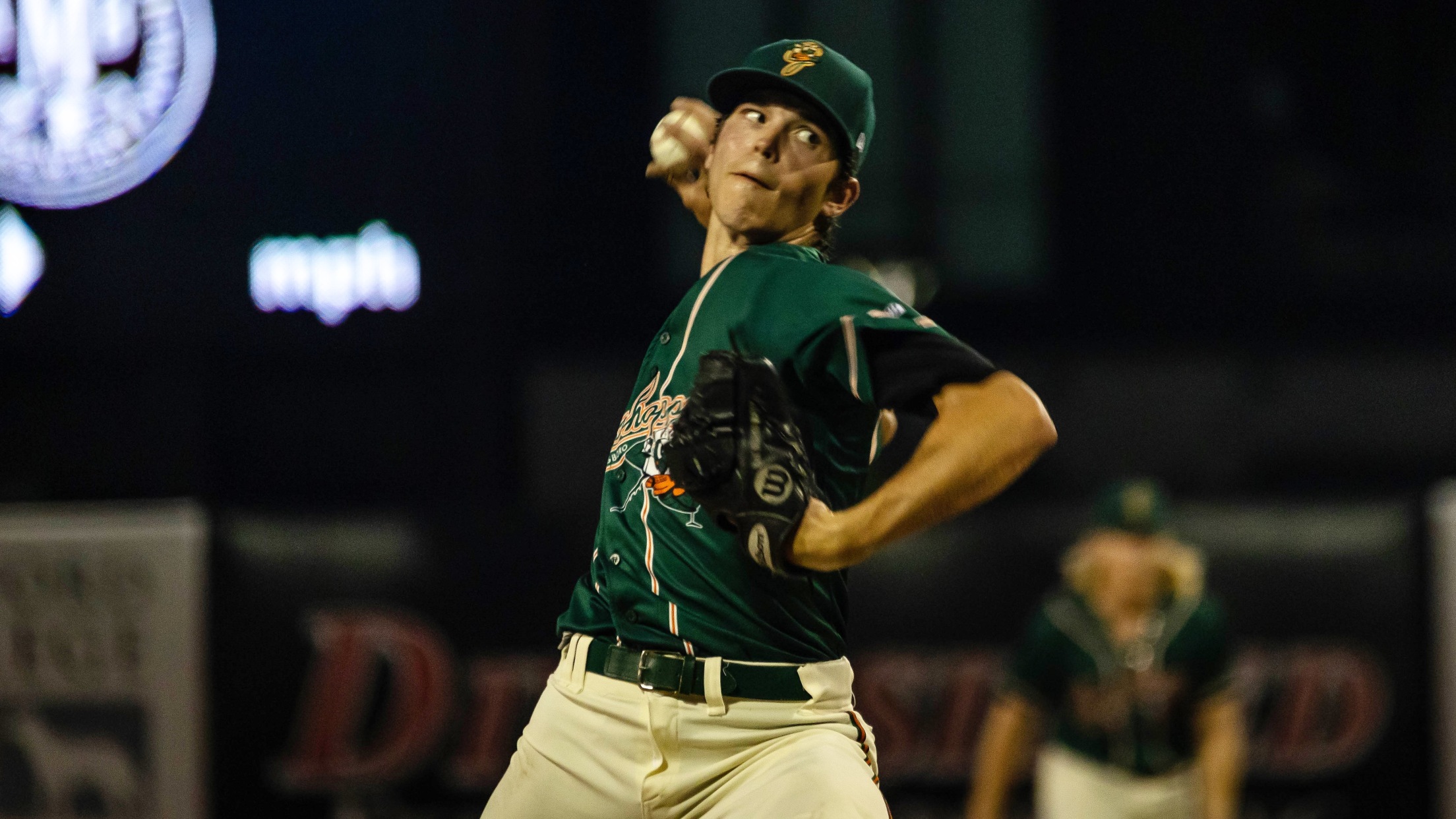 Grant Ford has moved into the starting rotation because of injuries, and he's 5-1 with 53 strikeouts in 43.2 innings. (Jak Kerley/Greensboro Grasshoppers)
GREENVILLE, S.C. ― Third baseman Jared Triolo went 3-for-4 with two doubles and spot starter Grant Ford pitched five effective innings, leading the Greensboro Grasshoppers to a 7-4 victory over the Greenville Drive in their series opener at Fluor Field on Tuesday night. The Hoppers (41-26) have won 12 of
GREENVILLE, S.C. ― Third baseman Jared Triolo went 3-for-4 with two doubles and spot starter Grant Ford pitched five effective innings, leading the Greensboro Grasshoppers to a 7-4 victory over the Greenville Drive in their series opener at Fluor Field on Tuesday night.
The Hoppers (41-26) have won 12 of their last 15 games, and they remain in second place in the High-A East's South Division, five games behind the red-hot Bowling Green Hot Rods (46-21), who are on an eight-game winning streak.
Aaron Shackelford went 2-for-4 with a double and two RBIs for Greensboro, and Lolo Sanchez hit his 10th home run of the season.
Winning pitcher Ford (5-1, 4.95 ERA) allowed two earned runs and struck out four in five innings, combining with three relievers for 11 strikeouts in all.
The 23-year-old right-hander made his third start of the season, stepping into the starting rotation after 12 straight relief appearances to start the year. With prized prospects Carmen Mlodzinski and Michael Burrows both on the injured list, Ford has emerged as a key contributor to Greensboro's pitching staff.
Ford has struck out 53 batters in 43 2/3 innings, and he ranks fifth in the league with five wins.
The Hoppers staked Ford to a lead by sending eight men to the plate and scoring five runs in the top of the fourth.
Shackelford and Triolo had RBI hits in the inning, and Sanchez capped the rally with a two-run home run over the center-field fence.
Shackelford added an RBI double in the fifth inning, and Matt Gorski hit a run-scoring sacrifice fly in the sixth.
NOTES: Triolo has hit safely in 12 of his last 14 games, going 21-for-58 (.362) and raising his season average to .285. Triolo's 15 doubles rank third in the league. ... Matthew Fraizer, who went 1-for-3 with a walk and a run scored, leads the High-A East with 79 hits and 47 runs scored, and he ranks third with a .312 batting average. ... Fraizer and Shackelford are tied for third in the league with 15 home runs apiece. ... Shackelford leads the Hoppers and ranks fifth in the league with 41 RBIs. ... Right-handed reliever Bear Bellomy is 7-2 and shares the league lead in wins.
In his career at the News & Record, journalist Jeff Mills won 10 national and 12 state writing awards from the Associated Press Sports Editors, the Society for Features Journalism, and the N.C. Press Association.