Hops throw combined one hit shutout over Vancouver in 6-0 win
Hillsboro comes up three outs short of a combined no hitter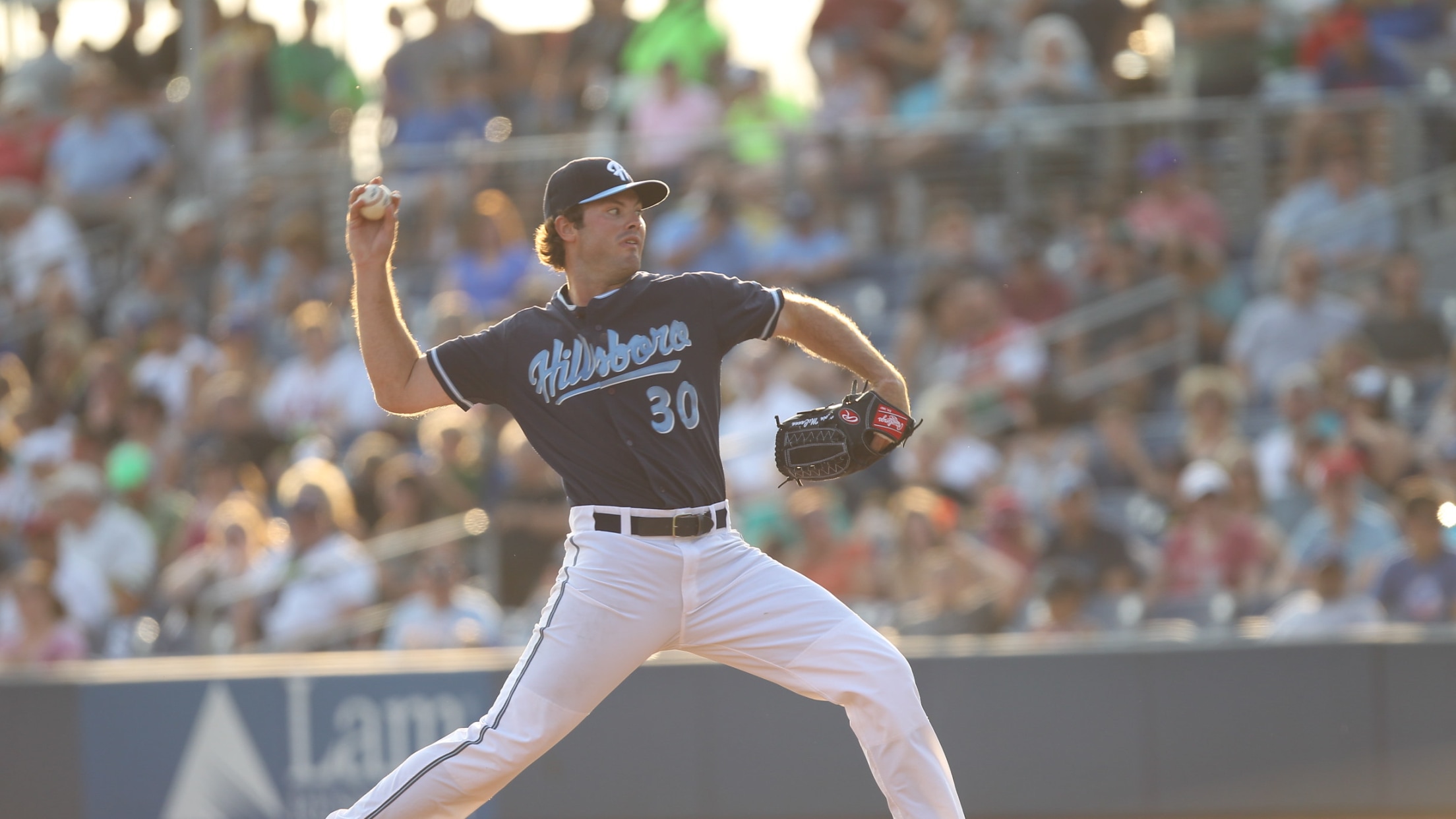 (Craig Mitchelldyer)
The Hops improved to 8-1 on the year against the first half North Champions behind a dominant day on the mound. Brian Shaffer, the sixth round pick from Maryland and 2017 Big Ten Pitcher of the Year made his third start for the Hops on the season. Shaffer is on
The Hops improved to 8-1 on the year against the first half North Champions behind a dominant day on the mound.
Brian Shaffer, the sixth round pick from Maryland and 2017 Big Ten Pitcher of the Year made his third start for the Hops on the season. Shaffer is on an inning limit, as he threw 108 innings at the University of Maryland. The thirtieth-rated prospect in the Diamondbacks system continues to show why he was the sixth round selection for Arizona, showing off his elite command with 17 pitches and 14 strikes.
Kevin McCanna made his Hillsboro debut after being signed as a minor league free agent in April. McCanna was a 13th round pick in 2015 of the Houston Astros, after being selected out of Rice University (Texas). He was exceptional over five and one third innings, striking out nine and only walking two.
Camden Duzenack led the bottom of the fourth inning off with a double down the left field line and Pavin Smith cranked a double down the right field line to make it 1-0 Hillsboro. It was his 18th RBI this season. Duzenack continues to come out of the All Star Break strong, tallying three multi-hit games in a row and three doubles to go along with it.
Newton, Massachusetts native Dan Swain was hit by a pitch in the bottom of the fifth, then proceeded to third base on a Ryan Grotjohn single. Swain would score on a Bryan Araiza ground rule double.
Duzenack persisted to give the folks from the North problems. On a softly hit ball to center, Canadian outfielder Reggie Pruitt made an outstanding diving play to rob Duzenack, but it still drive in a run as Grotjohn scored from third.
The three and four hitters were back at it again in the seventh. Duzenack was hit by a pitch, stole second base, then Smith smacked one in the 5.5 hole to drive him in to extend the lead to 4-0.
It was a short outing for Bobby Eveld, brother of former Hop Tommy Eveld, as he only lasted two thirds of an inning surrendering three runs on two hits. The big blow off of Eveld was a two-run moonshot off the bat of Arizona's 2nd round selection this season, Drew Ellis.
The Hops bid for a combined no hitter came up three outs short, as Noberto Obeso snuck one down the third base line to break it up.
Vancouver loaded the bases in the top of the ninth with nobody out, but Shawn Roof made the move to his All-Star closer Erbert Gonzalez, and he shut the door.
Defend the Wall:
Hillsboro's defense has been exceptional these last five games, as they have made zero errors.
Drew Ellis saw his fair share of plays at the hot corner tonight, converting six opportunities in six tries in the first five innings.