Brick and Mortar Job
Brickhouse and Diaz homer, Vernia tosses five strong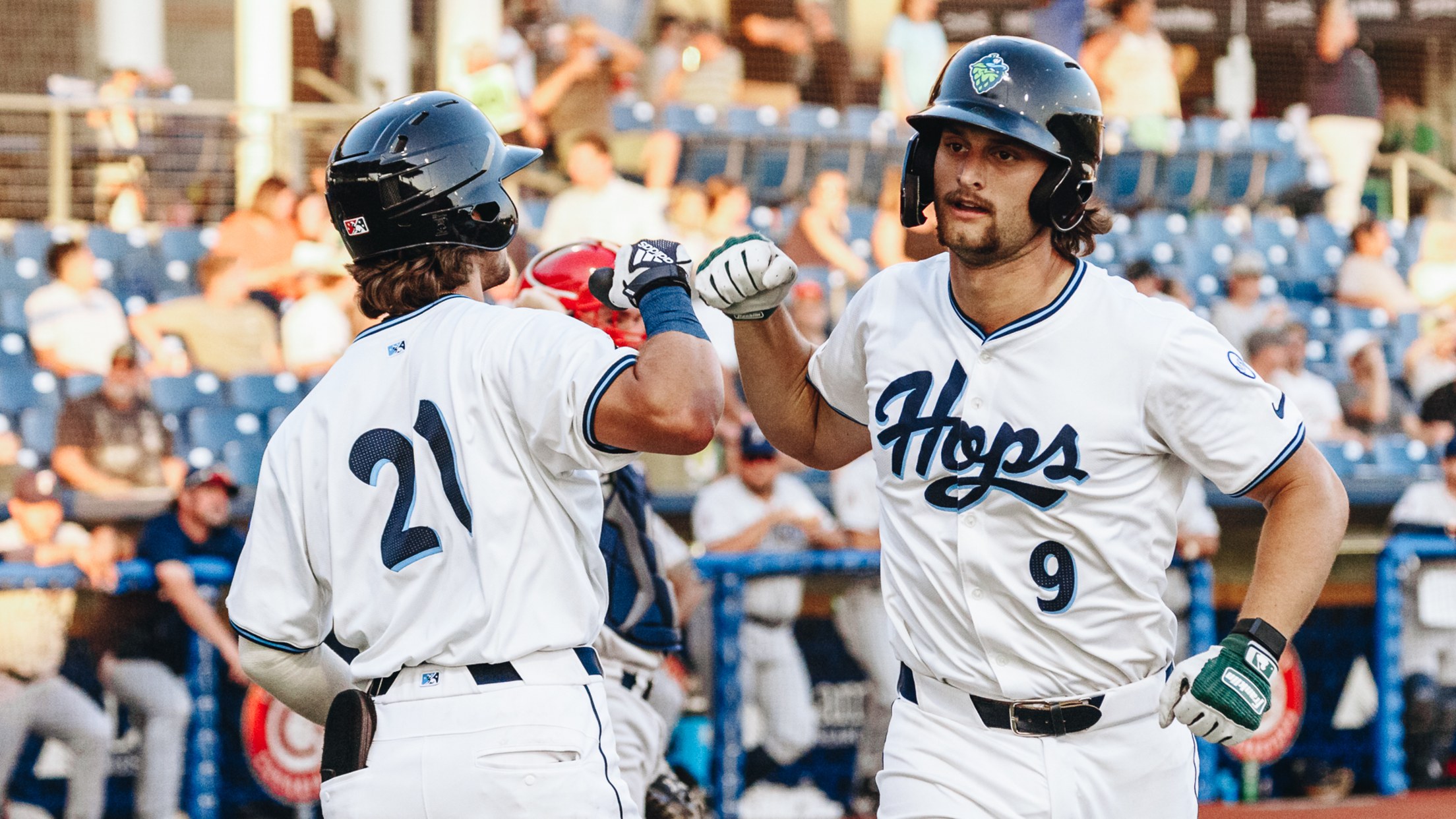 On Thursday night, the Hillsboro Hops defeated the Tri-City Dust Devils 6-1 for their second straight win. The Hops flexed their muscles for five runs in the bottom of the sixth. Spencer Brickhouse and Eduardo Diaz fueled the attack with a solo homer each. Despite getting off to a shaky
First Round TKO
Diaz blasts grand slam, Cecconi earns fourth win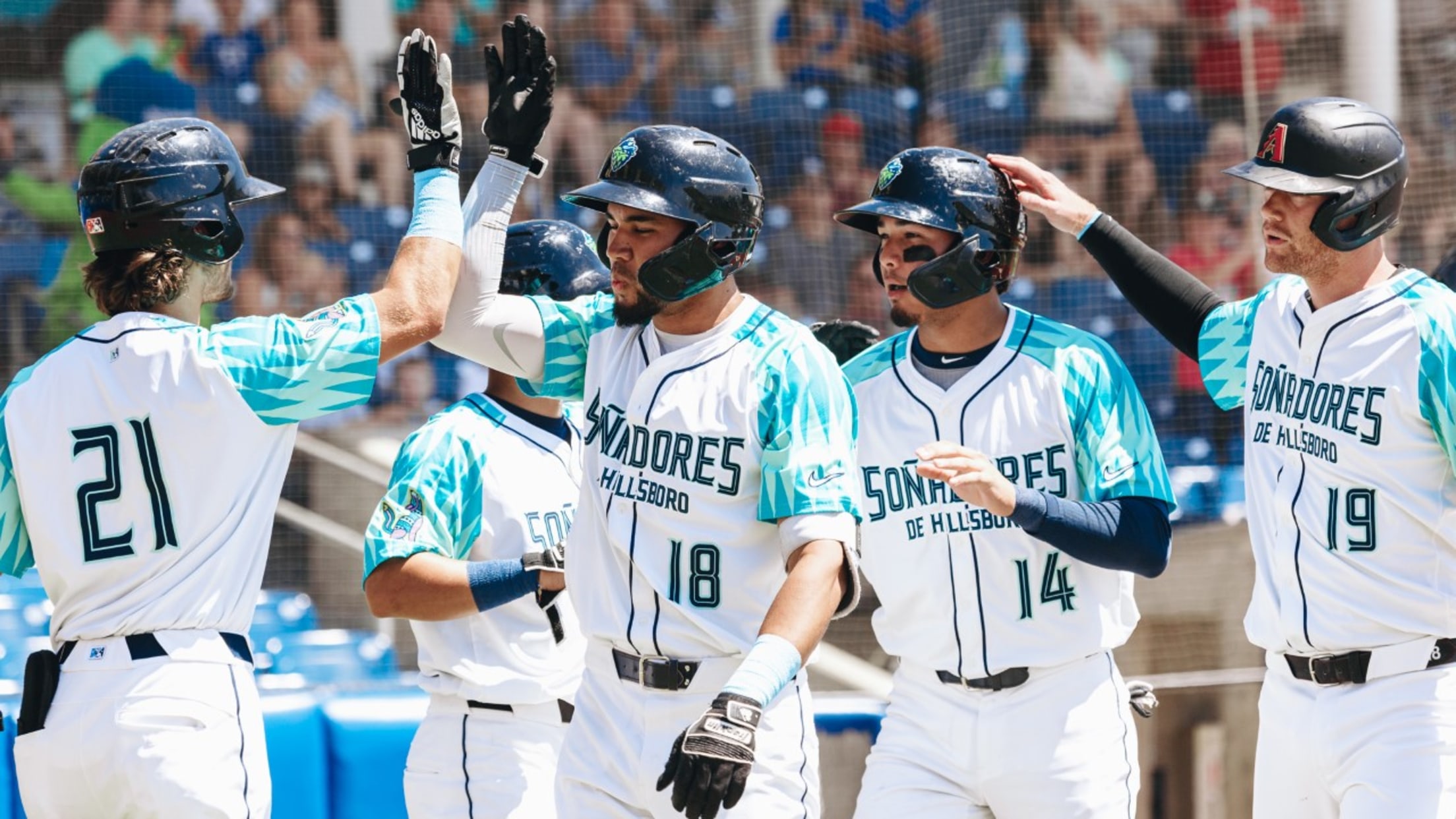 On Wednesday afternoon, the Hillsboro Hops bounced back with a 10-2 victory over the Tri-City Dust Devils. The Hops' offense came out guns blazing with five runs in the first and never looked back. Slade Cecconi earned his fourth win of the season over six strong innings and Eduardo Diaz
Hops' Hitters Bedeviled in Series Opener 
Kelly's Homecoming Spoiled by 15 Hops' Punch Outs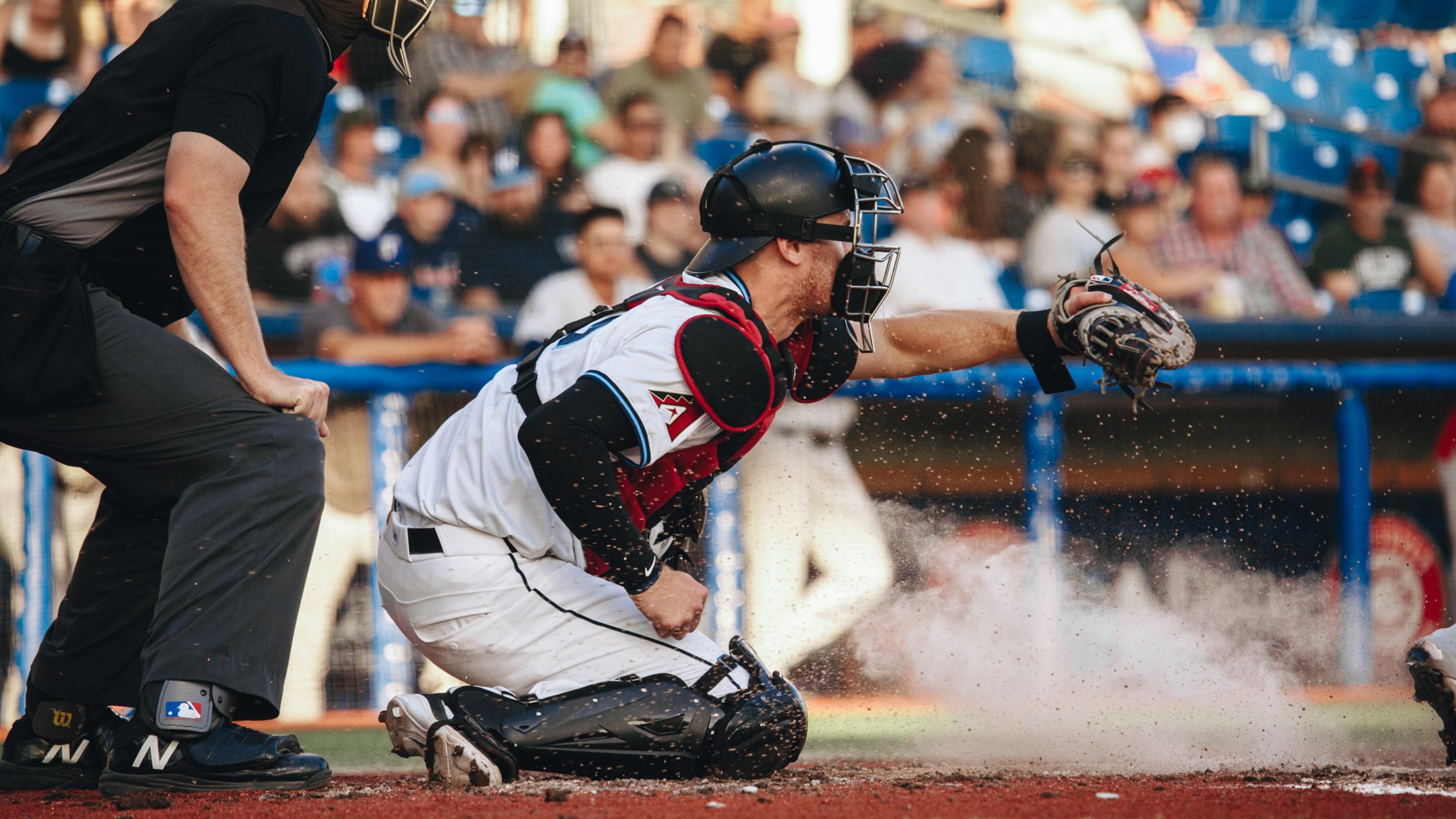 In the series opener, the Hillsboro Hops fell at home against the Tri-City Dust Devils 6-1. It was the second of three games Arizona Diamondbacks' catcher Carson Kelly is rehabbing in the Hops. The Westview High School native finished with two double and Hillsboro's lone run. Brandon Pfaadt (2-4) started
Ems Walk Off With Series Split In 6th Straight 1-Run Game
Roby double in 9th gives Eugene 6-5 win over Hops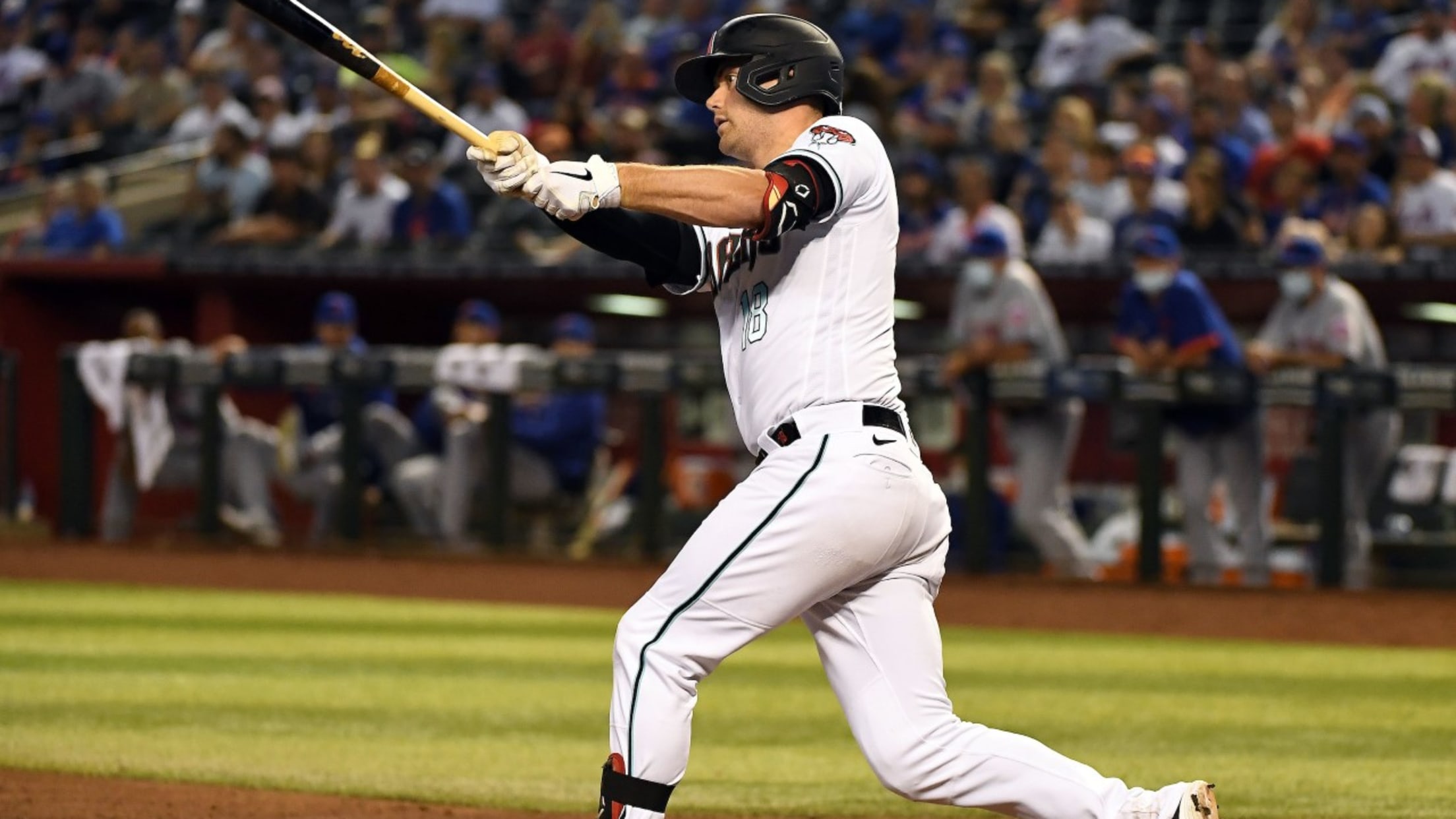 In a series that couldn't possibly get more dramatic, it...well, did. Sean Roby hit a ground rule double to right field with one out in the ninth inning that scored Tyler Fitzgerald and Brett Auerbach with the winning runs as the Eugene Emeralds defeated the Hillsboro Hops 6-5 in the
Arizona Diamondbacks Catcher Carson Kelly to Rehab in Hillsboro
Westview High School Graduate to Play with Hops on July 27 and 28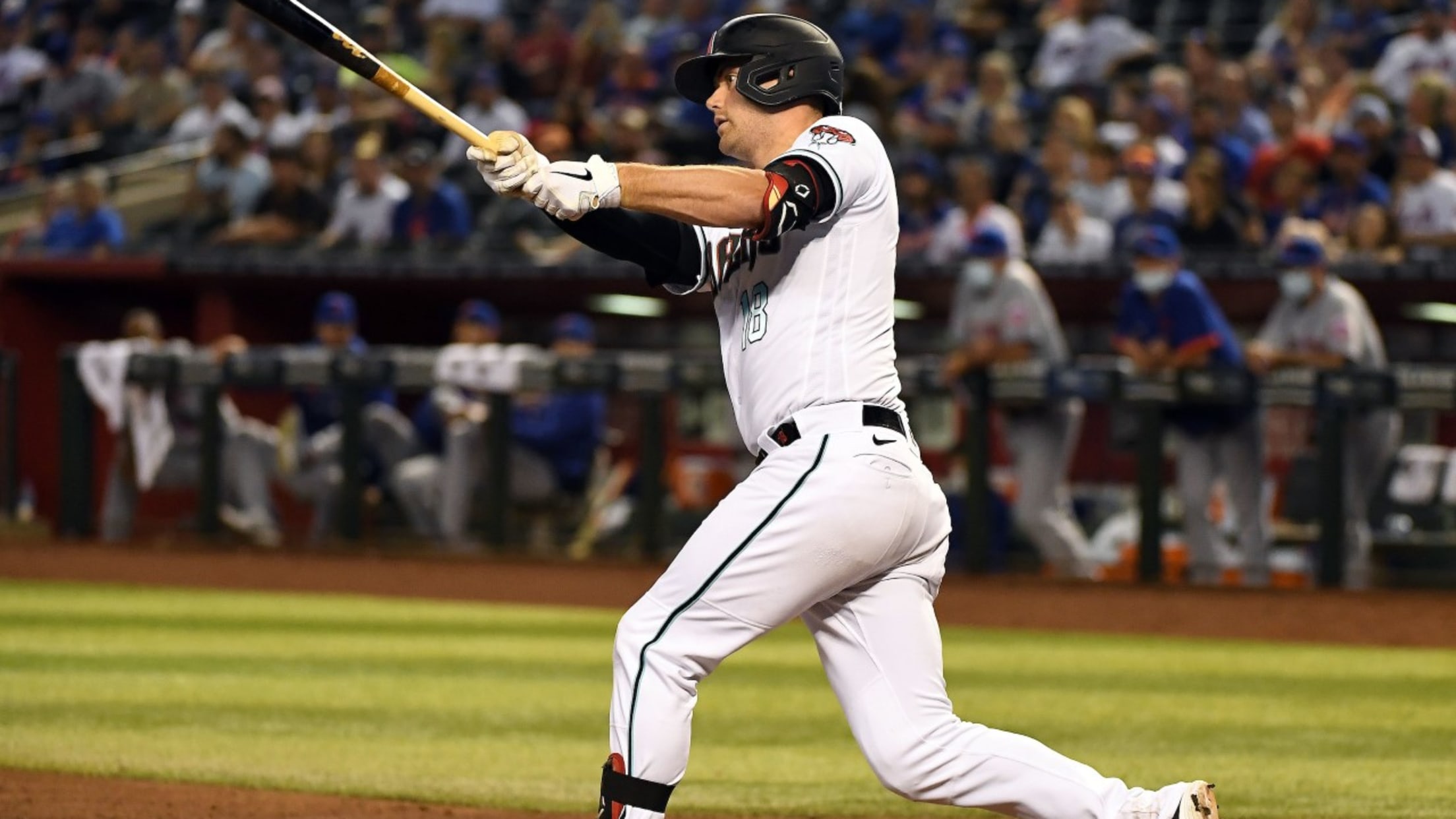 Hillsboro, OR. (July 25, 2021) – The Hillsboro Hops (@HillsboroHops) announced today that Arizona Diamondbacks (@Dbacks) catcher Carson Kelly will play with the Hops on July 27 and 28 as part of his rehab from a fractured wrist suffered last month. Kelly starred at Westview High School, just a few
Drey Day! Jameson Fans 11 As Hops Win Another Thriller
Hops Win 3-2 at Eugene in record fifth straight 1-run game
Once again Drey Jameson pitched well enough to win a ballgame and on this night that was enough. The Diamondbacks' first-round draft pick out of Ball State University, making his 20th professional appearance, fanned a career-high 11 batters in six innings and the Hillsboro Hops gave him just enough offense
Hops Stun Ems With 7-run 7th, Hang On In 9th
Hops come back from five down matching season-high in hits
In a series that has packed a season's worth of drama into less than a week, the Hops won the wildest one yet at Eugene. Down 8-3 in the seventh inning, Hillsboro (30-38) rallied for seven runs to take the lead, holding on for a 10-9 victory over the Emeralds
Another Agonizing Loss at P.K. Park
Hops fall 4-3 to Eugene in 10 innings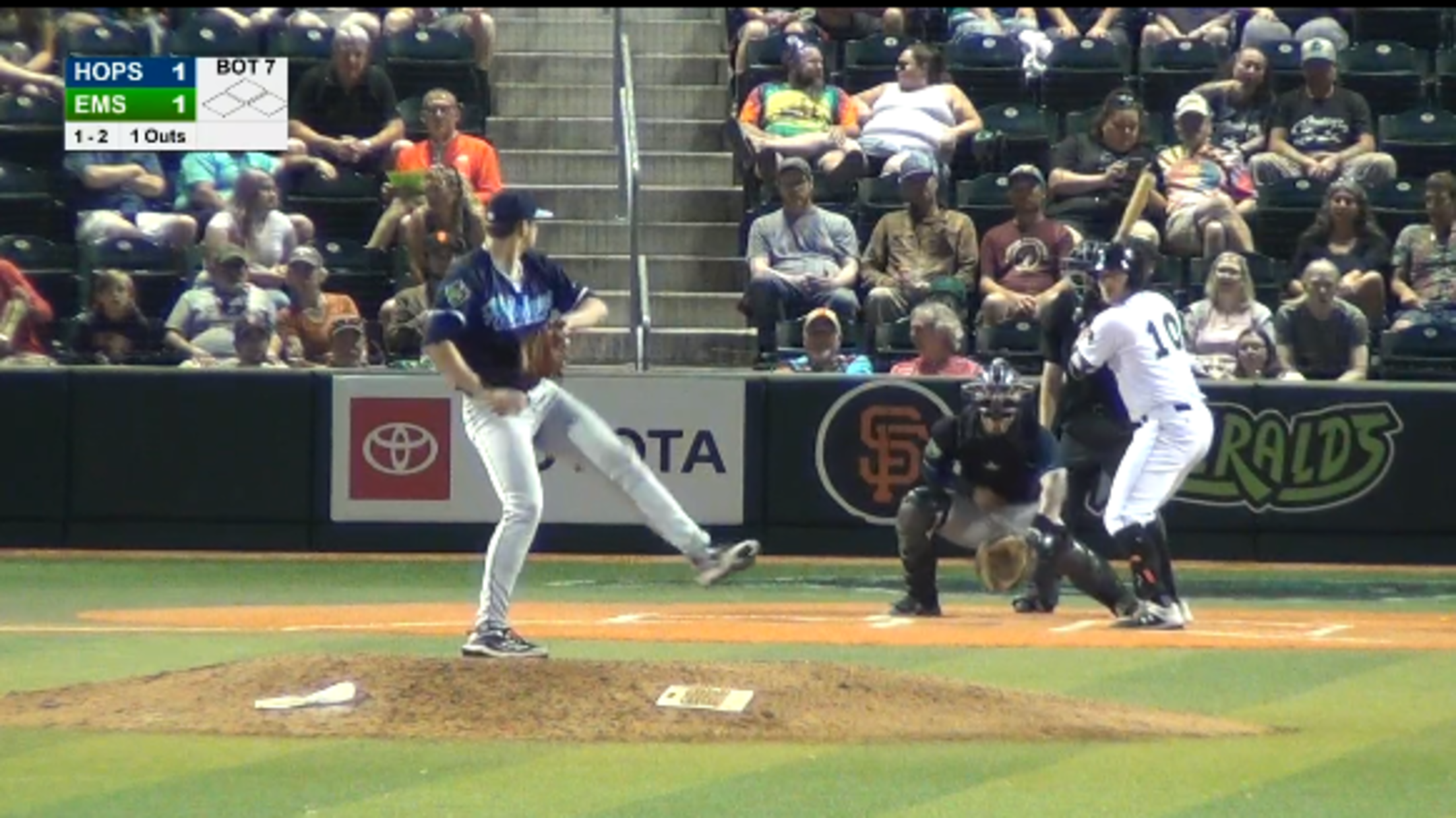 We are now halfway through the most important series of the year and the Hillsboro Hops and Eugene Emeralds have certainly not lacked for drama. Down to their final strike in the ninth, the Emeralds (40-28) tied the game on a two-run homer by Carter Aldrete , then scored the
Pfaadt Fans 11, But Hops Fall At Eugene
Only one of 11 Eugene walks scores in 5-4 defeat
One week after shutting out Vancouver on four hits, Hillsboro staring pitcher Brandon Pfaadt came one strikeout away from a team record, fanning 11 Eugene batters. However, the Hops (29-37) were unable to take advantage of 11 Emerald walks in a 5-4 loss at P.K. Park Wednesday. Down 5-3 in
Southern Roots and Family Ties 
Cam Coursey on his family and journey through pro-ball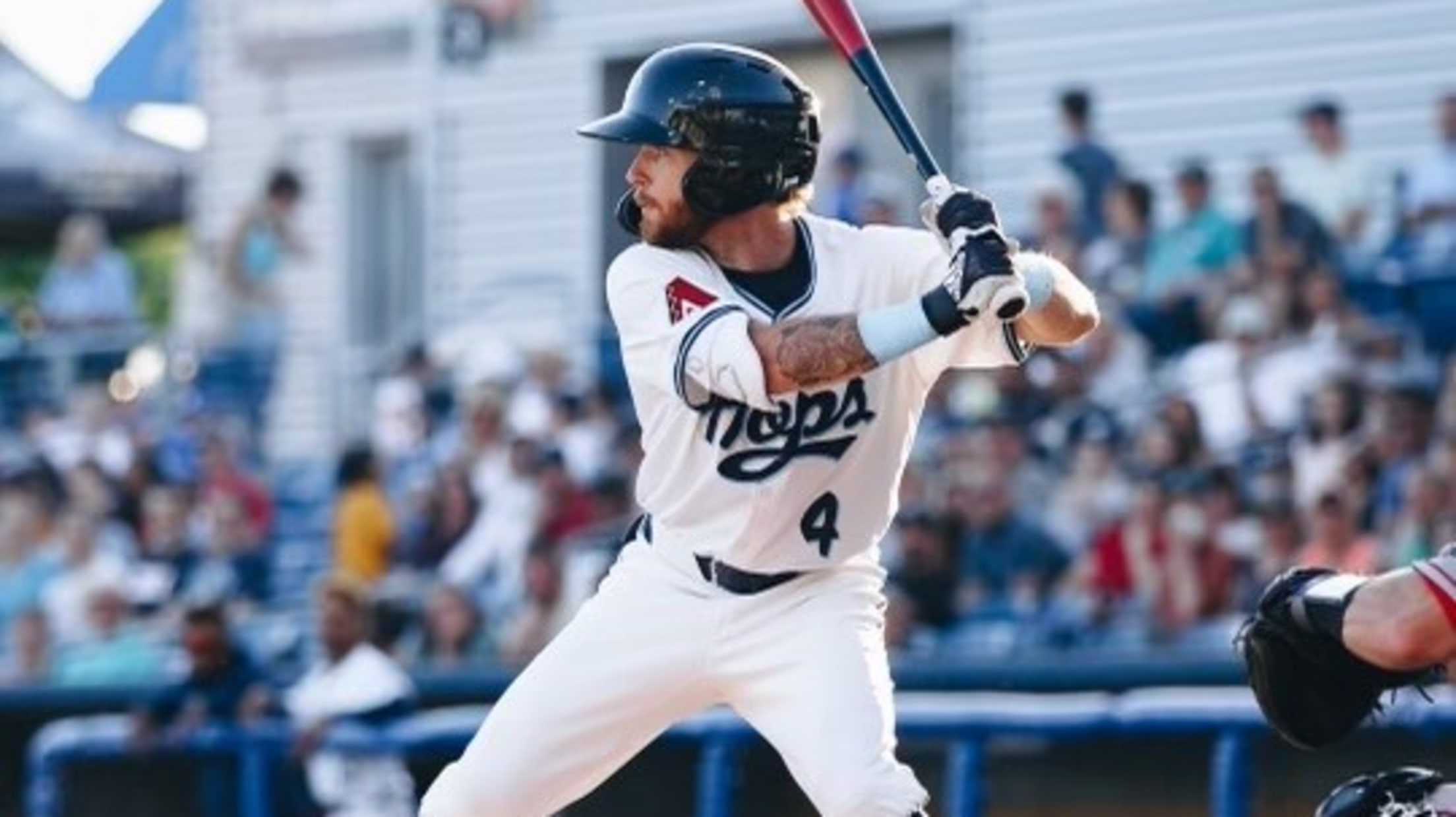 For Cam Coursey, baseball is a family matter. Growing up in Sugar Hill, Georgia, Cam spent most of his time outside—either playing baseball or thinking about playing baseball. His dad, Kiley, ran a baseball facility where he spent most of his time practicing and working on his game alongside his
A Hop's Day Night As Hillsboro Beat(le)s Eugene
Walston takes no-hitter into 7th in 3-2 win over Emeralds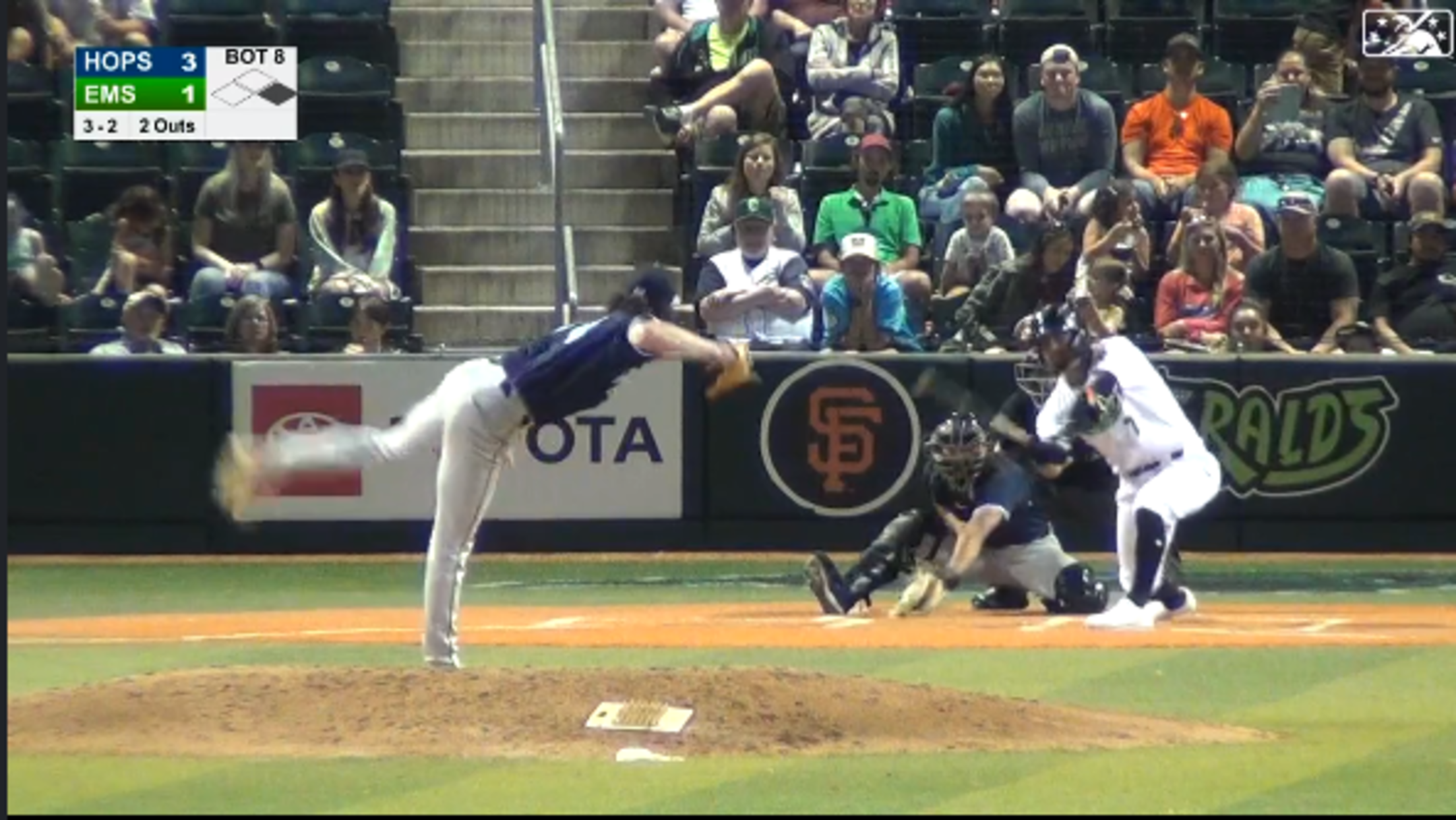 On Beatles Night at Eugene's P.K. Park, the Hillsboro Hops came together and Arizona Diamondbacks' prospect Blake Walston definitely had a day in the life. The 20-year-old, 6-5 southpaw took a no-hitter into the seventh inning and allowed just two hits over eight as the Hops (29-36) held on for
Hops Fall 6-4 in Last Game of Series Against the C's
McMinn struck out five in Hops debut, Brickhouse homers for second straight game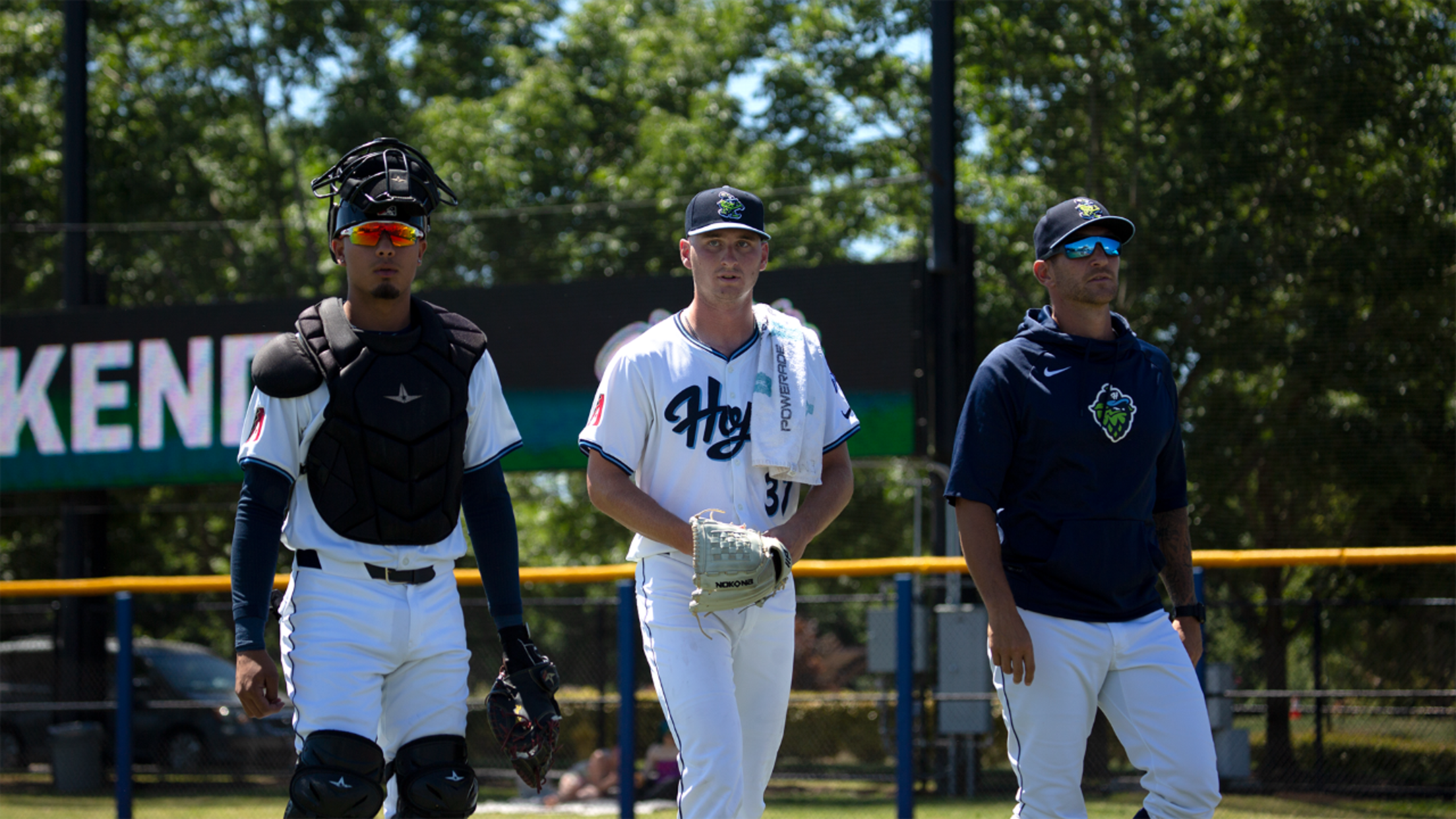 In the final game of the series, the Hillsboro Hops fell to the Vancouver Canadians 6-4. The Hops' bullpen was called on to pitch from the fourth inning on and allowed five earned runs and walked seven. The C's salvaged the last game of the six-game set, but the Hops
Brickhouse Late Inning Heroics Fuel 4-3 Comeback Win
Barrosa belts first home of the season, Jameson tosses five strong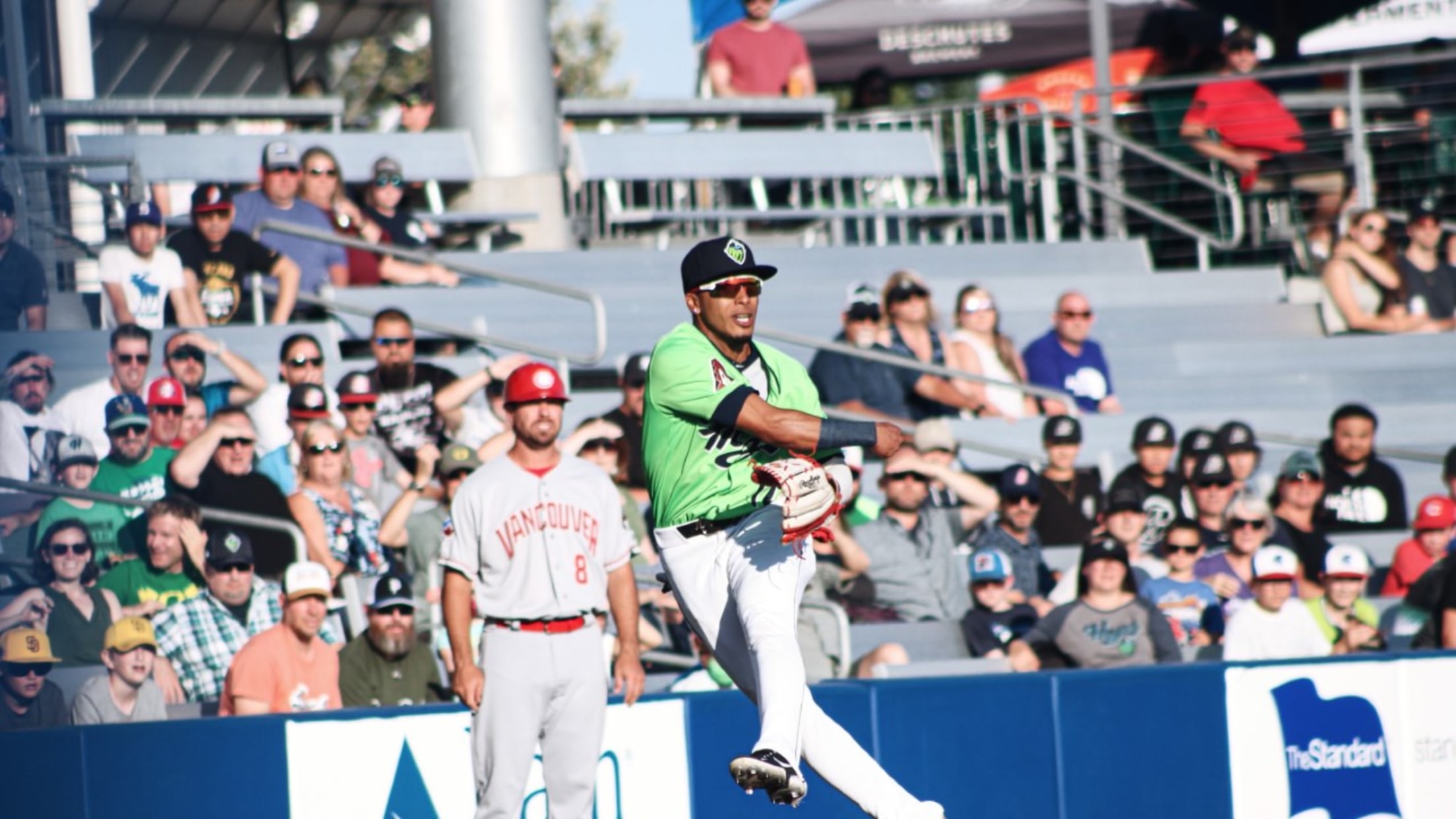 The Hillsboro Hops kept their winning streak alive thanks to a go-ahead two-run homer in the bottom of the eighth by Spencer Brickhouse . The Hops earned a series win and recorded a season high four-game winning streak with their 4-3 victory over the Vancouver Canadians. Drey Jameson got the
Hops Use Entire Arsenal for Third Straight Win
Coursey's four hits are season high, Andueza homers for second straight game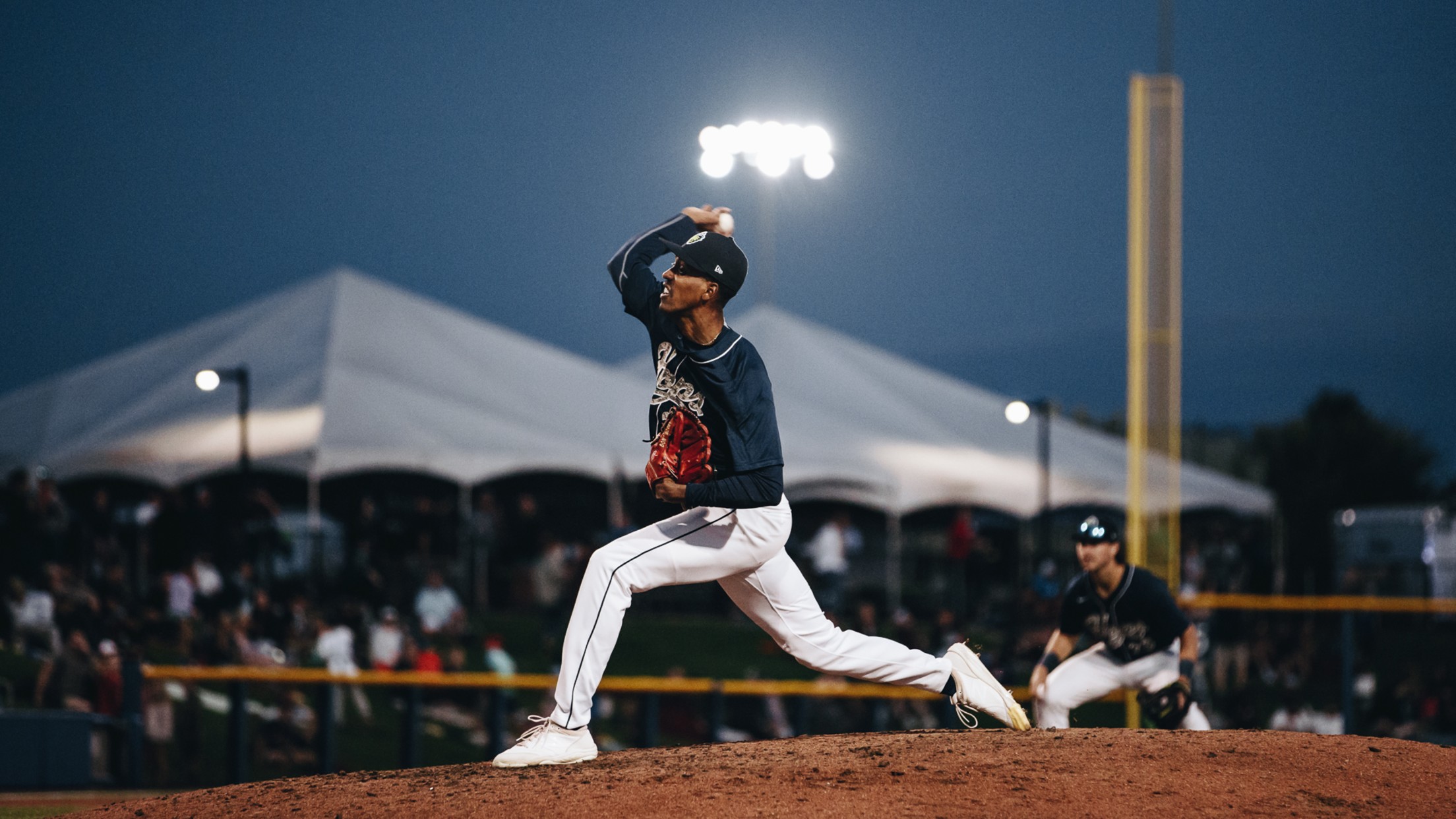 On Friday night, the Hillsboro Hops came out victorious in an 12-6 slugfest against the Vancouver Canadians. Every batter in the Hops order had at least one hit, tying a season high of fifteen as a team. Hillsboro's twelve runs were also a season high. Axel Andueza homered for the
Sonadores Sticks a Nightmare for C's
Cecconi earns third win, Andueza blasts first homer of the season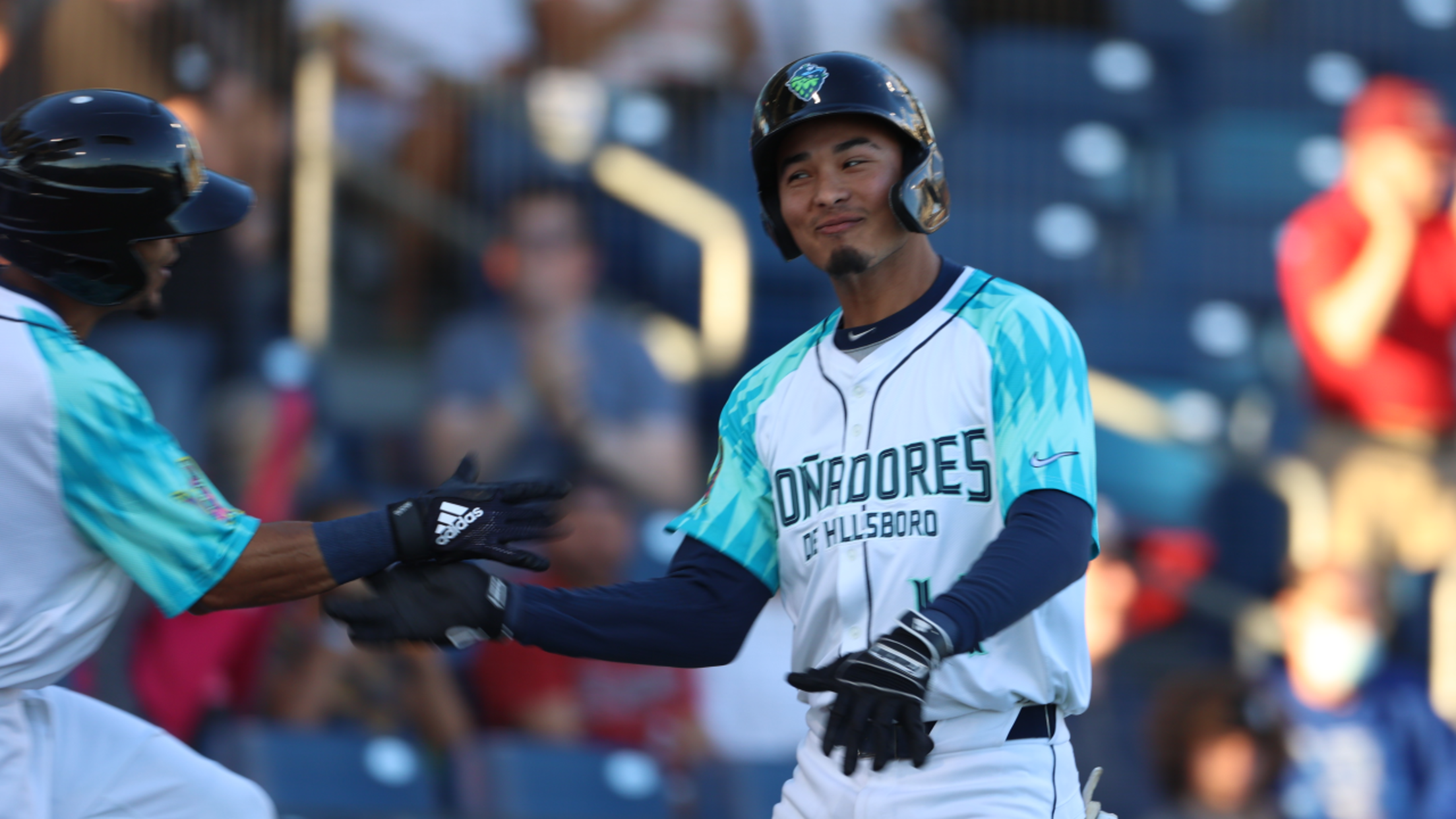 This Hillsboro Hops followed up their shutout performance last night with a 7-4 victory against the Vancouver Canadians. The Hops were able to survive two homers and four RBIs from Ronny Brito with key base running, timely hits, and a few defensive lapses by the C's. Slade Cecconi earned the
(S)Pfaadt On!
Pfaadt tosses Hops first complete game shutout since 2013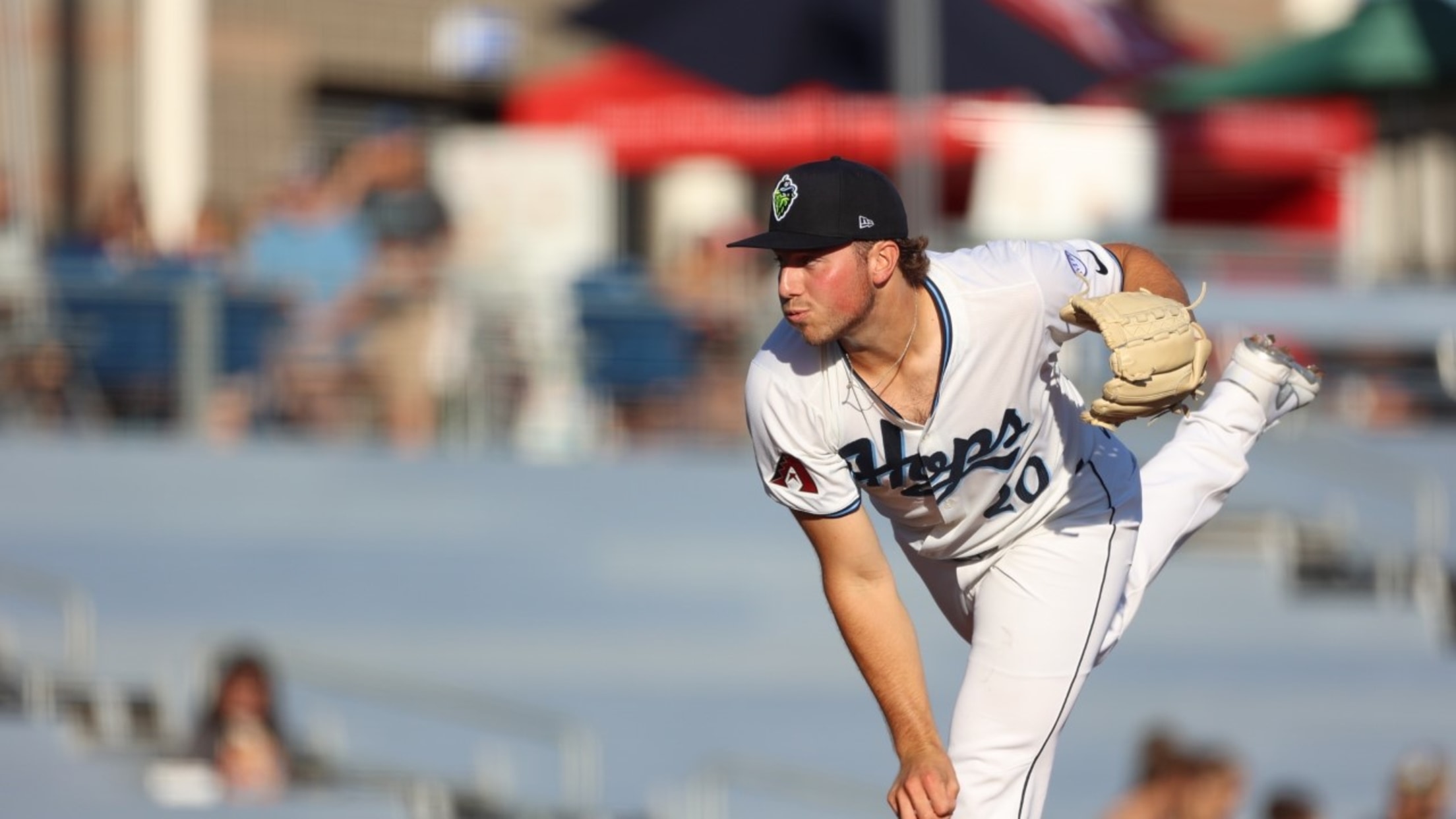 On Wednesday night, the Hillsboro Hops evened the series with a 2-0 victory against the Vancouver Canadians. Brandon Pfaadt was the story of the game with a dominant 91-pitch complete-game shutout, earning his second win of the season. Pfaadt's longest inning came in the second with a "whopping" 14 pitches.
Hops Drop Series Opener to Vancouver Canadians 3-2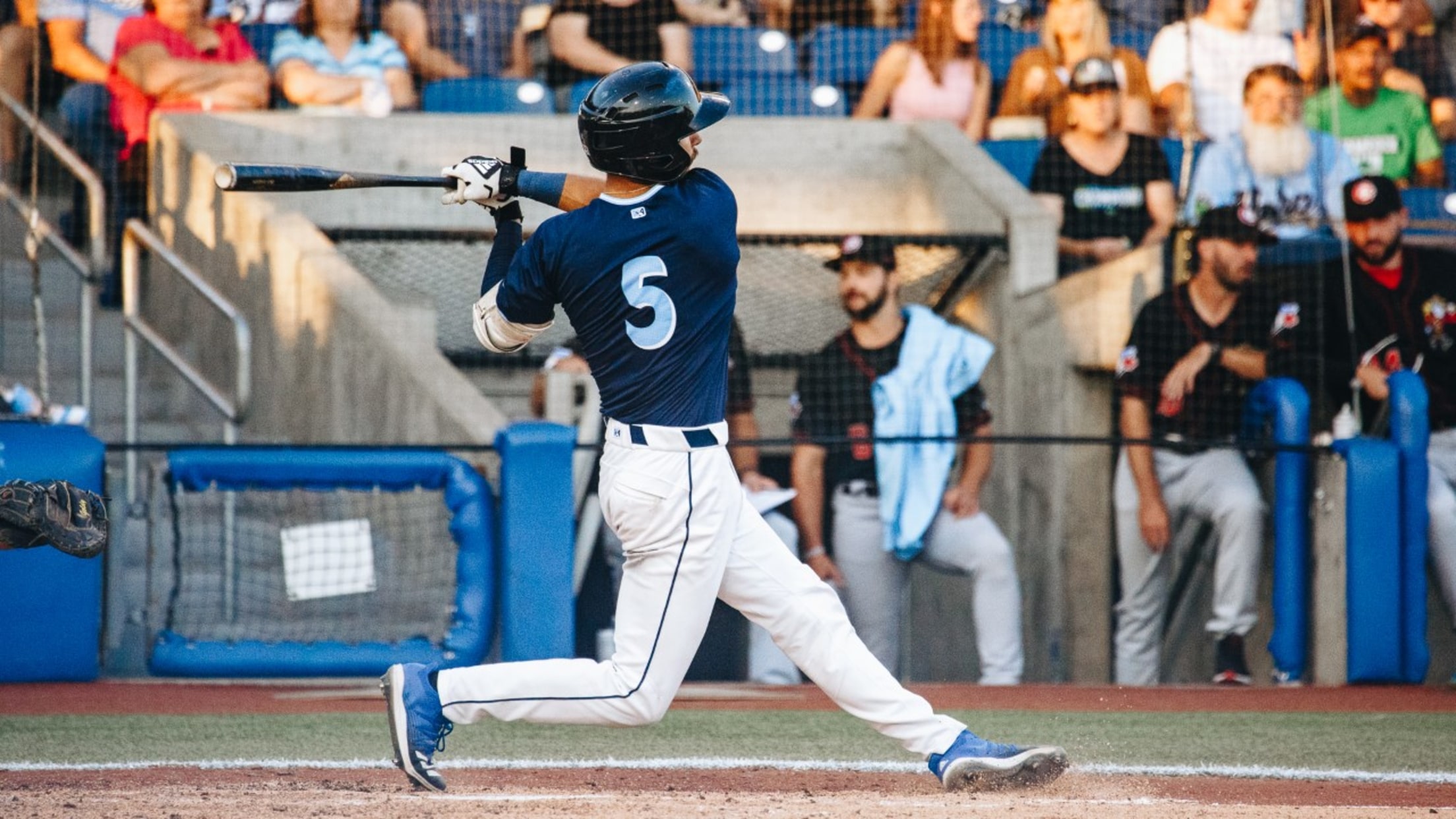 In their return home, the Hillsboro Hops left nine runners on base in a 3-2 loss to the Vancouver Canadians. The Hops had their chances, but only were only able to muster up two hits in eight opportunities with runners in scoring position. Blake Walston got the nod for the
Tri-City Dusts Hops 4-3
Two runs in the eighth deny Jameson his first pro win
PASCO, WASH. --- Franklin Torres singled home two in the bottom of the eighth inning to erase a 3-2 deficit, and the Tri-City Dust Devils beat the Hillsboro Hops 4-3 on Sunday evening at Gesa Stadium. The eighth-inning rally denied Drey Jameson, an Arizona Diamondbacks' first-round draft choice in 2019,
Triple Play Highlights Hops Loss at Tri-City
Benches clear as Tri-City defeats Hillsboro 8-6
PASCO, WASH. --- The Hillsboro Hops ran themselves into an odd triple-play on Saturday night at Gesa Stadium, as they lost to the Tri-City Dust Devils, 8-6. Spencer Brickhouse's three-run home run in the top of the second put Hillsboro up 3-0, but Tri-City came right back against Kenny Hernandez
Cecconi Earns Second Win 5-2 at Tri-City
Hampton homers, Hops turn key double play
PASCO, WASH. --- Slade Cecconi worked five strong innings on Friday night at Gesa Stadium, pitching out of a big jam in his final frame, leading the Hillsboro Hops to a 5-2 win over the Tri-City Dust Devils. Hillsboro again drew a lot of walks early, but this time they
Tri-City Responds with 8-3 Win Over Hops
Dust Devils hit a pair of home runs
PASCO, WASH. --- The Tri-City Dust Devils scored in every inning but the second and fourth to beat the Hops 8-3 on Thursday night at Gesa Stadium. The win was highlighted by home runs from Brendon Davis --- his league-leading 12th of the year, and sixth against the Hops ---
Blast by Blaze Caps Dramatic Hops Win
Hillsboro comes from behind twice in 9-7 win at Tri-City
PASCO, WASH. --- The Hillsboro Hops were down to their last out in the top of the ninth inning on Wednesday night at Gesa Stadium, trailing 7-6 to Tri-City, when Blaze Alexander smoked a mammoth three-run home run to left. Hillsboro won 9-7, their fourth victory in the last five
Hillsboro Hops Announce New "Community Champions" Program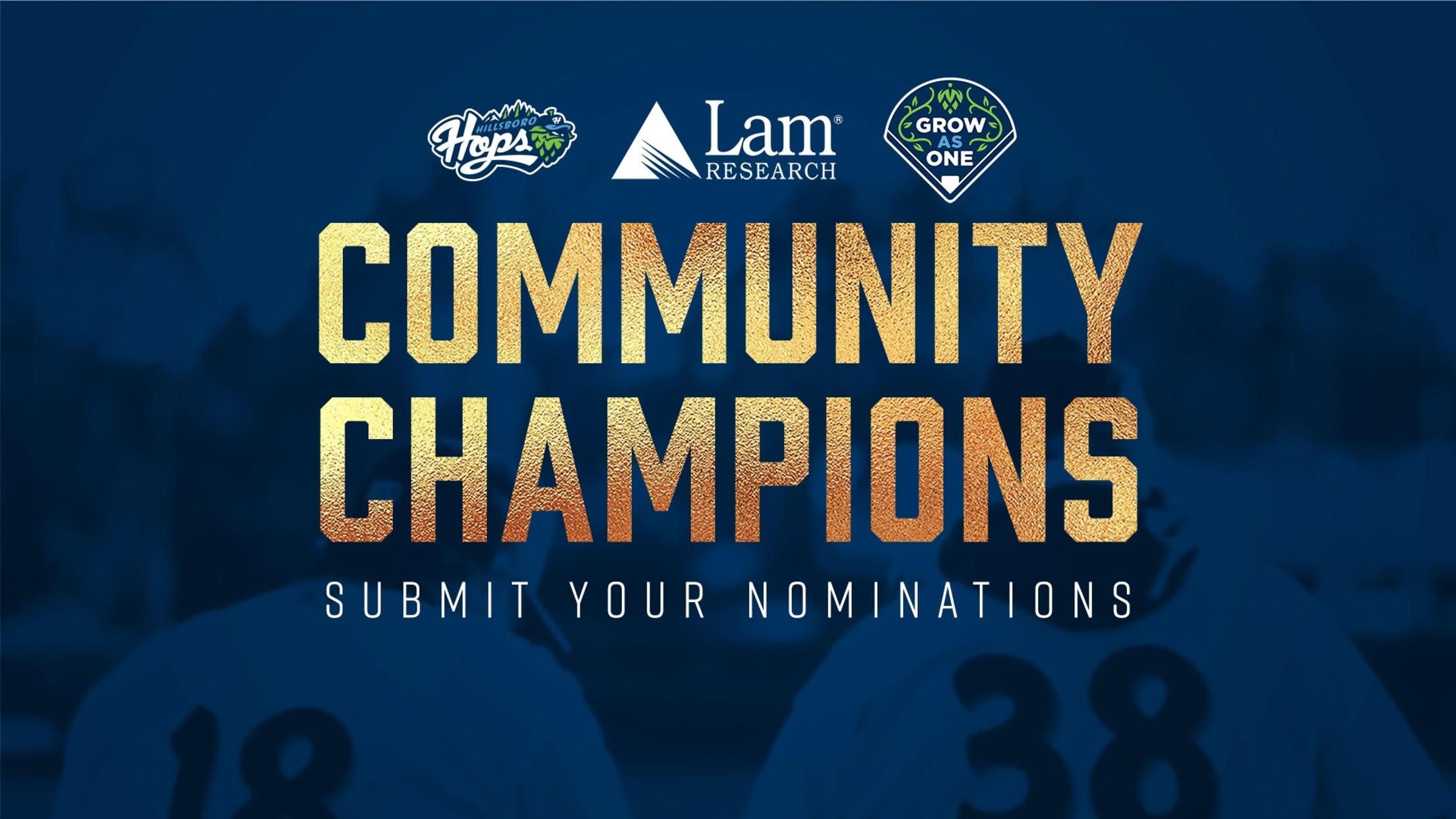 Hillsboro, OR. (July 7, 2021) –The Hillsboro Hops (@HillsboroHops) in partnership with Lam Research (@LamResearch), today announced a new program that will recognize individuals who have stepped up to support others and make a difference in our community. These "Community Champions" show the true spirit of empathy and human kindness
Hops Die With Their Boots
Three errors lead to a 3-2 loss at Tri-City
PASCO, WASH. --- The Hillsboro Hops uncharacteristically committed three errors on Tuesday night at Gesa Stadium, leading to two unearned runs in a 3-2 loss to the Tri-City Dust Devils. The Hops' loss in the series opener snapped a season-high-tying three-game winning streak. Dust Devils shortstop Livan Soto greeted Hops
Three Hops Bombs Spark 4th of July Victory
Hernandez tosses seven scoreless with nine strikeouts.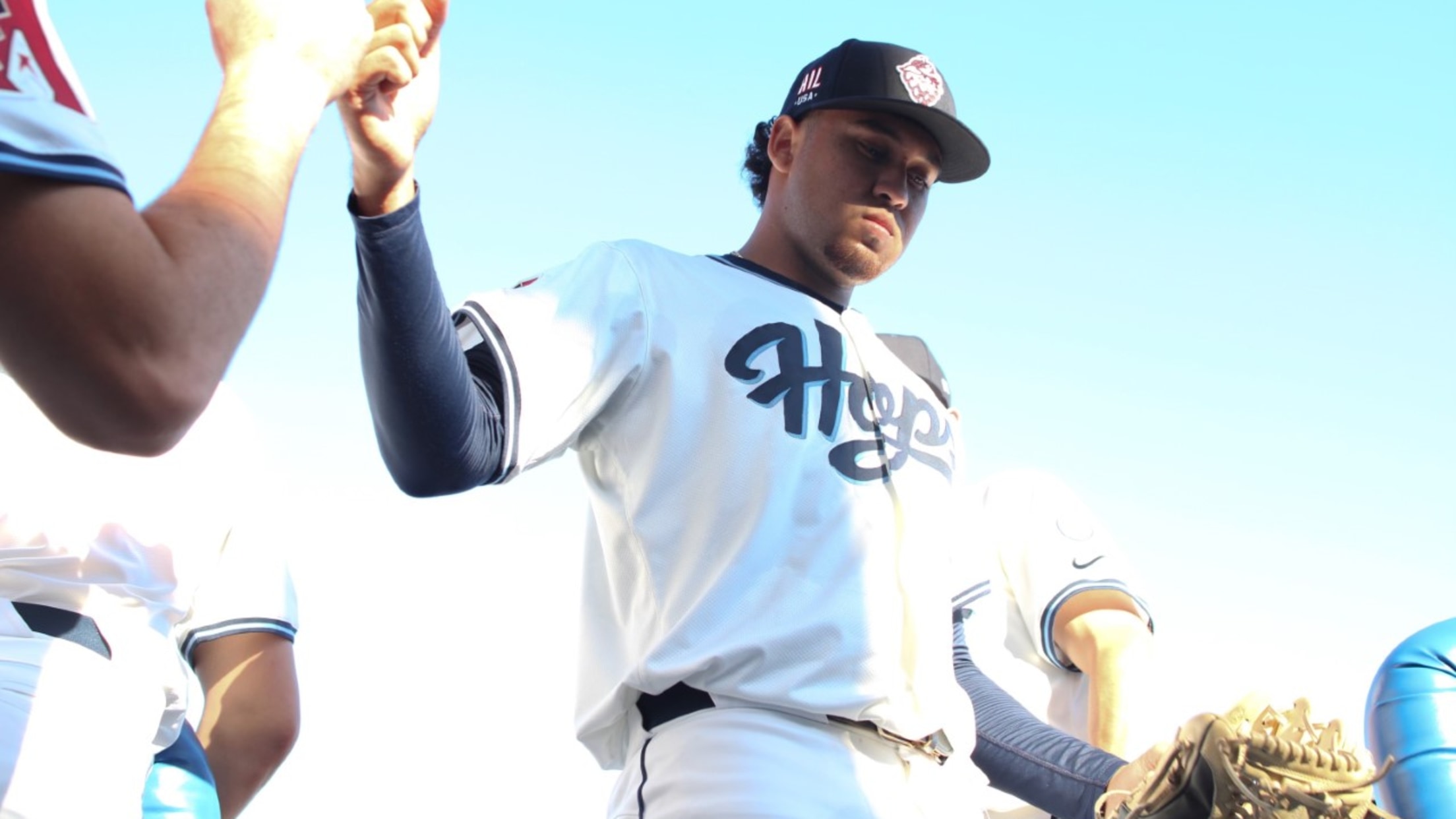 In a sellout crowd of 5,200 at Ron Tonkin Field, the Hillsboro Hops bats exploded for three homers on the 4th of July to defeat the Eugene Emeralds 6-1. In his best outing of the season, Kenny Hernandez earned the win (3-2) and blanked the Ems over seven innings. Dominic