Hudzina, Jackson Homer Chiefs to Win
Tewes earns win over seven innings in debut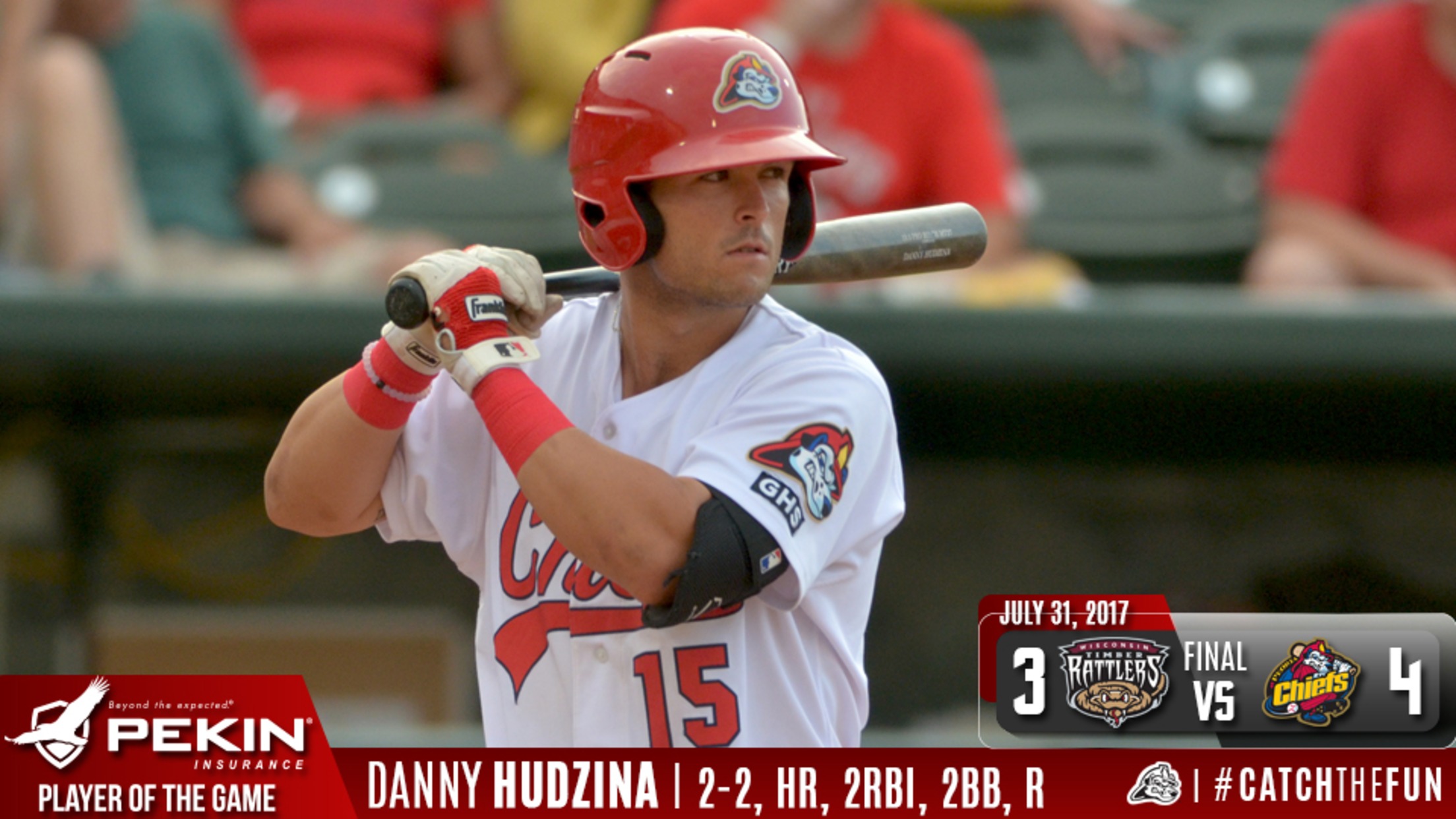 Peoria, IL- Vince Jackson launched a sixth-inning go-ahead homer and Sam Tewes threw seven strong innings in his debut to lead the Peoria Chiefs to a 4-3 win over the Wisconsin Timber Rattlers on Monday afternoon. The Chiefs improve to 21-16 in the second half and 51-55 overall with the series
Peoria, IL- Vince Jackson launched a sixth-inning go-ahead homer and Sam Tewes threw seven strong innings in his debut to lead the Peoria Chiefs to a 4-3 win over the Wisconsin Timber Rattlers on Monday afternoon. The Chiefs improve to 21-16 in the second half and 51-55 overall with the series finale set for a 7:00 p.m. first pitch on Tuesday.
The Chiefs got out to an early lead in the second against Timber Rattlers starter Zack Brown. Ryan McCarvel stroked Peoria's first hit of the game, a ground-rule double, to left-center and went to third when Brian O'Keefe reached on an error. McCarvel scored on a wild pitch, and Danny Hudzina blasted a mammoth homer to left field to give the Chiefs a 3-0 lead. Hudzina's eighth homer of the year cleared the netting past the left field wall and ended up on Jefferson Avenue.
Wisconsin cut into Peoria's lead in the fifth with newcomer Sam Tewes on the bump. Ronnie Gideon led off with a home run to left field to make it a 3-1 game. Tewes bounced back, retiring the next two hitters before Trever Morrison doubled to left and moved to third on a wild pitch. Tewes got a ground ball from Demi Orimoloye to work out of the inning.
In the sixth, Keston Hiura smacked a one-out single and scored when Weston Wilson hit his fifth home run of the year for the Timber Rattlers to tie the game at 3-3. Gideon doubled off the left field wall with two outs, but Tewes got Nathan Rodriguez to ground out to end the inning.
Peoria jumped back out to a lead in the bottom of the sixth. Jackson led off the inning with a blast to left field to put the Chiefs back on top 4-3. The homer was Jackson's eighth overall and his second go-ahead bomb of the season.
Tewes (1-0) tossed seven innings in a win, allowing three runs on six hits without allowing a walk and striking out four. Dewin Perez threw one perfect inning with a strikeout in relief. Yeison Medina earned a save without allowing a baserunner over his one inning of work with a strikeout.
Notes… O'Keefe collected his 200th hit in a Chiefs uniform on an infield single in the fourth inning and is the 10th player to do so… Tewes is the 13th pitcher to have a quality start for the Chiefs this season… Tewes has thrown seven innings three times this season… Carlson has a nine-game hit streak… Hudzina has six multi-RBI games this season, five of which have come in the second half… Seven of Hudzina's eight homers have come against right-handed pitching… Hudzina was intentionally walked for the first time this season in the eighth… Hudzina hit his first two-run home run of this season… Peoria has hit 30 homers in the month of July, it's the third time the team has had a 30+ homer month since 2002… The last time the Chiefs had a 30 home run month was May of 2009 when they hit 32… The Chiefs have hit 99 home runs this season, which more than doubles the 2016 team total of 49… Fiedler lost a nine-game on base streak… The Chiefs finish July 15-13… The Chiefs and Timber Rattlers play the series finale with a 7:00 p.m. first pitch… Peoria will send RH Frederis Parra (2-3, 2.68 ERA) to the mound and Wisconsin will start RH Josh Pennington (0-2, 4.26 ERA)… The first 1,000 fans (ages 13 and up) in attendance of Tuesday's game will receive a Pete Vonachen Hall of Fame Plaque giveaway presented by Busey Bank… Tuesday is National Night Out… It's also another Chick-Fil-A Thanks for your Service Tuesday, where veterans and all first responders (police, fire, EMT) receive $3 tickets with a valid ID… The broadcast can be heard, starting with the pregame show at 6:45 p.m. on www.peoriachiefs.com/listenlive which also has downloads for a free app on the iPhone, iPad, Blackberry, and Android… The broadcast is also available on the Peoria Chiefs Radio Network in the Tune-In Radio App.