Iowa Cubs 2022 Regular Season Schedule Announced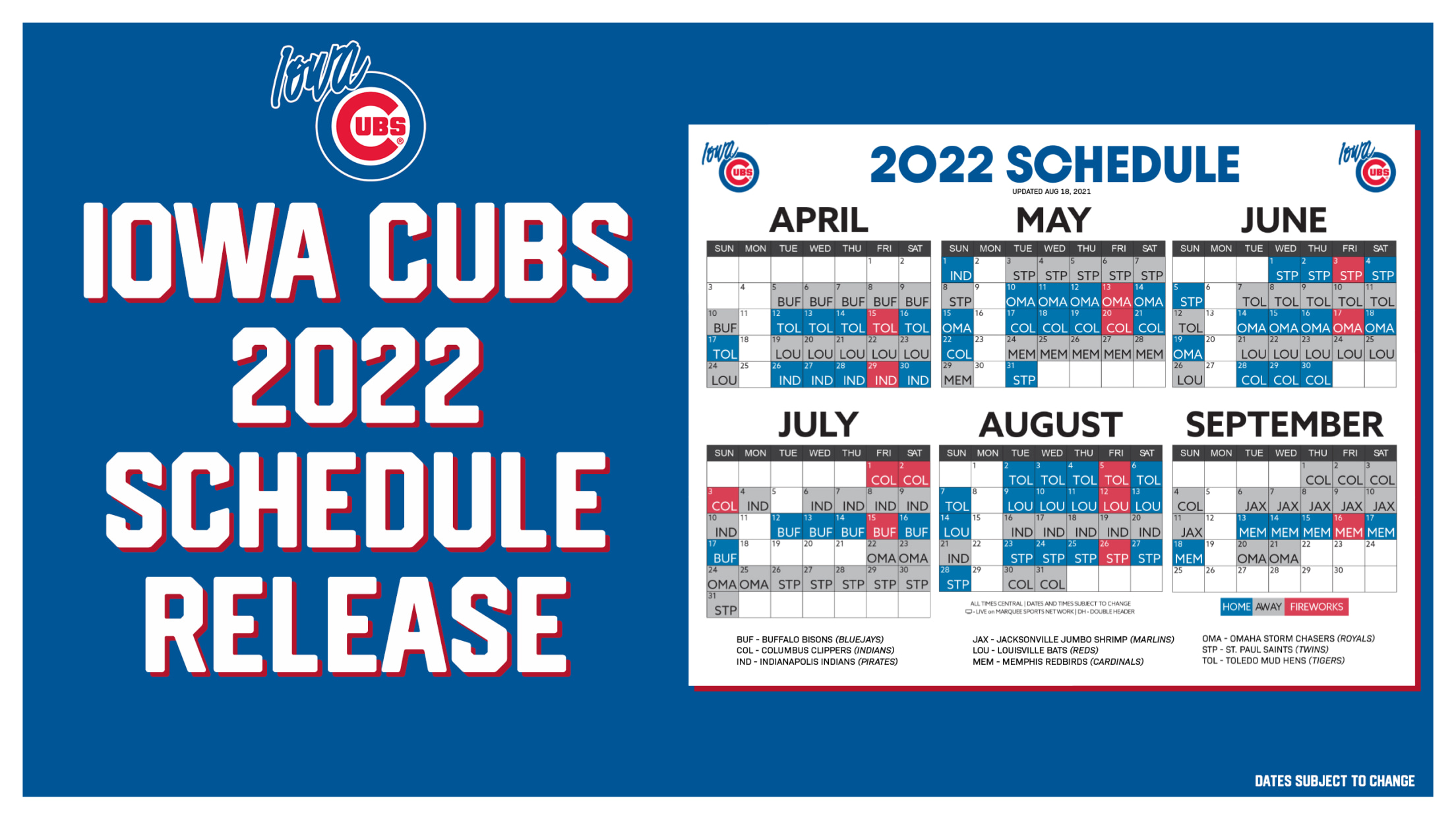 In conjunction with Major League Baseball, the Iowa Cubs are pleased to announce the 2022 regular season schedule. This schedule includes 72 home games as the Iowa Cubs will return to a full slate of 144 games. The 2022 season is set to begin on Tuesday, April 5, and run
In conjunction with Major League Baseball, the Iowa Cubs are pleased to announce the 2022 regular season schedule. This schedule includes 72 home games as the Iowa Cubs will return to a full slate of 144 games. The 2022 season is set to begin on Tuesday, April 5, and run through Wednesday, Sept. 21. Iowa will start the year on the road at Buffalo before kicking off the first of 72 games at Principal Park on April 12 against Toledo.
The 2022 calendar will see a new opponent from the Triple-A East Southeast Division — Jacksonville (Miami Marlins) and from the Triple-A East Northeast Division — Buffalo (Toronto Blue Jays).
After not playing each other in the 2021 season, the Memphis Redbirds will come back to the schedule for 12 games, including the final six home games for Iowa from Sept. 13-18.
Iowa will continue playing their six opponents from the Triple-A East Midwest Division — Omaha (Kansas City), St. Paul (Minnesota), Indianapolis (Pittsburgh), Louisville (Cincinnati), Toledo (Detroit) and Columbus (Cleveland).
Click here for printable 2022 schedule
The matchups will feature six-game series running Tuesday-Sunday with each Monday scheduled for a league-wide off day. Iowa will face both Omaha and St. Paul 24 times, while playing Columbus, Indianapolis, Toledo and Louisville 18 times each. Iowa will see Buffalo and Memphis for 12 games and play Jacksonville for one six-game series.
Iowa will have 12 Firework Fridays in 2022 as well as a special holiday fireworks shows on Saturday, July 2, and Sunday, July 3.
More information regarding game times and 2022 ticketing will be released at a later date. For all the latest Iowa Cubs news, visit www.iowacubs.com or sign up for our email newsletter.