Iron Pigs Score Twice in 11th To Walk-Off Again, 3-2
Lehigh Valley beats Pawtucket in walk-off fashion in a third straight meeting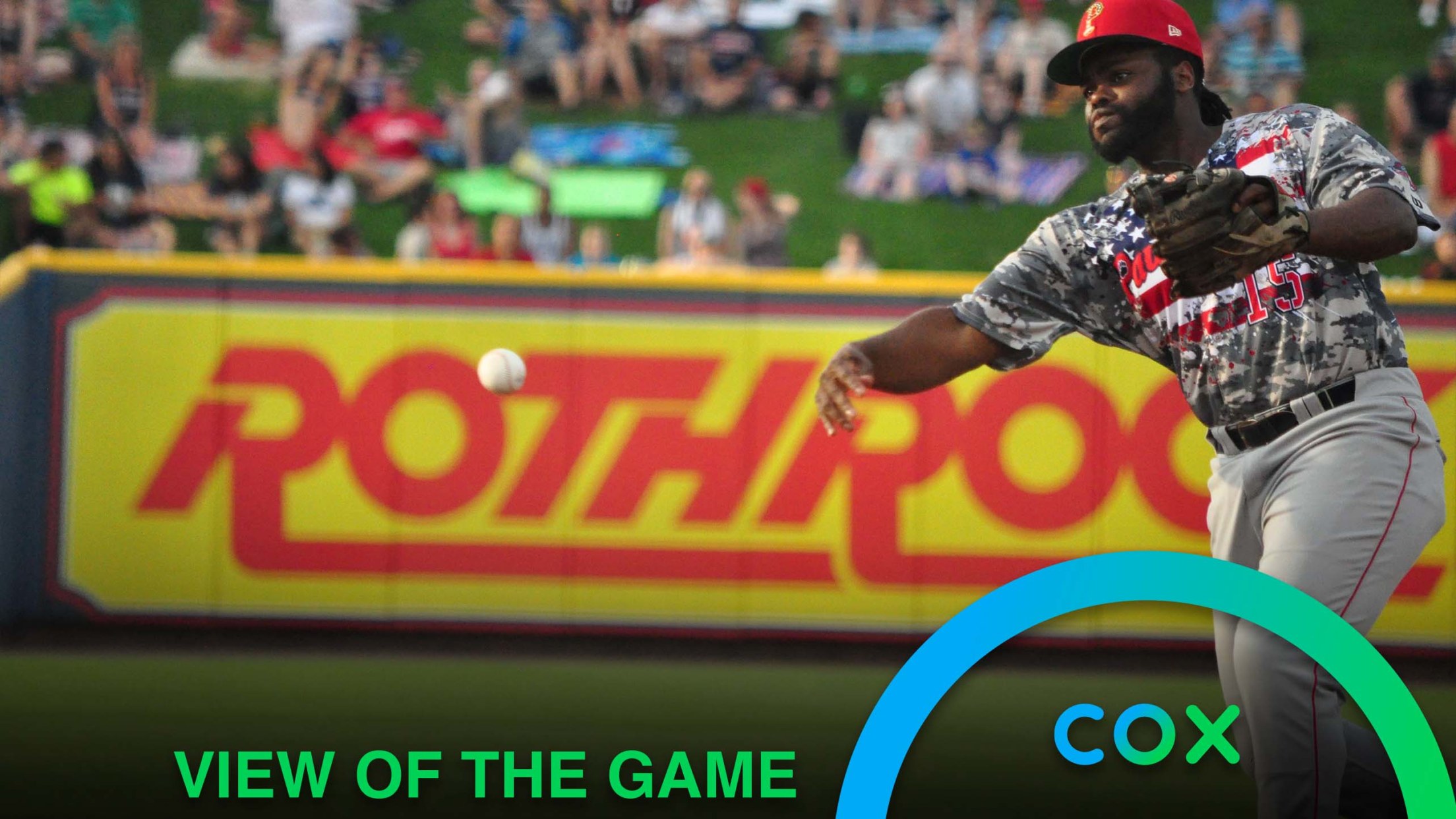 ALLENTOWN, PA - Shane Robinson's sacrifice fly drove home the winning run moments after Nick Williams' RBI double tied the game in the bottom of the 11th inning as the Lehigh Valley Iron Pigs once again defeated the Pawtucket Red Sox in their final swing of the night, this time
ALLENTOWN, PA - Shane Robinson's sacrifice fly drove home the winning run moments after Nick Williams' RBI double tied the game in the bottom of the 11th inning as the Lehigh Valley Iron Pigs once again defeated the Pawtucket Red Sox in their final swing of the night, this time 3-2 in 11 innings on Friday night at Coca-Cola Park.

After a sacrifice fly by Chris Owings gave the PawSox a 2-1 lead in the top of the 11th, Williams lined the first pitch from Bobby Poyner (2-3) into the right field corner to plate the automatic runner and tie the score. After a groundout advanced Williams to third, Robinson lifted the first pitch he saw to deep right field for the game-winning sac fly, his second of the game.
Lehigh Valley (42-42) has now won seven of its last eight games overall, and has defeated Pawtucket (33-52) on its final swing in consecutive nights. It is the also the third straight meeting between the teams that has ended with an Iron Pigs walk-off victory dating back to June 6th in Allentown.
The Pigs were frustrated by five PawSox pitchers through the first 10 innings, as Lehigh stranded a remarkable 18 men on base and batted just 1-for-19 with runners in scoring position until Williams big leadoff swing in the 11th.
Konner Wade started for Pawtucket and made his Triple-A debut a memorable one, skating through five tumultuous innings while allowing 11 baserunners (eight hits, three walks) but only one run. Lefty Darwinzon Hernandez made his first appearance since being moved in the the PawSox bullpen and worked a 1-2-3 bottom of the sixth.
The PawSox scored their only run in regulation on a two-out RBI single by Rusney Castillo in the third inning against Lehigh starter Ramon Rosso. Rosso combined with three relievers to hold Pawtucket to only four hits in the 11-inning affair.
Reliever Kyle Dohy (3-4) stranded the automatic runner in the 10th, then permitted that auto runner to score in the 11th but allowed nothing further and earned his third win of the season. He got Josh Ockimey to foul out to end the top of the 11th and strand a pair of runners aboard.
The PawSox will look to get their first win in the series on Saturday night with righty Erasmo Ramírez (2-5, 4.94) slated to make the start against righty Tyler Viza (1-7, 7.18). First pitch is scheduled for 6:35 pm. Radio coverage on WHJJ (920 AM and 104.7 FM) and throughout the PawSox Radio Network begins with the pre-game show at 6:05 p.m.
Following this four-game set, the PawSox are off for the Triple-A All-Star break, then return home on July 11th. That will begin a 12-game homestand which represents the longest scheduled homestand for the PawSox in 27 years - since a 12-game homestand in 1992 (from July 29 - August 9).
The homestand begins with a 5-game series vs. Buffalo starting on the 11th at 7:05pm. The Sox and Bisons will play a make-up doubleheader on Friday, July 12 beginning at 4:35 pm on Jackie Bradley Jr. Gold Glove Bobblehead Night.
The teams will play single games on Saturday, July 13 at 6:15 pm (Prince & Princesses Night & Fireworks) and Sunday, July 14 at 1:05 pm (PawSox Cap Day on another Family FunDay at McCoy).
Louisville visits the following week for a 4-game series with 7:05 pm games vs. the Bats on July 15 & 16, a 6:05 pm start on July 17, and an 11:05 am morning affair on July 18. Finally, the Charlotte Knights come to town over the weekend of July 19-21 for a 3-game set highlighted by Saturday, July 20 at 6:15 pm on Alex Cora World Series Champion Bobblehead Night followed by Margaritaville post-game Fireworks.
Good tickets are available, and fans can visit the McCoy Stadium box office, which is open Monday-Friday from 10 a.m. through 5 p.m., and during all home games. Fans can also call (401) 724-7300 or log on to PawSox.com for tickets.