WooSox manager Chad Tracy excited to build on successful first year in Worcester
Originally published Dec. 23, 2022
It was less than a month after the WooSox season was over when manager Chad Tracy started to prepare for 2023. Minor League Baseball released the official schedule Oct. 25, so late that night after his family fell asleep, Tracy studied it and broke it down. Suddenly the baseball juices
WooSox Staff Celebrate MLK Day at Quinsigamond Community College's 38th Annual Community Breakfast
On Monday, January 16, members of the Worcester Red Sox' front office visited Quinsigamond Community College's athletic center, which was transformed into a dining hall, auditorium, and award room for the 38th Annual Martin Luther King, Jr. Community Breakfast. Massachusetts State Senator Robyn Kennedy, who represents the 1st Worcester District,
Second Annual WooSox Holiday Caravan Spreads Joy Throughout Central Mass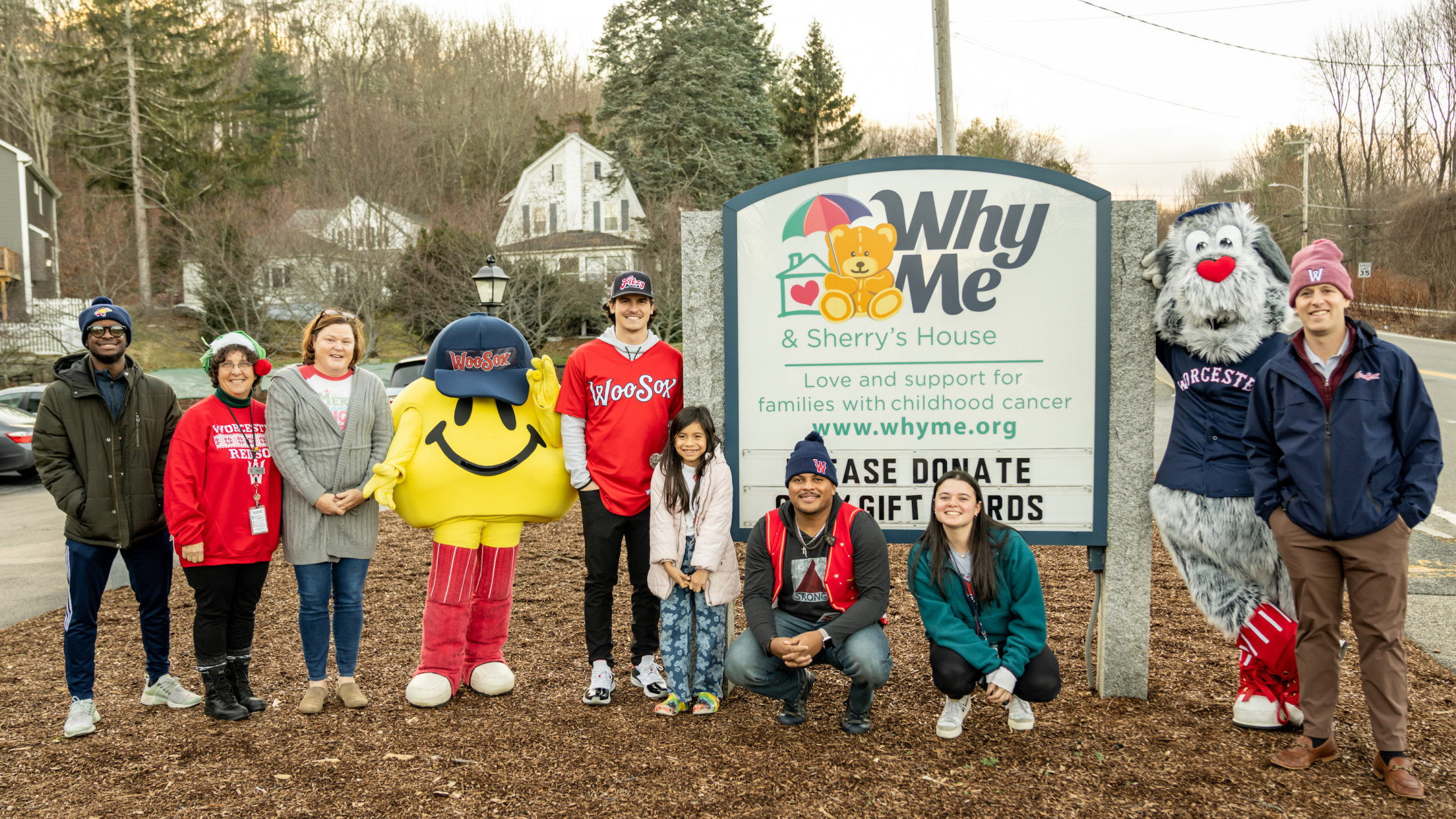 The Second Annual WooSox Holiday Caravan was led by team infielder Ryan Fitzgerald and hitting coach Rich Gedman, who spread joy at non-profits, schools, and community organizations throughout Central Massachusetts at the end of December, alongside WooSox front office members. The group traveled from location to location using the large
WooSox Express Gratitude for Employees in the "Yes Business"
YES Awards—a program the team plans on expanding in 2023—are given to employees who best embody WooSox culture of exceptional fan service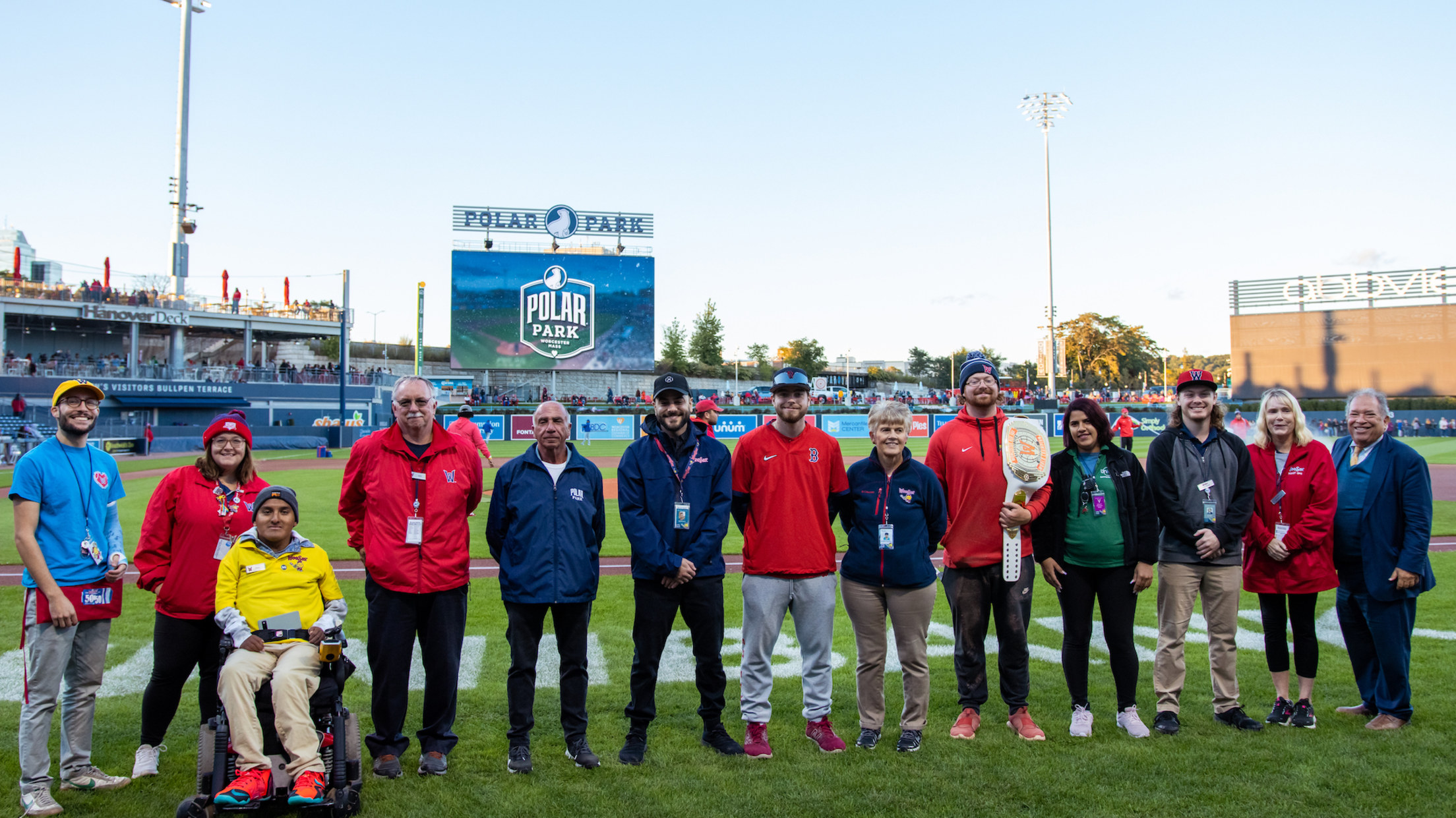 For Worcester Red Sox President Dr. Charles Steinberg, only one word can be used to describe his employees: Love. For a ballpark nestled in the Heart of the Commonwealth and adorned with heart-shaped light posts and iconography, love is the central tenant of Polar Park operations. WooSox employees act with
My Tiny Tour of Central Massachusetts, an Off-Season Story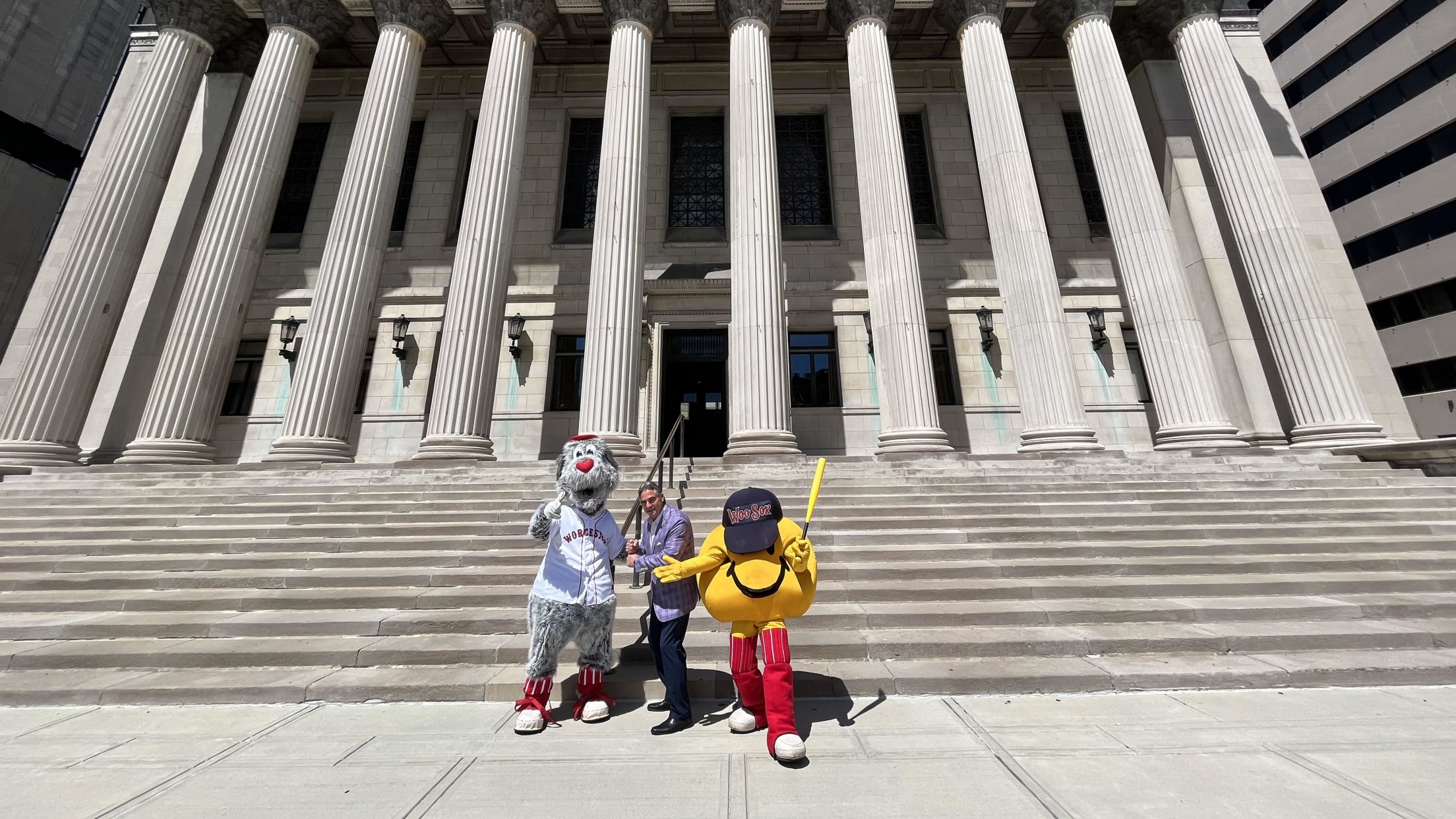 When the Worcester Red Sox' season came to a close at the end of last summer, fans and staff members alike looked to the off-season and wondered what would be in store when baseball took its annual break. Schools were back in session, colder weather was on its way, and
A special bond: WooSox fan fave Fitzgerald inspired by Olivia, 13, fighting brain cancer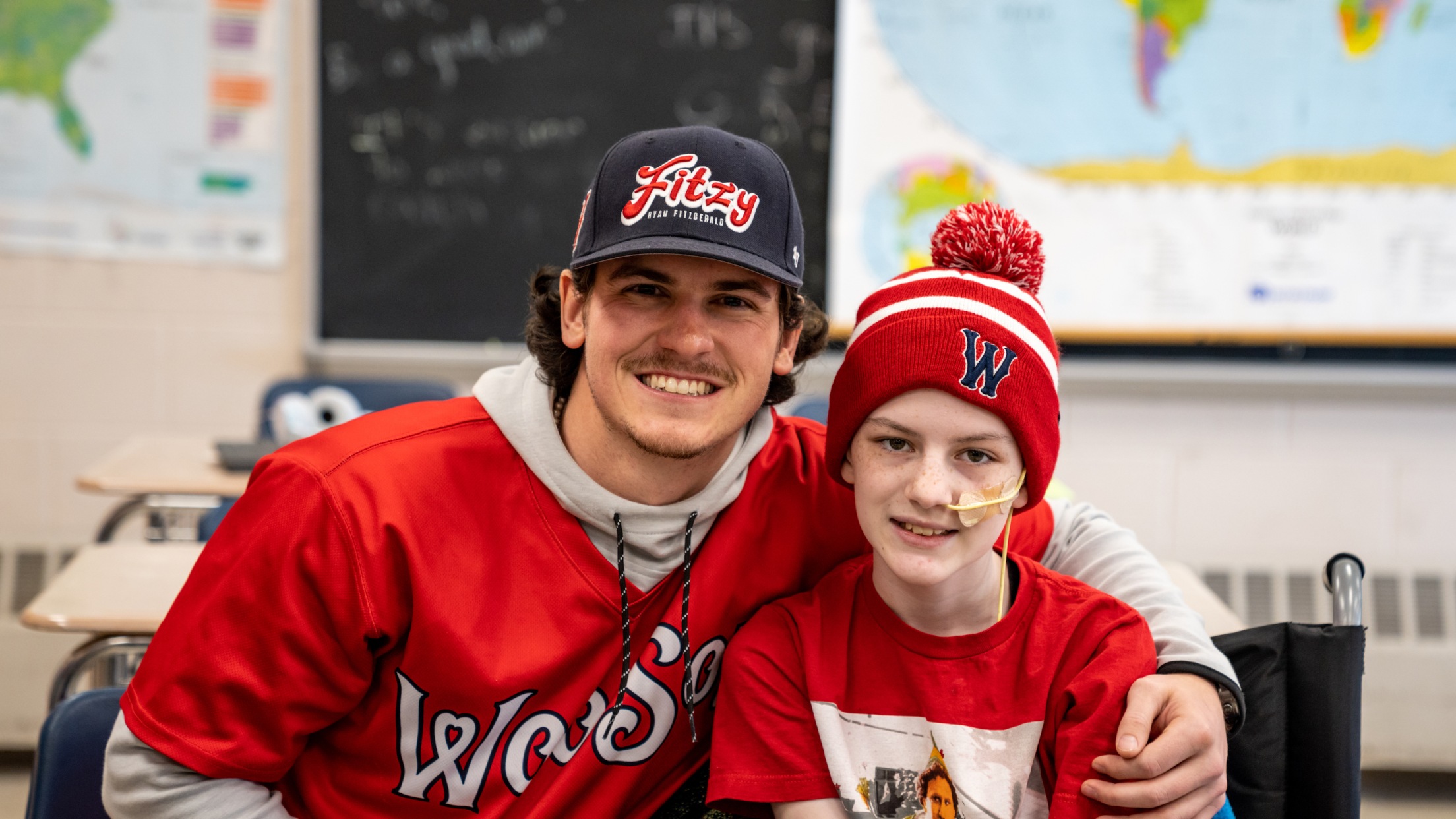 At exactly 6:28 p.m. on Sept. 1, the baseball world was introduced to Olivia Perez. And WooSox' Ryan Fitzgerald took notice. Olivia stepped onto the mound at Polar Park and unleashed a perfect ceremonial first pitch. The 5,896 fans in attendance, including Fitzgerald, gave her a standing ovation. The WooSox
What We're Watching: WooSox Attend Premiere of "Black Panther: Wakanda Forever" at Blackstone Valley 14 Cinema de Lux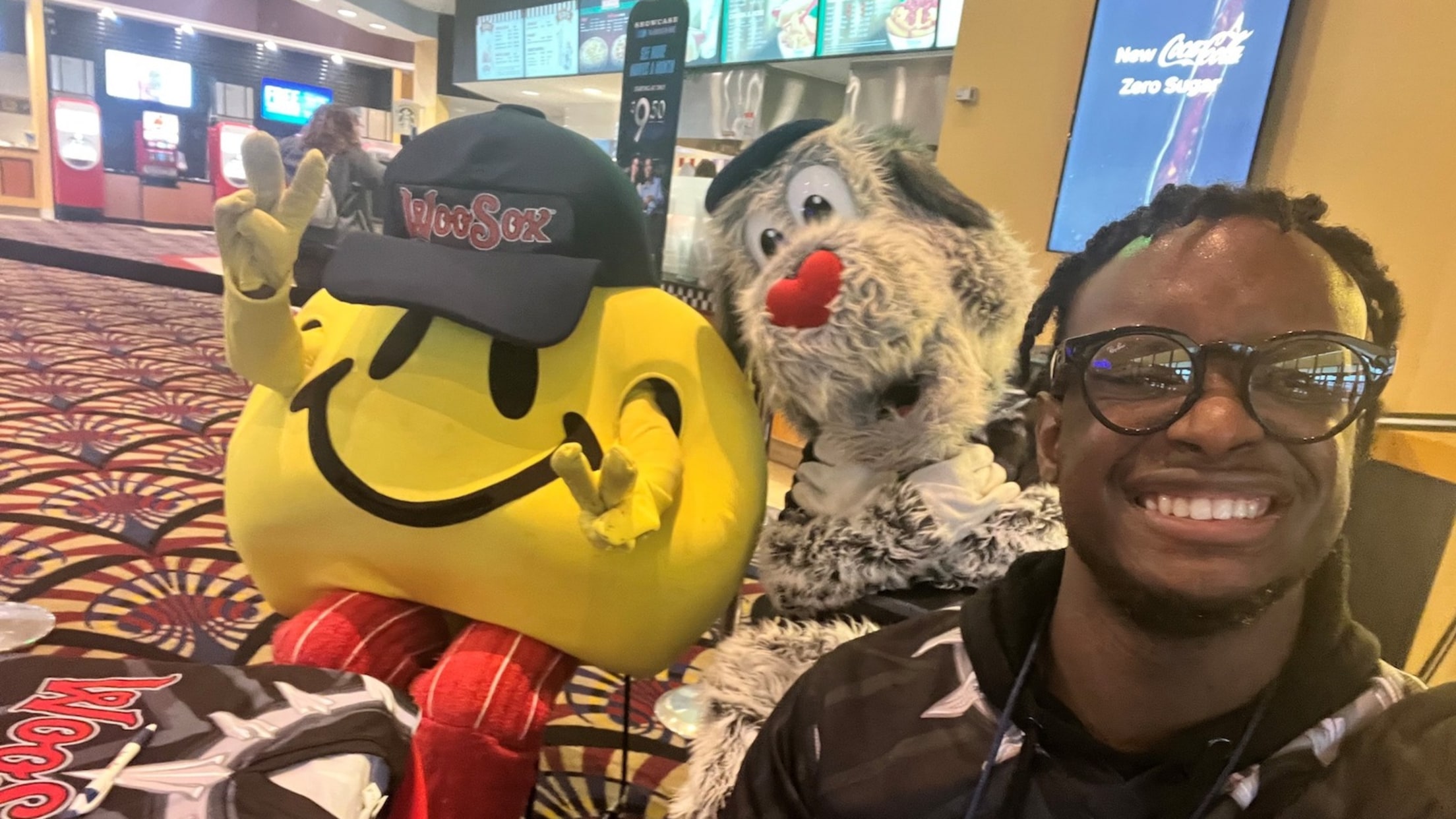 On Friday, November 11, the Worcester Red Sox attended the premiere of the new Black Panther movie, Black Panther: Wakanda Forever at Blackstone Valley 14 Cinema de Lux in Millbury. WooSox mascots Smiley Ball and Woofster the WonderDog took pictures with fans prior to the movie. There was a massive
Burncoat Middle School Honor Roll Students Enjoy Lunch in Polar Park's DCU Club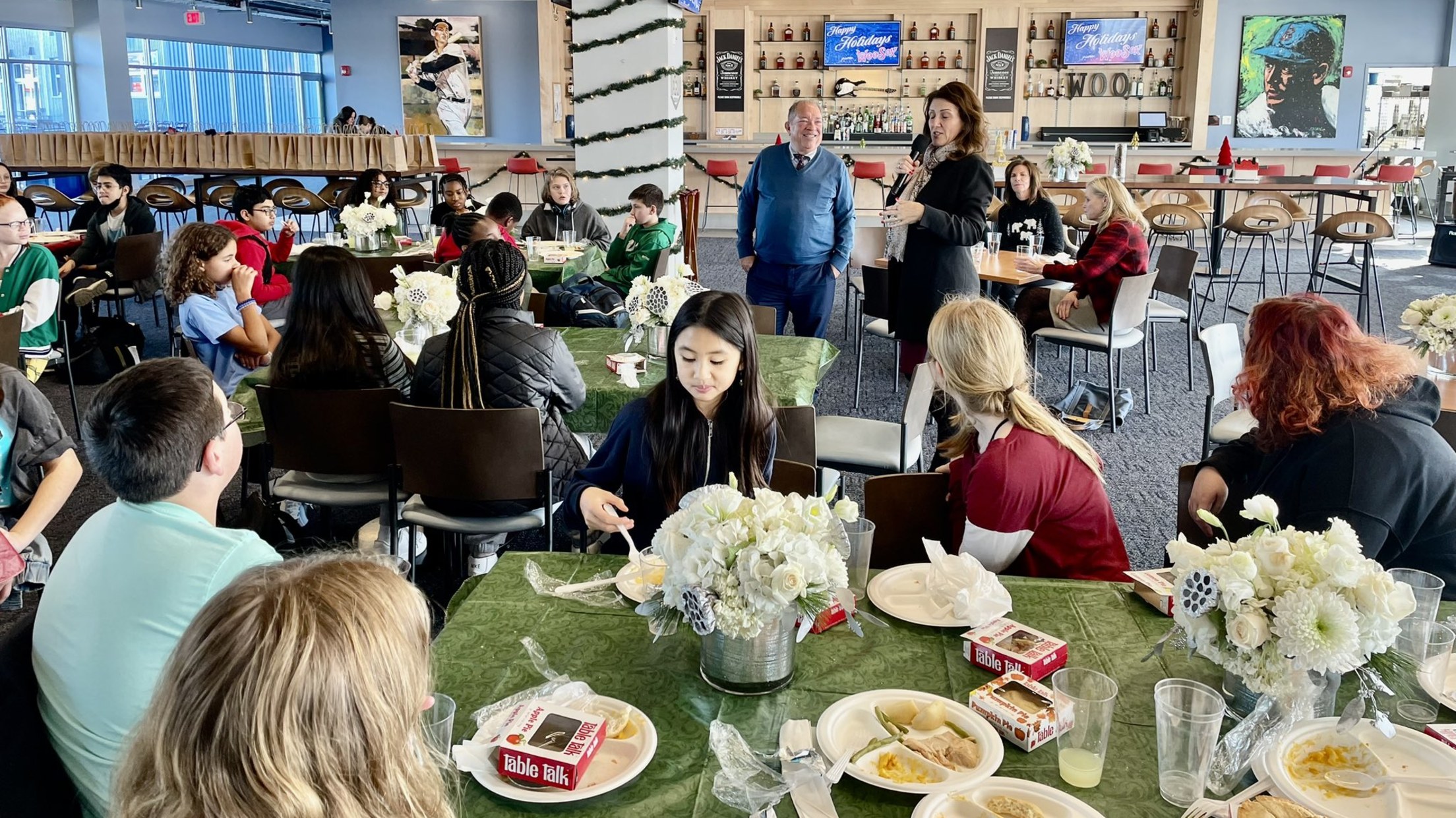 On Thursday, December 8, the Worcester Red Sox treated 61 honor roll students from Burncoat Middle School to lunch in Polar Park's DCU Club as part of the team's second annual Holiday Luncheon that benefits Worcester Public School students. These students were rewarded with lunch for their hard work in
Happy Holidays from the WooSox: Fans Enjoy "Winter Wonderland," Take Advantage of Earliest Date Tickets Have Ever Gone on Sale
Visit the WooSox Team Store from 10 a.m.–7 p.m. Thursday and Friday for last-minute shopping. WooSox Gift Cards are valid for tickets, merch, and concessions!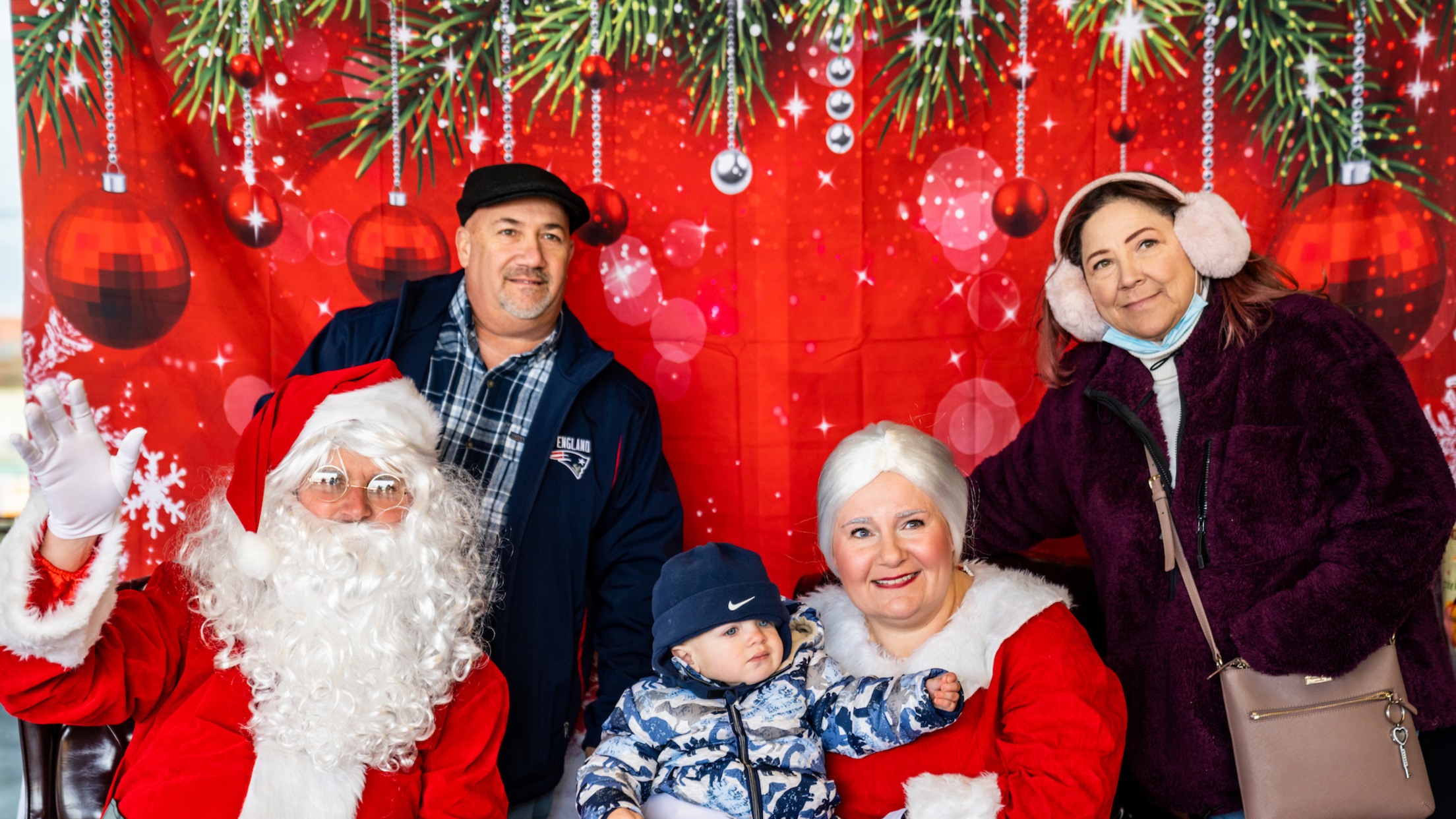 During the 2022 season, the Worcester Red Sox led all 120 clubs in Minor League Baseball in ticket sales and were top-5 in total attendance. As a token of appreciation, the club put single game tickets for Opening Day and April & May on sale earlier than ever before at
"Tessie" and the Dropkick Murphys, a Red Sox History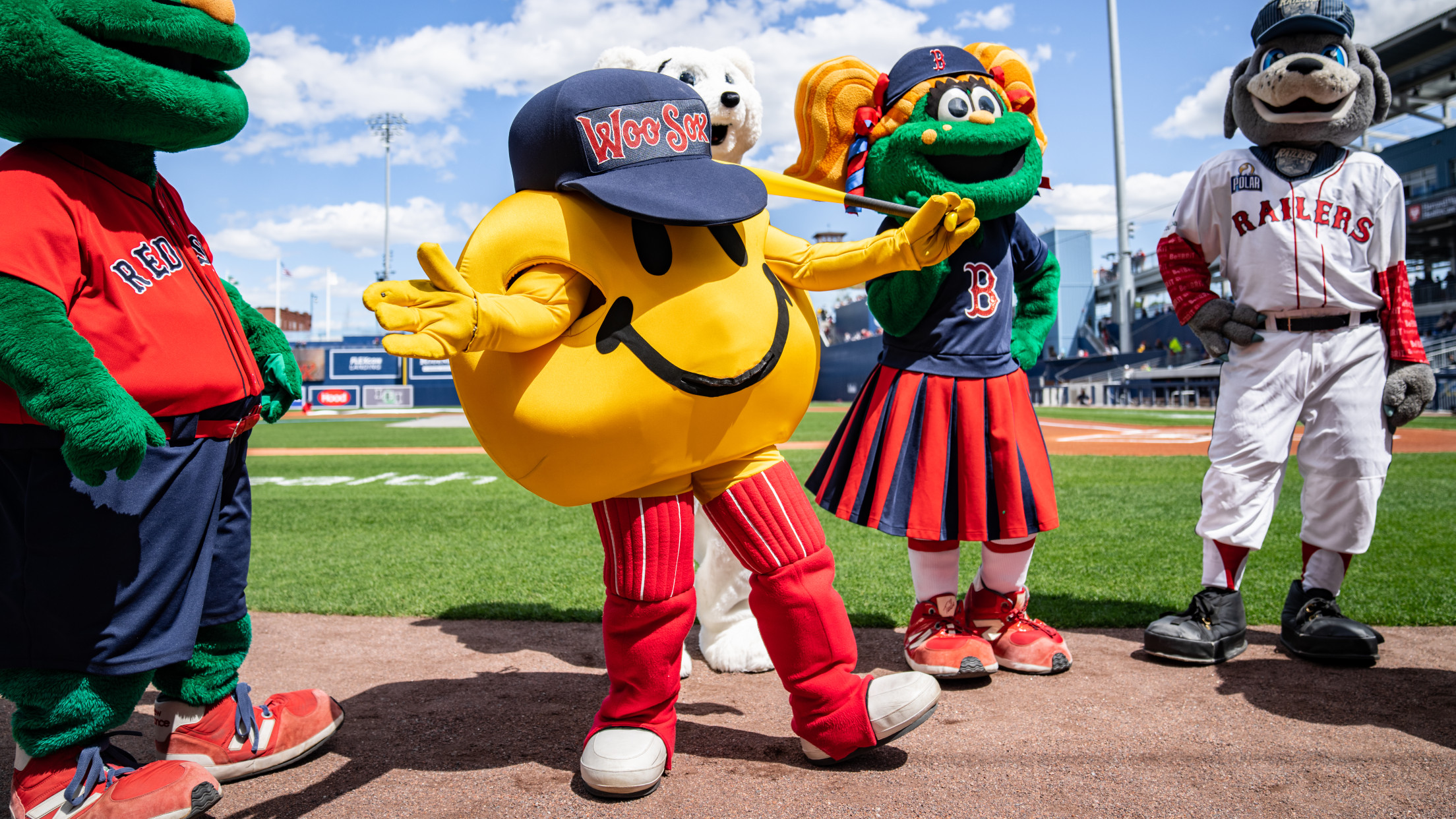 In a masterful blend of history and rock & roll, the Dropkick Murphys modernized an old Boston anthem and propelled the 2004 Boston Red Sox to their first World Series championship in nearly a hundred years. At first, the original song "Tessie" was featured in the 1902 Broadway musical, The
WooSox Foundation Contributes $1,000 to Jingle Bell Toy Drive Benefiting Boys & Girls Club of Worcester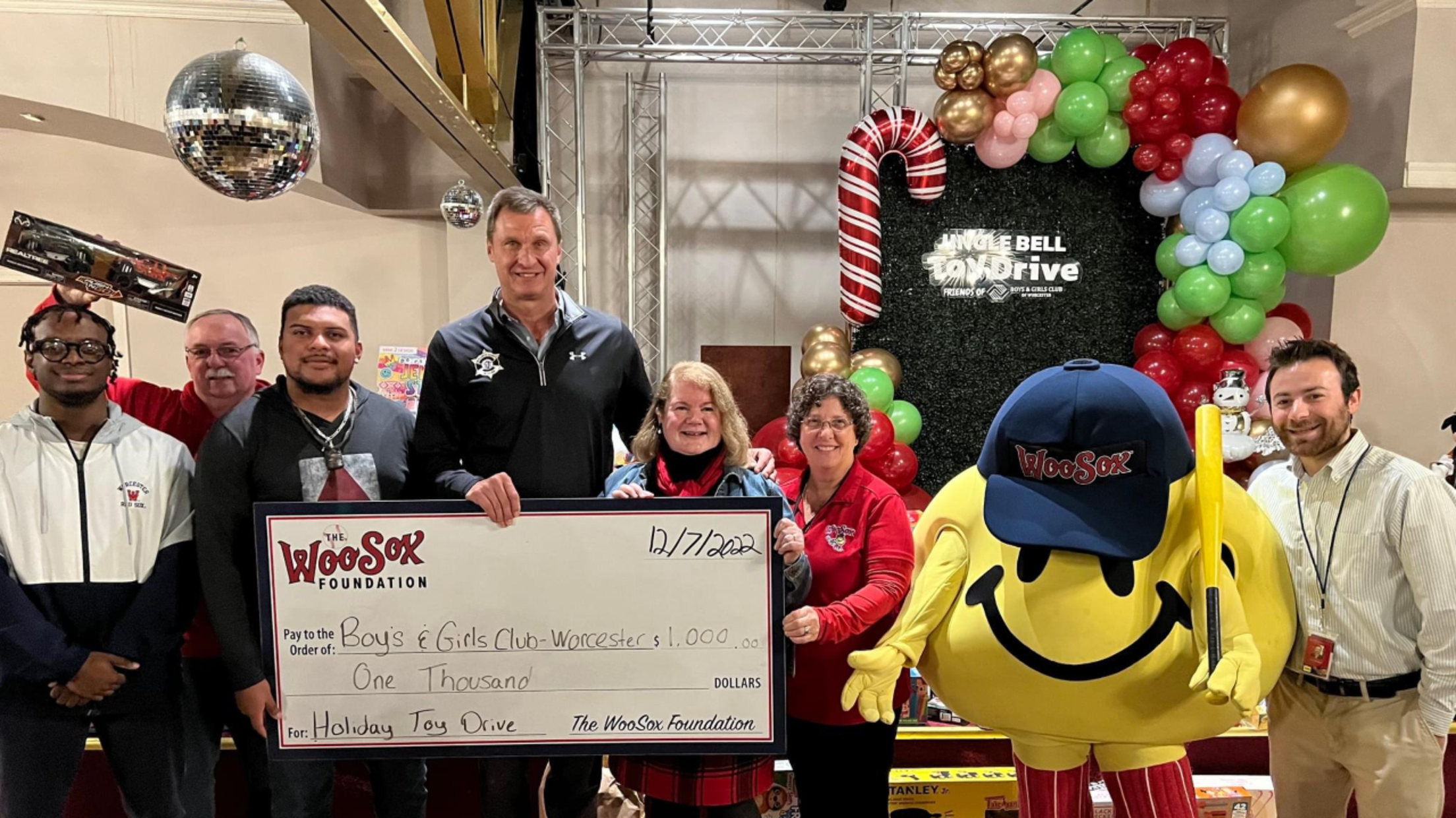 Representatives of the Worcester Red Sox gathered at "El Basha" at Park Ave in Worcester on December 7 at a fundraiser hosted by the Worcester County Sheriff's Office Reserve Deputy Association to benefit the Boys & Girls Club of Worcester. Toys and funds were collected to ensure as many kids
WooSox Foundation Honors gala celebrates those who made impact throughout Central Mass.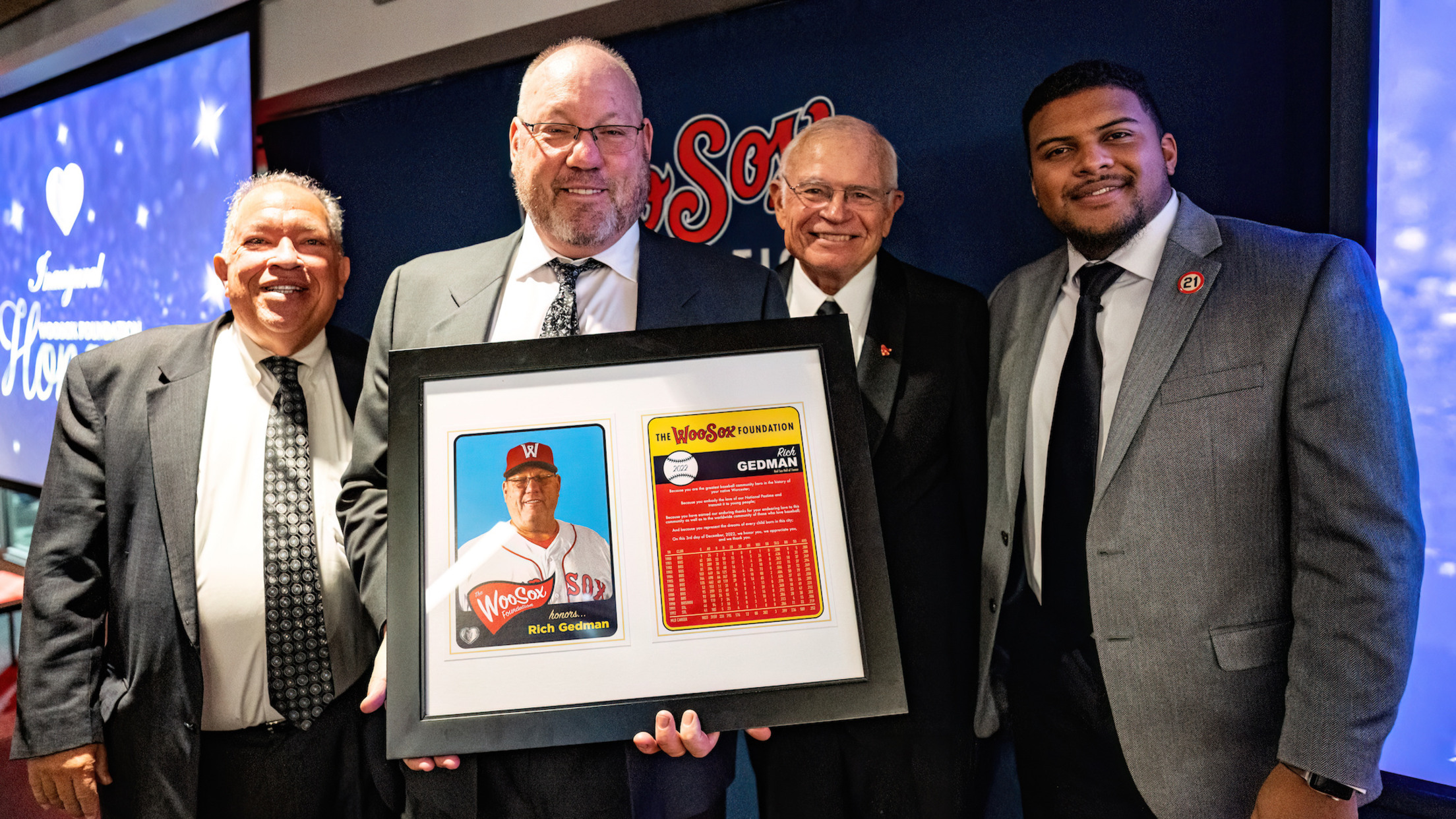 Polar Park resembled a Hollywood set Saturday, December 3. Glitz, glamour and a strong sense of community were center stage as part of the inaugural WooSox Foundation Honors gala. The philanthropic arm of the WooSox focus on four pillars – education, social justice, conquering cancer and diamond sports – and
Second Annual "WooSox Foundation Holiday Caravan" to Spread Joy Around Central MA
Community Award Winners Ryan Fitzgerald and Red Sox Hall of Famer Rich Gedman to join Smiley Ball, Woofster the WonderDog, Roberto the Rocket, and Santa in visits to charities, schools, and community organizations WORCESTER, MA – Led by Infielder Ryan Fitzgerald and Hitting Coach Rich Gedman, two award-winning members of
Taco & Tequila Tuesdays, Woof Woof Wednesdays, & Throwback Thursdays Highlight WooSox '23 Promotion Innovations
23 "Town Takeovers," 10 "Heritage Nights," and a host of nights spotlighting autism, ALS, and Alzheimer's illustrate focus on regionalization, outreach, and inclusion; UniBank Fireworks, Dunkin' Sunset Catches, and Fallon Health Family Funday Sundays return for a 3rd straight year WORCESTER, MA — The Worcester Red Sox today announced their
Tickets for Opening Day & April & May to Go on Sale Sat. 12/10 with Winter Wonderland at Polar Park
2nd Annual "WooSox Winter Wonderland" at Polar Park features Santa & Mrs. Claus, Smiley Ball, Woofster the WonderDog, Roberto the Rocket, cookie decorating, holiday crafts, and karaoke, from 10 a.m.–3 p.m. WORCESTER, MA — The Worcester Red Sox will make single game tickets available for Opening Day and April &
WooSox thankful for partnership with Assumption; recall football and baseball feats on the field
Assumption tops Franklin Pierce, 28–14, in middle game of football weekend at Polar Park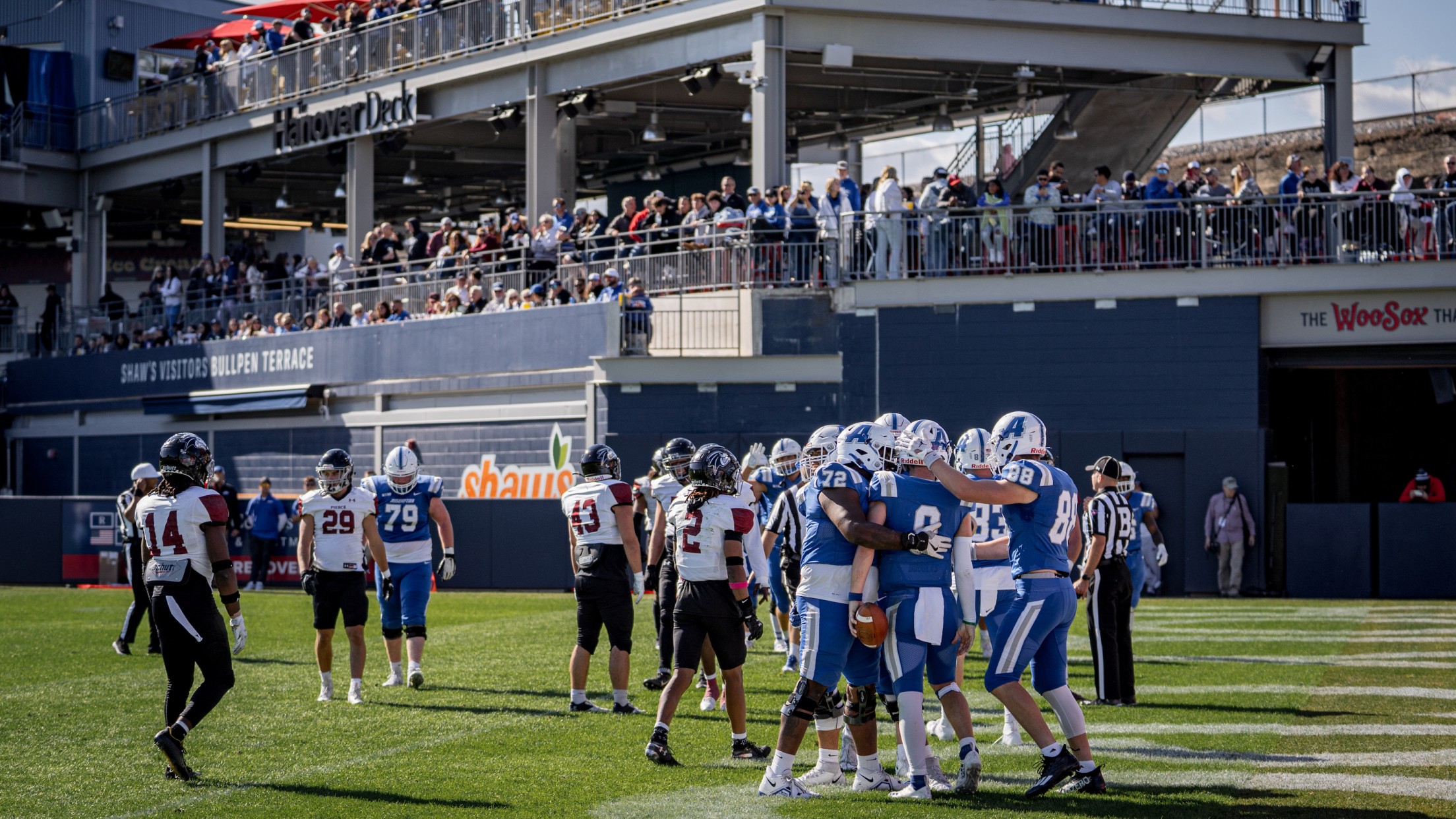 Throughout November, the Worcester Red Sox have recalled moments and memories that move them to give thanks. This story illustrates how their partnership with Assumption University has provided extraordinary experiences for their student-athletes. Assumption University, whose baseball players have taken to the Polar Park diamond twice in two years, gave
WooSox Wrap Up Month of Giving with Veterans Day and Thanksgiving Activities and Events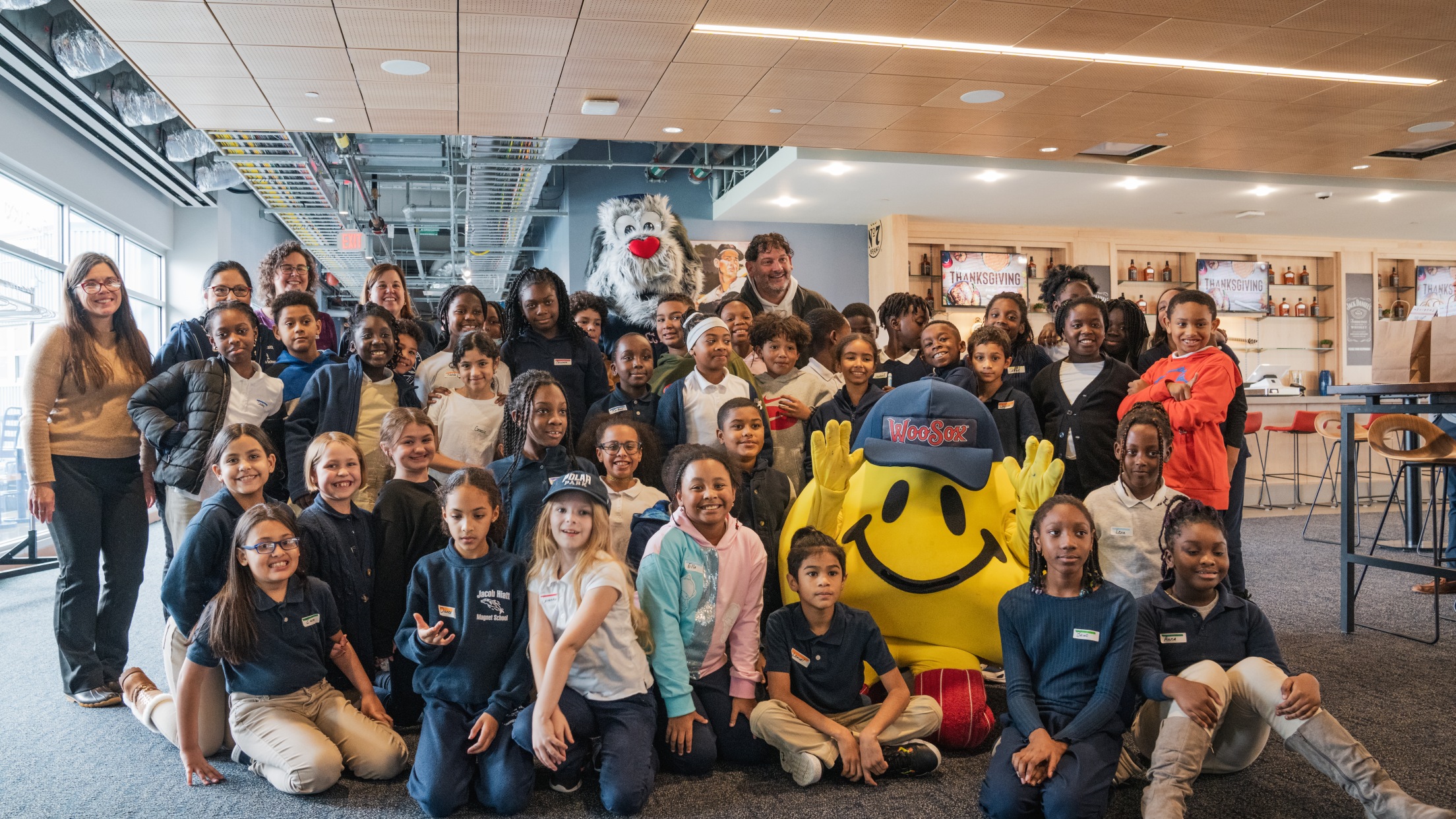 The Worcester Red Sox and WooSox Foundation wrapped up a busy November with a slew of community events and good deeds to carry the club into what's poised to be another busy month in December. More than 150 veterans gathered in Polar Park's DCU Club for the club's 8th Annual
WooSox Re-Launch "New WooSox Rewards," a Free Fan Loyalty Program
Members earn points that can be redeemed for prizes and unique experiences that can't be bought anywhere else; WORCESTER, MA — The Worcester Red Sox today announced the creation of WooSox Rewards, an all-new, all-encompassing, re-launched free fan loyalty program, presented by Window World, that allows fans to earn points
Second Annual "Trick-or-Treat at Polar Park" Oct. 30 Attracts More Than 3,000 Fans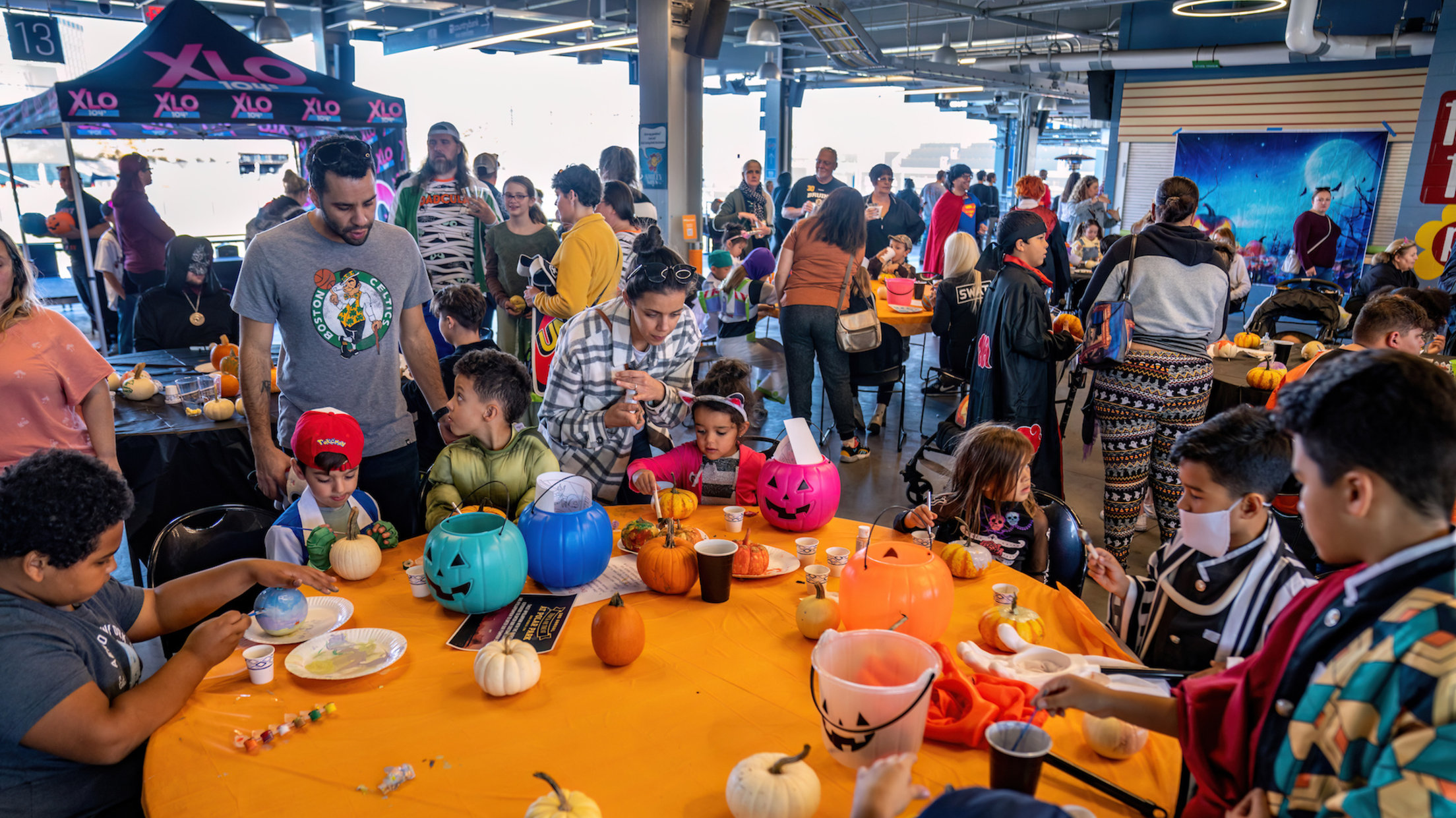 On Sunday, October 30, the Worcester Red Sox welcomed more than 3,000 fans for the second annual "Trick-Or-Treat at Polar Park." The event was free to the public and allowed youngsters to participate in a multitude of activities. Starting at 2 p.m., trick-or-treating took place in Suites 14 through 22,
WooSox Support Pancreatic Cancer Awareness Month at "Karaoke for a Cure" Nov. 3
Ten members of the Worcester Red Sox' front office attended the Pancreatic Cancer Alliance's "Karaoke for a Cure" event on Thursday, November 3, at the Manor in West Boylston. The goal of the event was to raise awareness and funds for pancreatic cancer research and local patient care. Attendees had
MetroWest YMCA Honors Larry and Stacey Lucchino with Inaugural "Dream Big Award"
Dream Big Gala & Auction was held Nov. 9 at the Verve Hotel in Natick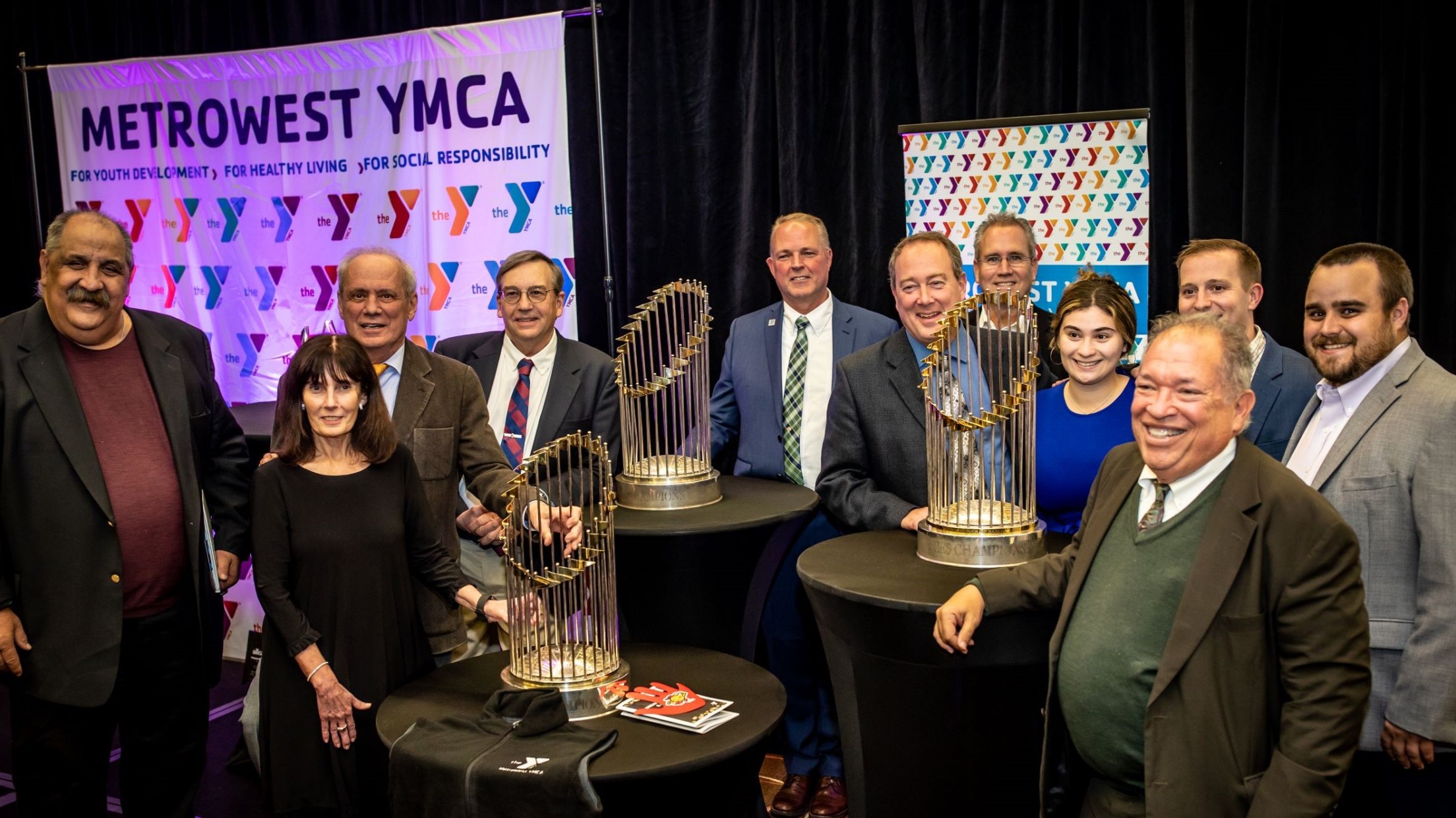 On Wednesday, November 9, the MetroWest YMCA presented Larry Lucchino, chairman and principal owner of the Worcester Red Sox, and wife Stacey Lucchino with the inaugural "Dream Big Award" at their gala & auction at the Verve Hotel in Natick. Nearly 200 people, including a handful of WooSox front office
Worcester Red Sox Welcome Season Ticket Members for '22 Offseason Exclusive Event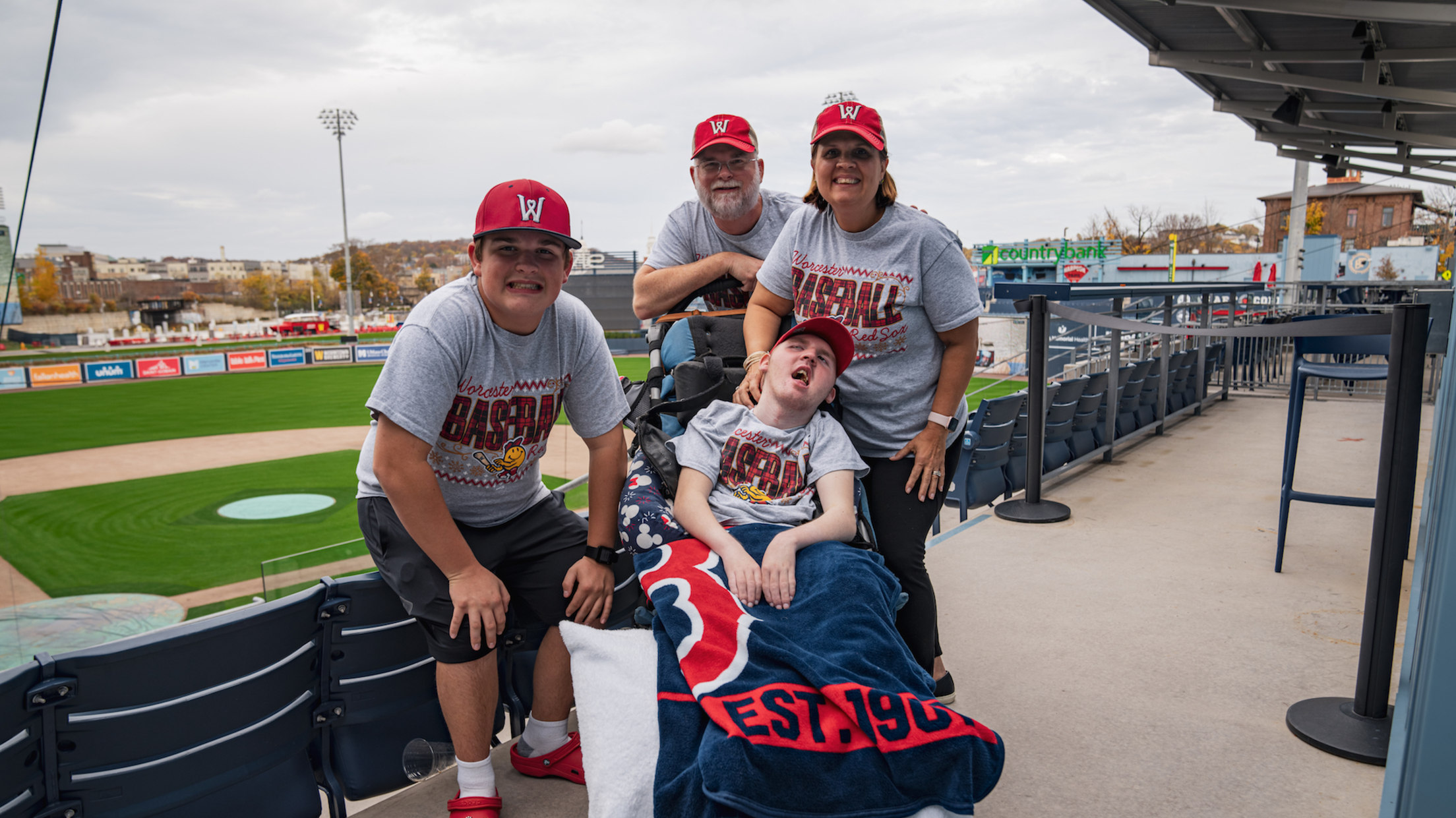 The Worcester Red Sox welcomed their Season Ticket Members to Polar Park this past Sunday, November 6, for '22 Offseason Exclusive: Photos, Football and Food. Nearly 100 Season Ticket Members had the opportunity to explore the WooSox clubhouse, take a photo in an official team jersey, and cheer on their
EMass Senior Softball Hosts Rich Gedman at Annual Awards Banquet
WooSox Hitting Coach and Red Sox Hall of Famer Addresses Room of 200 at Natick Elks Lodge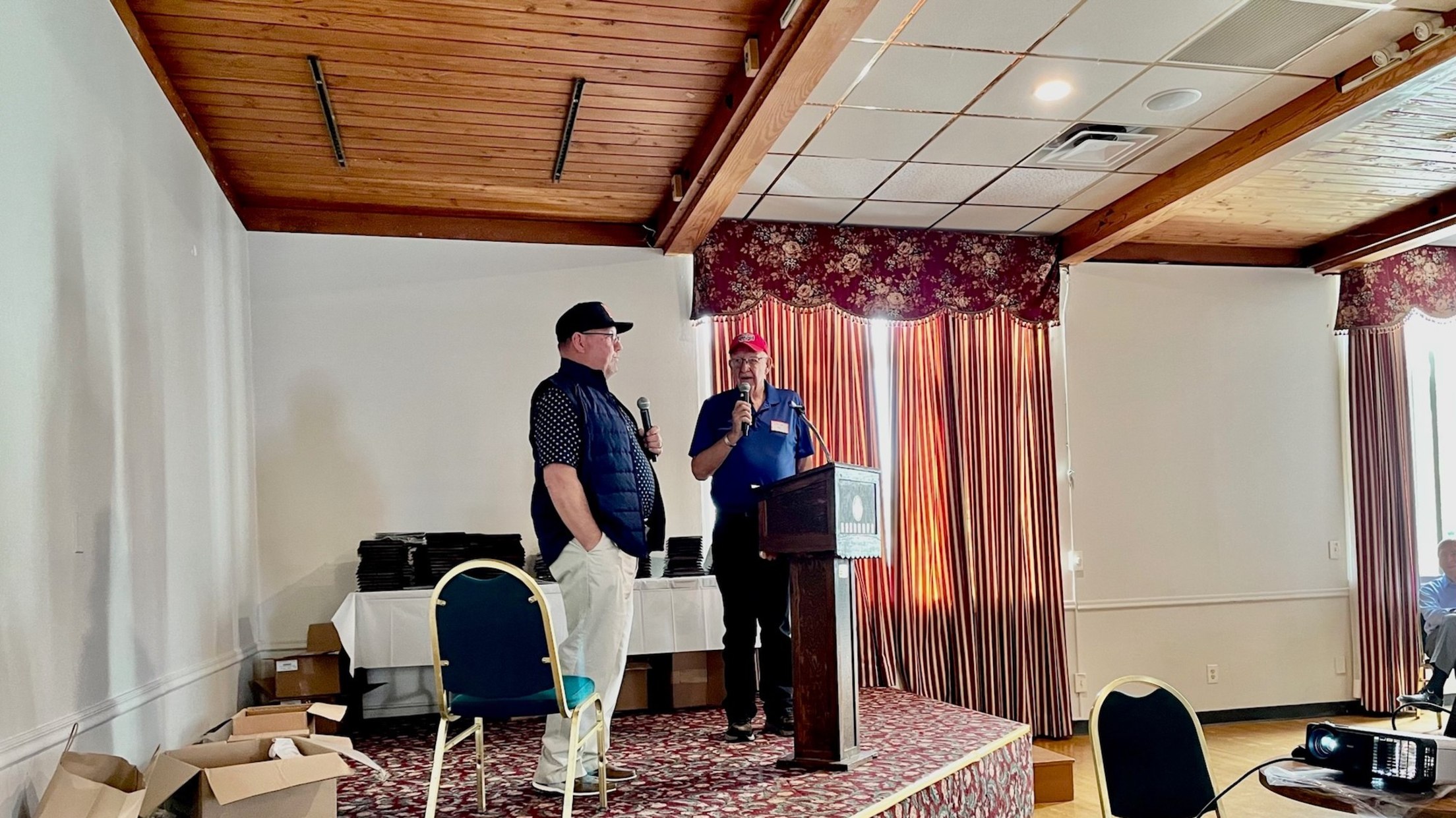 The Worcester Red Sox were in Natick on Saturday, November 5, to show their support for EMass Senior Softball players—who play competitively throughout the region—during their annual awards banquet. Rich Gedman addressed a room filled with 200 spry seniors who had plenty of good questions about his Red Sox Hall
WooSox Foundation Joins Worcester County Sheriff for 2022 Winter Coat Drive
More than 4,000 Coats Distributed at 17 Locations over 5 Days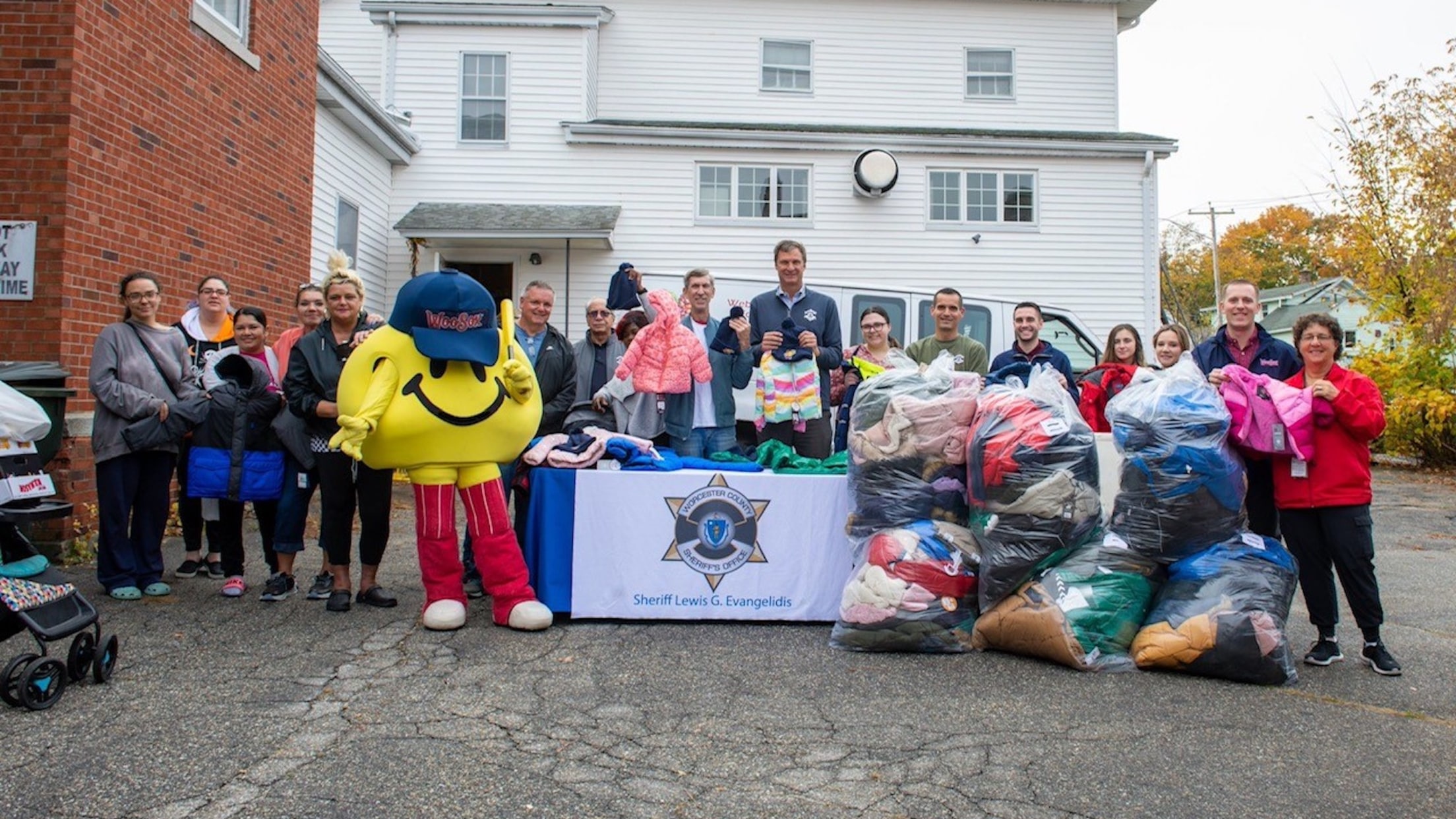 For the second consecutive year, the WooSox Foundation showed their support for the Worcester County Sheriff Reserve Deputy Association's Annual Winter Coat Drive, led by Worcester County Sheriff Lew Evangelidis. In a period spanning five days in the middle of October, more than 4,000 brand new winter coats were distributed
Youngsters from Boys & Girls Club of Pawtucket Enjoy Games 1 and 2 of World Series in Houston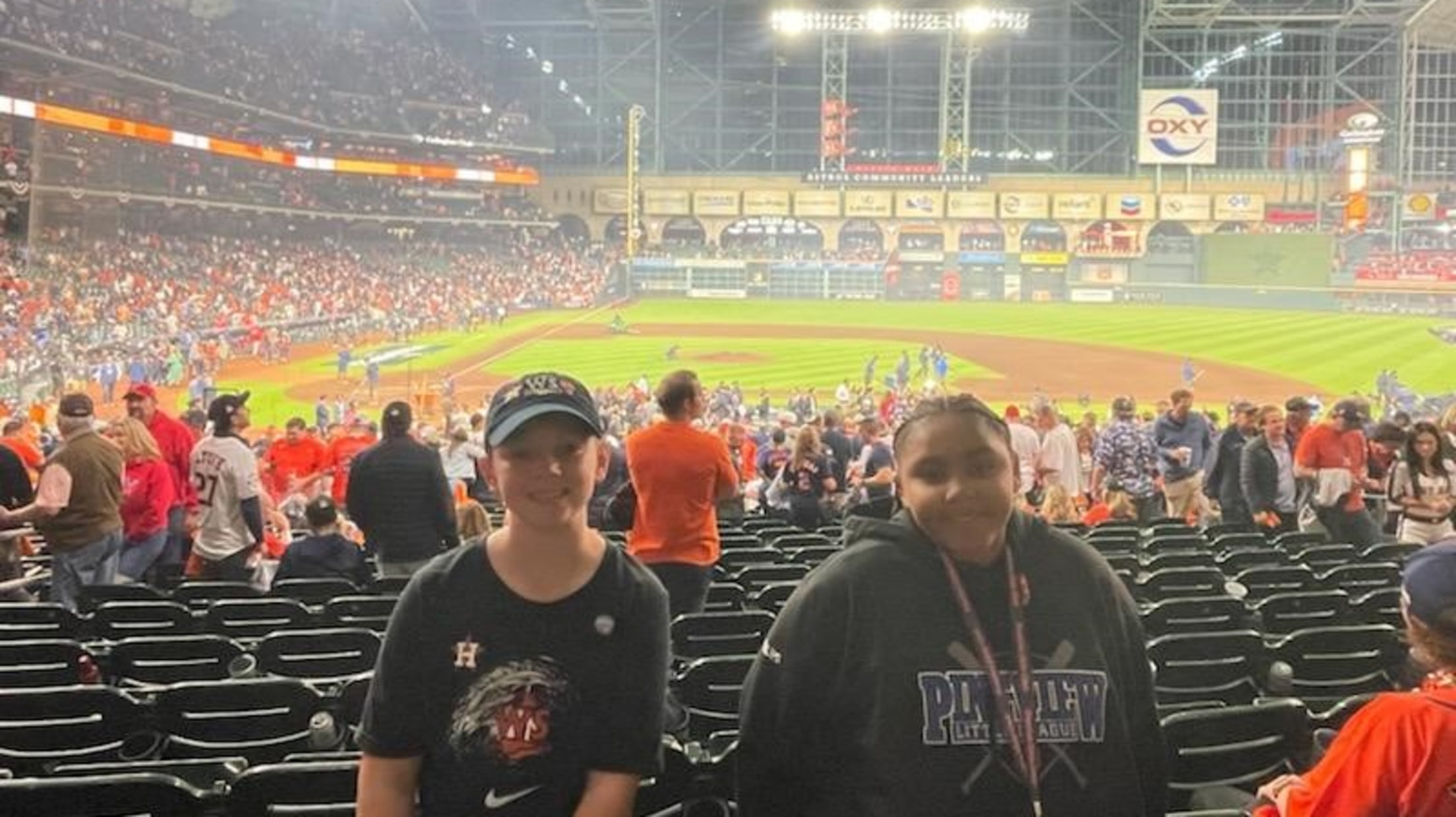 The Worcester Red Sox continued a Rhode Island tradition that dates back 72 years by sending two kids with their chaperones to Games 1 and 2 of the World Series that took place in Houston last Friday and Saturday. Nallah Goss (10) and Nolan Myers (9) from the Boys &