It's All Asheville in an Afternoon Blowout
Tourists Beat Grasshoppers 10-3 Behind Four Home Runs and Six No-Hit Innings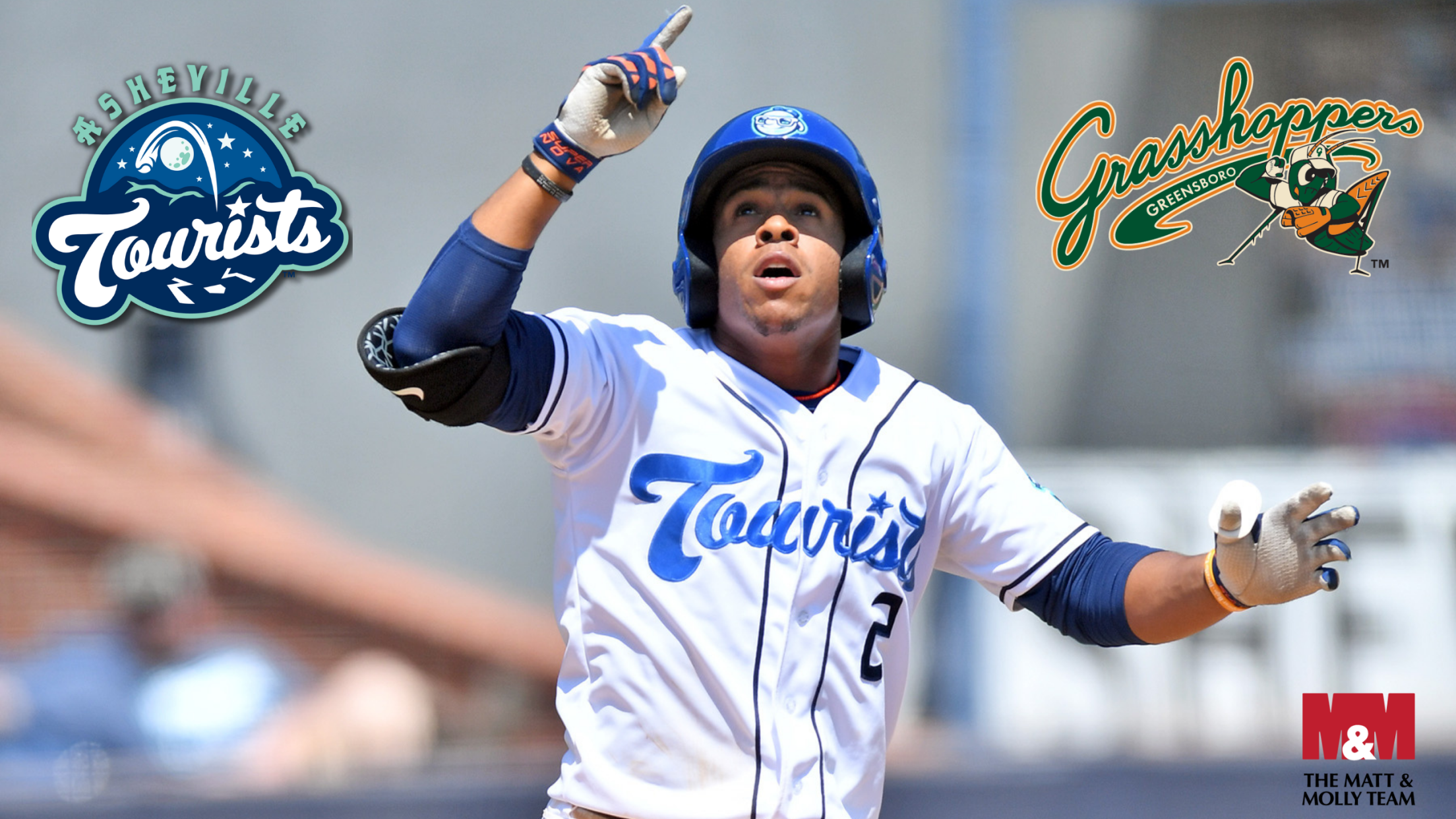 GREENSBORO- The Asheville Tourists will enter Monday's league-wide off day on a high note thanks to their performance on Sunday afternoon. The Tourists flirted with their first no-hitter in 13 years with six hitless innings to begin the game. Ultimately, Asheville came away with a convincing 10-3 victory over the
GREENSBORO- The Asheville Tourists will enter Monday's league-wide off day on a high note thanks to their performance on Sunday afternoon. The Tourists flirted with their first no-hitter in 13 years with six hitless innings to begin the game. Ultimately, Asheville came away with a convincing 10-3 victory over the Greensboro Grasshoppers.
The Tourists jumped out to a 10-0 lead and finished off their road trip with an important win. Asheville finished their last road trip with a 9-0 win over the Rome Braves which led to a winning homestand over the following two weeks.
Enmanuel Valdez gave the visitors a 2-0 lead in the top of the first inning with his 16th Home Run of the season; a two-run shot to right-centerfield. Matt Barefoot clubbed an RBI double in the third and Valdez scored a run on a Grasshoppers passed ball.
Valdez and Barefoot continued to churn out the offense in the fourth inning. Enmanuel hit an RBI double and Matt connected with a two-run Home Run to left-centerfield; his ninth longball of the season.
Bryan Arias and Shay Whitcomb each homered in the top of the seventh inning to give the Tourists their 10-0 lead. At that time, the pitching was actually the bigger story. Jaime Melendez tossed three hitless innings to begin the game and R.J. Freure had three hitless innings in relief under his belt.
Freure allowed a couple of base hits in the bottom of the seventh and the Grasshoppers managed a solo Home Run in the eighth. However, R.J. earned his second win of the season with five excellent innings pitched in relief.
Alex Holderbach and Freudis Nova joined Barefoot, Baldez, and Whitcomb with multi-hit performances as the Tourists finished the game with 13 hits. Holderbach went 9-for-17 with three Home Runs, six runs scored, and six RBI in the series.
Asheville now heads home over the next two weeks with a pair of six-game series against Greenville and Hickory on deck. The Tourists sport the third best home record in the High-A East League with an 18-11 mark at McCormick Field.