Jackson Bats Return, Back Bullpen In Win
Five Jackson players drive in runs during 9-6 victory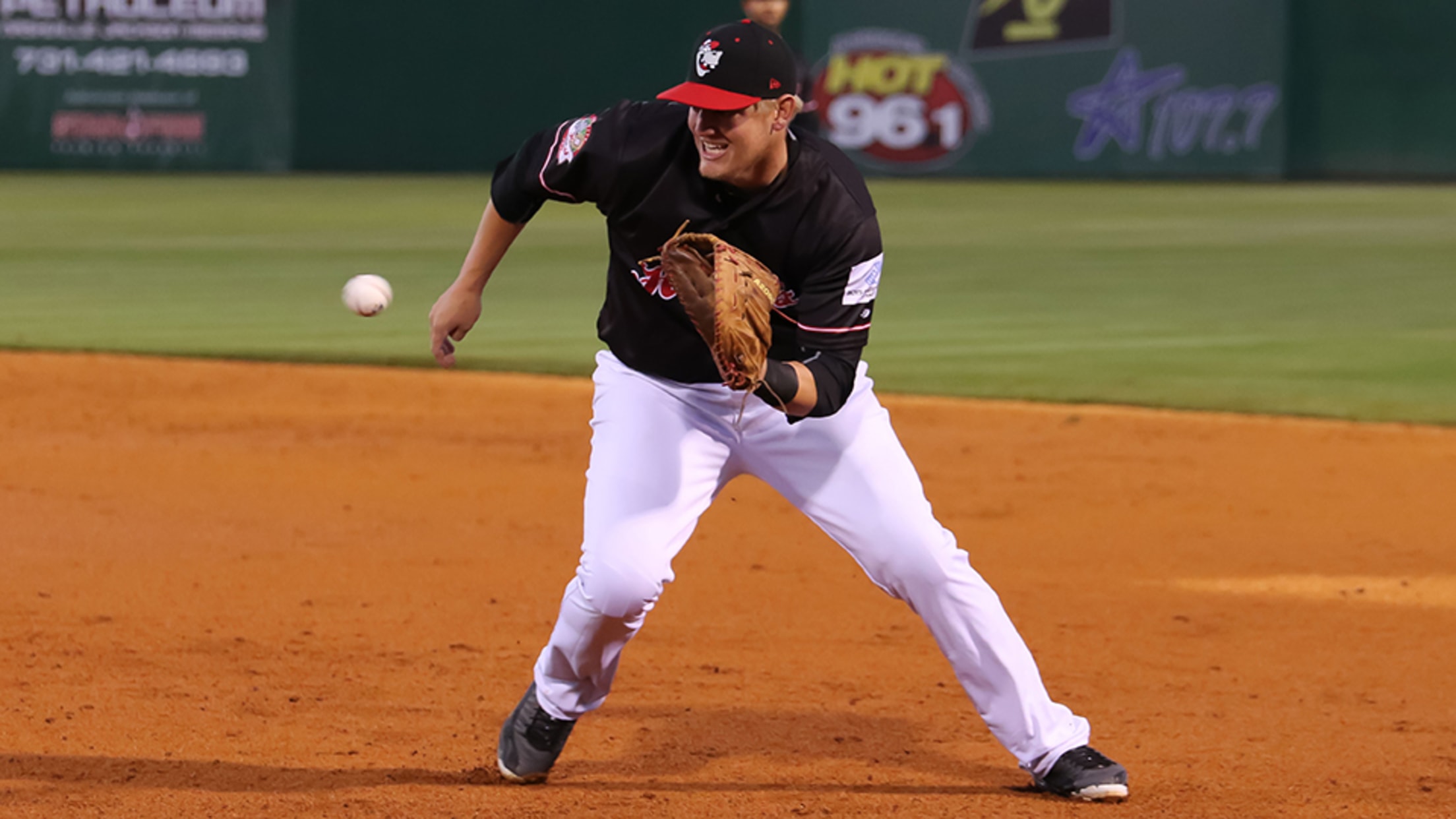 Kevin Cron homered for the 17th time on Friday, as the Generals pulled off a 9-6 victory over Birmingham. Jackson stayed above .500 with the win, pulling even with the Barons in the Second Half standings. (Cody Cunningham)
Jackson, Tenn. - In a back and forth contest on Friday night, the Jackson Generals prevailed 9-6 over the Birmingham Barons with the help of a four-run second inning. The Generals (43-42, 6-9) stayed above .500 with the victory, evening the series with Birmingham at two. The two sides will
Jackson, Tenn. - In a back and forth contest on Friday night, the Jackson Generals prevailed 9-6 over the Birmingham Barons with the help of a four-run second inning. The Generals (43-42, 6-9) stayed above .500 with the victory, evening the series with Birmingham at two. The two sides will play a true rubber game in the series finale on Saturday.
Kevin Cron homered for a league-leading 17th time, driving in three runs on the night for a total of 60 in the season. Jamie Westbrook and Galli Cribbs Jr. each drove in two runs, and Mason McCullough (1-0, 0.00 ERA) picked up his first Double-A win.
The home side entered the bottom of the second inning tied at two, but they had jumped out to a four-run lead by the time it ended. Michael Perez, Victor Reyes, and Travis Denker squared up three straight singles to begin the frame, with Denker's scoring Perez to break the 2-2 tie. Cribbs used a safety squeeze bunt next to score Reyes from third, sneaking a run by the Barons (32-52, 6-9) and giving Jackson a two-run lead. Birmingham starter Tanner Banks (0-2, 9.00 ERA) then walked three consecutive hitters, including Cron, to plate the Generals' third run of the inning. With the bases still loaded, Westbrook hit a sacrifice fly to right field, scoring Marzilli for a 6-2 advantage.
The Barons retaliated in the top of the third with a run of their own, part of a stretch of six consecutive half-innings in which a run was scored. A leadoff walk issued to Eddy Alvarez came back to bite Jackson starter Ivan Pineyro, who struck out the next hitter. With Nick Basto hitting, Pineyro threw a wild pitch that allowed Alvarez to second base, and Basto pulled a double down the left field line that plate Alvarez moments later. Jackson still led 6-3, but they would add another run--the winning run, as it turned out--with a Cribbs sacrifice fly in the bottom of the inning.
On the mound, Pineyro gave way to Yuhei Nakaushiro after four and one third innings of work, allowing four earned runs on nine hits. Pineyro left Nakaushiro with two men on base, but the left-hander stranded both inherited runners thanks to a groundball force-out and a strikeout. McCullough followed with a scoreless frame of his own, maintaining a flat-line 0.00 ERA at Double-A.
The Generals added a pair of insurance runs in the sixth inning. Evan Marzilli led off with walk, and Kevin Medrano singled behind him to put two men on base. Cron, batting next, struck out, but with the runners trying to steal on the pitch, Marzilli was thrown out at third base, putting two outs on the board for Birmingham. Medrano advanced to second on the play, and Westbrook, batting next, pulled through with an RBI single laced to center, making the margin 8-4 at that point. Jackson then gained two more critical two-out hits, as Dawel Lugo and Michael Perez each found holes in the defense to extend the frame. The single from Perez brought Medrano home for a 9-4 lead, giving the Generals plenty of breathing room.
Bud Jeter, McCullough's teammate and a fellow All-Star this year at High-A Visalia, debuted for Jackson thereafter with two low-leverage innings, giving up two runs but carrying the game through the eighth inning ahead of Gabriel Moya (S, 14). The Generals' All-Star left-hander then threw a scoreless ninth inning, recording a strikeout as part of his 14th save of the season.
In all, the Generals ended up going 5-for-12 with runners in scoring position, while Birmingham put up a 5-for-16 mark. None of the nine pitchers used between the two teams threw longer than Pineyro's 4.1 innings, as a bat-friendly ballgame permitted eight extra base hits in total. Cribbs recorded both of his RBI using sacrifice hits, finishing with an unusually productive 0-for-2 batting line that included a pair of strikeouts. Westbrook, a career infielder, got his first outfield assist by gunning down Birmingham's Trey Michalczewski with a perfect throw from left field to home plate to close the second inning. Marzilli's three walks tied a season high, while Birmingham's Nick Basto notched a hit in his 14th straight game.
The series wraps up on Saturday, as Generals right-hander Taylor Clarke (7-4, 2.74 ERA) gets the start against Barons left-hander Jordan Stephens (0-1, 1.20 ERA). First pitch from The Ballpark at Jackson is at 6:05 pm CT, and fans can listen to all the action starting with the Pregame Show at 5:50 pm CT on Willie 94 FM & 1390 AM.
Saturday is our Championship Celebration, with more Postgame Fireworks on the way! We'll look back at last year's Southern League Championship, and the first 1,000 fans will take home a replica championship ring! The night and Fireworks are sponsored by Chicken Salad Chick!
Make sure to get your tickets now to see the 20th season of professional baseball in Jackson, and the first for the team as an affiliate of the Arizona Diamondbacks! Call the team at (731) 988.5299, stop by The Ballpark or go online to jacksongeneralsbaseball.com to secure your seats now!