De La Cruz hurls Fire Frogs' first no-no
Braves No. 25 prospect needs 89 pitches to complete gem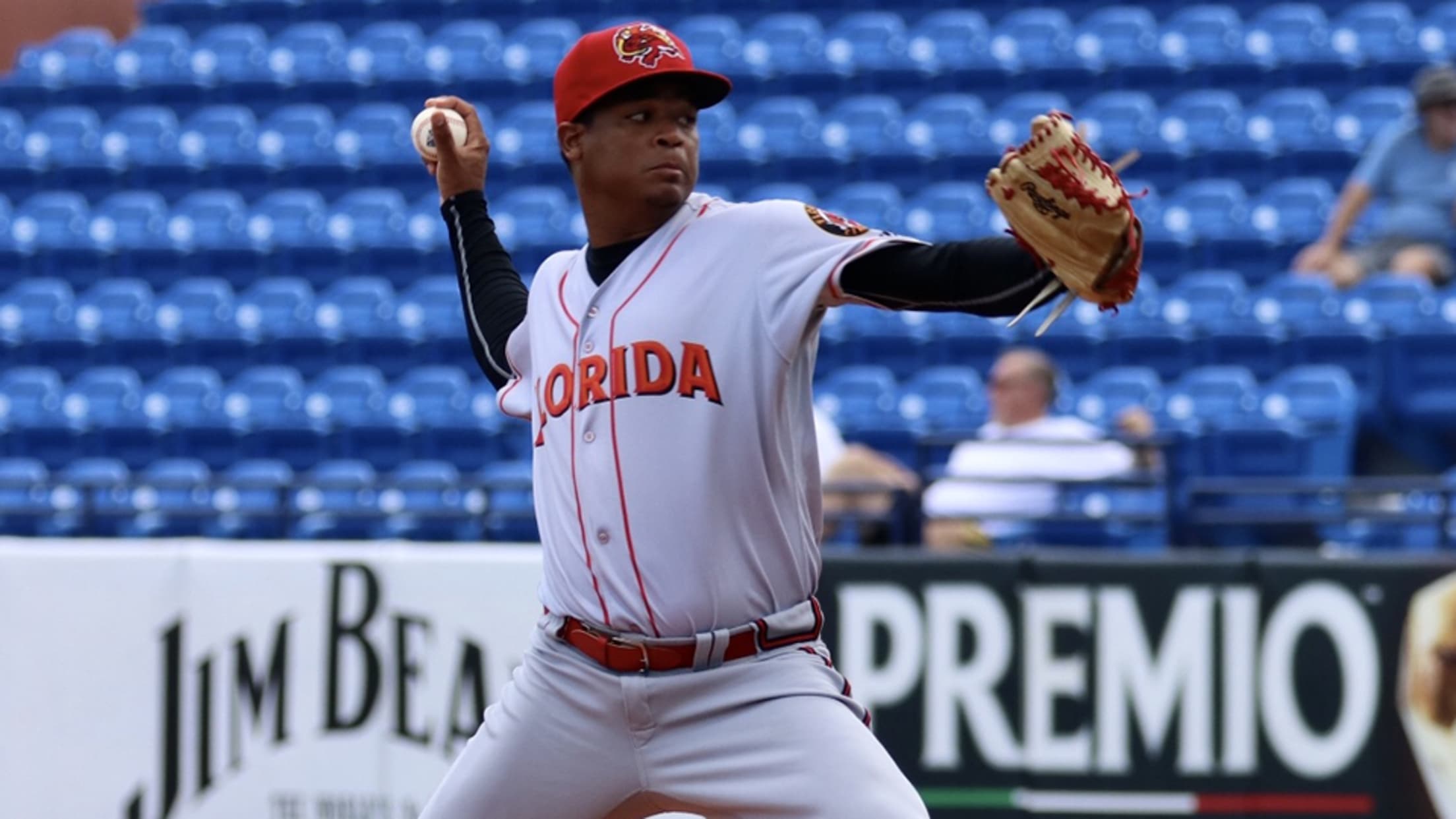 Jasseel De La Cruz lowered his ERA to 1.93 and his WHIP to 0.68 in eight Florida State League starts. (Florida Fire Frogs)
What Jasseel De La Cruz did on Saturday was better than a "Maddux." It was so good, they may have to name the feat after him.The Braves' No. 25 prospect pitched the first no-hitter in team history, working around a pair of walks and striking out four, as Class A
What Jasseel De La Cruz did on Saturday was better than a "Maddux." It was so good, they may have to name the feat after him.
The Braves' No. 25 prospect pitched the first no-hitter in team history, working around a pair of walks and striking out four, as Class A Advanced Florida drubbed Jupiter, 12-0, at Osceola County Stadium. The 21-year-old needed only 89 pitches -- 54 strikes -- to accomplish the feat.
Gameday box score
A pitcher is credited with a "Maddux" when he throws 100 or fewer pitches in a nine-inning complete game. De La Cruz's effort on fewer than 90 is another level. The right-hander turned in the first no-hitter in Fire Frogs history and the first for the franchise since Evan Anundsen pitched one for the Brevard County Manatees on April 29, 2009.
"I've seen no-hitters as a player, but to be on the coaching side for one, it was a special thing to be a part of," Fire Frogs pitching coach Dan Meyer said. "Our defense was great and Jasseel just did a great job sticking to the game plan and pitching to his strengths. He threw more changeups, commanded his fastball better and as a whole it just all came together tonight, and I think it showed."
De La Cruz (3-2) twirled five no-hit frames for Class A Rome last April 6 when he walked one and whiffed eight against Hagerstown. He needed 59 pitches in that outing.
Against the Hammerheads, the native of the Dominican Republic retired the first five batters before issuing a six-pitch walk to Isael Soto with two outs in the second. But Soto lasted only two pitches on the basepaths as De La Cruz got Nick Fortes to fly to right field on an 0-1 offering.
"He's always had a plus slider, and he's known that. So at times he can fall in love with it, but as an organization we felt like he needed to focus on his fastball command and using his changeup more," Meyer said. "So we've really been working on just doing that, getting a feel for it and repeating delivery.
"He's really taken a huge step this year to being fully committed to being a more all-around pitcher and he's done a great job of working hard on it. And and it's really starting to show up on the field."
De La Cruz was locked in from there as he set down the next 13 Hammerheads. The only other blemish on the rest of his outing was getting ahead of Riley Mahan, 0-2, before throwing four straight balls and walking him with one out in the seventh. The right-hander escaped unscathed by punching out Lazaro Alonso and Marlins No. 20 prospectJames Nelson on seven pitches.
"It was a lot of weak contact off of him, nothing was really ever centered up," Meyer said. "It was lots of ground balls and shallow fly balls in the air -- basically, what you're looking for. He was pitching to contact early in the count and we were able to catch it and throw it and make some plays for him, and it was fun to watch."
De La Cruz needed 11 pitches or fewer to navigate through seven of the nine frames. His longest inning was the seventh when he threw 17 pitches. Only seven of his 27 outs went beyond the infield, and Jupiter never had a player reach scoring position.
When De La Cruz threw a pitch in the eighth, it became the longest outing of his professional career. He retired Soto, Fortes and Michael Donadio on a popup, a fly ball and a groundout, respectively, on a total of five pitches.
"It was a key inning for him," Meyer said of the eighth. "In the bottom of the seventh, we tacked on four more runs and it was one of those long innings where you just sit there. Also, when a team gives you that kind of lead, it's easy to lose focus at that point and not be as warm. But he was able to stay locked in and attack, and he got right back in the dugout. It was perfect for pace of play and perfect for him."
In the ninth, De La Cruz was set to face the 9-1-2 hitters in the Jupiter lineup. After getting Cameron Baranek to ground out to shortstop, there was a close play at first as Marlins No. 12 prospect Jose Devers almost beat out a bouncer to second. With one out to go, Víctor Víctor Mesa -- MLB.com's No. 87 overall prospect -- worked the count full before grounding to short.
"It was a bang-bang play at first," Meyer said of the play on Devers. " As soon as he hit it, I'm thinking, 'Oh, man, this guy can fly -- it's gonna be a close play.' When you've been around long enough, you just have an idea. But [Brett Langhorne] made a great play and got rid of it quickly and beat him by less than a step."
The Fire Frogs provided more than enough firepower behind De La Cruz with a season-high 18 hits. Leading the barrage was Kevin Josephina, who was 5-for-5 with a pair of RBIs and three runs scored. It was the second time the 22-year-old had a perfect five-hit game -- he went 5-for-5 with four RBIs and two runs scored for Rome on Sept. 3, 2017. On Saturday, Josephina saw 10 pitches from three pitchers and sprayed singles in the second, fourth, fifth, seventh and eighth.
Braves No. 8 prospectWilliam Contreras singled, drove in a run and scored twice for the Fire Frogs, while 14th-ranked Greyson Jenista collected three hits, including a double, and scored twice. No. 27 prospect Jefrey Ramos was 2-for-4 with a solo blast, a walk, two RBIs and a pair of runs scored.
Rob Terranova is a contributor to MiLB.com. Follow him on Twitter, @RobTnova24.