Keeping it Semple, RiverDogs Hurler Shawn Semple Selected as South Atlantic League Pitcher of the Week
Dogs sweep final three "Pitcher of the Week" Awards to end season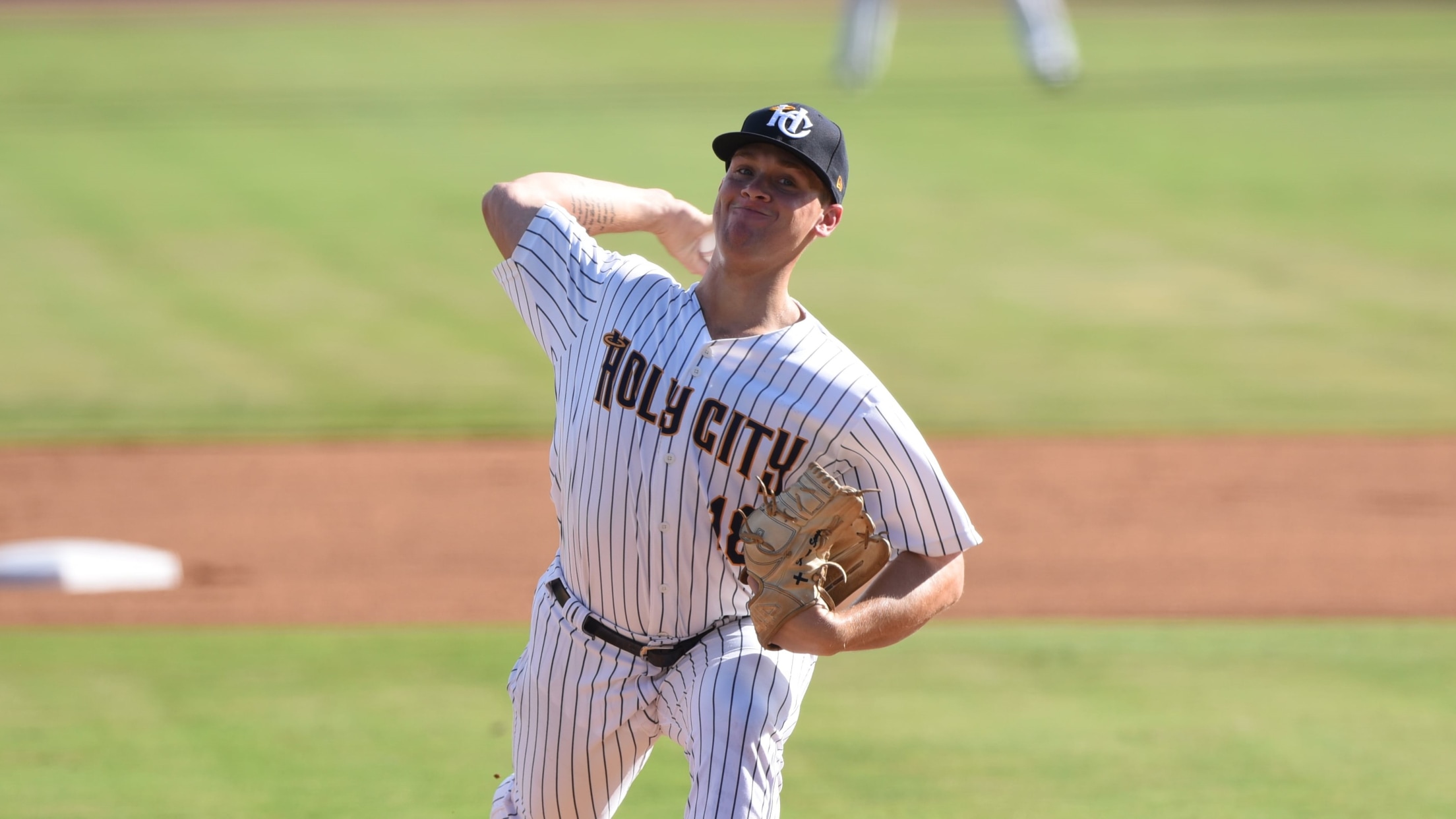 Semple fanned seven in quality start while debuting at The Joe on Sunday against West Virginia. (Michael Wiser)
CHARLESTON, S.C. - For the third consecutive week, a RiverDogs pitcher has been selected by the South Atlantic League as the league's "Pitcher of the Week." After finishing his season with two dominant outings in a RiverDogs uniform, right-hander Shawn Semple has been recognized by as the top pitcher in
CHARLESTON, S.C. - For the third consecutive week, a RiverDogs pitcher has been selected by the South Atlantic League as the league's "Pitcher of the Week." After finishing his season with two dominant outings in a RiverDogs uniform, right-hander Shawn Semple has been recognized by as the top pitcher in the SAL circuit for the period of August 27 to September 2.
After a call up from Short Season Staten Island, the Voorhees, New Jersey native turned in back-to-back quality starts as a RiverDog, including striking out a career-best 10 in six shutout innings in his Dogs debut last Monday in Columbia. The University of New Orleans product followed that up with a seven-strikeout performance while allowing just a pair of runs on Sunday against West Virginia. In total, the 22-year-old former 11th rounder struck out 17 in 12 innings while scattering seven hits to finish his season with a pair of winning decisions.
Semple's accolade comes on the heels of back-to-back pitcher of the week honors for the RiverDogs staff. Fellow righties Janson Junk and Alex Mauricio each received the weekly accolades in the preceding weeks as Charleston's dominant staff swept the awards on the mound over the final three weeks of the season.
Semple is the fourth Holy City hurler in total to be named Pitcher of the Week this season after Garrett Whitlock, who finished his season with the Tampa Tarpons, received the league's weekly accolades in May.
The RiverDogs staff finished up the 2018 season with a collective 3.29 ERA, ranking them second in the league, the third consecutive season that the Dogs staff has been a top-2 staff under pitching coach Justin Pope. Holy City hurlers combined to issue a franchise-record low 339 walks on the season, less than 3.0 per game.


RiverDogs season tickets, including options to the Riley Park Club, are now available for the 2019 campaign. The RiverDogs begin their home schedule on April 11 when they host the Greensboro Grasshoppers at The Joe, preceded by a weeklong road trip to Columbia and Asheville.
--RIVERDOGS--
RiverDogs SAL Players and Pitchers of the Week 2018
September 4: RHP Shawn Semple (12.0 IP, 2 R, 7 H, 17 SO, BB, 2 GS)
August 27: RHP Alex Mauricio (6.1 IP, 0 R, 1 H, 5 SO, BB)
May 20: RHP Janson Junk (5.0, 1 R, 0 ER, 0 H, 5 SO, BB)
May 7: RHP Garrett Whitlock (7.0 IP, 0 R, 2 H, 10 SO, BB)
June 25: OF Pablo Olivares (9-for-20, .450, 3 HR, 11 RBI, 3G)