Kemmer's go-ahead triple (2 RBI) in the 8th gives Fresno series win versus Salt Lake
Tony Kemp extends hitting streak to 20 games; Tim Federowicz blasts 2-run homer in 4-3 victory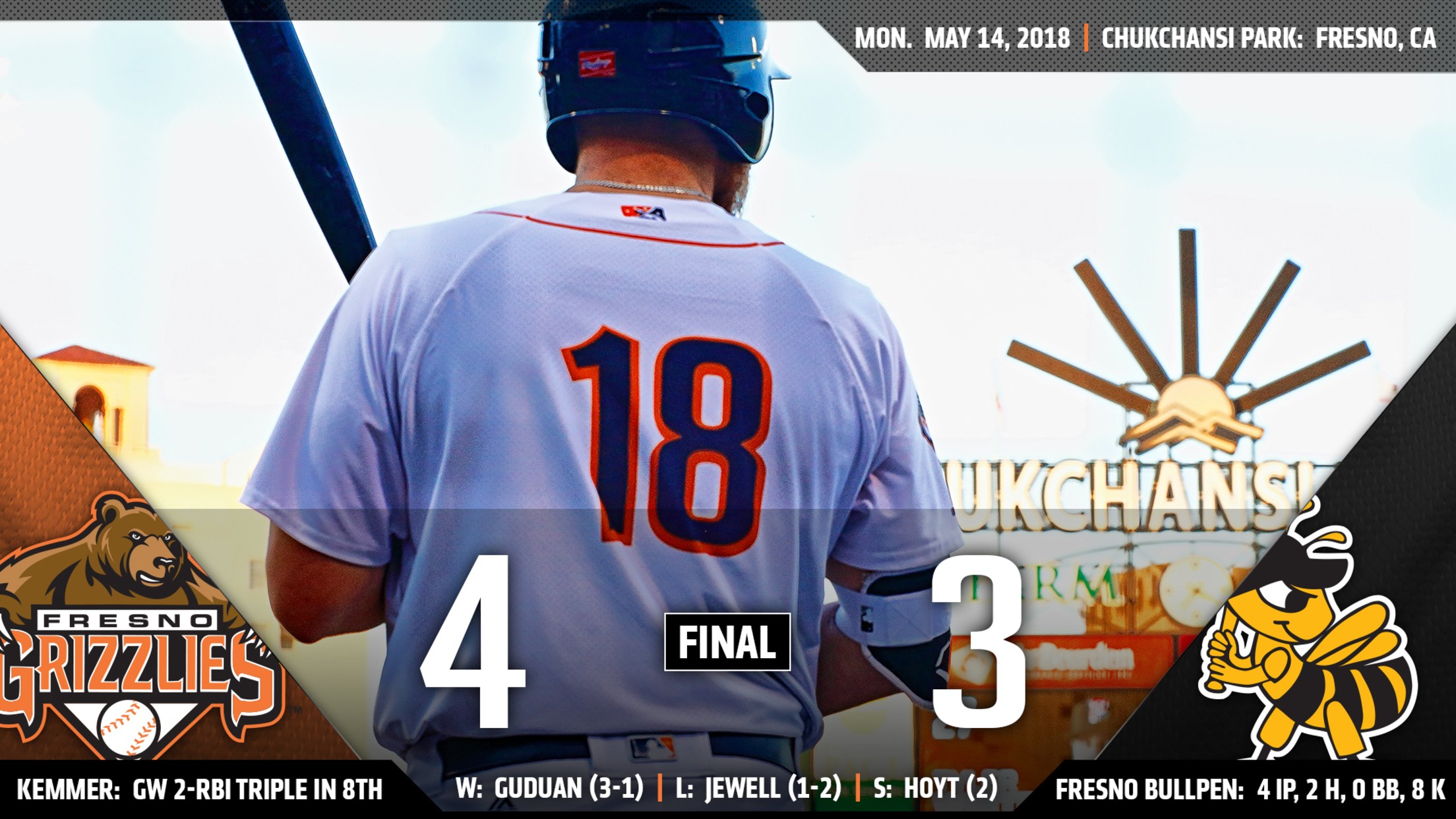 For the third straight game, the Fresno Grizzlies (24-15) defeated the Salt Lake Bees (22-17) 4-3 Monday night from Chukchansi Park. With the win, Fresno earned their sixth series win in ten matchups. The Grizzlies also improved to 21-0 when leading after eight innings and 24-5 when scoring more than
For the third straight game, the Fresno Grizzlies (24-15) defeated the Salt Lake Bees (22-17) 4-3 Monday night from Chukchansi Park. With the win, Fresno earned their sixth series win in ten matchups. The Grizzlies also improved to 21-0 when leading after eight innings and 24-5 when scoring more than three runs. In both one-run games and in May, Fresno got back to .500 (4-4, 7-7). Tony Kemp (2-for-4) expanded his hit streak to a team-high 20 games, four away from his streak in 2017.
Salt Lake drew first blood with two runs in the top of the fifth. A wild pitch and fielder's choice helped the cause.
Tim Federowicz (2-for-4) knotted the score at two in the bottom of the sixth when he blasted a home run to left. It was his fourth longball of the season. Federowicz also crossed the plate twice in the win.
Jon Kemmer gave Fresno a 4-2 lead in the bottom of the eighth after smacking a go-ahead triple to the left-center gap.
The two-run advantage was cut in half in the top of the ninth when Josè Briceño hoisted a pitch to left. It was his sixth homer of the season. James Hoyt secured the victory after a flyout from Dustin Ackley, earning his second save.
J.D. Davis added a pair of hits and runs, while Matt Ramsey hurled two perfect frames, striking out a season-high five batters (all consecutive). Both starters did not factor in the decision. Fresno reliever Reymin Guduan got his third win after a clean eighth and Jake Jewell suffered his second loss for Salt Lake.
Both teams finish the four-game series bright and early Tuesday morning with first pitch scheduled for 11:05 a.m. PT. The Grizzlies will become the Tacos for the second time at Chukchansi Park this season, sending RHP Rogelio Armenteros (2-0, 4.30) to the bump. The Bees counter with fellow righty Osmer Morales (2-2, 6.61).