Kemp extends hit streak to 19 as Fresno blanks Tacoma
6.0 scoreless IP from Martinez in 4-0 win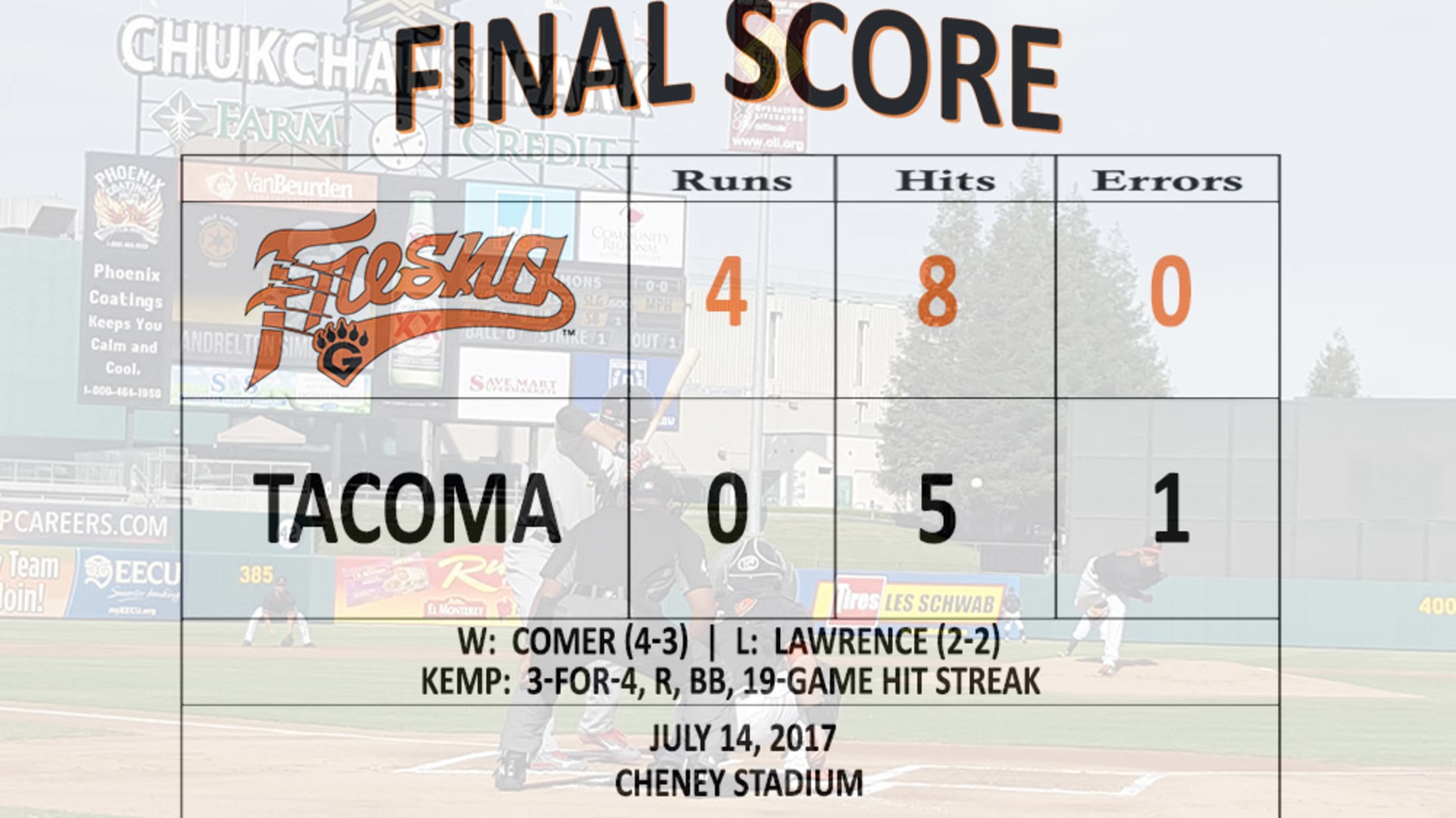 The Fresno Grizzlies (51-41) blanked the Tacoma Rainiers (46-45) 4-0 Friday night at Cheney Stadium to win their seventh straight road game. The most recent longest Grizzlies' road win streak is eight games from April 28 to May 5 in 2014.A pitcher's duel dominated the contest through the first seven
The Fresno Grizzlies (51-41) blanked the Tacoma Rainiers (46-45) 4-0 Friday night at Cheney Stadium to win their seventh straight road game. The most recent longest Grizzlies' road win streak is eight games from April 28 to May 5 in 2014.
A pitcher's duel dominated the contest through the first seven innings. For Tacoma, starter Casey Lawrence (2-2) struck out three through 7.1 IP. He allowed one run on four hits and two walks to suffer the loss.
Fresno starter David Martinez had his eighth quality start of the season through six scoreless innings. He allowed just four hits and three walks with three strikeouts. Kevin Comer and Jordan Jankowski each tossed an inning of relief and they both struck out the side in order. Dayan Díaz finished out the game with two strikeouts in a scoreless ninth. Comer (4-3), who pitched the seventh for Fresno, earned the win.
The Grizzlies broke open the scoring in a nine-batter top of the eighth where they tallied four runs. Reid Brignac (walk) scored the first run of the game on a Preston Tucker RBI single. Colin Moran then drew a bases loaded walk that allowed Tony Kemp (single) to score. A.J. Reed drove in the final two runs of the game with a two-RBI double to bring home Tucker and Derek Fisher (walk), making the score 4-0.
Going 3-for-4 on the night, Kemp extended his season-long hit streak to 19 games, just two shy of the Houston Astros affiliation error record set by Juan Centeno (21) earlier in 2017. Kemp has hit safely in 29 of his last 30 games and is batting .386 (64-166) through his last 39 contests with four home runs, three triples, nine doubles, 28 RBI, 38 runs scored and 13 walks in that span. It was also Kemp's team leading 36th multi-hit game of the season.
The two clubs with play the third of a four-game series on Saturday at 7:05 p.m. RHP Dean Deetz (1-3, 11.74) will be on the mound for the Grizzlies to face RHP Tyler Cloyd (1-0, 1.42) from the Rainiers.