Kennedy Homers,DeLuzio Ties Career-High In Loss
DeLuzio Is Off To A 9-for-12 Start Since Joining Amarillo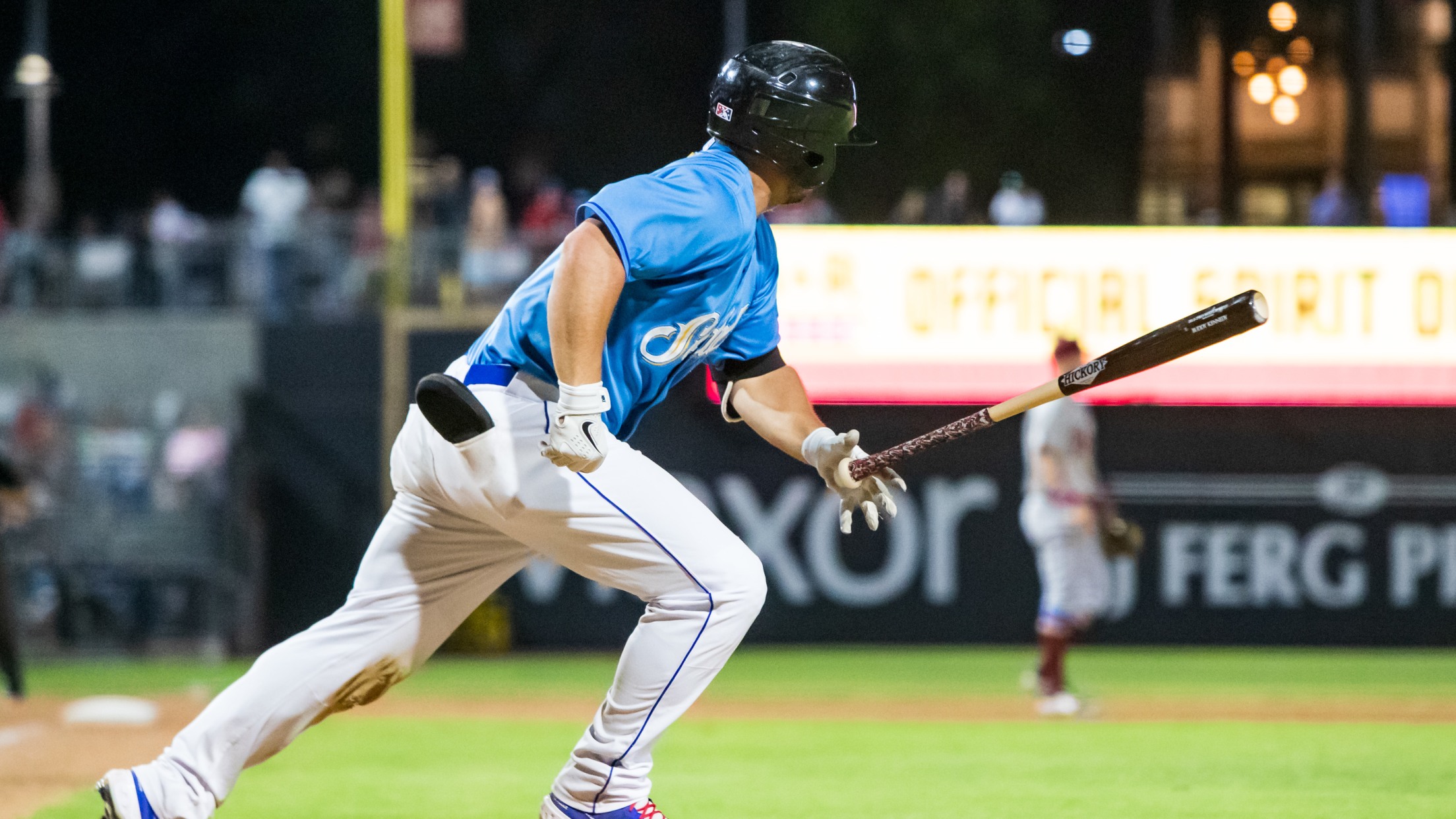 (John Moore)
Tuesday, August 24, 2021 vs. Frisco RoughRiders [TEX] Frisco RoughRdiers (56-40) | Amarillo Sod Poodles (43-53) Amarillo, Texas — The Sod Poodles began their six-game homestand against the Frisco RoughRiders (Double-A, Texas Rangers) by dropping Tuesday's contest 10-3 as the teams combined for 27 total hits. Amarillo starter Ryne Nelson
Tuesday, August 24, 2021 vs. Frisco RoughRiders [TEX]
Frisco RoughRdiers (56-40) | Amarillo Sod Poodles (43-53)
Amarillo, Texas — The Sod Poodles began their six-game homestand against the Frisco RoughRiders (Double-A, Texas Rangers) by dropping Tuesday's contest 10-3 as the teams combined for 27 total hits.
Amarillo starter Ryne Nelson started Tuesday night's action by striking out two of the first three batters Frisco sent to the plate. He added two more punchouts in the top of the second inning behind a leadoff single to keep the RoughRiders off the scoreboard.
The Sod Poodles got the first runner of the game into scoring position when outfielder Eduardo Diaz tripled down the left field line with one out in the second. Diaz was left stranded following a strikeout and pop out to end the frame.
The RoughRiders broke through with the first run of the game when Josh Stowers led off the third inning with a solo home run to straight away center field. Rangers No. 5 rated prospect Sam Huff added to the Frisco lead with a solo home run in the top of the fourth inning.
The Sod Poodles strung together three consecutive singles in the bottom of the fourth. Dominic Fletcher's RBI single scored Stone Garrett to make it a one run game. Diaz was the fourth straight Sod Poodle to reach base in the inning when he grounded into a fielder's choice, pushing Buddy Kennedy to third base in the process. A shallow fly ball into left field was not able to score Kennedy as Amarillo left a pair of runners stranded.
Frisco extended their lead with back-to-back solo home runs to start their half of the fifth inning. Nelson's night came to an end after five innings, allowing four homers - all solo shots - with six strikeouts on nine hits.
Buddy Kennedy cut the lead in half with his 11th home run since joining Amarillo. Kennedy, who had five home runs with High-A Hillsboro prior to joining Amarillo, is now tied for second in the Arizona Diamondbacks farm system with 16 home runs this season. He joins fellow Soddies Garrett, and Diaz who also have 16 home runs this year.
Frisco started to pull away in the top of the seventh, tacking on another three runs. The Riders drew a two out walk, keeping the inning alive where they were able to score the first of their three runs on a RBI single. Their fifth home run of the game made it 7-2. Another three runs were added in the eighth inning. Frisco's sixth home run of the game got the inning started prior to adding another two runs on three hits.
Kennedy drew a leadoff walk in the bottom of the eighth and later scored on Dominic Miroglio's two-out RBI single. Amarillo picked up two singles in the ninth but were unable to add any runs in the series opening loss.
Game two of this series continues tomorrow with RHP Brandon Pfaadt (0-0, 3.38 ERA) making his HODGETOWN debut. The D-backs' No. 26 rated prospect has worked his way through two levels so far in 2021. He leads the organization with 103.2 innings, is second in strikeouts (133), and is T-2nd for the most wins among all D-backs' minor leaguers with seven during his first professional season. Frisco will send RHP Noah Bremer (3-2, 4.38 ERA) to the mound. First pitch is scheduled for 7:05 Pm with gates opening at 6:05 PM.
Notes:
How Ya Ben?: Ben DeLuzio continued to produce at the plate for Amarillo since his arrival. He began his time with Amarillo by going 5-for-7 with a triple and double last week in Midland. He picked up another four hits tonight, making him 9-for-12 since joining the team. His four hits ties the single-game high for an Amarillo player this season. He joins Stone Garrett, Osvaldo Abreu, and Dominic Miroglio who all notched four hits in a game this season. For DeLuzio, he ties his career-high with four hits, doing so for the third time in his professional career and second this season. He also picked up four hits on May 11th with Triple-A Reno.
Ryne's Night: The Arizona Diamondbacks' No. 5 rated prospect, Ryne Nelson, made his first start since climbing the prospect rankings following the MLB draft. Nelson, who began the year as the D-backs' No. 20 rated prospect has been stellar all year long. The former Oregon Duck came into tonight's game leading all of Double-A in strikeouts since joining Amarillo in late June. He also ranked in the top 10 in ERA, and batting average against since his arrival. However, Nelson didn't have his best night tonight, allowing a career-high nine hits including four solo home runs to the Riders through five innings. He did add to his strikeout total, picking up another six strikeouts without a walk issued.
Buddy Bomb: Buddy Kennedy picked up his 11th home run since joining the Soddies in late June. Kennedy also went deep in the series finale against Midland, making it the seventh time this year Amarillo has had a player hit a home run in consecutive games. Stone Garrett leads that category, having gone deep in consecutive games three times. Kennedy's 16 home runs this season are tied for the second most in the D-backs' farm system through the conclusion of the Soddies game Tuesday night.
Diaz Triple: Eduardo Diaz picked up his second triple of the year and first in Double-A when he roped a ball down the third base line in the second inning. Diaz now has 17 triples since his professional debut in 2016, making him tied for third in the Diamondbacks' farm systems for triples during that span. He was tied for 7th in the organization in 2019 when he hit six triples between Single-A Kane County and High-A Visalia. Diaz is off to a 7-for-21 (.333) start with Amarillo. He joined the team prior to their last series against Midland and has two doubles, a triple, and two home runs in six games with Amarillo.
Homer Unhappy: Frisco's six home runs as a team on Tuesday night marked a season-high for an opponent against the Sod Poodles. The previous high of five was met by Corpus Christi on August 14 at HODGETOWN. The most by an opponent in franchise history came on August 29, 2019 when Tulsa knocked a total of seven home runs.
Too Many: The 15 hits surrendered to Frisco in Tuesday's home opener marked the fourth time an opponent has collected 15 or more hits against the Sod Poodles in 2021. It also marked the second time this season that Frisco has met the feat. On July 22, they collected 15 in the Soddies 9-2 loss.