Ketel Marte, The Breakout Season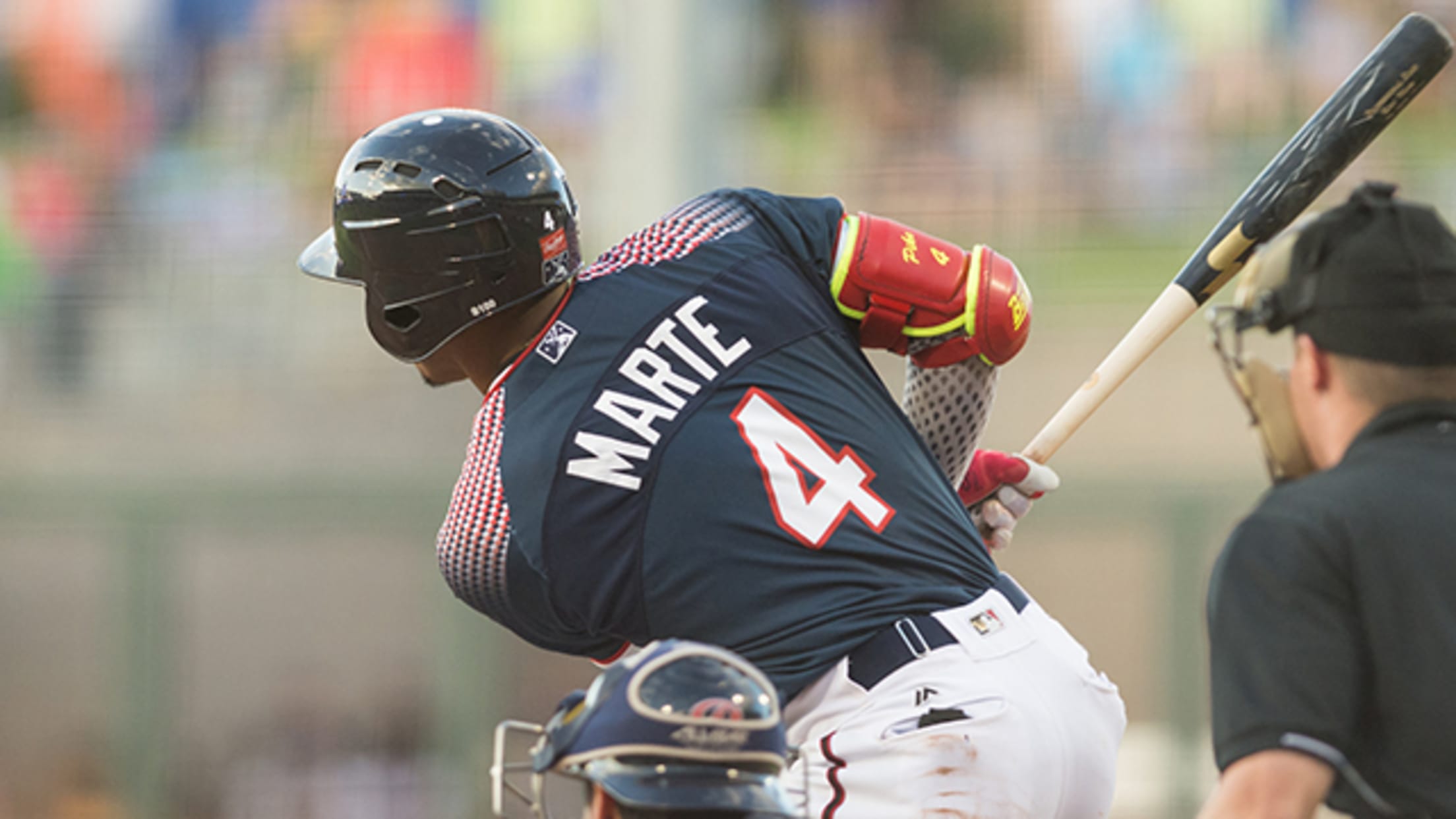 As of June 27th, 2019, only 11 Major League players currently boast 20 or more home runs, 50 or more runs, and 50 or more runs batted in. Seven of the 11 players have combined for 2 Gold Gloves, 18 All-Star Game appearances, 3 Most Valuable Player awards, 2 Rookie
As of June 27th, 2019, only 11 Major League players currently boast 20 or more home runs, 50 or more runs, and 50 or more runs batted in. Seven of the 11 players have combined for 2 Gold Gloves, 18 All-Star Game appearances, 3 Most Valuable Player awards, 2 Rookie of the Year awards, 9 Silver Slugger awards, and one World Series Title. These seven: Mike Trout, Christian Yelich, Cody Bellinger, Freddie Freeman, Edwin Encarnaciόn, Alex Bregman, and Marcell Ozuna have been established stars prior to the 2019 season. The other four, Ketel Marte, Josh Bell, Eddie Rosario, and Pete Alonso have had previous stints in the majors but have never made any All-Star appearances or performed at this level. In this article, we are going to highlight Ketel Marte and how he has adjusted this season to be one of the best players in the league and why he deserves to be an All-Star.
Ketel Marte was included as a piece in the Taijaun Walker trade that sent them from Seattle to Arizona in November of 2016. The Diamondbacks sent Jean Segura, Mitch Haniger, and Zac Curtis to the Mariners as a result. So far both teams have fared well from the trade as Walker won 9 games, with 146 strikeouts and a 3.49 ERA in 2017 while Segura and Haniger both made appearances in baseball's midsummer classic in 2018, with Haniger finishing 11th in Most Valuable Player voting for the American League.
Ketel Marte began the 2017 season in Reno after the trade with Seattle. That season he hit .338 with 6 home runs, 23 doubles, 41 runs batted in, and 62 runs in 70 games which merited a call up to Arizona to finish the season with the Major League club.
Marte is currently twenty-five years old and signed a five year / $24 million contract this season and is looking like a bargain for the numbers he is putting up this season.

Coming into the 2019 campaign, Marte's career highs remained 14 home-runs, 68 runs, and 59 runs batted in. Looking at his previous seasons, Marte has been an above average hitter with a .269 AVG/ .328 OBP/ .420 SLG slash line, but this season he has improved all three to sit at .298/.350/.569. What has led to his improvements so far?
Looking at his advanced metrics, one can see that he has improved in almost every category such as barrels, barrel percentage, average exit velocity, launch angle, XBA, xSLG, and hard-hit percentage.
A barrel, "defined as a well-struck ball where the combination of exit velocity and launch angle generally leads to a minimum .500 batting average and 1.500 slugging percentage," (Mike Petriello). The "Barrel Zone" begins at an exit velocity of 98 MPH with a launch angle between 26-30 degrees, however, the higher the exit velocity, the larger the launch angle range, meaning "…at 100 MPH and above, batted balls between 24 and 33 degrees will always be considered a barrel," (Petriello). Barrel percentage just takes the "barreled" balls and divides that number by total batted balls.
Launch angle is described as, "…the vertical angle at which the ball leaves a player's bat after being struck," (MLB.com). As a guideline, MLB.com states that launch angles of less than 10 degrees will be a ground ball, 10-25 degrees will be a line drive, 26-50 will be a fly ball, and greater than 50 will be a pop-up.
xBA and xSLG are terms that relate to the likelihood that a ball will be a hit (xBA) or the probability the ball will be an extra-base hit (xSLG). To get these expected outcomes, every ball is given a possibility based on previous batted ball outcomes.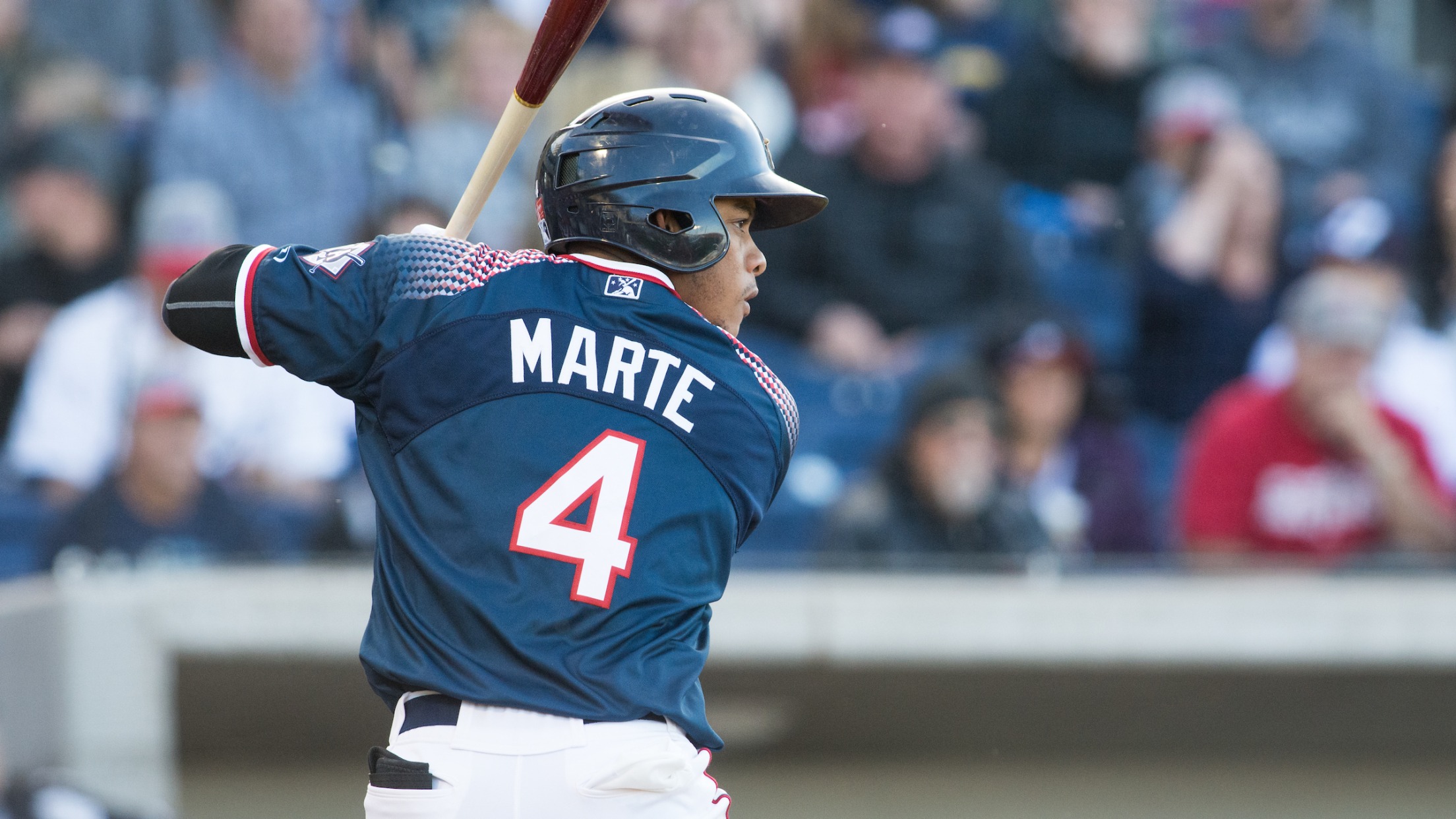 In 2016, Marte ranked in the bottom 3rd percentile or lower in almost every previously stated category. In 362 batted ball events, Marte only had a 0.3%-barrel percentage, which translates to 1 barrel for the whole season. Also, his average exit velocity (the speed at which the ball exits the bat) hovered around 83.6 MPH which shows he was not making solid contact throughout the season. Another reason for Marte's struggles that season can be attributed to the pitches he was swinging at. He had a walk rate that was in the bottom 5th percentile (3.9) and swung at pitches outside of the strike zone 33% of the time. His average launch angle that season sat around 5.2% which led to over half of his batted balls becoming ground balls, as evident by his 179 groundouts (52%)
This season, Marte ranks in the 73rd percentile in average exit velocity, 81st in sprint speed, 92nd in xBA, and in the 88th percentile in xSLG. A reason why he ranks so high in all these metrics can be attributed to his rise in launch angle and exit velocity. Increasing his launch angle by about 6 degrees (11.7) has led to more hits, as well as extra base hits which is evident by his xBA of .299 and xSLG of .522, which are both in the top 8% of the league. This season, his groundball percentage has decreased to 41.1% while his flyball percentage has surged to 37.0. This remains significant because many of those batted balls now fall for hits, whereas previously they would lead to outs. His increased average exit velocity (90.5 MPH) ranks 9th in the MLB amongst players with 200 batted ball events, ahead of guys like Mookie Betts, Manny Machado, and Nolan Arenado. Another reason for Marte's success this season can be credited to the number of balls he pulls, with an increase from 36.3% of total batted balls to 42.1%.
Is this success sustainable? Looking at his batting stance in 2018, he has a simple leg tap with his back elbow a little raised which means he will have to chop down at the ball or drop his hands (due to the raised elbow) to lift the ball. This led to his .260 average, which is not bad in today's standards as last year's league average was .248. He still generated good exit velocity (88.5 MPH) but his stance may have contributed to many of those batted balls turning into ground balls.

In 2019, Marte stands more upright and is not as hunched over compared to previous seasons. His head faces the pitcher more, which lets him see the ball much better, and he added a leg kick that helps with his timing and allows him to generate more power by loading most of his weight onto his back foot and then exerting all that power into his swing. These changes in his stance could be part of the reason for his accomplishments so far this season.
Out of all NL second baseman, Marte leads in WAR (wins above replacement) and slugging percentage and ranks in the top three in home runs, runs, runs batted in, batting average, and ISO (isolated power (slugging minus batting average)). With the finalists for the National League All-Star Team being named yesterday, Marte has a good chance at becoming the first Diamondback to start at second base since Jay Bell did so in 1999. The other finalists, Ozzie Albies of the Atlanta Braves and Mike Moustakas of the Milwaukee Brewers also feature very good numbers this season which should lead to a close finish as voting continues starting June 26th.