Cooper Hummel's cycle leads Reno past Sacramento 9-6
Third baseman goes 4-for-5 in second game with Reno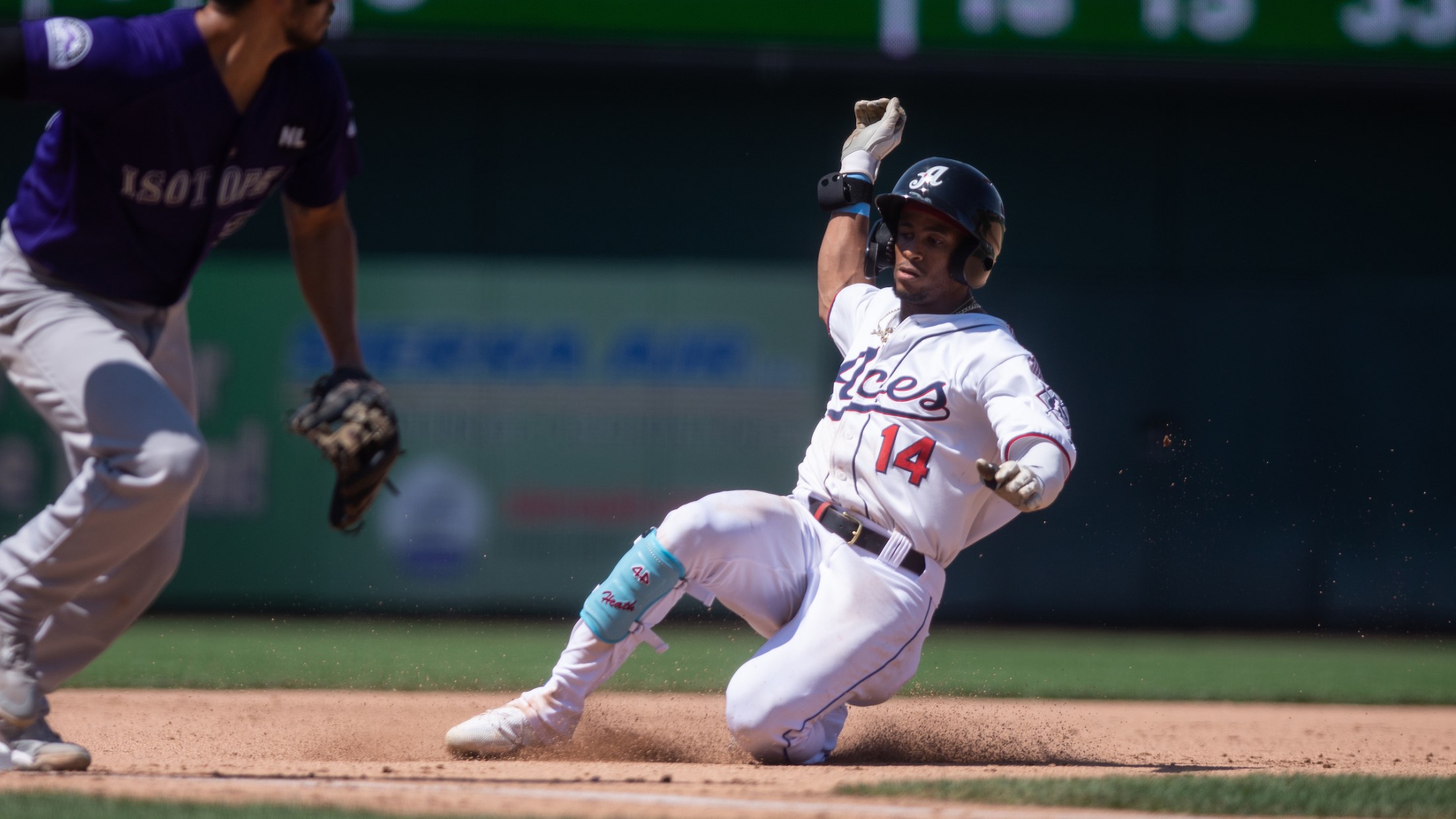 SACRAMENTO, Calif. – Cooper Hummel led the Reno Aces to a 9-6 win over the Sacramento River Cats, hitting for the cycle in just his second game with Reno. Hummel finished the night with four hits, two runs and two RBIs. The Aces bats got going early, scoring five in
Two ninth-inning homers not enough, Aces fall 7-4 in Sacramento
Seth Beer goes yard twice for first time as an Ace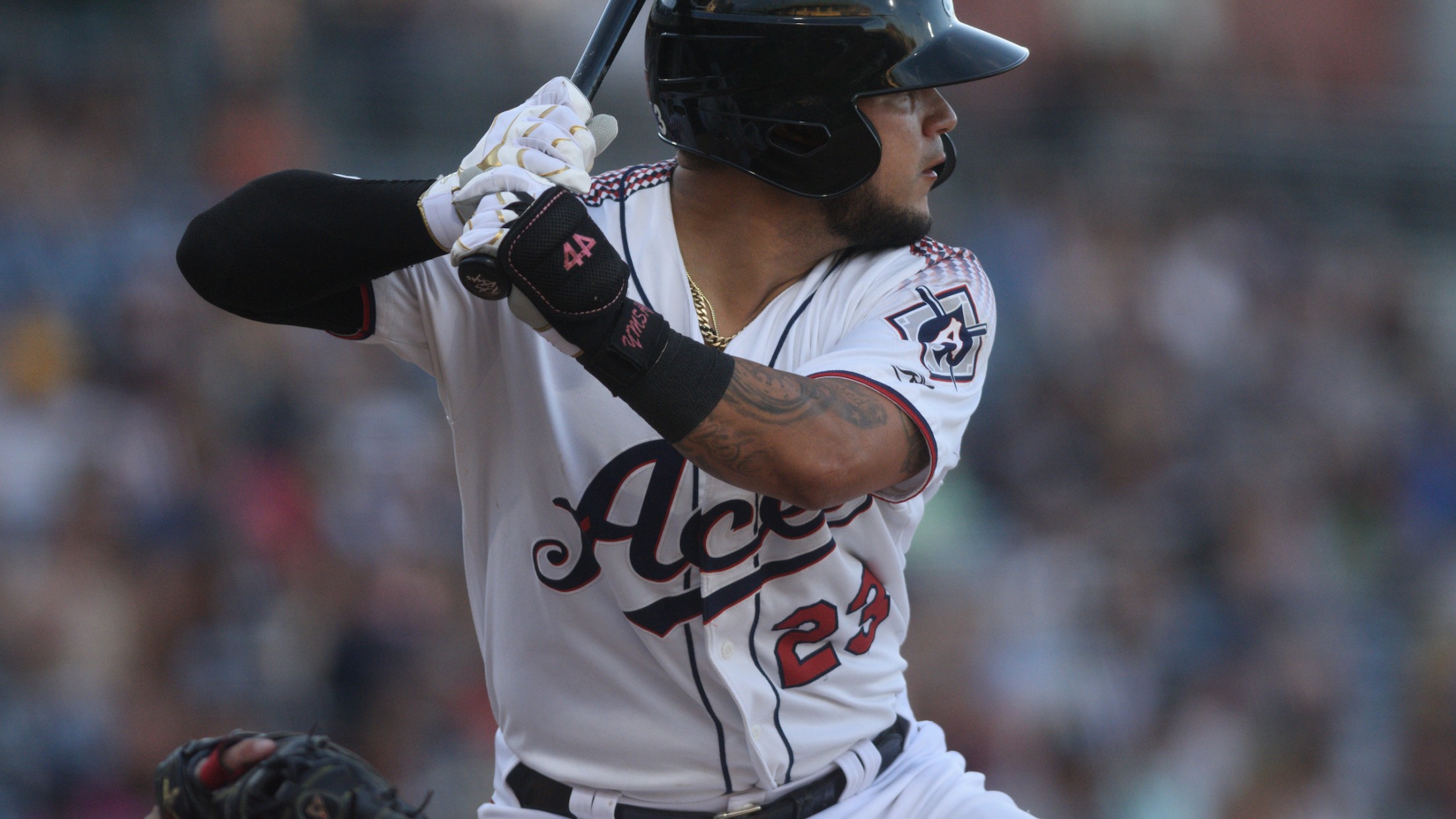 SACRAMENTO, Calif. – The Reno Aces hit three home runs, including two in the ninth inning, but fell to the Sacramento River Cats tonight 7-4. First baseman Seth Beer hit a pair of homers, the first time he's hit multiple this season. Sacramento jumped out to the early lead, scoring
Drew Ellis' road to The Show
Infielder called up to Arizona after entire 2020 season off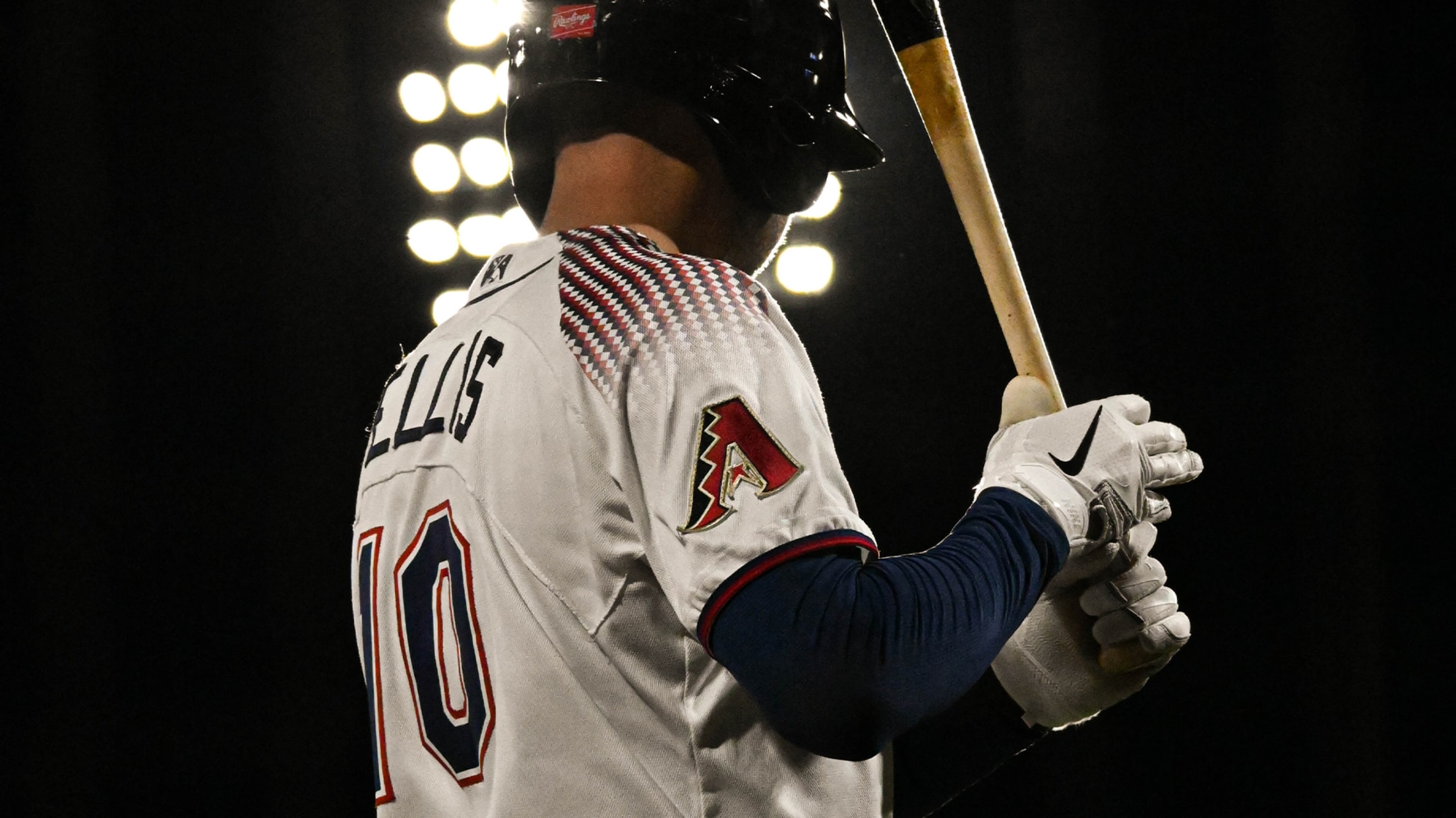 Today, Reno Aces infielder Drew Ellis was called up to the Arizona Diamondbacks, set to make his big-league debut. But the path to get there was anything but ordinary. Ellis' 2021 season started about as perfectly as possible. In his first at bat at the Triple-A level, the Aces third
Jake McCarthy's historic night leads Reno to 6-5 win
Outfielder records five hits, steals three bases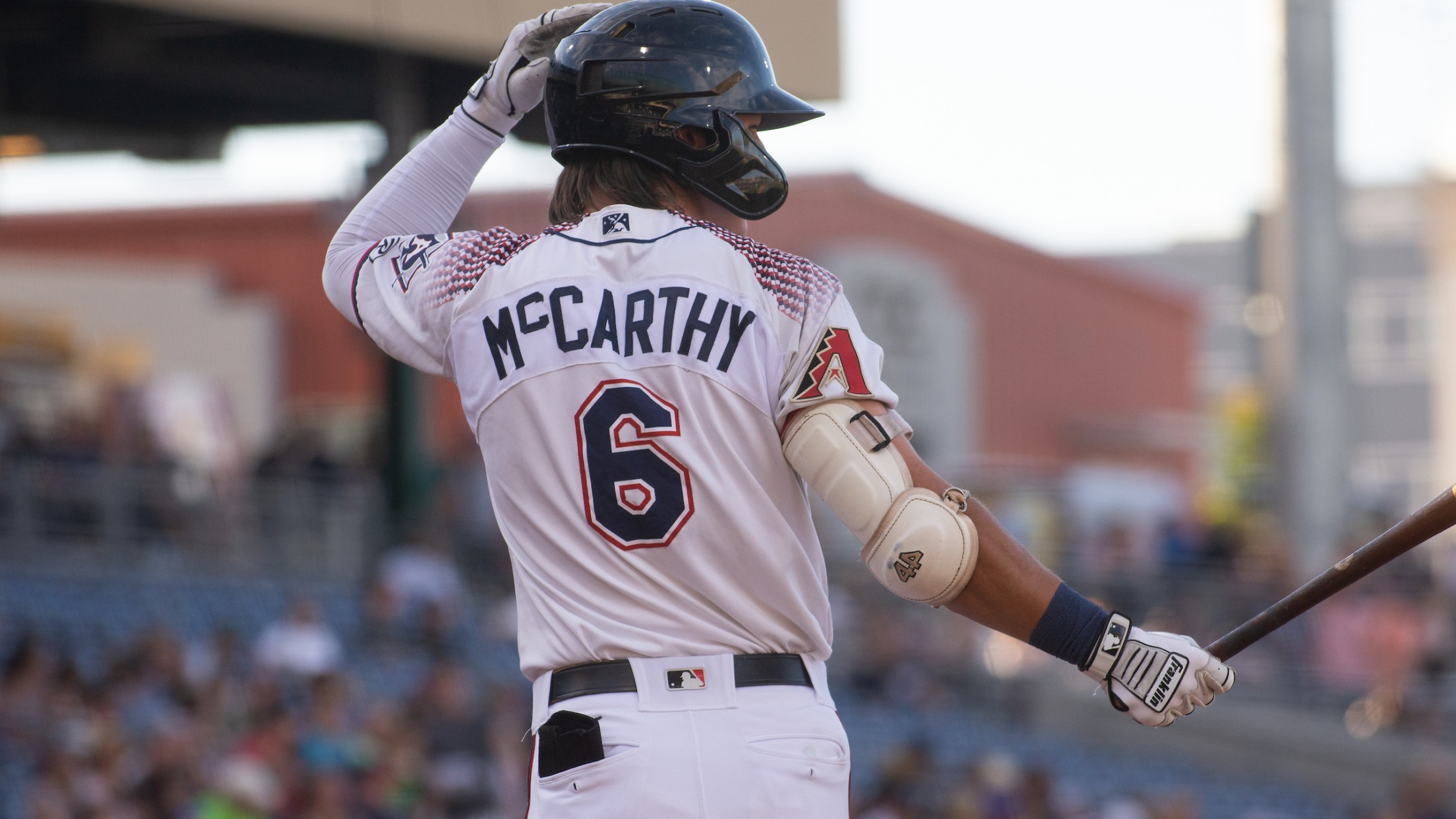 SACRAMENTO, Calif. – The Reno Aces topped the Sacramento River Cats tonight 6-5, behind a historic offensive outing from Jake McCarthy and a career night from Tyler Gilbert. Henry Ramos broke the ice with the first run of the night, hitting a solo shot into right field to make it
Zack Greinke blockbuster deal in 2019 leads to Aces' 2021 success
The D-Backs acquired Seth Beer, Corbin Martin, J.B. Bukauskas and Josh Rojas for Greinke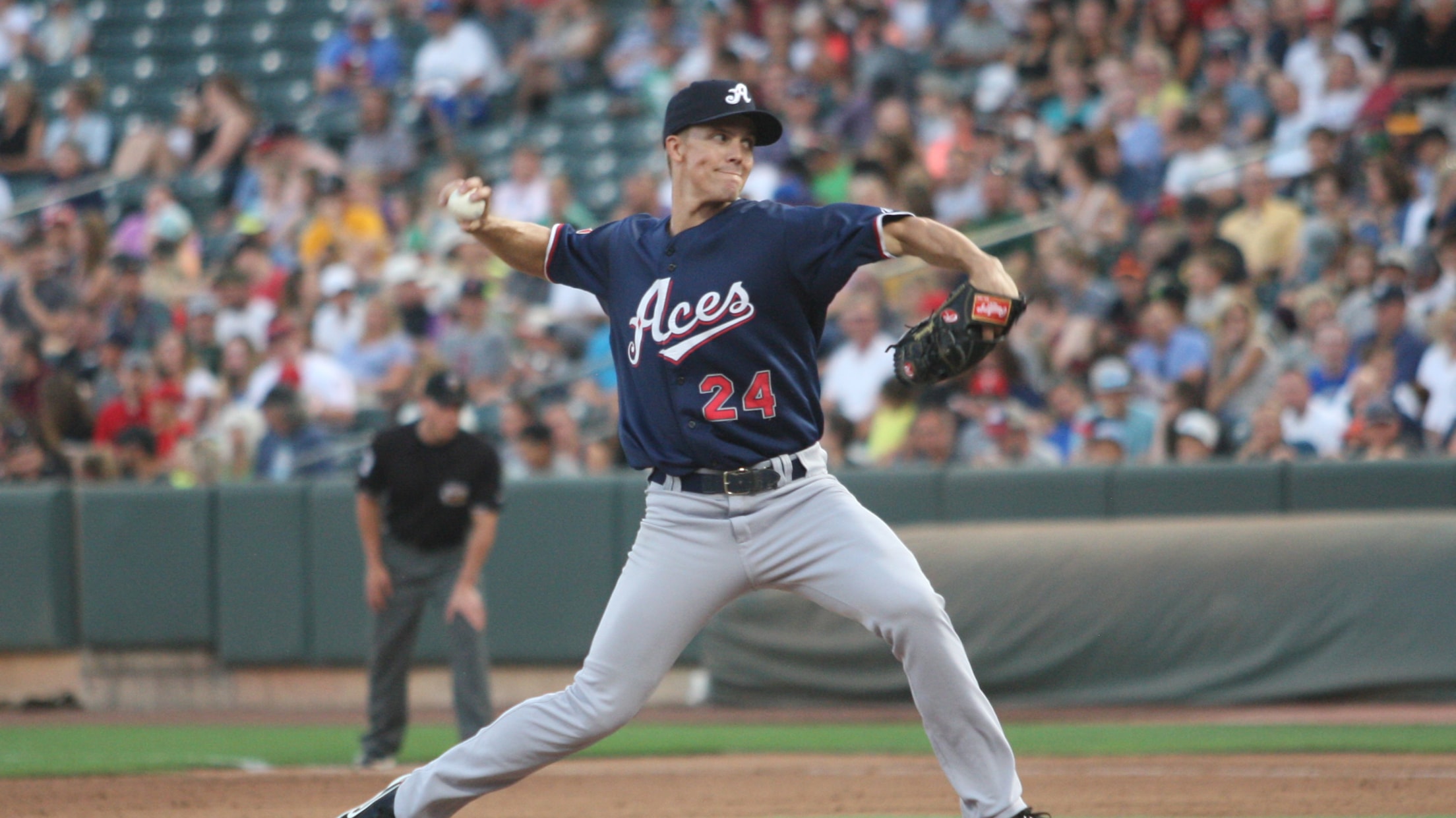 RENO, Nev. – With less than 48 hours until the MLB trade deadline passes, the Aces have seen a boost in their roster over the last three years. The biggest blockbuster deal made by the Diamondbacks in 2019 has had huge implications on the 2021 roster. On July 31, 2019,
Aces to square off with River Cats in Sacramento
Reno boasts a 7-0-5 series record against its opponents in 2021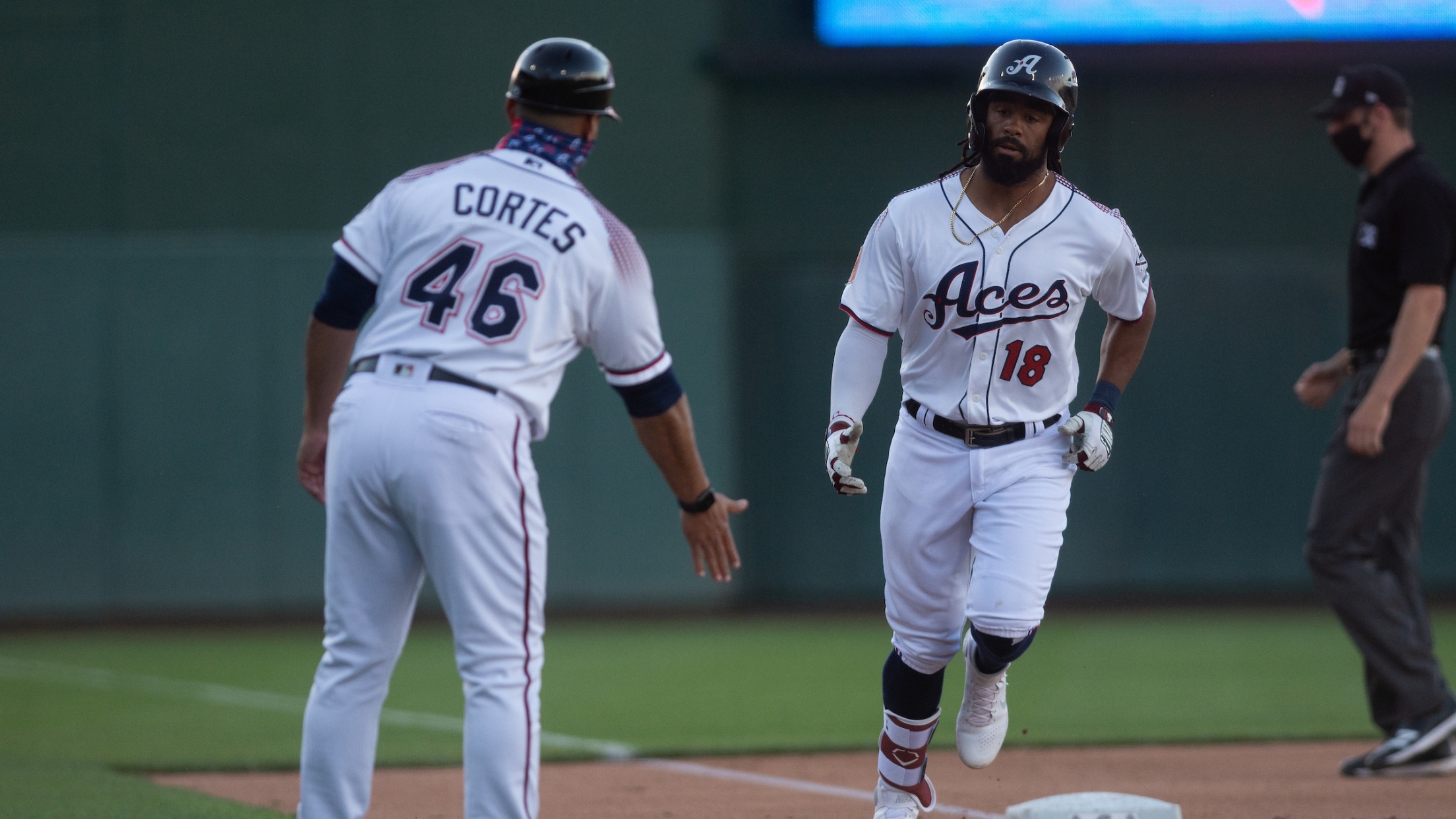 RENO, Nev. – After stealing four of six games from the Round Rock Express, the Reno Aces hit the road and head to Sacramento for another six against the River Cats, beginning on July 29. The Aces reached the 500-run plateau in 70 contests after Jake McCarthy rocked a walk-off
Reno bested Round Rock in six-game set at Greater Nevada Field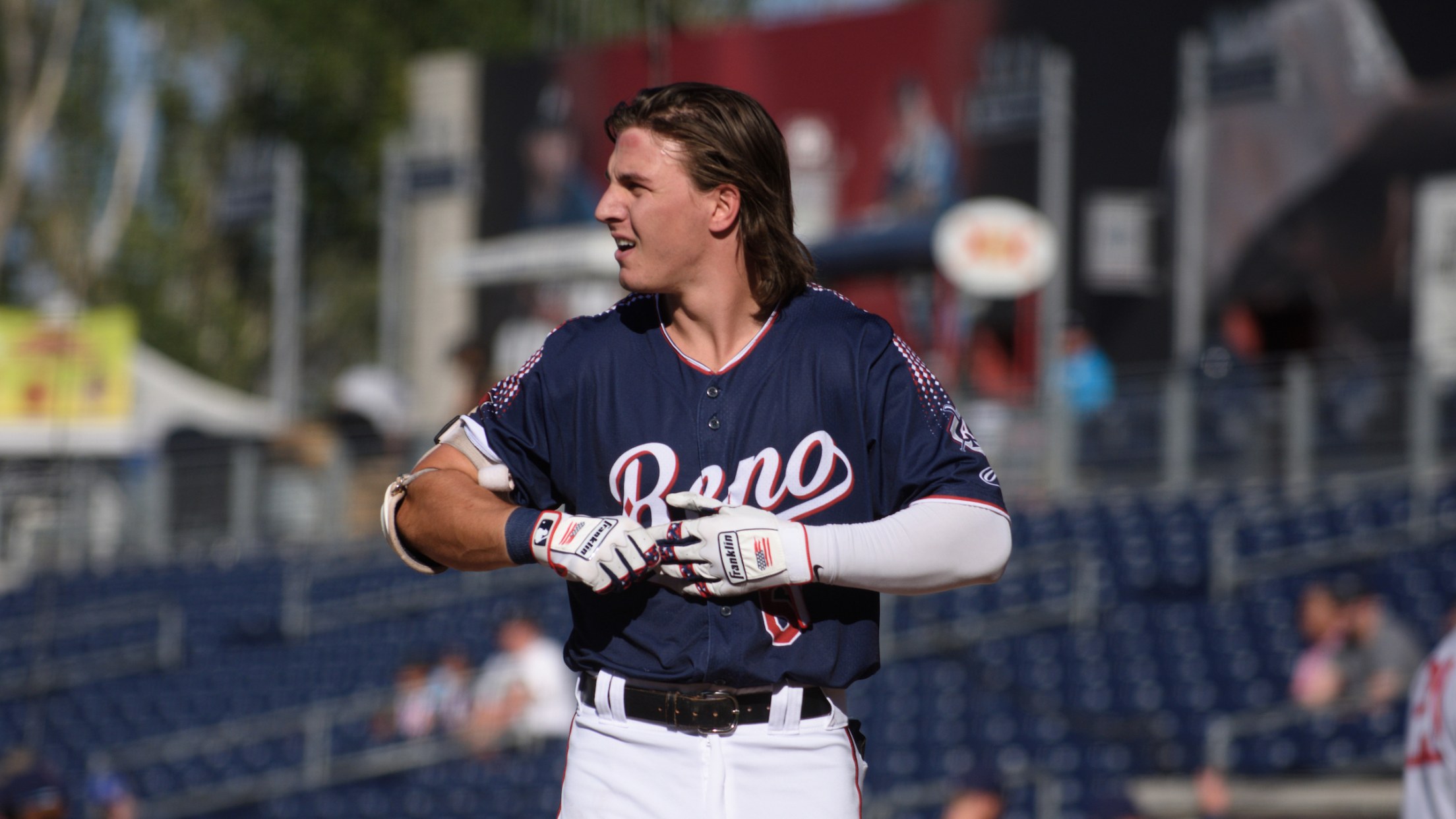 RENO, Nev. – The Reno Aces remained undefeated this season with a 7-0-5 series record after taking four of six from the Round Rock Express. With the team's 11-10 win on July 26, the Aces set a franchise record and became the third team in Minor League Baseball this year
Aces bats explode, win 10-6 over Round Rock Express
Ramos and Lopes each earn four RBIs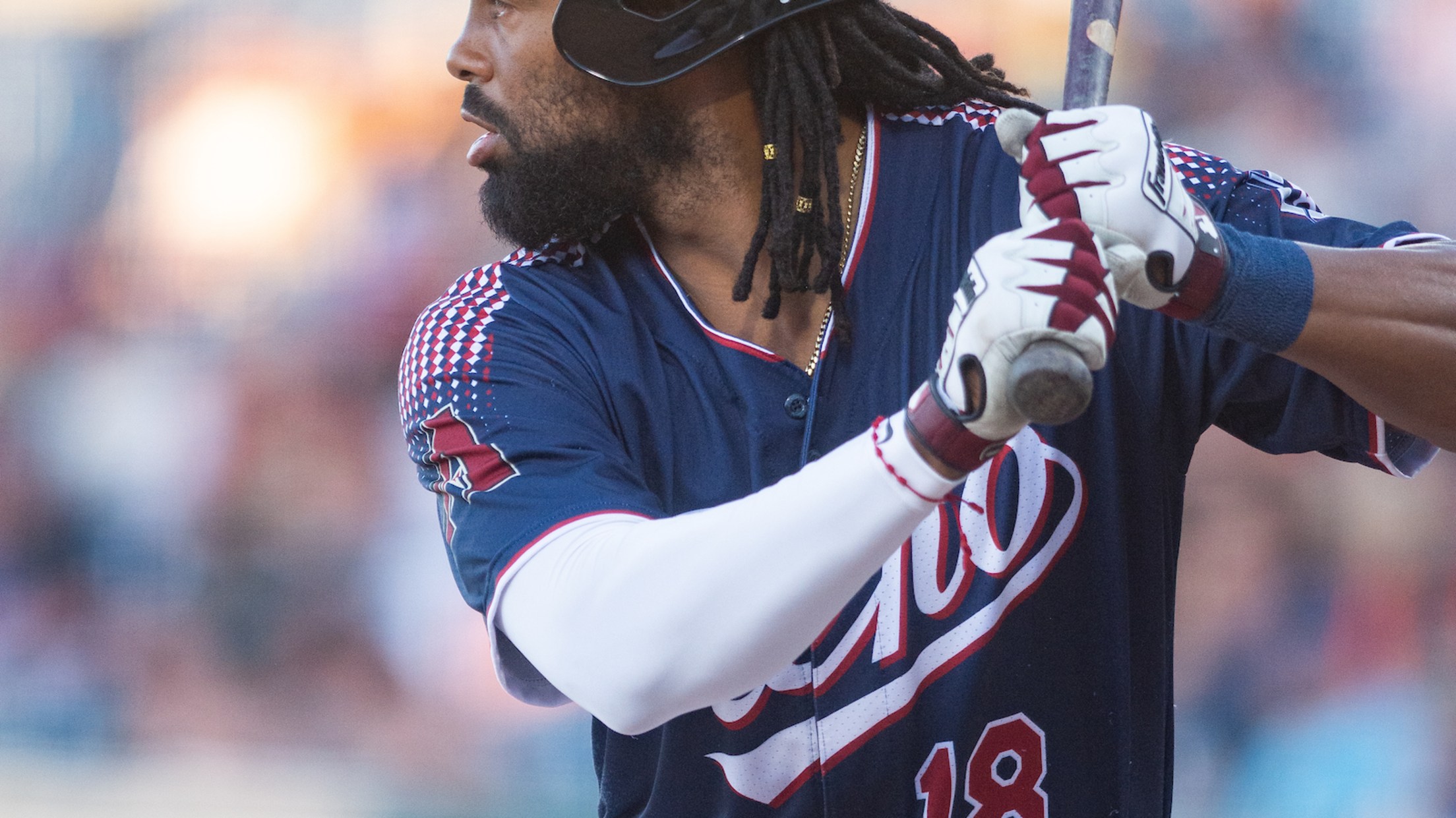 RENO, Nev. – The Reno Aces topped the Round Rock Express tonight 10-6, behind a big night at the plate from Henry Ramos, Christian Lopes and Ildemaro Vargas. The win comes in seven innings, on the second half of a doubleheader that the two teams split. Round Rock again scored
McCarthy walks off for team's 500th run as Reno stuns Round Rock, 11-10
Aces score 500 runs in 70 games, joining Tampa Tarpons and Everett AquaSox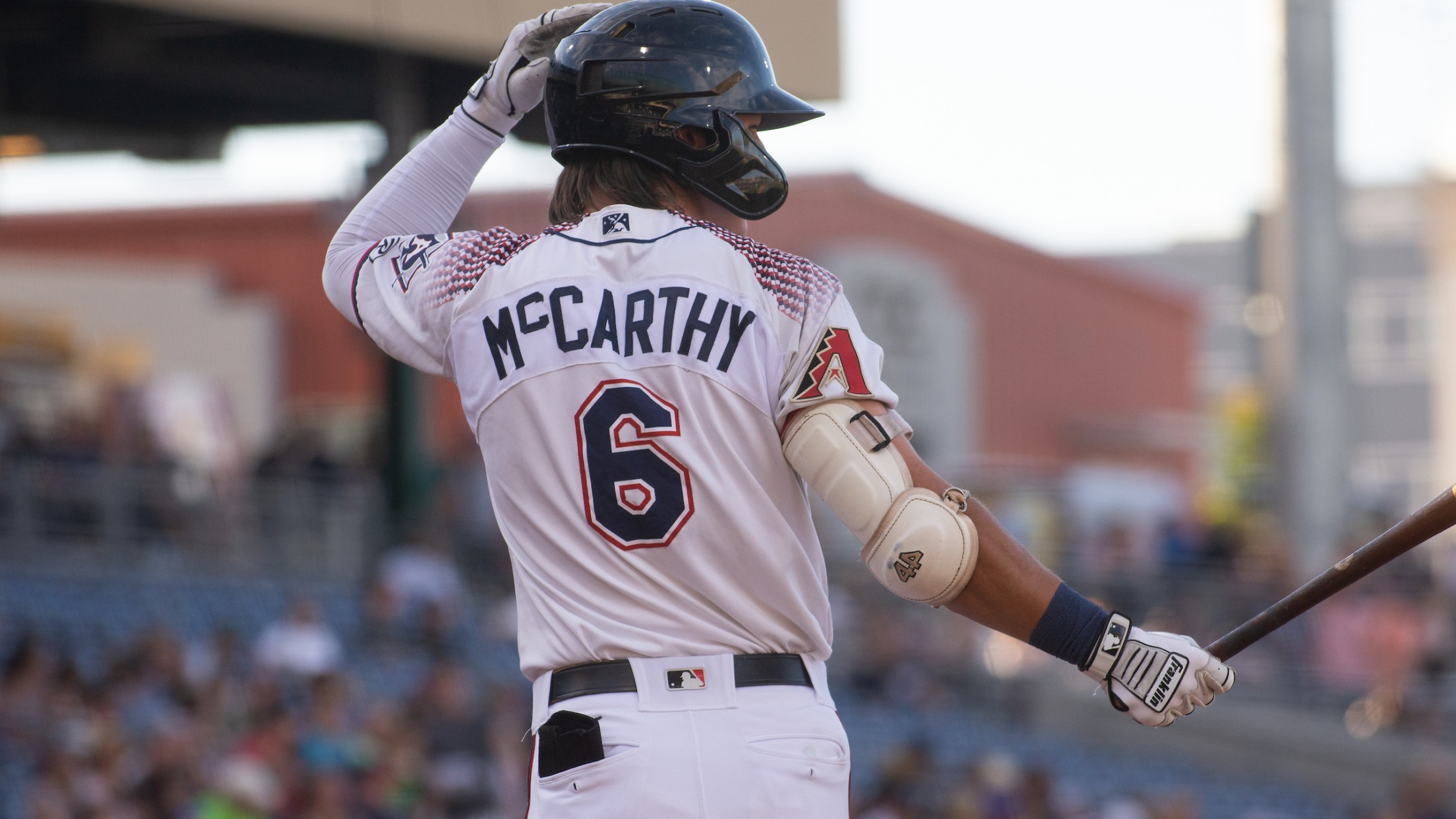 RENO, Nev. – Jake McCarthy registered his first career Triple-A walk-off and knocked in the Aces' 500th run of the season as Reno toppled the Round Rock Express, 10-9, at Greater Nevada Field on Monday night. In the bottom of the ninth with the Aces down by three, 10-7, Jamie
Monday's doubleheader adjusted to one game, starting at 6:35 p.m.
Reno and Round Rock will play a doubleheader on Tuesday, July 27, beginning at 5 p.m. PT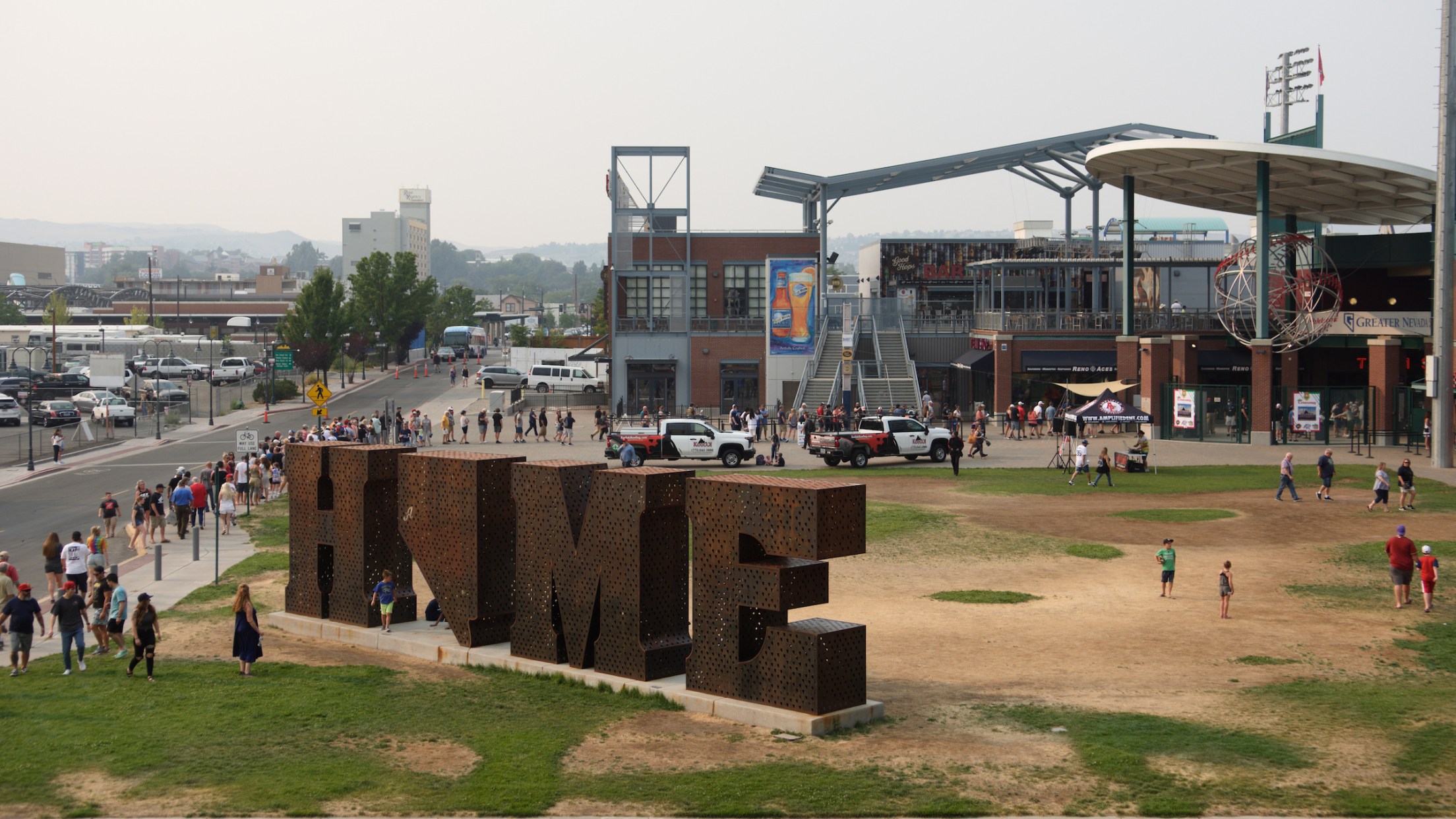 RENO, Nev. – Tonight's scheduled doubleheader between the Reno Aces and Round Rock Express has been changed to a single game, starting at 6:35 p.m with gates open at 5:35 p.m., due to unhealthy air quality in the area. The adjusted start time allows for healthier air quality at the
Sunday's game against Round Rock postponed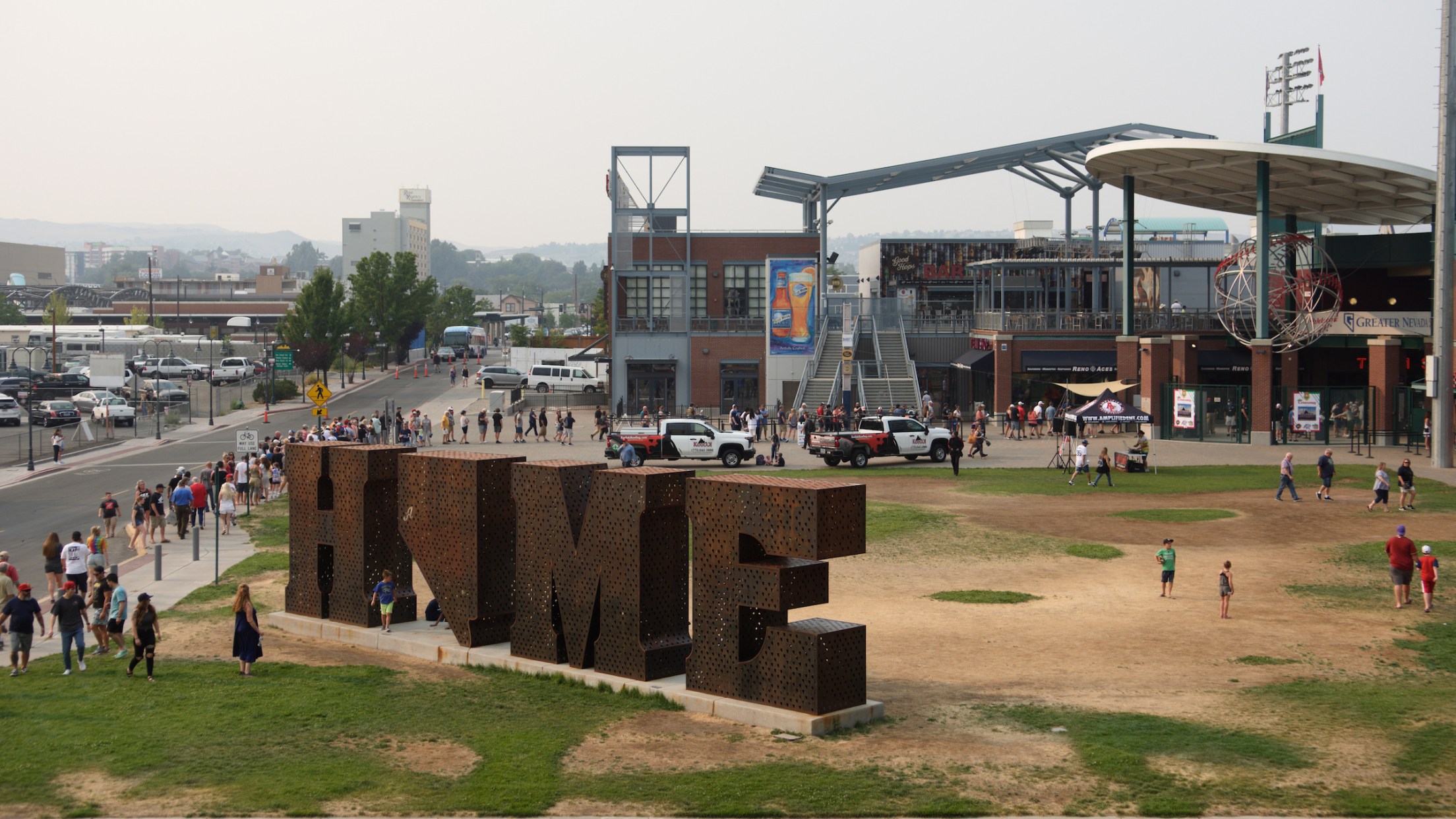 RENO, Nev. – Due to unhealthy air quality from wildfire smoke crossing through the area, today's game between the Reno Aces and the Round Rock Express has been postponed. Reno and Round Rock will participate in two seven-inning contests at Greater Nevada Field on Monday, July 26 with game one
Corazones score in the bottom of the eighth, win 2-1 over Round Rock
Humberto Castellanos gives Reno strong start, allows just one run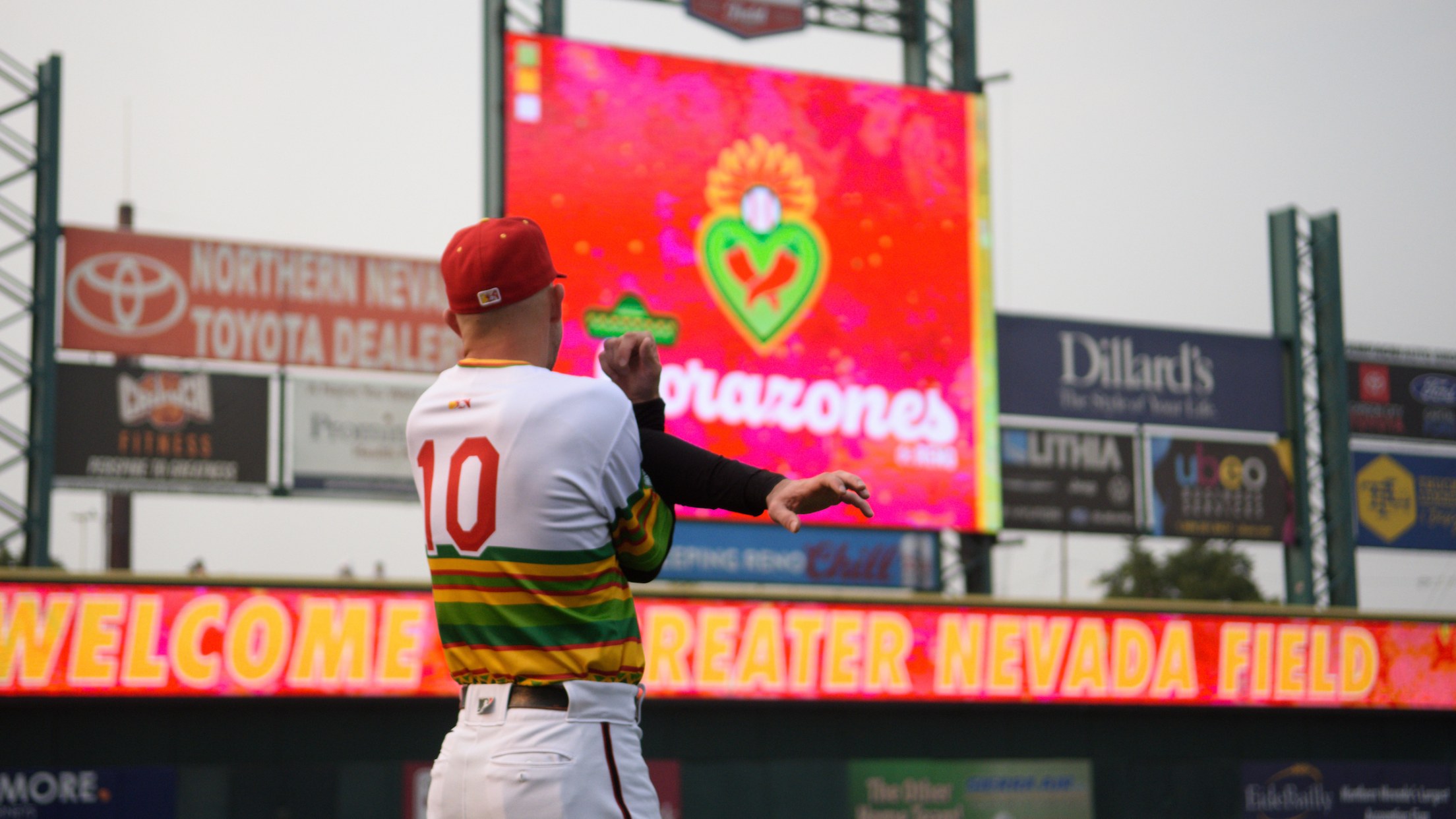 RENO, Nev. – The Reno Aces, playing as Los Corazones de Reno, topped the Round Rock Express tonight 2-1 after a strong starting performance from starter Humberto Castellanos, timely offense and a scoreless finish by the Reno bullpen. The game was the final of three Copa de la Diversion games
Corazones top Chupacabras 5-3 behind balanced performance
Aguilar saves 14th game of the season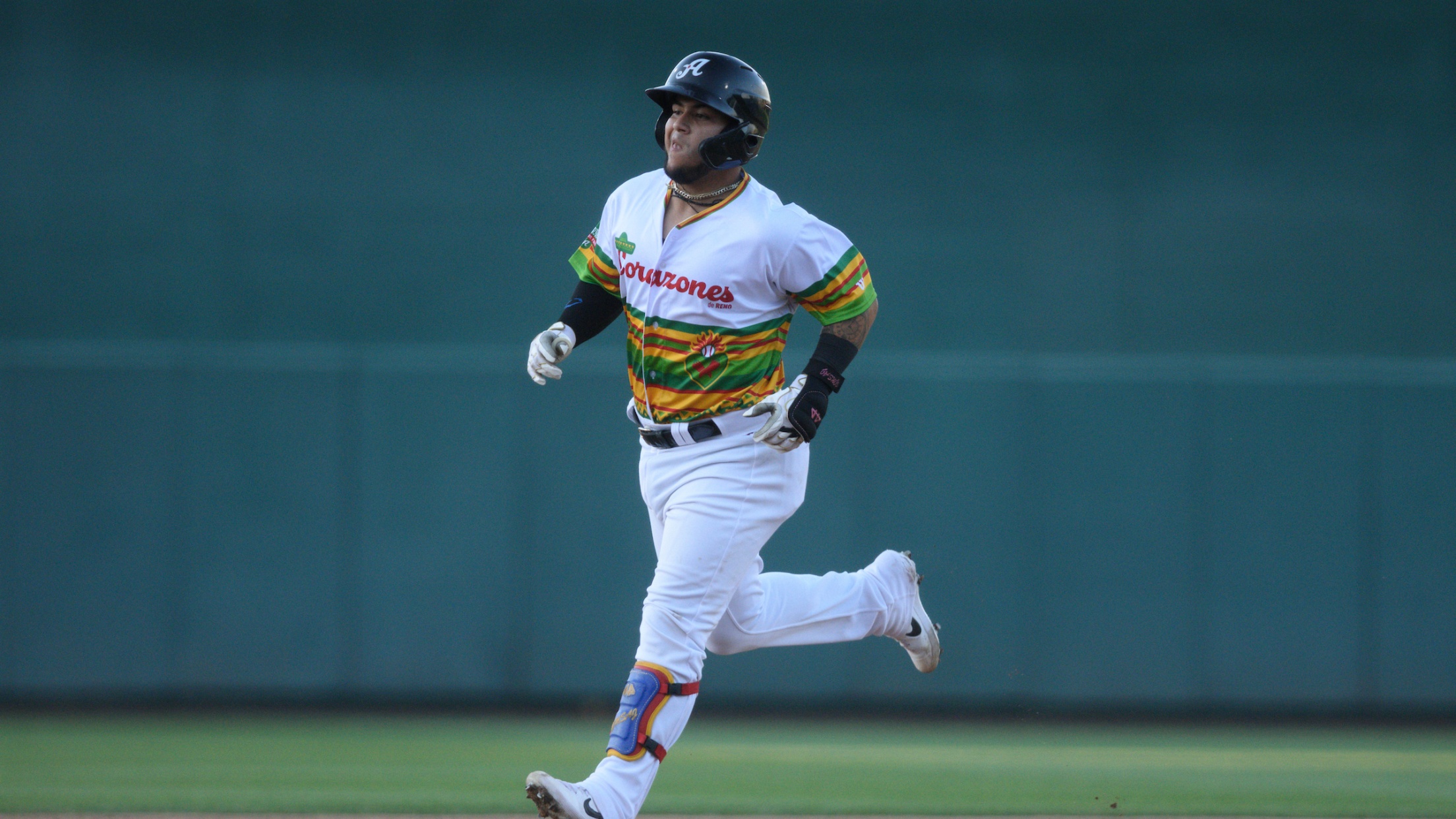 RENO, Nev. – The Reno Aces, playing as Los Corazones de Reno, topped the Round Rock Express tonight 5-3 behind stellar pitching and a strong day from Jose Herrrera. The win comes in game two of the team's Copa de la Diversion, a league initiative to celebrate latino culture in
Aces drop series opener to Round Rock Express, 8-4
Copa de la Diversion weekend underway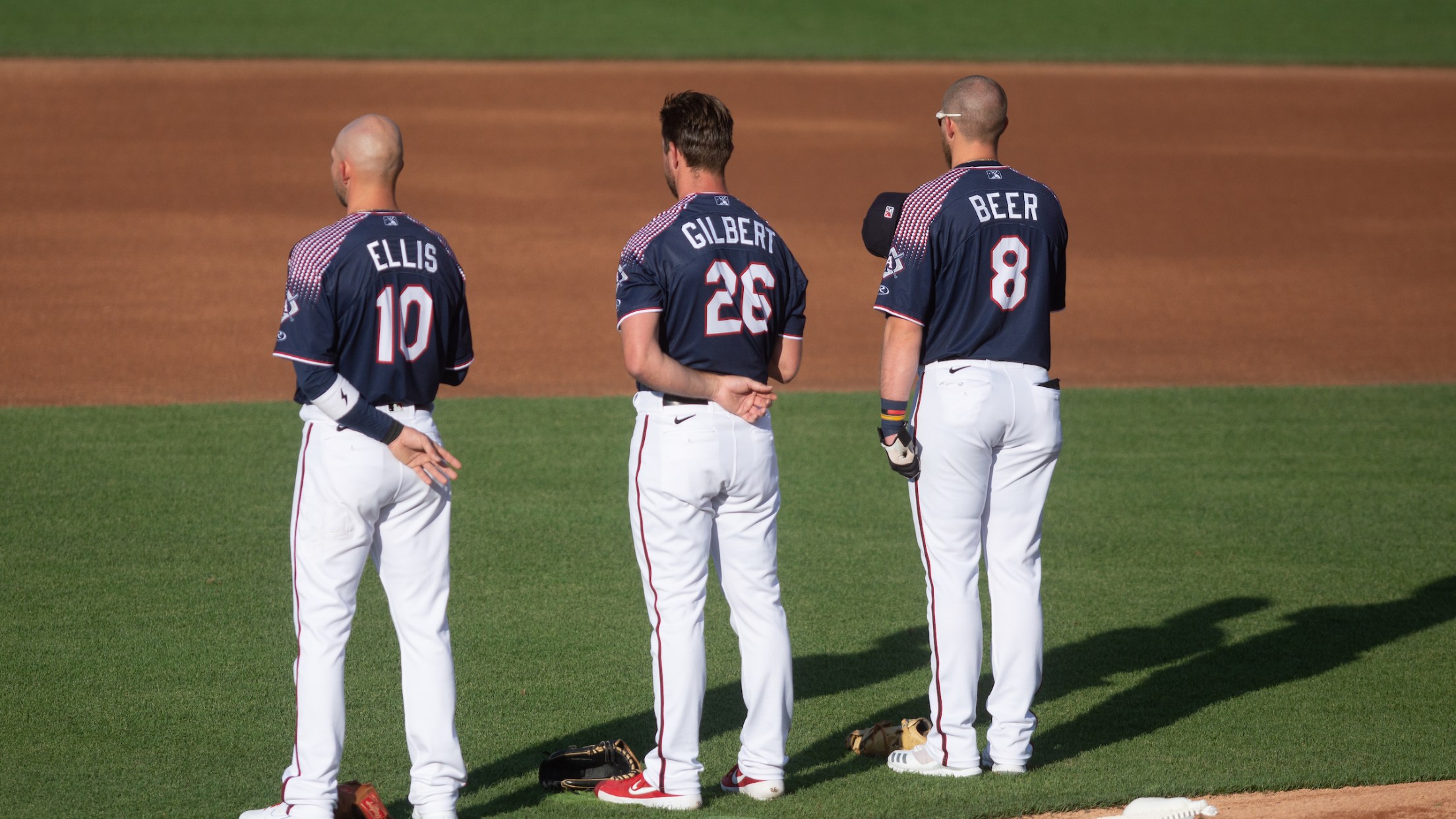 RENO, Nev. – The Reno Aces fell to the Round Rock Express 8-4 tonight, in the first Copa de la Diversion game of the year. The Aces played as Los Corazones de Reno, and Round Rock played as the Chupacabras in the league-wide initiative to celebrate Latino heritage and influence
Reno hosting Round Rock Express in six-game homestand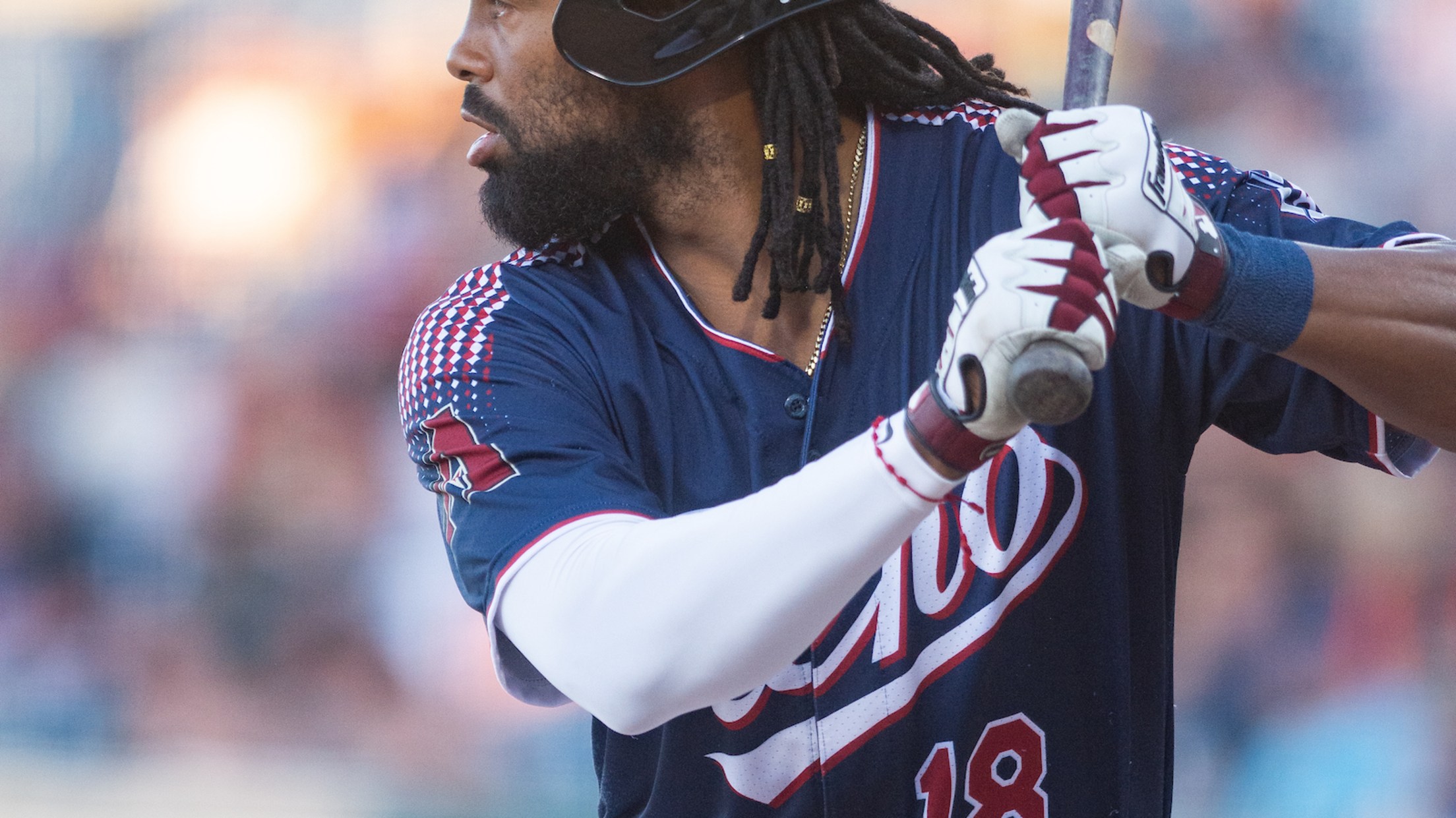 After returning from Oklahoma City with a series split, the Reno Aces are home to take on the Round Rock Express for a six-game homestand. Round Rock enters in third place in the Triple-A West, East division at 33-33, while Reno leads the West West with a 41-25 record. Reno
Aces split series at Oklahoma City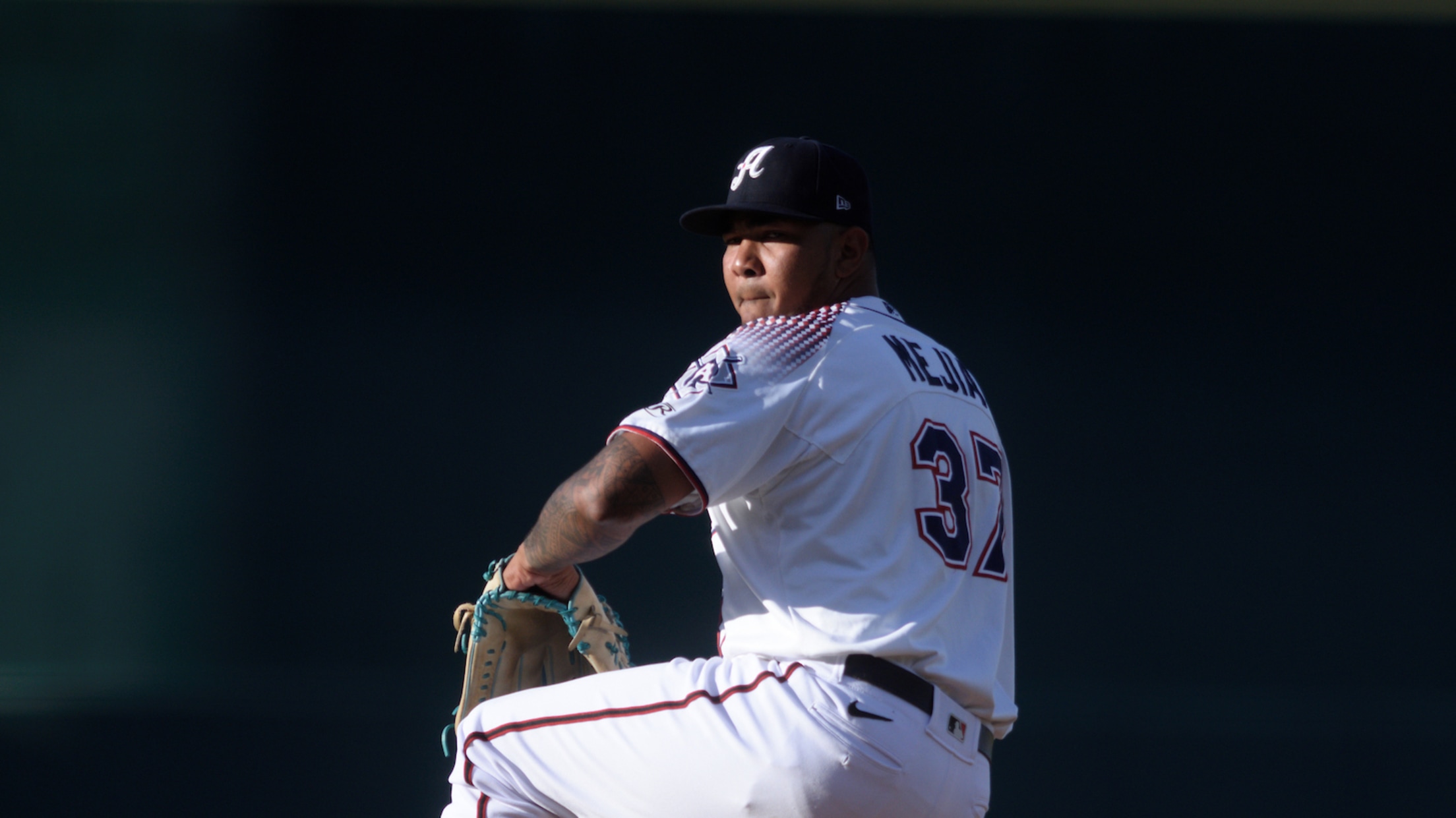 The Reno Aces wrapped up their 11th series of the season this week, and 66 games in the team has still yet to lose a series. Reno sits atop the Triple-A West with a 41-25 record, leading the league in runs scored with 478. Reno split the series after a
Aces drop series finale at Oklahoma City
Reno splits six-game road trip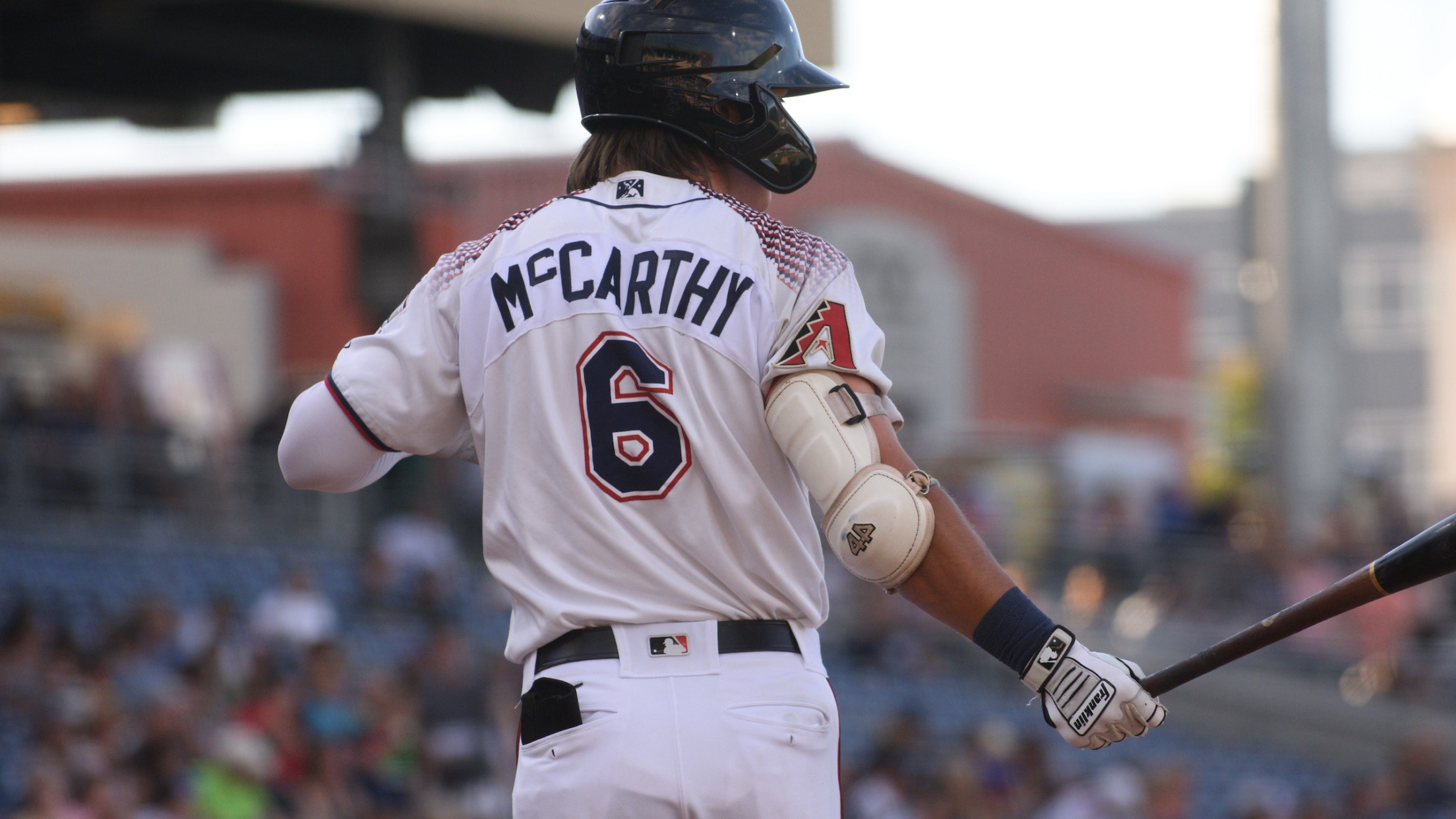 OKLAHOMA CITY – The Reno Aces fell 10-3 to the Oklahoma City Dodgers tonight, finishing the six-game series with a split. The Aces have still not lost a series this season, and remain in first place in the Triple-A West. Oklahoma City jumped out to an early 4-0 lead, scoring
65 games down, 65 more to go
Reno has dominated through the first half of the season, having yet to lose a series in 2021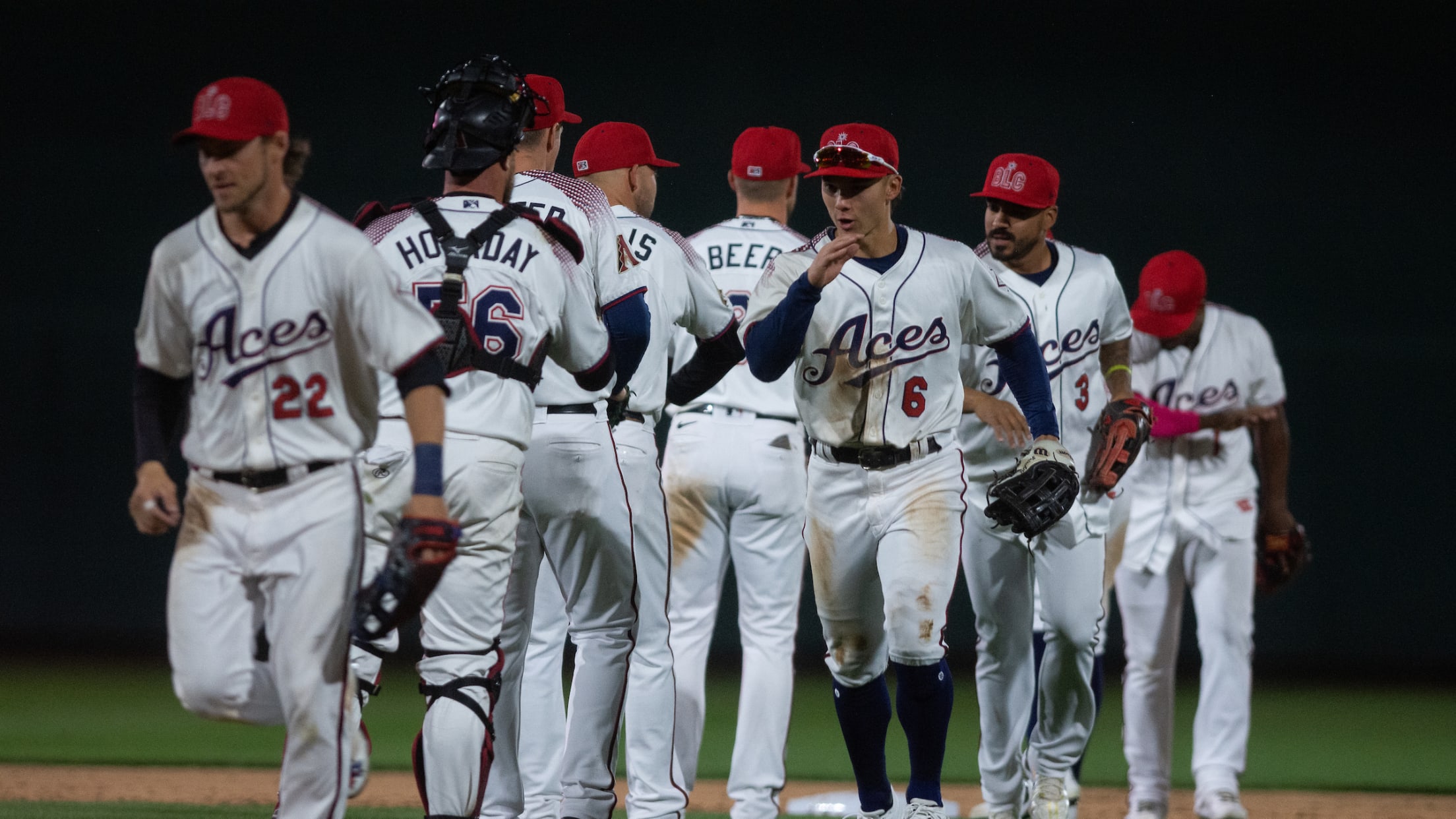 RENO, Nev – Much like the characters that fill the stage at the Richard Rodgers Theatre nearly 2,700 miles away from the Biggest Little City, history has its eyes on the Reno Aces. A season that started with the franchise's youngest manager taking the reins has blossomed into an improbable
Aces to host PLAY BALL initiative with Mayor Schieve on Sunday, July 25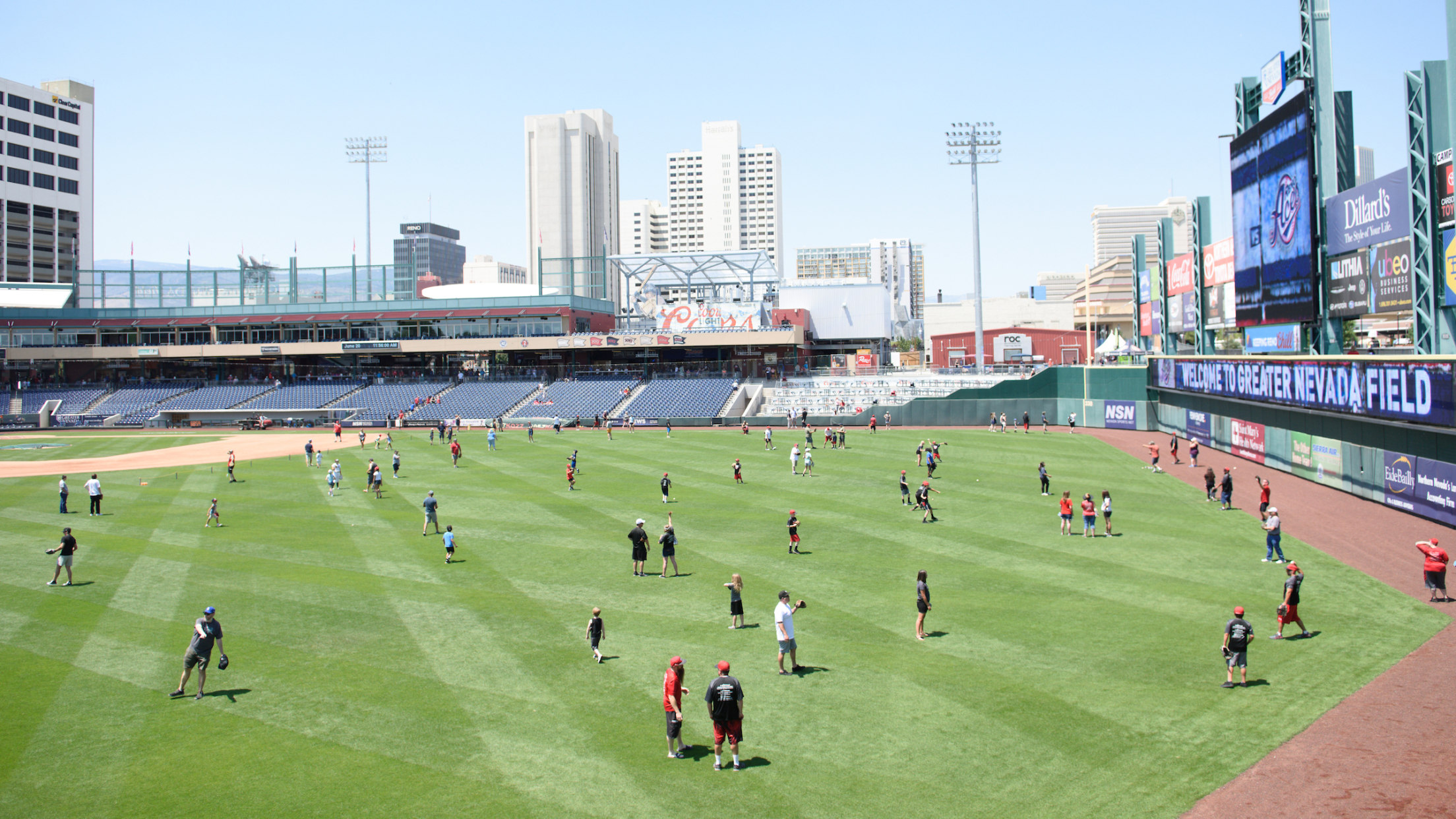 RENO, Nev. – The Reno Aces and Mayor Hillary Schieve will partner for the PLAY BALL Initiative and National Baseball Day prior to the club's July 25 game against the Round Rock Express, beginning 90 minutes prior to first pitch. Mayor Schieve will also be in attendance. PLAY BALL is
Aces Events to host Movie Night at Greater Nevada Field on Aug. 20
"The Sandlot" will be the evening's feature film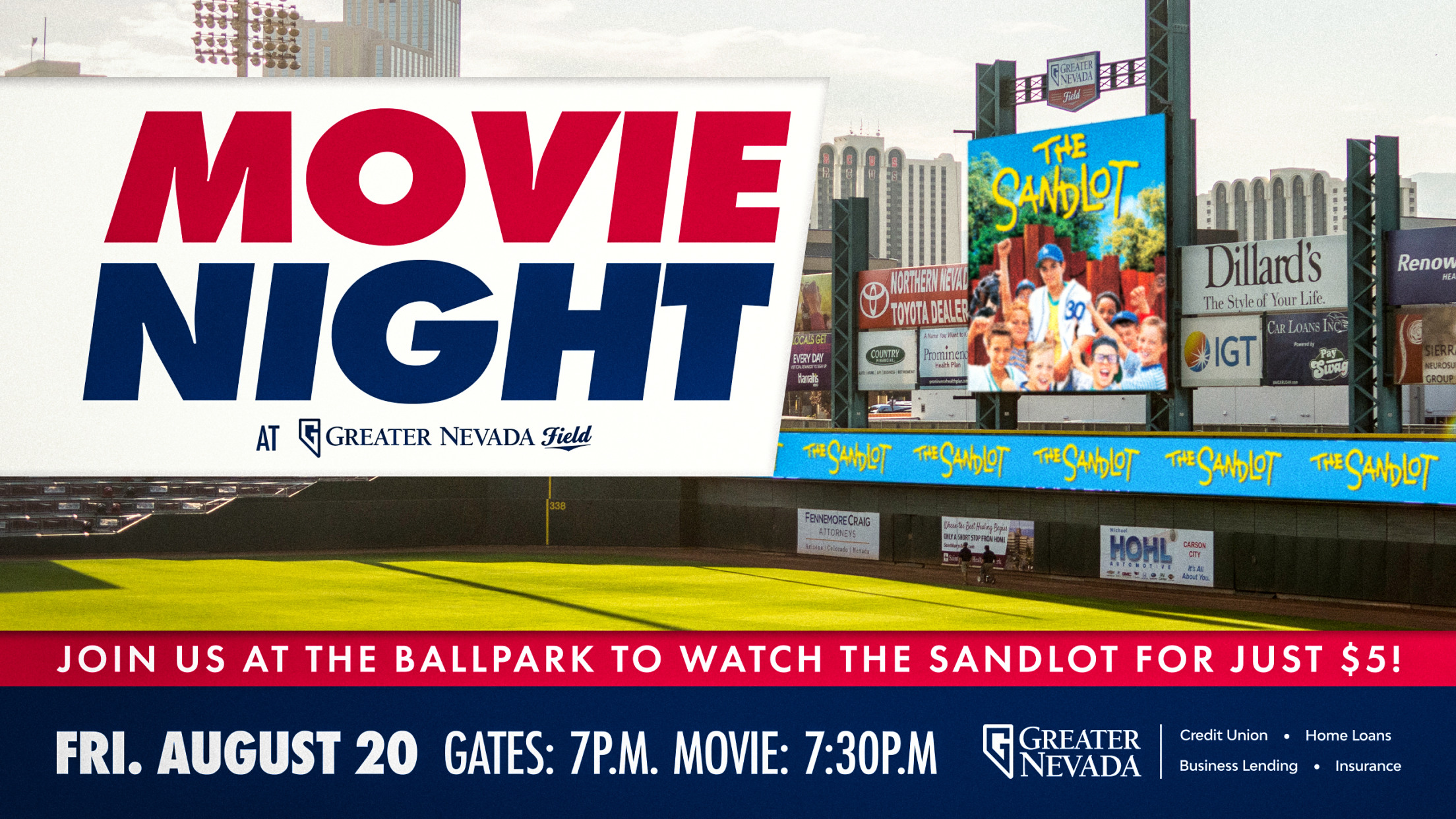 RENO, Nev. – Aces Events has announced it will show "The Sandlot' at its first installment of Movie Night at Greater Nevada Field on Friday, Aug. 20. With the Reno Aces on the road for a series against the Salt Lake Bees, the stadium will welcome fans to watch its
Mejia flirts with no-hitter, Reno downs Oklahoma City, 7-5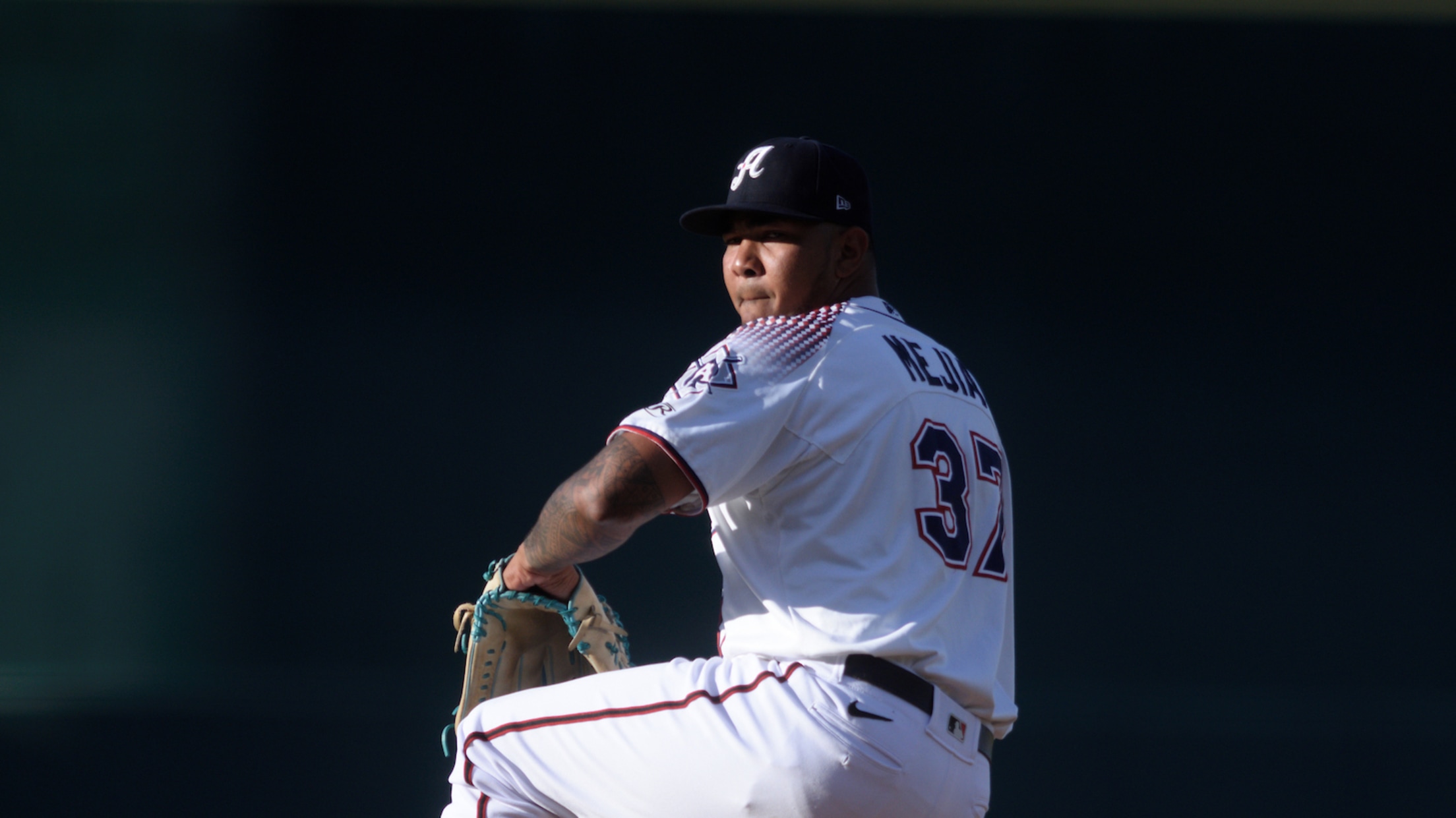 OKLAHOMA CITY – Aces' starter Humberto Mejia dazzled with a near-no-hitter in Reno's 7-5 victory over the Oklahoma City Dodgers on Monday. The Aces' right-hander dismantled the Dodgers' lineup and took a no-no into the sixth inning, retiring 14 of the first 17 batters he faced before giving up his
Huge seventh inning powers Aces to 10-3 win
Aces score seven in the seventh, Castellanos throws quality start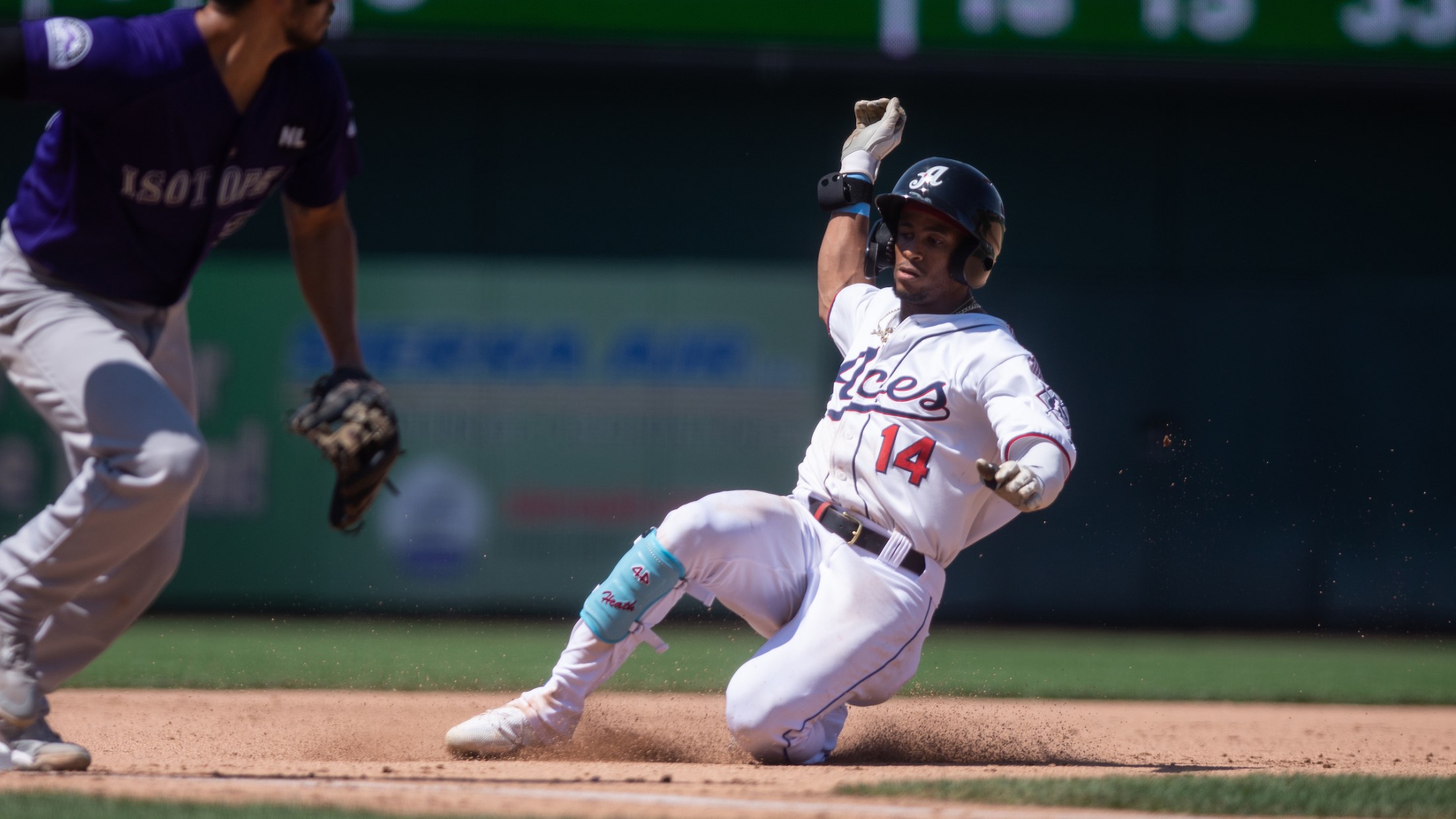 OKLAHOMA CITY – The Reno Aces exploded for seven runs in the seventh inning tonight, ridding the late surge to win 10-3 at the Oklahoma City Dodgers. The offense gave plenty of support to starter Humberto Castellanos, who threw six innings allowing just three runs for his second quality start
Ramos' three-hit night not enough as Reno falls, 8-7
Henry Ramos recorded the sixth multi-hit game in his last seven appearances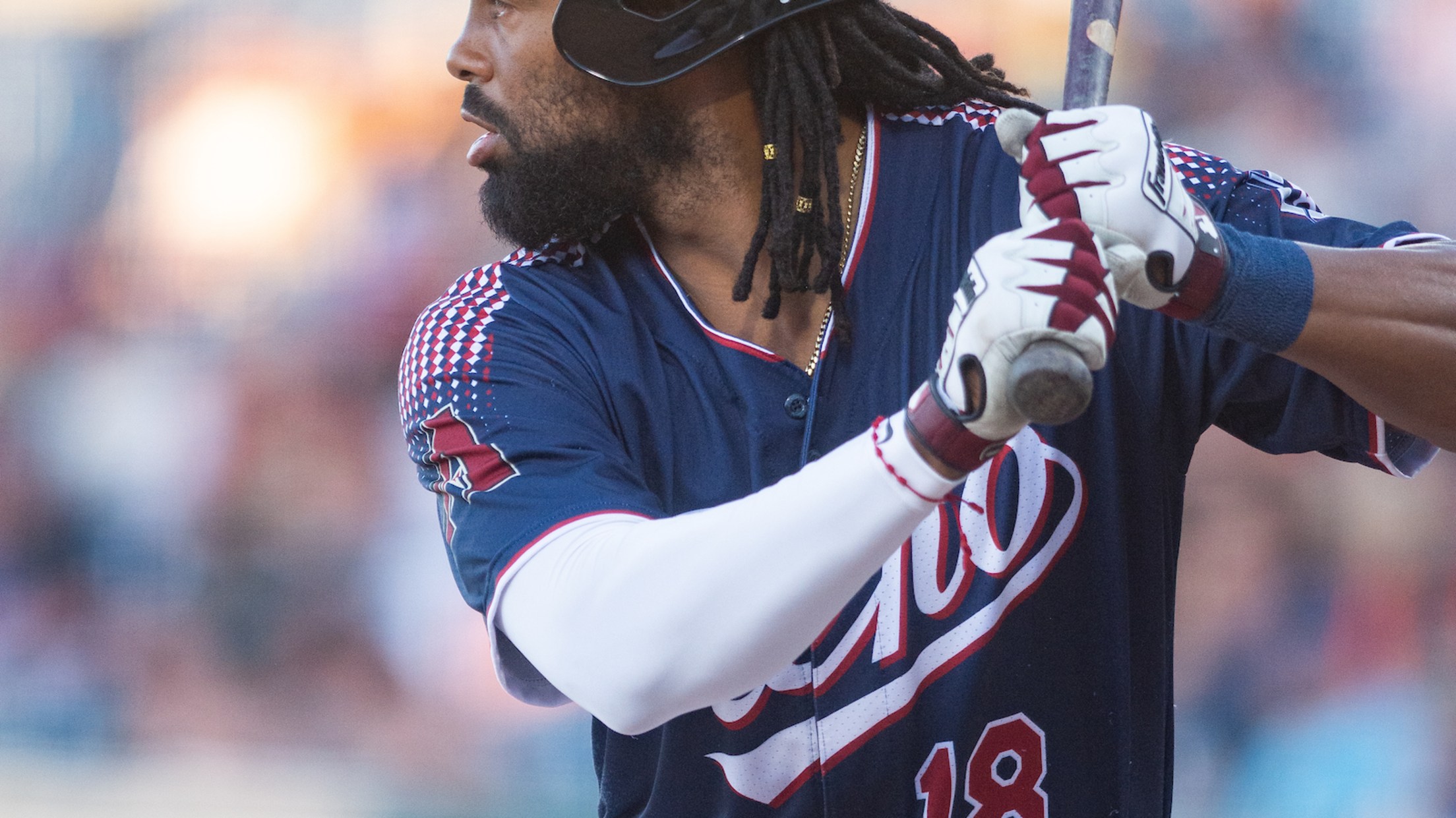 OKLAHOMA CITY – The Reno Aces and the Oklahoma City Dodgers battled back and forth on Saturday night, exchanging tallies throughout the game before the Biggest Little City's team fell, 8-7, to the host club. Henry Ramos continued to rake at the dish, going 3-for-4 with a pair of runs
Aces crack Quackenbush to knock off Dodgers, 4-3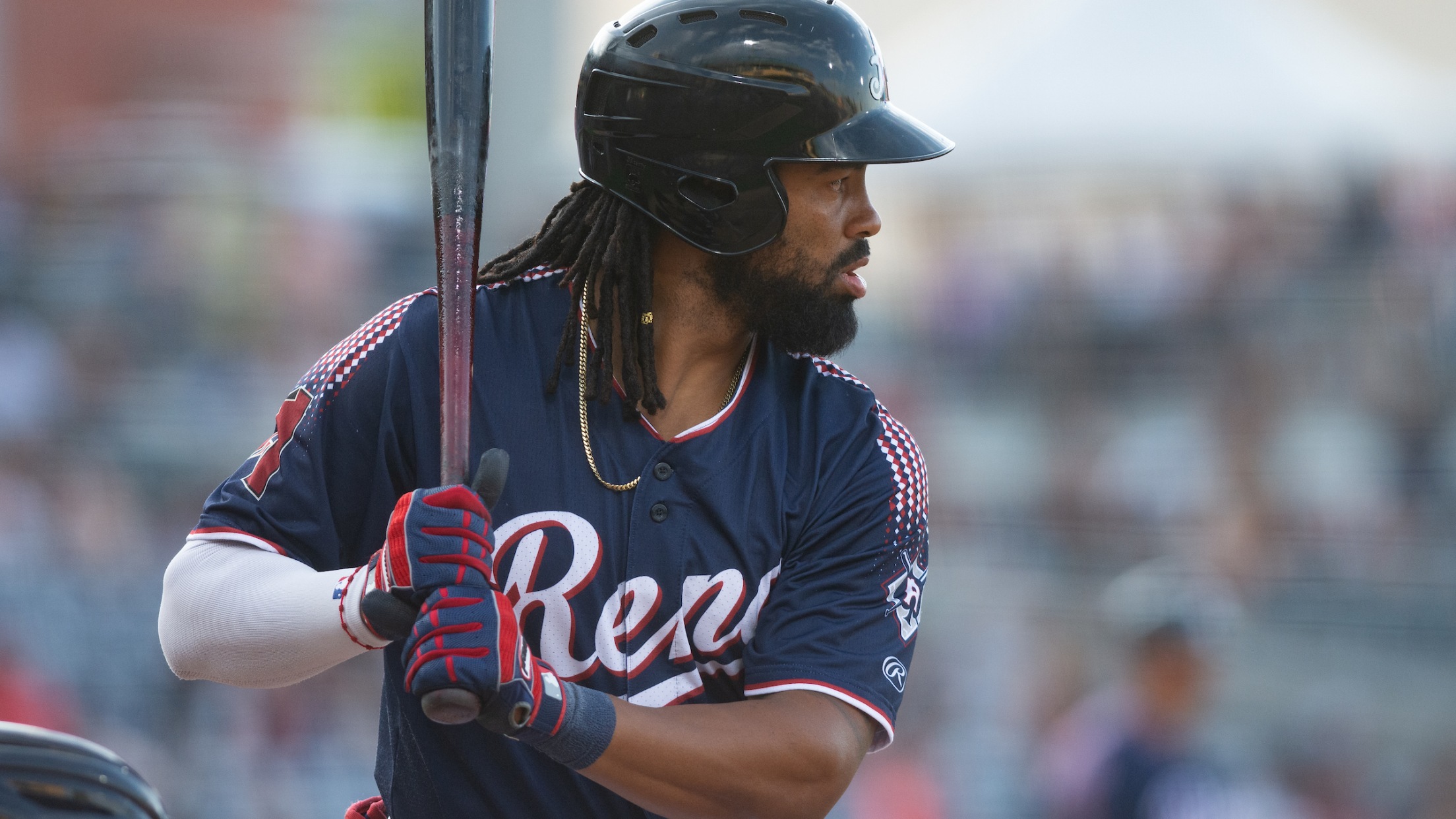 OKLAHOMA CITY – The Reno Aces forced Oklahoma City Dodgers' closer Kevin Quackenbush to allow his first earned run of the year in the top of the ninth, knocking off the host club, 4-3, on Friday. After starting the ninth deadlocked at three, Blake Lalli's club did something that no