Edition 4 - May 17 - May 22
Welcome to the 2022 Fourth Edition of Leading Off, the official publication of the Reno Aces Baseball Club. This season-long publication will release an updated edition prior to every homestand. Stay up-to-date with everything happening at Greater Nevada Field, and learn more about the opponent coming to town! Its logos and graphics are trademarks of the Reno Aces. All rights reserved. Aces photos provided by Aces Team Photographer David Calvert.
Upcoming Promotions
Series Preview
After a road trip against the Tacoma Rainiers, the Reno Aces return to Greater Nevada Field for a six-game homestand against in-state rival, the Las Vegas Aviators (20-16), Triple-A affiliate of the Oakland Athletics, starting Tuesday, May 17.
The Aces have won the last two games and are coming off a six-game road series against the Tacoma Rainiers, where Reno won the series four games to two.
SCOUTING LAS VEGAS
The Aviators recently faced the Salt Lake Bees in a six-game homestand and won three games to split the series.
Shea Langeliers has supplied the lumber for the Aviators this season with 11 homers, which ranks second in the Pacific Coast League. The No. 2 prospect in the A's organization is slashing .298/.392/.605 and leads the team with 26 runs batted in (tied for sixth in PCL). In March, Langeliers was part of the prospect package the Atlanta Braves sent in the blockbuster trade for Matt Olson.
Including Langeliers, the Aviators' roster includes five top-30 prospects: infielder Nick Allen (4), right-handed pitcher Adrian Martinez (21), outfielder Cody Thomas (25) and right-handed pitcher Adam Oller (28).
Infielder Nate Mondou has been a tough out for opposing pitchers and ranks ninth in the PCL with a .412 on-base percentage. The former Wake Forest Demon Deacon is hitting at a .305 clip and has driven in 19 runs.
On the mound for the Aviators, Jared Koenig is tied for the league lead in wins with a 3-2 record and tops the PCL in ERA (2.36). In 34.1 innings pitched, the southpaw has struck out a league-high 42 batters.
ACES HIGH
When the Aces faced the Aviators last month in the season-opening series, Camden Duzenack had a strong showing at the plate with a .474 (9-for-19) performance with two homers and six runs batted in. Ryne Nelson made two starts on the mound and dealt eight innings of two-run ball with 13 strikeouts.
Jake McCarthy continued to rake last week against Tacoma and hit .385 (10-for-26) with a homer, five runs batted in and three stolen bases in six games.
Buddy Kennedy played in five games against the Rainiers and hit .333 (6-for-18) with three runs batted in, two stolen bases and drew four walks. Kennedy is hitting .303 in May with one homer and eight runs batted in 10 games played.
The Arizona Diamondbacks Organizational Player of the Month, Stone Garrett, proved why he earned the April accolade with a 7-for-24 (.292) performance in six games played against Tacoma with two homers (including a go-ahead solo smash Sunday night), drove in six runs, scored five times and stole three bases.
Nelson earned his first Triple-A win of the season Wednesday with five innings of two-run ball on six hits with four strikeouts.
Taylor Widener had his best outing of the season Thursday with a two-inning gem, allowed no runs on one hit, and struck out five batters out of the bullpen.
As a team, the Aces lead the league in doubles (65) and rank second in stolen bases (51) and saves (9).
Both teams square off on Tuesday, May 17, with the first pitch at 6:35 pm PST.
Top Prospect Alek Thomas Promoted to the Arizona Diamondbacks
With his contract selected, top prospect Alek Thomas has been promoted by the Arizona Diamondbacks. He will also make his Major League Baseball debut against the Colorado Rockies.
Thomas, who was on the Reno Aces Opening Day roster, hit .277 (28-for-101) with 8 doubles, 1 triple, 4 home runs and 14 RBI over 24 games.
MLB Pipeline rates the Chicago, Ill. native as the D-backs' No. 1 prospect (18th overall) and No. 3 by Baseball America (32nd).
He was selected as the D-backs' 2021 Minor League Player of the Year and named to MLB Pipeline's First-Team "Prospect Team of the Year" after hitting .313/.953 OPS with 29 doubles, 12 triples, 18 home runs and 59 RBI over 106 games with Double-A Amarillo and Reno.
Thomas was Arizona's second-round pick (No. 63 overall) in the 2018 draft out of Mount Carmel High School in Chicago, Ill.
Last Series Recap
The Reno Aces completed its six-game road series against the Tacoma Rainiers, Triple-A affiliate of the Seattle Mariners. The Aces took four out of the six games against Tacoma, their second series win of the season.
In the series opener against Tacoma Tuesday afternoon, the Aces' bats were bopping and racked up a season-high 14 hits with three homers for an 8-3 win. Two-thirds of Reno's longballs came from the bat of Juan Graterol, who finished the day with a 3-for-4 performance, including two homers, three runs batted in and three runs scored. On the mound, Corbin Martin made his Aces debut and earned his first win of the year with 5.2 innings of three-run ball on six hits and fanned four batters.
The hitting groove continued for the Aces Wednesday during their 7-6 win over Tacoma. A five-run second inning fueled by RBI singles from Jake McCarthy, Drew Ellis and Stone Garrett allowed the Aces to have enough separation from the Rainiers. An RBI triple from Yonny Hernandez highlighted a two-run seventh that cemented the 7-6 win. Ryne Nelson earned his first Triple-A win on the mound with five innings of two-run ball on six hits and four strikeouts.
The Aces' power surge returned Saturday in a 9-3 win fueled by three homers. This time, the longballs were courtesy of Dominic Miroglio, Garrett and Braden Bishop. Tied at one in the fourth inning, the Aces went on an offensive raid and scored four runs over the next four innings. Dan Straily took the bump Saturday and improved his pitching record to 2-2 after five innings of three-run ball on five hits and three strikeouts. When their numbers were called, the relief trio of Tyler Holton, Jesus Liranzo and Kevin Ginkel answered with a combined four shutout innings of relief and struck out seven batters.
After a five-hour and 12-minute rain delay Sunday afternoon, the Aces were eager to end the series on a high note and succeeded with a 4-3 win over the Rainiers. With the game tied at three in the seventh, Garrett displayed his light-tower power with a solo shot to left-center for a 4-3 lead. With the one-run lead, relievers Luis Frias and Mitchell Stumpo were dominant on the mound with three shutout innings, allowed no hits and fanned six batters.
The Aces will take on the Rainiers in a six-game homestand at Greater Nevada Field starting on Tuesday, May 31, with the first pitch at 6:35 PST.
Top Performers
Jake McCarthy: Hit .385 (10-for-26) in six games played with a homer, five runs batted in and swiped three bases.
Buddy Kennedy: Appeared in five games and hit. 333 (6-for-18) with three runs batted in, two stolen bases and drew four walks.
Stone Garrett: Started six games for the Aces and hit .292 (7-for-24) with a pair of homers, six runs batted in, five runs scored and three stolen bases.
Dominic Miroglio: Batted .500 (3-for-6) in two games, played behind the dish, slugged two homers, drove in three runs, and doubled.
Corbin Martin: W, 10.0 IP, 5 ER on 11 H, 10 K's in two starts.
Ryne Nelson: W, 5.0 IP, 2 ER on 6 H, 4 K's.
Taylor Widener: 2.0 IP, 0 ER on 1 H, 5 K's.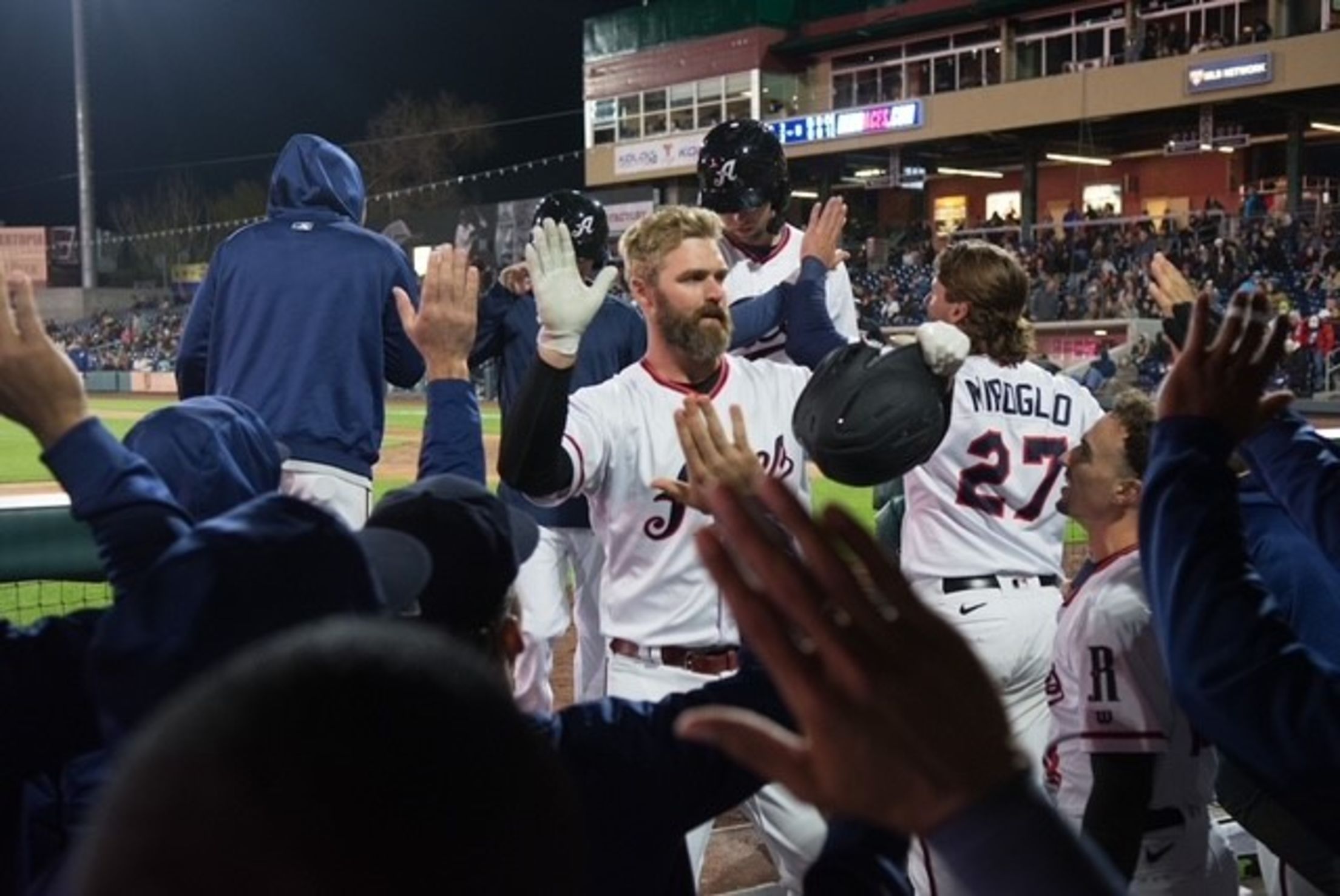 Las Vegas to Host Inaugural Triple-A Triple Championship Weekend
Minor League Baseball™ (MiLB™) today announced the Las Vegas Aviators will host the inaugural Triple-A Triple Championship Weekend Sept. 30–Oct. 2, 2022, at Las Vegas Ballpark in Summerlin, Nevada.
The three-game series will begin with the division winners of the Triple-A Pacific Coast League squaring off for the league championship on Friday, Sept. 30 at 7:05 p.m. PST/10:05 p.m. ET.
On Saturday, Oct. 1, the International League division winners will meet to determine the International League champion at 6:05 p.m. PT/9:05 p.m. ET.
The two league champions will play on Sunday, Oct. 2 at 4:05 p.m. PT/7:05 p.m. ET to crown the overall Triple-A National Champion.
"This new playoff system to determine an overall champion will create an exciting finish to the Triple-A season," said Morgan Sword, Major League Baseball's Executive Vice President, Baseball Operations. "We appreciate the Las Vegas Aviators hosting this inaugural event and we look forward to an exciting weekend of championship-caliber baseball at one of MiLB's premier ballparks."
Las Vegas Ballpark was slated to host the 2020 Triple-A National Championship Game, and the Aviators jumped at the opportunity to stage the showcase event in 2022.
"We're very excited to host the Triple-A Triple Championship weekend as Las Vegas Ballpark was built to host events like this," said Aviators President & Chief Operations Officer Don Logan. "It will be great to bring our Triple-A brethren together and crown a champion in this new and exciting format."
Since the Triple-A National Championship Game's inception in 2006, the Pacific Coast League has won nine of the 15 winner-take-all games against the International League, with the Sacramento River Cats defeating the Columbus Clippers 4-0 in the most recent Championship Game in 2019. The Durham Bulls had the overall best record among the 30 Triple-A teams in 2021, but a traditional postseason was not scheduled due to ongoing COVID-19 restrictions.
The National Championship team will receive a cash prize to be split among their players.
About Minor League Baseball
Minor League Baseball consists of 120 teams across four classification levels (Single-A, High-A, Double-A and Triple-A) that are affiliated with Major League Baseball's 30 teams. Fans flock to MiLB games to see baseball's future stars and experience the affordable family-friendly entertainment that has been a staple of MiLB since 1901. For more information, visit MiLB.com. Follow MiLB on Facebook, Instagram and Twitter.