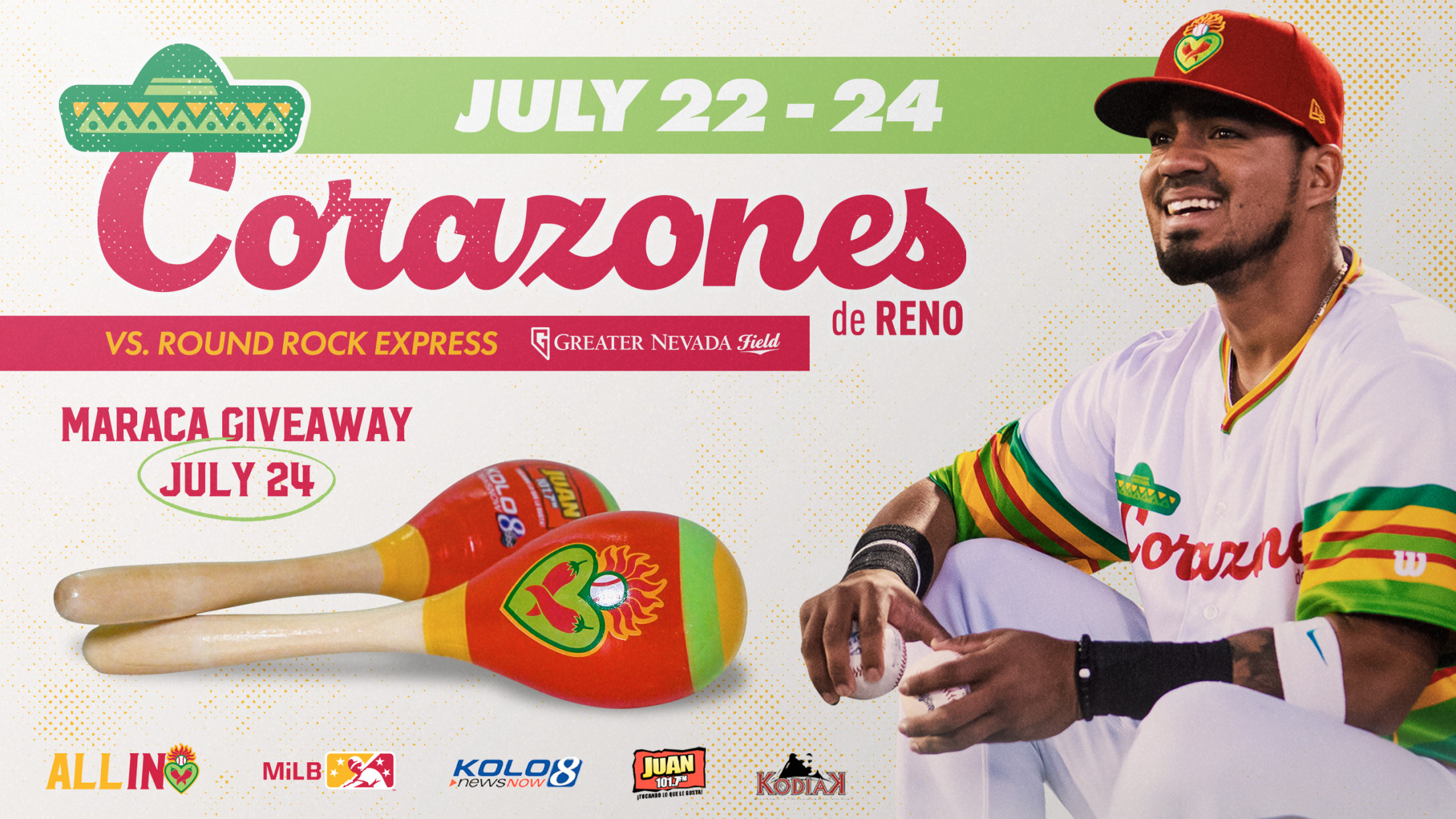 About Los Corazones de Reno
The milagro heart at the center symbolizes love, while "milagro" means "miracle" and can bring good luck to its wearer. By taking the field as Los Corazones de Reno, the club is pairing its love for the community with the passion of baseball within Latino culture. The chili peppers represent this connection, as well as the one between food, family, & and baseball. We invite all of Northern Nevada to join us for 3 special Copa de la Diversion nights at Greater Nevada Field!
Sobre los Corazones de Reno
El corazón milagro en el centro simboliza el amor y puede traer buena suerte a los que lo llevan. Al tomar el campo como Los Corazones de Reno, el club combina su amor por la comunidad con la pasión del béisbol dentro de la cultura latina. Los chiles representan esta conexión, así como la que existe entre la comida, la familia, y el béisbol. Invitamos a todo el norte de Nevada a unirse con nosotros para cuatro noches de la Copa de la Diversion en el Greater Nevada Field.
2021 Fiesta Latina
When / Cuándo
Our 2021 Fiesta Latino will take place July 22 - 24!
What / qué
A three day party celebrating Reno's Latino culture! Featuring:
Specialty Food
Maraca Giveaway
Music & more!
Fiesta Latina Menu
Thursday
3 Taco Plate w/Chips $10
Esquite Helmet Bowl - location: Comstock & Biggest Little Grill
Tajin Fruit Cup - location: Grab & Go
Mexican Candies - location: Grab & Go
Palomas
Micheladas
Margaritas
Friday
Nacho Dog - location: Biggest Little Grill & Mobile
Esquite Helmet Bowl - location: Comstock & Biggest Little Grill
Tajin Fruit Cup - location: Grab & Go
Mexican Candies - location: Grab & Go
Palomas
Micheladas
Margaritas
Saturday
Tinga Torta Burger (Burger w/ chicken tinga, Torta Ciabatta, Jalapeno Crema, Cheddar, Black Bean Corn Salsa) - location: Burgertopia & Mobile
Tajin Fruit Cup - location: Grab & Go
Mexican Candies - location: Grab & Go
Palomas
Micheladas
Margaritas