Kyle Tucker wins it in the 12th as Grizzlies come back twice versus Aces
Fresno trailed 4-0 and 6-4, respond to win 7-6 in extras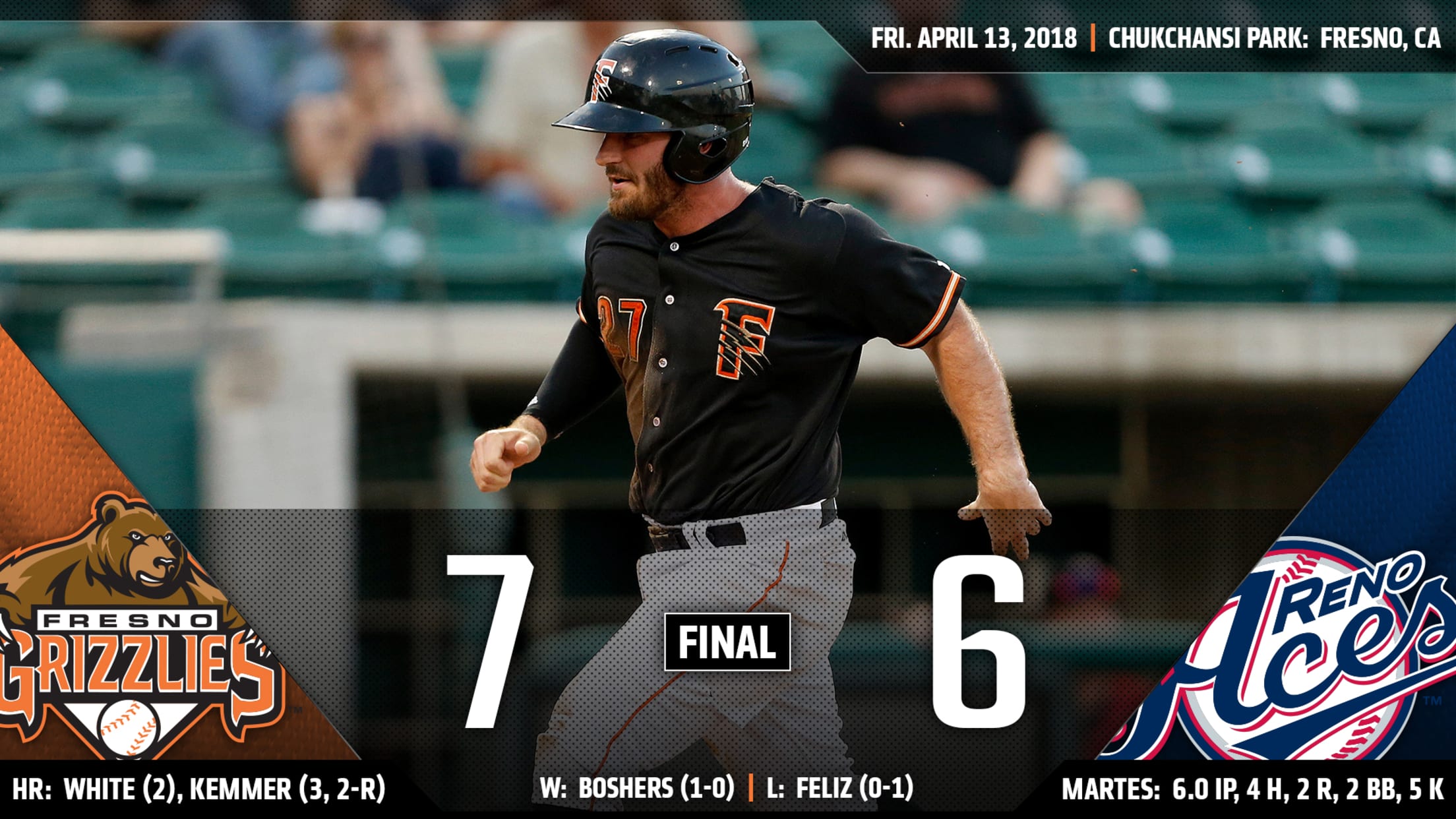 Friday the 13th dealt bad luck to the Reno Aces' (4-5) bullpen as they fell 7-6 in 12 innings to the Fresno Grizzlies (6-3) from Chukchansi Park. Fresno came back from four and two run deficits to secure their third straight win. 21-year old prospect Kyle Tucker sliced a game-winning
Friday the 13th dealt bad luck to the Reno Aces' (4-5) bullpen as they fell 7-6 in 12 innings to the Fresno Grizzlies (6-3) from Chukchansi Park. Fresno came back from four and two run deficits to secure their third straight win. 21-year old prospect Kyle Tucker sliced a game-winning single into right to send the fans home happy.
The Aces took a 2-0 lead in the top of the fourth when César Puello (3-for-5) laced a RBI single, scoring Illdemaro Vargas. Then, a fielder's choice allowed the second run to cross the plate. Those runs would be the only blemishes to Fresno starter Francis Martes' (no decision) line. He hurled six innings, allowing four hits, walking two and punching out five.
Reno extended their lead to 4-0 in the top of the seventh when Cody Decker crushed a two-run shot off of reliever Matt Ramsey. This was Decker's fourth home run of the season, all versus Fresno pitching.
Fresno started their comeback by getting three back in the bottom of the eighth from two dingers. First, Tyler White (2-for-4) launched a solo bomb to left. It was the first homer hit at Chukchansi Park this season, and White's second of the year. Four batters later, Jon Kemmer drilled a two-run moonshot to right field. Then, the Grizzlies tied the game in the ninth from back-to-back triples from Tony Kemp and Drew Ferguson (2-for-4).
Heading into extra innings, both teams traded zeros until the top of the 12th. Sócrates Brito and Decker both collected RBIs off of Buddy Boshers (1-0, win). Fresno trailed once again, 6-4, but a double to right by Garrett Stubbs knocked in Jack Mayfield, cutting the lead to one. Later, a bases loaded walk to Ferguson knotted things at six. Then, Tucker strode to the plate and lined a game winner to right. Aces reliever Neftalí Feliz (0-1) suffered the loss as he allowed all three runs in the frame.
Kemp's triple in the ninth extended his hit streak to seven games (team-high) and Ferguson added his third straight multi-RBI game. Reno starter Matt Koch (no decision) dazzled for six shutout innings, facing the minimum. He struck out one and gave up three hits.
The Grizzlies and Aces continue their four-game series Saturday from Chukchansi Park. Game time is scheduled for 7:05 PT. Reno RHP Kris Medlen (0-1, 9.00) and Fresno RHP Rogelio Armenteros (0-0, 6.23) are the probable pitchers.