Las Vegas spoils superb start by Martinez with 6-0 win
Fresno shutout for just third time in 2017, remain one game back of Reno in playoff chase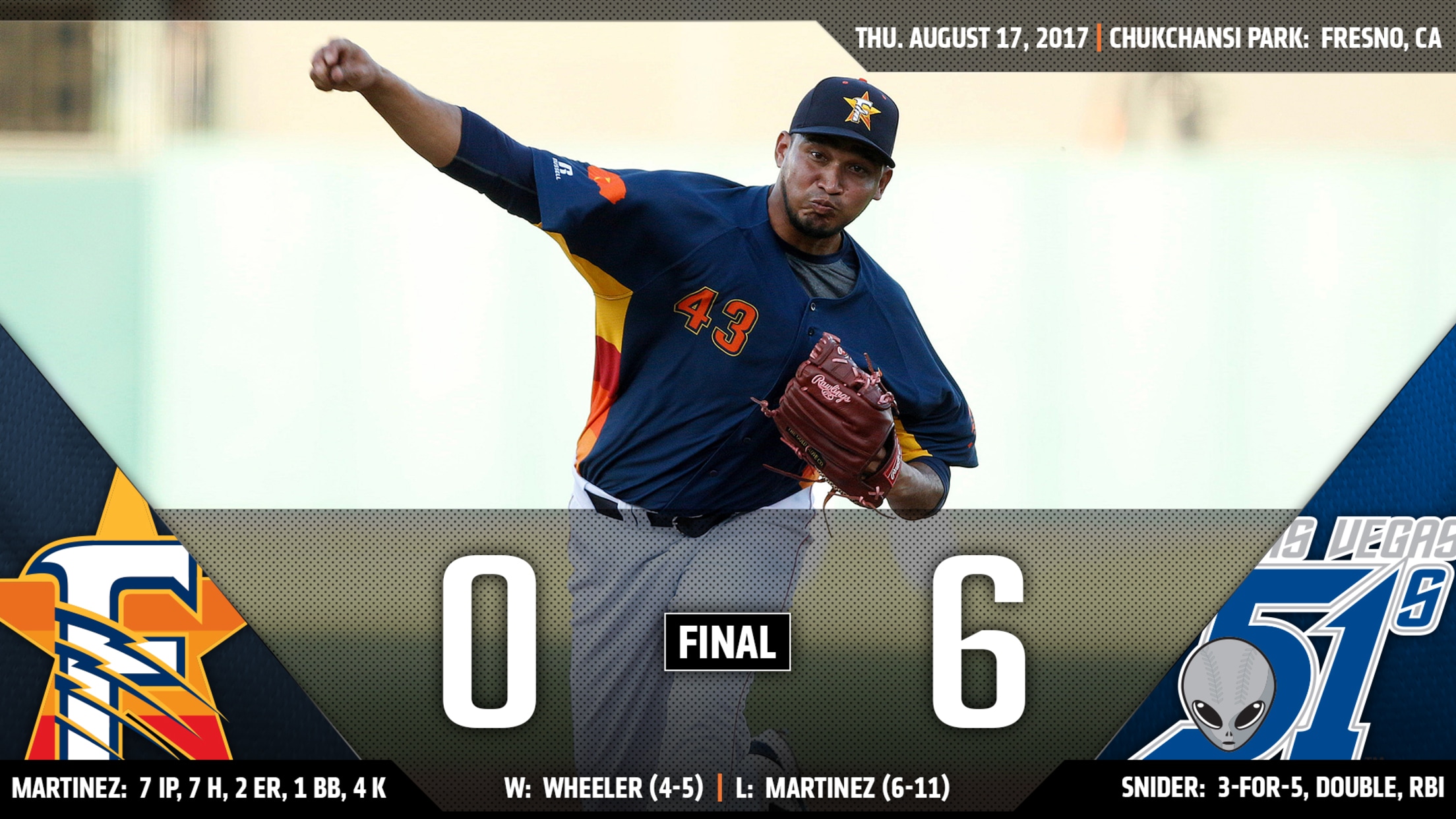 The Fresno Grizzlies (69-56) dropped their fifth straight Thursday evening at home, by a 6-0 final to the Las Vegas 51s (49-76). Fresno will look to avoid the four-game sweep Friday, but with Sacramento's 7-4 win at Reno (70-55) the Grizzlies remain just one game back in the race for
The Fresno Grizzlies (69-56) dropped their fifth straight Thursday evening at home, by a 6-0 final to the Las Vegas 51s (49-76). Fresno will look to avoid the four-game sweep Friday, but with Sacramento's 7-4 win at Reno (70-55) the Grizzlies remain just one game back in the race for the Pacific North Division crown and a playoff berth, with 17 games remaining in the regular season.
Las Vegas opened the scoring with a Travis Taijeron RBI single to left-center in the fourth. Still leading 1-0 in the seventh, Phillip Evans (2-for-4) lifted a two-out solo homer to left field. In a quality start for Fresno's David Martinez (6-11), the right-hander scattered seven hits in seven innings, allowing two (earned) runs. Martinez walked one and struck out four in a tough-luck loss following a great effort.
Beck Wheeler (4-5) picked up the win for Vegas in relief, tossing a scoreless fourth and fifth inning on a bullpen night for the 51s. Wheeler allowed just three hits and struck out five.
With a 2-0 lead in the eighth, Cody Decker narrowly missed a grand slam to left field, doubling off the wall to score two runs. Jayce Boyd followed with an RBI single to left a batter later, and it was 5-0 in favor of the 51s. It was 6-0 in the ninth when Travis Snider (3-for-5) doubled to the left field gap, scoring Kevin Plawecki (2-for-5) from first base after a two-out single.
It was just the third time this season the highest-scoring offense in the Pacific Coast League was shutout, and the just the second time at home. Tony Kemp (2-for-4) registered the lone multi-hit game for the Grizzlies, his 46th such game this season in 105 played (44%).
The series finale is Friday night at Chukchansi Park in Downtown Fresno. Probable starters are RHP Mitch Atkins (4-6, 6.87) for Las Vegas and RHP Rogelio Armenteros (6-1, 2.82) for the Grizzlies.