IronPigs' Irvin claims pitching honor again
No. 23 Phillies prospect picked up two wins to take weekly award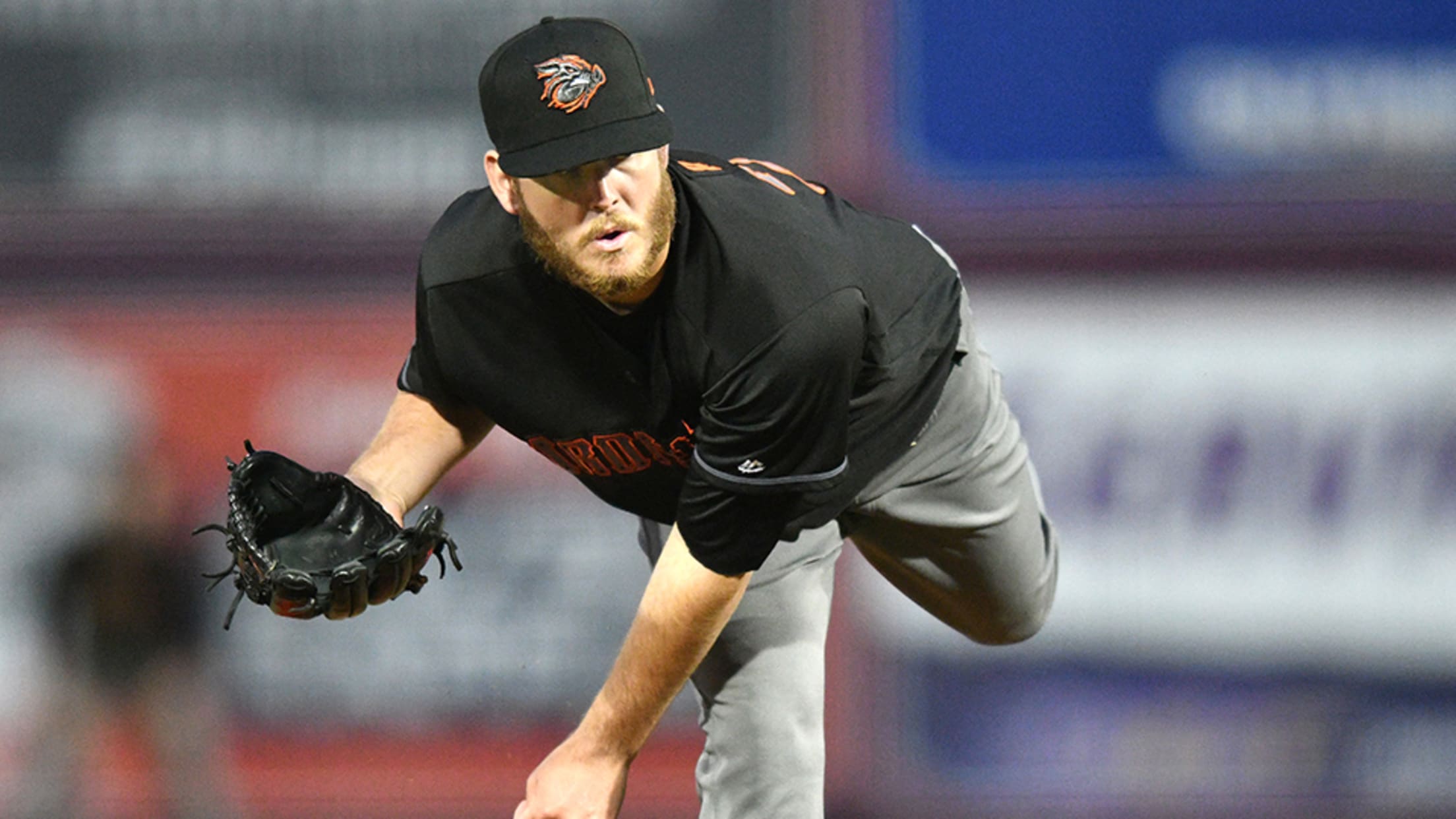 Cole Irvin has allowed just 18 walks in 75 2/3 innings this season with Lehigh Valley. (Ken Inness/MiLB.com)
Cole Irvin admits it's not an easy task to have his full repertoire working each start, but he felt it all come together last week with Triple-A Lehigh Valley. The No. 23 Phillies prospect was named the International League's Pitcher of the Week from June 4-10 after picking up two victories
Cole Irvin admits it's not an easy task to have his full repertoire working each start, but he felt it all come together last week with Triple-A Lehigh Valley.
The No. 23 Phillies prospect was named the International League's Pitcher of the Week from June 4-10 after picking up two victories and yielding just three earned runs over 13 innings. It's the second time this season Irvin has earned the award -- he was selected as the circuit's top hurler for the week of May 7-13.
"I was talking to my pitching coach David Lundquist about it -- it's very rare that you have all four pitches working for you," Irvin said. "My last three outings, including the last two, I've had all four pitches in each of the last three outings. I don't know exactly what I'm doing right, but I'm going to try to continue to do the best I can and just maintain what I'm doing and try to keep it simple."
• View the Offensive Player of the Week winners »
Using that simple yet effective approach, the southpaw remained in steady command over his two starts last week. On the road against Gwinnett on June 5, Irvin allowed one run on five hits over six innings. He attacked the zone with 62 strikes on 95 overall pitches, fanning six and walking two.
Five days later against Charlotte, the 2016 fifth-round pick tossed 66 strikes on 96 total pitches during a seven-inning outing in which he allowed two runs on five hits. He kept the Knights off the board for the first five innings before yielding runs in the sixth and seventh.
Irvin thinks the key to his starts is that he keeps a steady mental approach each time he toes the rubber, even when things might get dicey with traffic on the bases.
"In all honesty, I like to respect every team we face," Irvin said. "I'm going to face a team quite a few times, and every one of these guys in this league, whether they're hitting .100 or .400, deserves to be in the big leagues. There's a reason why they're in Double-A, Triple-A or been promoted. Every guy here has a purpose to be here, and it's to be in the big leagues. So you can't really have an off night, and if you do, it's going to be a real struggle to pitch.
"So you have to keep your mindset as you're in attack mode and expect the guys on the other end to be on the same page as you. You've gotta roll with how things go, be OK with giving up hits, maybe OK with a couple of runs, home runs."
Along with the two weekly awards he has under his belt this year, Irvin has attained sustained success through the first half. The 24-year-old is the International League's wins and innings leader with eight victories and 75 2/3 frames pitched. He's also fourth in WHIP (1.03) and fifth on the circuit with a 2.62 ERA.
His four-pitch mix of fastball, slider, curve and changeup helped keep hitters off-balance during his first two seasons in the Minors, and they've done the job again this year. So far hitters have a .220 average against him, the lowest mark he's held since joining the full season ranks in 2017. In 10 out of his 12 starts this season, he's pitched at least six innings.
"I take pride in trying to finish every game I start," said Irvin, a fifth-round pick in 2016. "I've always had that mentality going back to high school, going back to college. My intention is to pitch the game, and more importantly in pro ball, it's to give the bullpen guys a rest. I'm not trying to take the game away from them because we have a great bullpen, but at the same time I like to treat it like it's my game, it's my day. I'm not trying to be arrogant or selfish, I just really strive to go nine every outing and give the team the best chance to win, for sure."
The University of Oregon product thinks the catching tandem of Nick Rickles and Logan Moore has played an important role in the overall numbers he's posted, especially considering the attitude they all maintain in the clubhouse and dugout.
"I had a good relationship with [Rickles] in Double-A before he got promoted last season," Irvin said. "I only had [Moore] once at Spring Training. I've had some good starts with him, so we're building a relationship that's much more than just teammates. We have a really good bond, we laugh and have a good time. He makes fun of me sometimes for shaking him. I like to be loose, I like to have a good time in the dugout with the guys. I try not to be serious, because I think energy can really affect a team."
Below is the complete list of Minor League Pitchers of the Week for June 4-10:
Andrew Battifarano is a contributor to MiLB.com. Follow him on Twitter, @AndrewAtBatt.