Leyba Leads Generals To Mississippi Sweep
Shortstop notches three hits as Jackson wins sixth straight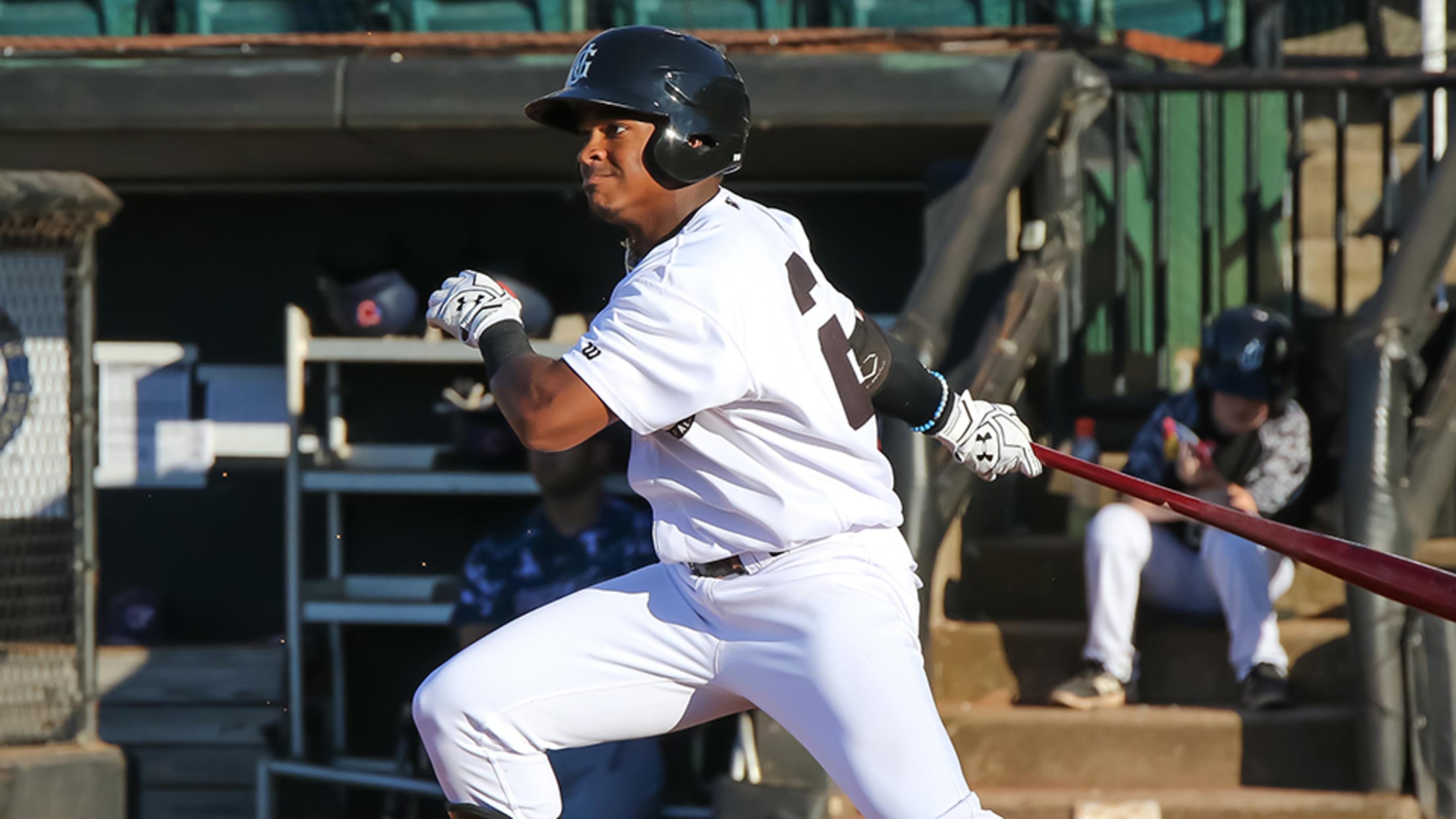 Generals shortstop Domingo Leyba collected three hits, including a homer, off Mississippi starter Kolby Allard on Wednesday. Leyba's performance at the plate helped the Generals to a 4-2 victory, their sixth in a row. (Cody Cunningham)
Pearl, Miss. - Domingo Leyba showcased his full range of skills on Wednesday, and it helped the Jackson Generals to a season-best moment. The 21-year-old shortstop got three hits (including a home run) off of Mississippi pitching prospect Kolby Allard (5-6, 2.98 ERA), and the Generals won their sixth straight
Pearl, Miss. - Domingo Leyba showcased his full range of skills on Wednesday, and it helped the Jackson Generals to a season-best moment. The 21-year-old shortstop got three hits (including a home run) off of Mississippi pitching prospect Kolby Allard (5-6, 2.98 ERA), and the Generals won their sixth straight game. The four-game sweep of the M-Braves' was the first for Jackson (48-42, 11-9) in 2017.
Generals closer Gabriel Moya (S, 17) pitched the ninth inning for the second night in a row, collecting the save despite his streak of 20 scoreless appearances being snapped with a run allowed to Mississippi (38-51, 4-15). Jackson starting pitcher Ivan Pineyro (7-0, 2.81 ERA) made some personal history in the win, collecting his first-ever hit in his 40th career at-bat. Jackson's six-game winning streak is a season-high mark, helping them to an 8-2 record in their past 10 contests.
Leyba wasted little time in challenging Allard, leading off the game with a base hit to center field. Kevin Medrano bunted to the right side to move Leyba over to second base, but a throwing error by Mississippi first baseman Joey Meneses made Medrano safe and allowed Leyba to reach third base. Kevin Cron followed with a sacrifice fly to put the Generals on top 1-0 after three hitters. The shortstop's second at-bat came at the tail end of the following inning, as he single to left field with two outs. Generals catcher Oscar Hernández attempted to score from second base, but he was thrown out at home plate on the play, leaving the Generals' advantage at 1-0.
Following a Medrano groundout to begin the third, Cron belted his league-leading 18th home run of the year, giving Jackson more breathing room at 2-0. Cron's shot, on the first pitch of the at-bat, was the first dinger Allard had allowed in his last three starts, but it would not be the last blast of the night. After Mississippi clawed back with a run in the bottom of the third and the one-run margin held through the fourth, Leyba lit his second bomb of the season in the fifth inning. The solo homer was Leyba's first for Jackson as a right-hander hitter, and it tagged Allard with his first game of multiple homers since June 6, 2016.
The Generals added on in the sixth inning, as Pineyro helped his own cause. Though hitless in his seven years as a minor leaguer, the 25-year-old roped a two-out, one-strike offering from Allard into center field, scoring Victor Reyes from second base for a 4-1 Generals lead. The hit gave Pineyro his second career RBI (and first since 2015), as well as his first hit as a professional. On the hill, Pineyro finished 6.0 innings while allowing only one run. He struck out five batters without issuing a walk, raising his season strikeout-to-walk ratio up to 48-to-5.
Moya, who had saved Tuesday night's 8-7 comeback win, entered in the ninth inning riding a streak of 20 straight scoreless appearances, including 26.2 innings pitched without a run allowed. The 22-year-old Venezuelan, pitching on back-to-back days for the fourth time during the streak, ceded a lead-off single to Mississippi's Jared James. James advanced to second base on a passed ball moments later, but a pair of strikeouts pushed the M-Braves to the brink. Mississippi catcher Jonathan Morales took an aggressive approach, grounding the first two-out pitch from Moya back up the middle into center field for a base hit. James was able to score from second base, with the run counting as unearned due to the passed ball. Moya struck out the next hitter on three pitches, recording his 62nd punchout of the season to clinch the sweep.
Mason McCullough and Joey Krehbiel each picked up holds with scoreless innings of relief behind Pineyro, as McCullough maintained his spotless ERA over six outings at Jackson. Joining Domingo Leyba will multiple hits on the night were Medrano, Cron, and catcher Oscar Hernandez. The Generals took the season series from Mississippi 6-3, winning the last four.
The Generals will begin a five-game series against the Montgomery Biscuits on Thursday, as Taylor Clarke (8-4, 2.66 ERA) gets set to take on Montgomery's Génesis Cabrera (2-1, 2.84 ERA). First pitch from The Ballpark at Jackson is set for 6:05 pm CT, and fans can follow along by tuning in on Willie 94 FM & 1390 AM starting with the Pregame Show at 5:50 pm CT.
The Generals' Thursday return continues a fun-filled July at The Ballpark! The opener is a Thrifty Thursday, featuring $2 deals on general admission tickets, hot dogs, popcorn, soda, beer, ice cream and fun zone access! For just $6, fans can get reserved seats! Game two is a Leaders Credit Union Food Truck Friday, featuring a bevy of local food trucks in the fun zone! The Generals will also play as the Hub City Hippos, as they do at every Friday home game! The special game-worn and signed jerseys will be auctioned off at year's end with proceeds going to the Boys & Girls Club of Jackson thanks to Tennessee 811!
The series is highlighted by Disney Night on Saturday, sponsored by Tennessee Donor Services! It's one of the biggest nights of the summer in Jackson, so get your tickets now! We'll have a special Disney-themed Fireworks Show after the game, one of four shows in July! One lucky fan will also win a Disney Vacation!
Make sure to get your tickets now to see the 20th season of professional baseball in Jackson, and the first for the team as an affiliate of the Arizona Diamondbacks! Call the team at (731) 988.5299, stop by The Ballpark or go online to jacksongeneralsbaseball.com to secure your seats now!