LHP David Holmberg Promoted to Chicago
OF Jacob May Added to Active Roster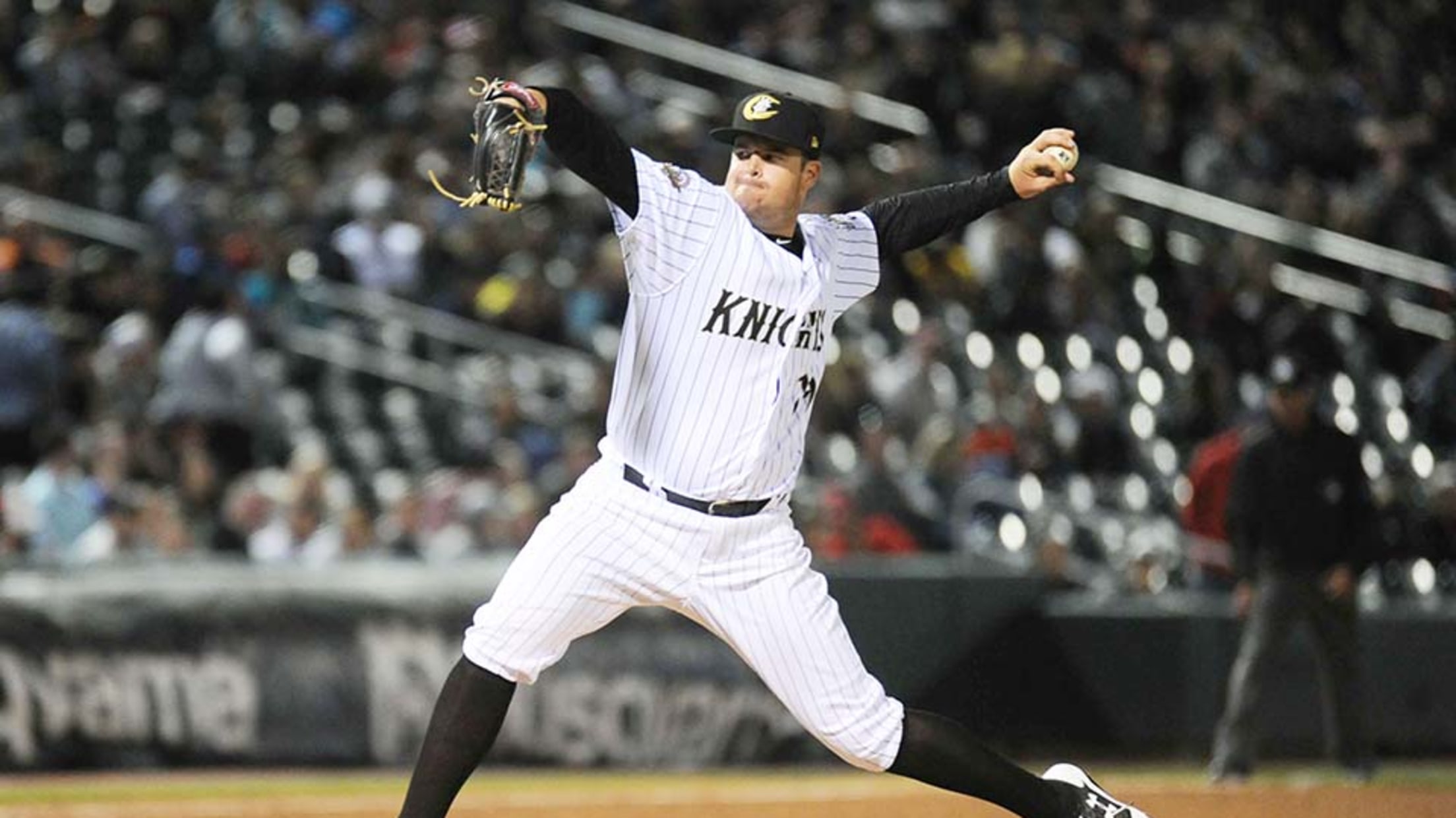 LHP David Holmberg became the sixth Knights player promoted this season. (Laura Wolff/Charlotte Knights)
(UPTOWN CHARLOTTE, NC) -- Left-handed pitcher David Holmberg , who has compiled a 3-0 record with a 1.76 ERA in six games (one start) for the Charlotte Knights this season, had his contract purchased by the Chicago White Sox today. Holmberg takes the place of White Sox RHP Nate Jones
(UPTOWN CHARLOTTE, NC) -- Left-handed pitcher David Holmberg , who has compiled a 3-0 record with a 1.76 ERA in six games (one start) for the Charlotte Knights this season, had his contract purchased by the Chicago White Sox today. Holmberg takes the place of White Sox RHP Nate Jones , who was placed on Chicago's disabled list today (retroactive to May 1). LHP Carlos Rodón was transferred to the team's 60-day disabled list.
Additionally for the Knights today, outfielder Jacob May has been added to Charlotte's roster, which now features 25 active players. May was optioned to Charlotte after Chicago's game on Monday, May 1. He appeared in 15 games for the White Sox this season and hit .056 (2-for-36). A product of Coastal Carolina University, May spent the entire 2016 season with the Knights and hit .266 with 19 stolen bases in 83 games.

Holmberg, 25, becomes the sixth Charlotte player promoted to the White Sox this season. RHP Tommy Kahnle (April 6), catcher Kevan Smith (April 13), outfielder WillyGarcia (April 14 & May 2), RHP Mike Pelfrey (April 22), and RHP Chris Beck (April 25), are the five others who have all received promotions this year.

A native of Houston, TX, Holmberg started the season in Charlotte's bullpen and did not allow a run over his first five appearances (10.2 IP). He started the game for the Knights on April 28 and allowed three runs on eight hits over 4.2 innings pitched. The 25-year-old has held left-handed hitters to a .125 (2-for-16) batting average this season.

The Knights will continue their six-game homestand at BB&T Ballpark tonight with the finale of their three-game series against the Norfolk Tides (Triple-A affiliate of the Baltimore Orioles) at 7:05 p.m. Tonight is Star Wars Knight and the first 3,000 fans (all ages) will receive a Homer The Dragon bobblehead presented by BB&T. The bobblehead is one per person. Carolina Panthers linebacker Thomas Davis will throw out tonight's ceremonial first pitch. Single-game tickets for all games during the 2017 season are on sale now and can be purchased in person at the BB&T Ballpark Ticket Office, online at CharlotteKnights.com, or by phone at 704-274-8282. Tradition Never Ends!