Long ball, errors undo River Cats in loss to 51s
Beede roughed up, offense stymied in 13-2 defeat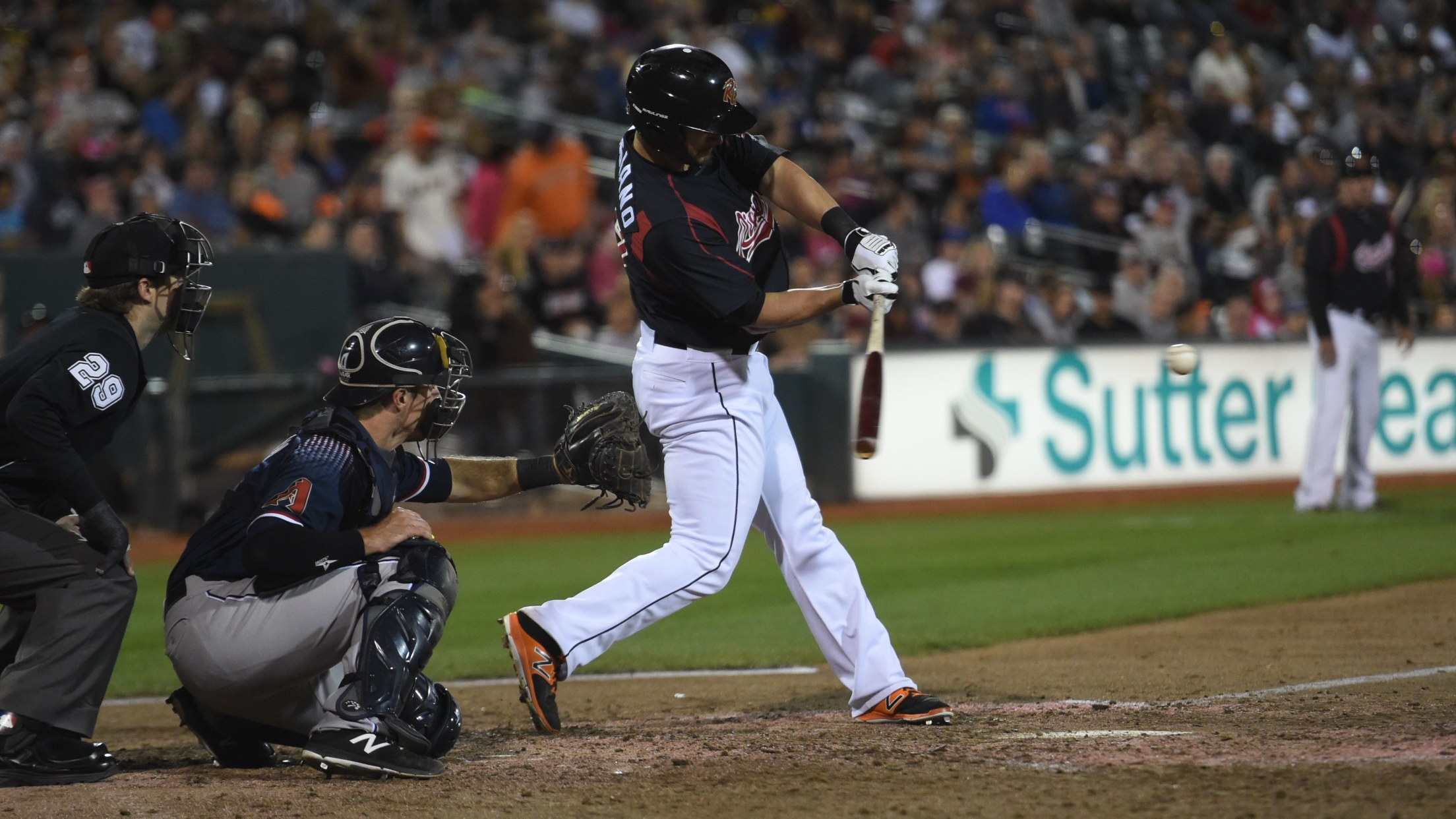 (Kayla Neuman)
Las Vegas, NV -Starter Tyler Beede had a tough outing for the Sacramento River Cats (24-39) in their 13-2 loss to the Las Vegas 51s (26-39), allowing five home runs while the defense committed a season-high five errors. 
Las Vegas, NV -Starter Tyler Beede had a tough outing for the Sacramento River Cats (24-39) in their 13-2 loss to the Las Vegas 51s (26-39), allowing five home runs while the defense committed a season-high five errors.
The River Cats got a long ball of their own to open the scoring in the second inning thanks to a solo-shot by centerfielder Justin Ruggiano, his first this season with the club. From there on, it was all Las Vegas as they scored five runs over the next two innings via home runs.
Beede allowed seven earned runs on nine hits over six frames tonight with two free passes and six strikeouts. The right-hander was unable to set the 51s down in order in any inning and threw 107 pitches for a second consecutive start Las Vegas' Wilfredo Boscan, on the other hand, threw seven innings, retiring the side in four of them. The 51s' starter allowed just three Sacramento hits. The 51s scored five more runs in the eighth as the River Cats committed three errors in the inning to seal their fate.
Tomorrow night, the River Cats will send right-hander Chris Stratton (1-4, 6.35) to the mound. Las Vegas will go with right-hander Ricky Knapp (2-7, 5.94). First pitch is set for 7:05 p.m. (PT) and the game can be heard live online at rivercats.com and on the air on ESPN 1320.
Postgame Notes
Round-trippers: Tyler Beede allowed a team-high five home runs tonight…has now allowed nine home runs over his last three starts after allowing just three over his first 10 outings…as a pitching staff, the River Cats have allowed 17 home runs in 12 June games.
Ruggiano: Justin Ruggiano extended his hitting streak to five games with his homer in the second…is hitting .444 (8-for-18) over that span dating back to May 3.
And Arroyo: Second baseman Christian Arroyo knocked in the only other run for Sacramento in the third…was his 16th RBI and fourth this month (six games).
Blunders: The River Cats committed a season-high five errors in tonight's loss…third baseman Ryder Jones committed three of them…Jones had three errors total prior to tonight…first baseman Jae-Gyun Hwang had one of the five and now has a team-high 11…Sacramento owns a 5-6 record when committing two or more errors in a game.
***
The Sacramento River Cats are the Triple-A affiliate of the three-time World Champion San Francisco Giants. The team plays at Raley Field in West Sacramento, consistently voted one of the top ballparks in America. River Cats Season Tickets, Mini-Plans, and Flex Plans can be purchased for the 2017 season by calling the River Cats Ticket Hotline at (916) 371-HITS (4487). For more information about the River Cats, visit www.rivercats.com. For information on other events at Raley Field, visit www.raleyfield.com.