Longballs Key Opening Night Win in Everett
Three home runs highlight first win for Hops manager Shawn Roof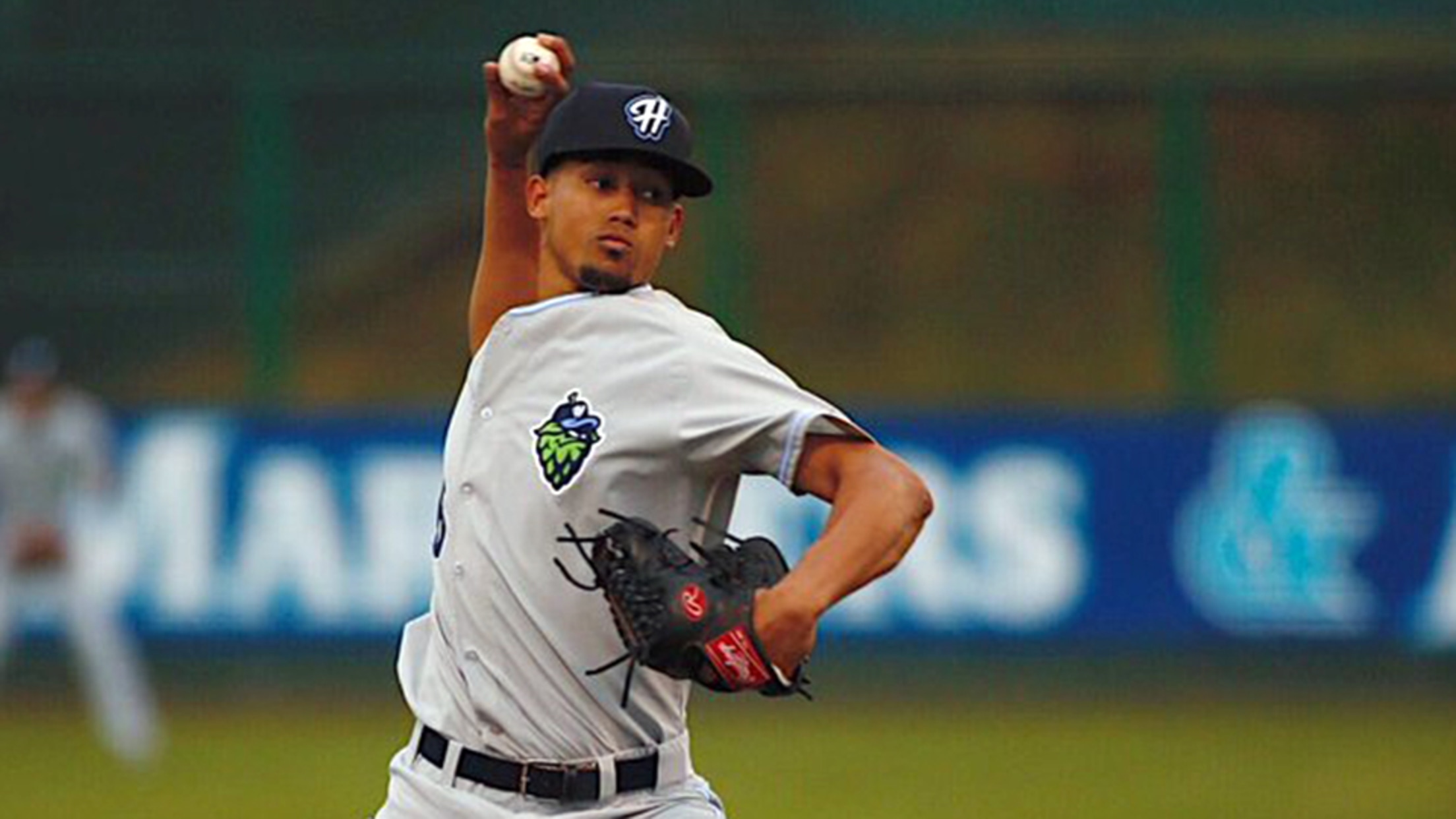 Jhoan Duran pitched five solid innings vs the AquaSox (AllStar Photos)
EVERETT, WASH. --- So far, so good. It's just one game, but Hillsboro got a win on Opening Night in Everett. Three home runs highlighted a 10-3 victory, and gave Hops manager Shawn Roof the first win of his managerial career.The Hops struck early, as center fielder Billy Endris and
EVERETT, WASH. --- So far, so good. It's just one game, but Hillsboro got a win on Opening Night in Everett. Three home runs highlighted a 10-3 victory, and gave Hops manager Shawn Roof the first win of his managerial career.
The Hops struck early, as center fielder Billy Endris and third baseman Eudy Ramos hit first-inning solo home runs on consecutive pitches from Everett starter Ryne Inman. Endris' shot went to the opposite field in left, while Ramos pulled his shot to left-center.
In the top of the fifth inning, Hops DH Paxton De La Garza drew a walk, and with one out catcher Cole Thompson singled to right. Shortstop Domingo Leyba --- a player projected to be at Double-A right now, but with the Hops on injury rehab --- then clouted a three-run blast to right-center. Endris then blooped a double, and Ramos singled home the sixth Hops run.
All the while, Hillsboro starter Jhoan Duran was sailing. The 19-year-old Duran --- considered a solid prospect for the parent Arizona Diamondbacks --- worked five innings, allowing just two unearned runs. He gave up four hits, walking one and striking out four. There was no working speed gun in Everett, but Duran's fastball, which has been clocked as high as 98 MPH, was hard and heavy.
The Hops scored three unearned runs of their own off the Everett bullpen --- one in the eighth and two in a three-run ninth which broke the game open.
Right-hander Cal Becker (two innings, one hit, no runs) and righty Erbert Gonzalez (two innings, one hit, one unearned run) closed out the win for Hillsboro.
The only negatives for the Hops? They struck out 16 times. And Ramos committed three errors at third base, each leading to an unearned run for Everett.
Hillsboro has four more games in Everett --- Friday and Saturday at 7:05 PM, Sunday at 4:05 PM and Monday at 11:05 AM. All games can be heard on Rip City Radio 620 AM and online at HillsboroHops.com.