Looking back at Judge's gigantic 2016 season
Yankees slugger turned up the power in June on way to callup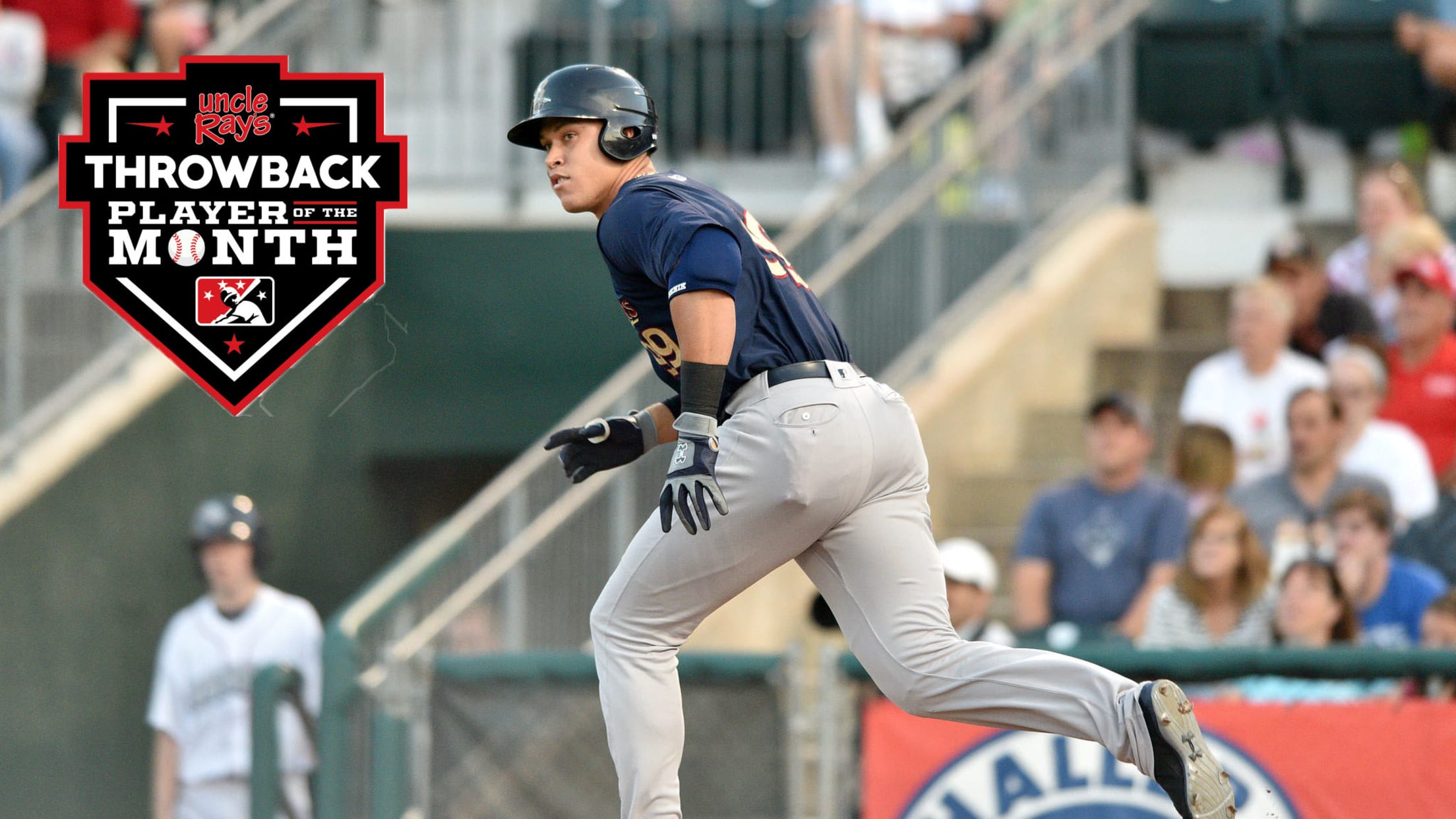 Aaron Judge hit .343/.477/.686 over 28 games in June 2016. (Ken Inness/MiLB.com)
Before he was out crushing homers at Yankee Stadium, Aaron Judge was perfecting his form at PNC Field -- home of the Yankees' Triple-A affiliate, the Scranton/Wilkes-Barre RailRiders. A year after making his International League debut, Judge launched his way to the big leagues, thanks to a stellar first half
Before he was out crushing homers at Yankee Stadium, Aaron Judge was perfecting his form at PNC Field -- home of the Yankees' Triple-A affiliate, the Scranton/Wilkes-Barre RailRiders.
A year after making his International League debut, Judge launched his way to the big leagues, thanks to a stellar first half in the Minors in 2016. Over 93 games, the 6-foot-7 slugger hit .270/.366/.489 with 19 home runs and 65 RBIs.
His best month came in June, when the then 24-year-old collected 16 extra base hits -- including a career-best nine big flies. Judge was virtually unstoppable, homering six times in a seven-game stretch. He drove in 25 runs while posting a 1.163 OPS, earned a spot on the IL midseason All-Star team and took home IL Player of the Month honors.
More from Aaron Judge's POM stretch:
-RailRiders' Judge ends homer drought
-Judge delivers first pro two-homer game
-Judge Named Batter of the Week
-Judge goes back-to-back-to-back
-MiLB announces June Players of the Month
The following month didn't go as well for Judge as he spent much of July on the injured list. However, after rejoining the RailRiders on Aug. 2, he spent only 11 more days in the Minors before being called up to the Bronx.
How'd that turn out? In his freshman season, Judge led all American League All-Star vote-getters, took home the Silver Slugger award and was named AL Rookie of the Year.
Not too shabby.
Katie Woo is an editorial producer for Minor League Baseball. Follow her on twitter at @katiejwoo.