Lugnuts Player Spotlight: Jackson Rees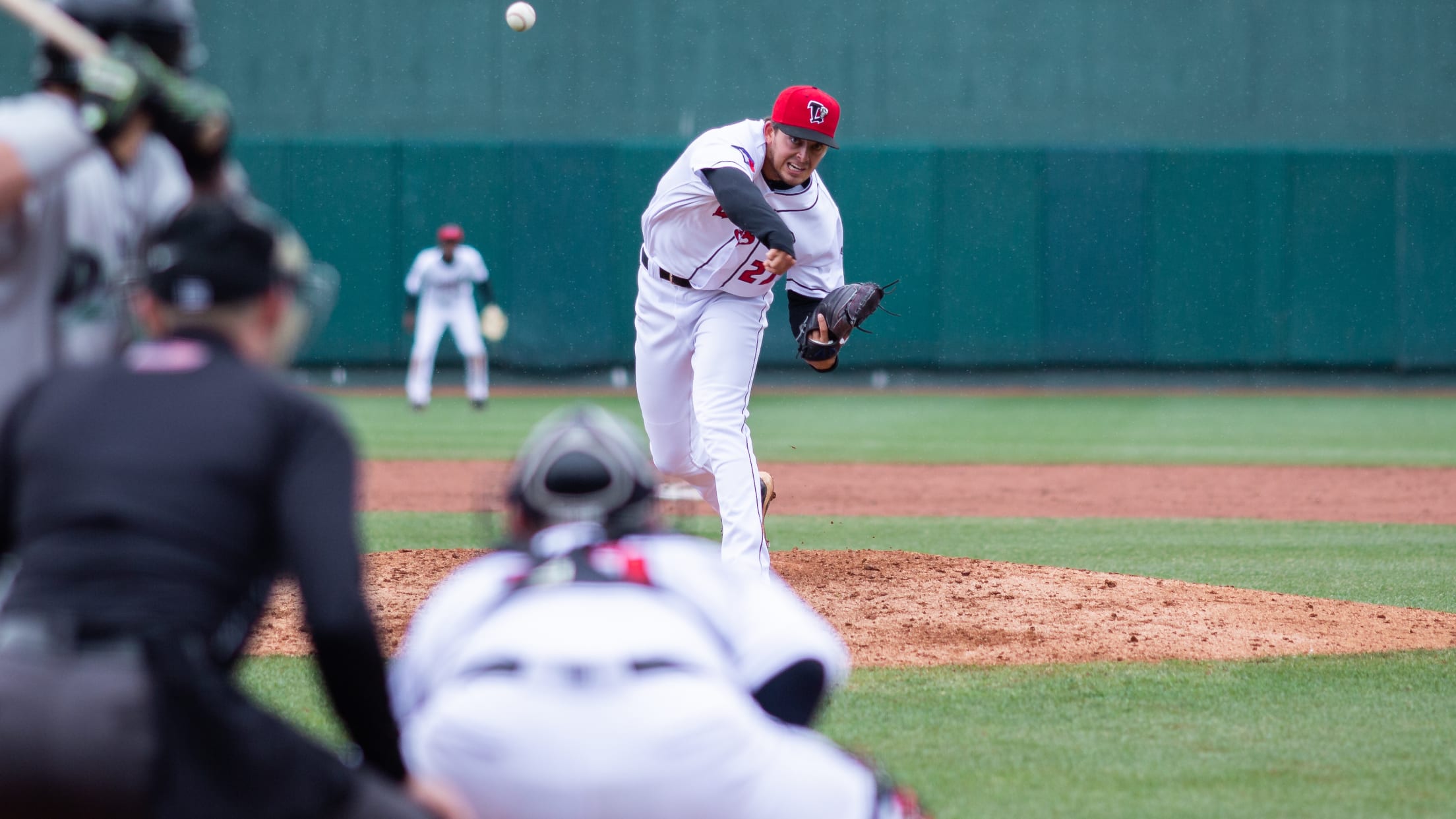 (Miguel Arcaute / Lansing Lugnuts)
LANSING, Mich. via TORONTO, Ont. - Right-handed pitcher Jackson Rees, who stands at 6'4" and has the smile of a shy giant, has been one of the Lansing Lugnuts' most surprising players so far this season.A native of Aliso Viejo, California, and a product of the little-known Saddleback College, Rees
LANSING, Mich. via TORONTO, Ont. - Right-handed pitcher Jackson Rees, who stands at 6'4" and has the smile of a shy giant, has been one of the Lansing Lugnuts' most surprising players so far this season.
A native of Aliso Viejo, California, and a product of the little-known Saddleback College, Rees took his talents to Honolulu to play for the University of Hawai'i Rainbow Warriors.
Though he had a strong season in 2016 at Saddleback - posting an ERA of 2.43 in 10 starts - he still had to work hard to get accepted to Hawai'i, sending emails to over 30 coaches to reach out and get his foot in the door.
"I emailed 10, 20, 30 coaches," Rees said. "Anyone I could play on, I emailed them, Hawaii was the first one to reach back. There was lots of opportunity and I couldn't let it slip."
A beach volleyball player back in California, Rees didn't actually visit UH's campus before committing. But, after a quick tour of the lush campus, he knew he'd made the right choice.
While at Hawai'i, Rees, now 24, was able to learn his physical limits a bit better, something that he credits to Rainbow Warriors athletic trainer Wade Yamasaki and head coach Mike Trapasso.
Off the field, he majored in Communicology, a hybrid of linguistics and communications that gets its name from the portmanteau of communication and the suffix "-ology," meaning "the study of." Though it wasn't perhaps the most predictable field for a baseball player to specialize in, Rees learned a lot and enjoyed his time in the classroom.
"It helped me pick up on the nonverbal parts of communication," he remarked. "It's funny, because you might think being a speech major is all about public speaking, but being a Communicology major is all about the behind-the-scenes of speech."
At Hawai'i, Rees pitched to an ERA of 4.11 in 81 innings, striking out 39 and walking 34 in 14 games, 11 of which he started. The Honolulu Star-Advertiser called him "the University of Hawai'i baseball team's best starting pitcher."
By his own admission, Rees's age was a factor in major league teams deciding not to pick him in the draft. Still, the Blue Jays took a shot and signed him to a minor-league deal shortly after the draft, immediately assigning him to the team's Gulf Coast League affiliate.
His parents, Bill and Kathy, were thrilled, even more so because Jackson got his diploma. They acknowledged his immense love for the game and encouraged him to "play it as long as he can."
This offseason, he went back to his high school and worked in the weight room to ensure he stayed in peak condition. When not lifting and working on mechanics, he played long toss with the Laguna Beach High School baseball team.
After a solid offseason, Rees was simply hoping to get to Vancouver to play for the Short Season-A Canadians to open up the season. Anything above that, he said, would be "a cherry on top."
So far, Rees is making the most of the "cherry on top" situation he's pitched himself into in Lansing. Through the first 10 games of his Midwest League career, he carries an ERA of 0.53 with a ridiculous WHIP of 0.71 and 30 strikeouts in 17.0 innings pitched.
With what he describes as a "funky" delivery, Rees relies heavily on sinking pitches that, in his view, go against the traditional movement that many pitchers employ.
"I reel back and kinda do some funky things," he said. "Mine does the opposite of rising, it sinks a lot more than you think. I like to keep batters off balance."
Through the development of a changeup, and the continued improvement of his windup and mechanics, Rees hopes to use his slider and cutter in better spots and grow as a pitcher and as an athlete in general.
While he might not have been one of the most hyped names on this Lugnuts roster, he's shown, in limited innings, that he's an arm to keep an eye on going forward. With an eclectic story and the stuff to match, Rees should be a pivotal part of Lansing's pitching staff as the season rolls on.