Lugs whiff 16 Whitecaps in 8-3 win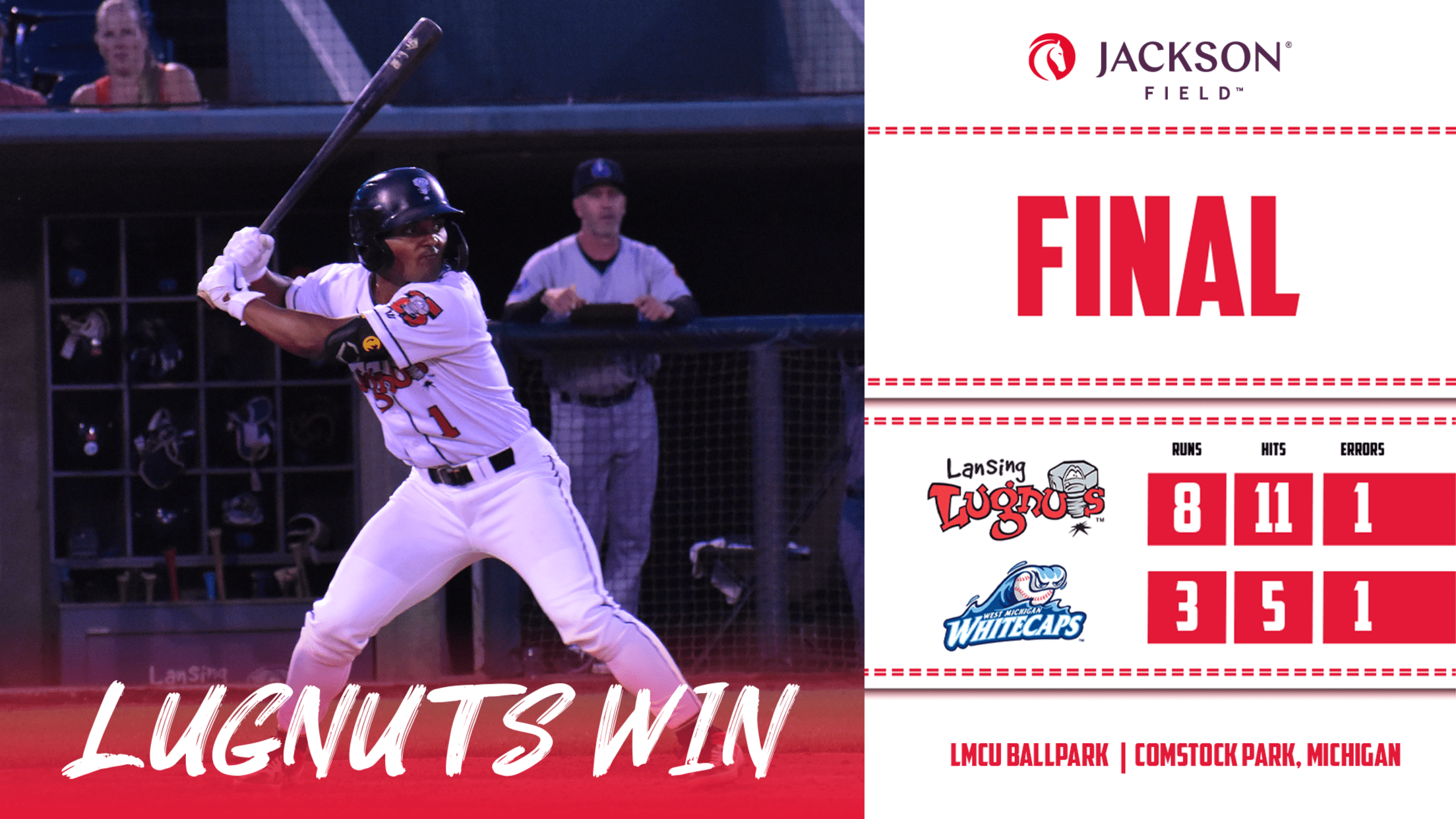 COMSTOCK PARK, MI – Cobie Vance clubbed his second home run of the year and reached base five times, and the Lansing Lugnuts (32-35) rode a slew of strikeouts to a series-opening 8-3 win over the West Michigan Whitecaps (30-36) on Tuesday night at LMCU Ballpark. Lansing starter Seth Shuman
COMSTOCK PARK, MI – Cobie Vance clubbed his second home run of the year and reached base five times, and the Lansing Lugnuts (32-35) rode a slew of strikeouts to a series-opening 8-3 win over the West Michigan Whitecaps (30-36) on Tuesday night at LMCU Ballpark.
Lansing starter Seth Shuman struck out six in five innings, including the final two batters he faced – and that began a stretch in which Lugnut pitchers recorded 12 of the final 14 outs of the game via strikeout, finishing with 16 strikeouts in all.
Dalton Sawyer fanned three in the sixth inning, Leudeny Pineda struck out two apiece in the seventh and eighth innings, and Charles Hall K'ed three straight Whitecaps following a leadoff walk to end the game.
It was the second time that Shuman had played a part in a mass-strikeout game, whiffing five Fort Wayne TinCaps in an 18-K team pitching performance on May 20.
The offense took care of the rest, with the Lugnuts collecting 11 hits, nine walks and two HBPs on their way to near-constant base runners. Shortstop Vance led the way with a second-inning single, fourth-inning RBI double in a four-run rally, fifth-inning walk, seventh-inning two-run homer and ninth-inning HBP. Leadoff-hitting left fielder Shane Selman added a single, double and three walks of his own, while ninth-place-hitting DH Lazaro Armenteros went 2-for-4 with a single, RBI double and a walk.
The game was played in four hours and four minutes, the Lugnuts' fifth game in 2021 lasting over four hours. Lansing has also played games lasting 3:58 and 3:51.
The two teams reconvene at 12:05 p.m. Wednesday for the second game in their six-game series, with Lansing right-hander Shohei Tomioka (2.97 ERA) facing Whitecaps right-hander Beau Brieske (3.59 ERA).
The next Nuts homestand runs from July 27-August 1 vs. Fort Wayne. To purchase tickets, visit lansinglugnuts.com or call (517) 485-4500.
# # #