Luigi's 3-run liner gives Ducks 7-5 win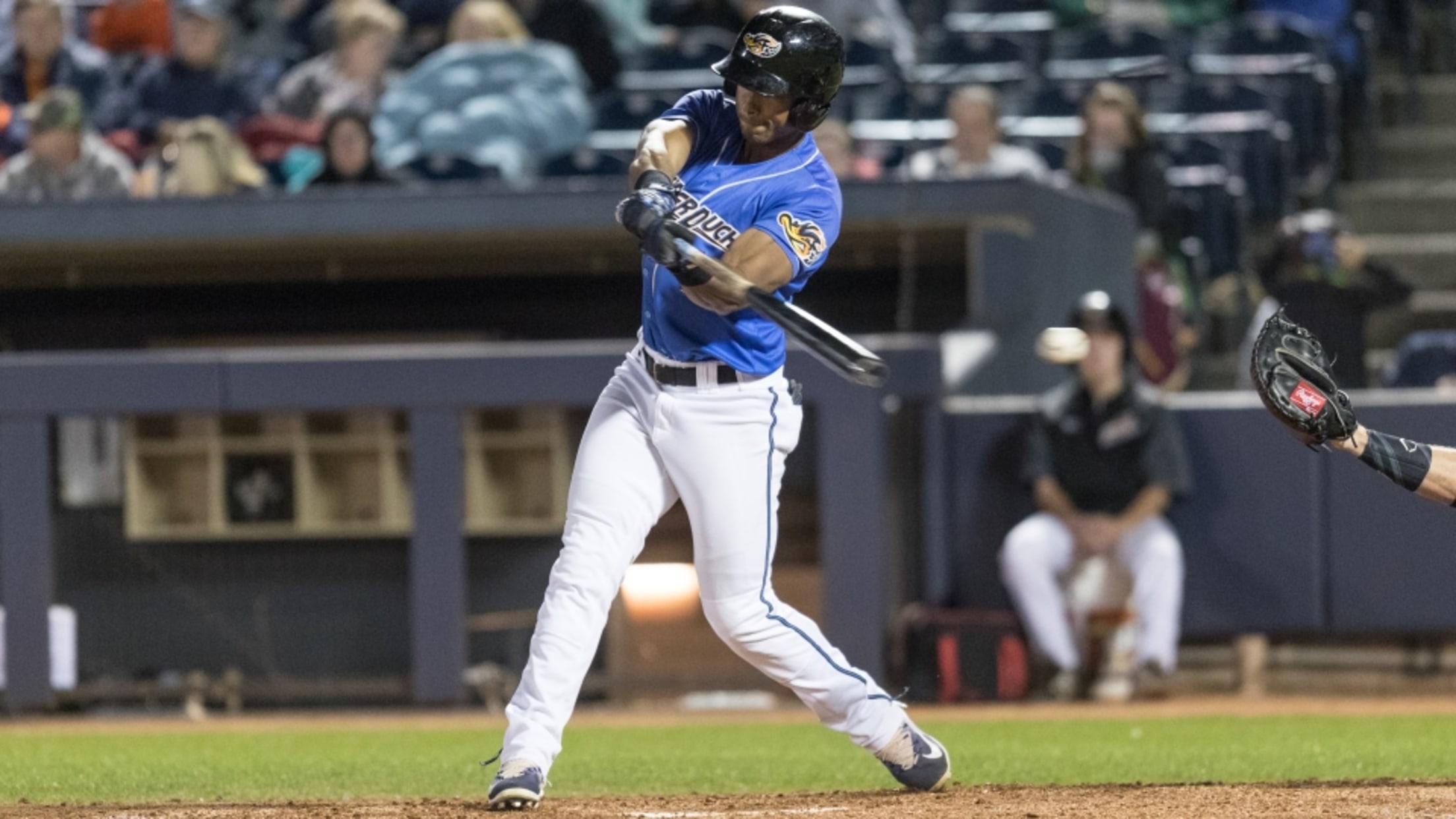 Luigi Rodriguez hit a go-ahead, bases-loaded double in the seventh inning to put the RubberDucks up 6-4 in their 7-5 win over the SeaWolves at Canal Park. (David Monseur)
RubberDucks Game RecapRubberDucks 7 SeaWolves 5WP: Justin Garcia (1-0) LP: Adam Ravenelle (0-5) Save: Leandro Linares (3) SummaryAkron's Luigi Rodriguez delivered a clutch three-run double with the bases loaded, and reliever Justin Garcia threw 2.2 innings of scoreless baseball in his Akron debut to help the RubberDucks defeat the Erie SeaWolves
RubberDucks Game Recap
RubberDucks 7 SeaWolves 5
WP: Justin Garcia (1-0) LP: Adam Ravenelle (0-5) Save: Leandro Linares (3)
Summary
Akron's Luigi Rodriguez delivered a clutch three-run double with the bases loaded, and reliever Justin Garcia threw 2.2 innings of scoreless baseball in his Akron debut to help the RubberDucks defeat the Erie SeaWolves 7-5, Friday night at Canal Park.
Turning Point
Ducks outfielder Luigi Rodriguez hit a three-run double to give Akron the lead, 6-4 in the seventh inning. The Ducks scored five runs in the seventh to take control of the game.
Winging It
Akron starter Shao-Ching Chiang worked five innings, giving up four runs on seven hits. He gave up a solo homer in the fourth inning to Erie's Kody Eaves. Akron reliever Justin Garcia made his Double-A debut throwing 2.2 innings of one hit baseball, picking up his first Double-A win. Garcia was promoted from Lynchburg prior to the game. Erie starter Beau Burrows went five innings, allowing two runs on five hits. Burrows walked four and struck out three in a no decision effort. Erie reliever Adam Ravenelle was the losing pitcher being stuck on the wrong end of the five run seventh inning by Akron.
Duck Tales
Dorssys Paulino hit an RBI single to score Bobby Bradley in the first inning. Recently promoted catcher Daniel Salters recorded his first hit with Akron this season, doubling off the right field wall. Salters would score and tie the game at two when Ivan Castillo hit a sacrifice fly. Salters was 2-for-4 with two runs in the game. First Basemen Bobby Bradley smoked a leadoff triple, his third of the year to begin the seventh inning. Bradley would score on a passed ball. The floodgates opened for the Akron batters as they scored four more in the inning. Akron loaded the bases with no outs when Dorssys Paulino and Taylor Murphy singled, followed by Tyler Krieger drawing a walk. Outfielder Luigi Rodriguez delivered the big hit, hitting a bases clearing double. The following batter, Ivan Castillo doubled down the right field line to score Rodriguez.
Notebook
The Cleveland Indians recalled top prospect Francisco Mejía and selected the contract of outfielder Greg Allen… The two joined the Indians in Detroit on Friday… Both players entered in game two of the doubleheader and each got one at-bat each going 0-1…. Ducks infielder Joe Sever extended his hitting streak to 12 games going 3-for-5 Friday night… Time of Game: 2:59…. Attendance: 7,181.
On Deck
Akron and Erie will meet again on Saturday at 7:05 p.m. Lefty Luis Lugo (8-7, 4.40) will start for the Ducks opposed lefty Matt Hall for the SeaWolves (1-0, 3.21). The game will be broadcast on Fox Sports 1350 AM, the WARF iHeart channel, and the TuneIn Radio App.