Lynchburg trounces Salem 5-3
Granberg delivers in debut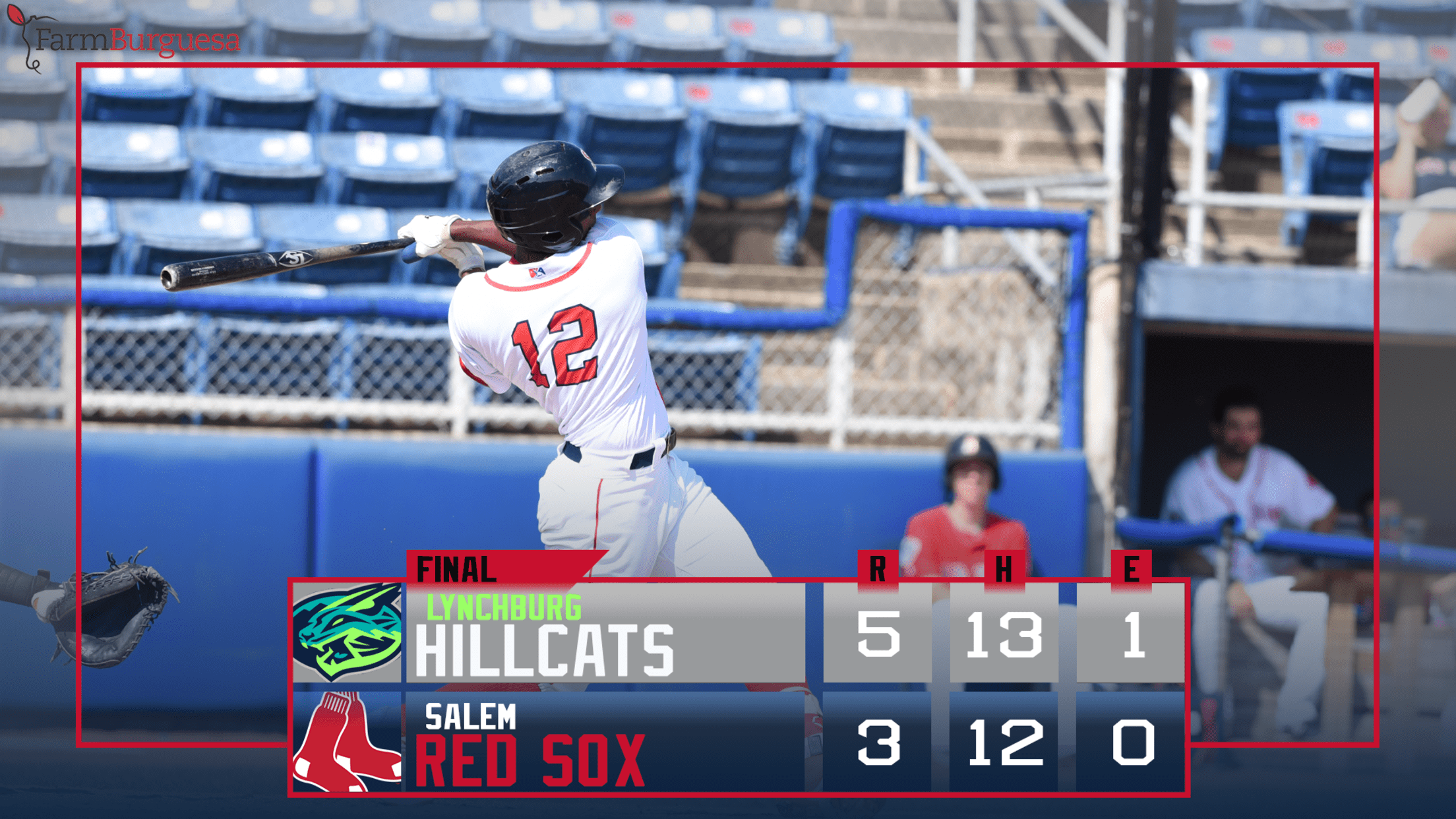 Edgar Corcino delivered a 3-for-4 performance in Wednesday's loss. (Gary Streiffer)
SALEM, Virginia (August 7, 2019) - Devlin Granberg drove in two runs in his Carolina League debut but the Salem Red Sox lost an early lead to the Lynchburg Hillcats 5-3 Wednesday night at Haley Toyota Field.How it Happened * Keith Curcio and Edgar Corcino led the second inning with
SALEM, Virginia (August 7, 2019) - Devlin Granberg drove in two runs in his Carolina League debut but the Salem Red Sox lost an early lead to the Lynchburg Hillcats 5-3 Wednesday night at Haley Toyota Field.

How it Happened
* Keith Curcio and Edgar Corcino led the second inning with consecutive singles. Devlin Granberg knocked a sacrifice fly for a 1-0 lead.
* Salem doubled the effort 2-0 in the third inning when Ryan Fitzgerald traded places with Pedro Castellanos on back-to-back doubles.
* Will Benson cut the lead in half with an RBI double in the third frame.
* Cody Farhat brought the tilt even in the sixth inning with an RBI single. Lynchburg claimed a 3-2 lead in the same frame on a Luke Wakamatsu double.
* Gavin Collins pushed the Hillcats onward with RBI singles in the seventh and ninth innings for 5-2 insurance.
Victor Acosta spurred the final inning with a triple and came home on a single by Devlin Granberg. Yapson Gomez retired the next three batters to seal a 5-3 win.
Standout Sox
Devlin Granberg: 1-for-3, 2 RBI
* Pedro Castellanos: 1-for-4, RBI, 2B
* Edgar Corcino: 3-for-4
* Keith Curcio: 2-for-4, R

Noteworthy
* The loss drops Salem out of first place for the first time in the second half, just a half game behind Potomac.
* Despite the outcome, Salem arms still struck out 10 and the entire lineup connected for 12 hits.
What's Next
Salem Red Sox vs Lynchburg Hillcats Thursday, August 8, 2019. First pitch is scheduled for 7:05 PM EST.
RHP Dylan Thompson vs. RHP Juan Mota
Listen: SalemSox.com, TuneIn Radio, ESPN Blacksburg WKEX 1430 AM/94.1 FM, WGMN 1240 AM/93.3 FM
Watch: MiLB.TV
The Salem Red Sox are the Advanced-A affiliate of the Boston Red Sox and call Haley Toyota Field in Salem, Virginia home. The team was founded in 1968 and purchased by Fenway Sports Management in December of 2007. For more information on the Salem Red Sox, please visit SalemRedSox.com or contact Melanie Newman at [email protected].