Marrero's blast not enough in 9-5 loss to Grizzlies
Sacramento can't keep pace with Fresno, lose first game in May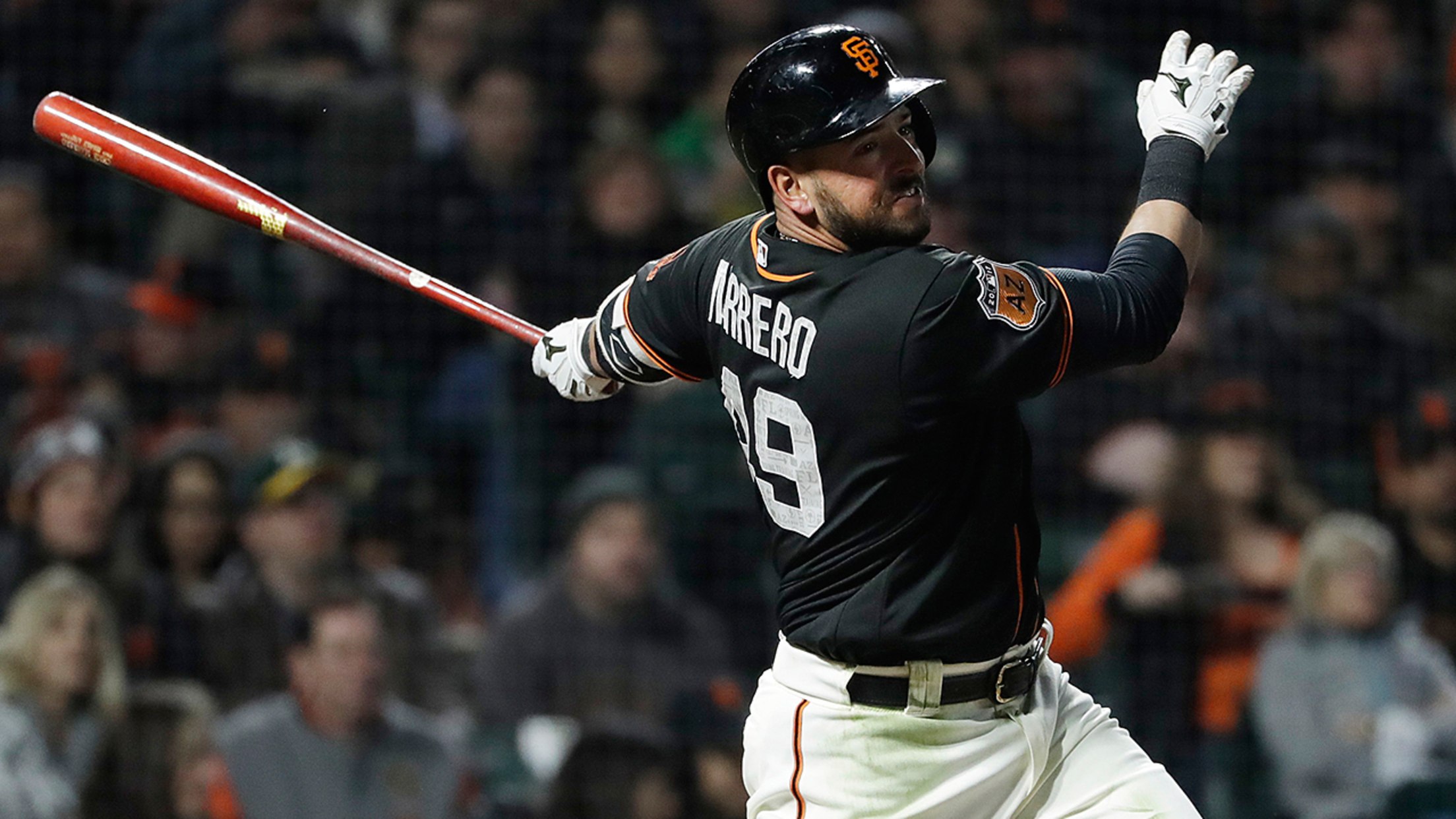 (Marcio Jose Sanchez)
Fresno, CA - The Sacramento River Cats (9-17) dropped game two of their four-game series against the Fresno Grizzlies (12-15) by a final score of 9-5 at Chukchansi Park. 
Fresno, CA - The Sacramento River Cats (9-17) dropped game two of their four-game series against the Fresno Grizzlies (12-15) by a final score of 9-5 at Chukchansi Park.
On a sweltering Fresno night, both offenses got off to equally hot starts, combining to score 11 runs on 13 hits through the first three frames. The River Cats scored four of their five runs on the night during the offensive barrage, highlighted by Chris Marrero's three-run bomb to right field. Sacramento couldn't quite keep pace after that however, as the Grizzlies scored two more in fifth, giving them a 9-4 lead which they never relinquished.
The River Cats will look to get back to their winning ways tomorrow night as they send right-hander Dan Slania (0-3, 9.17) to the mound. The Grizzlies will send righty Trent Thornton (0-0, 1.50) to the hill. First pitch is at 7:05 and can be heard live online at rivercats.com and on the air on ESPN 1320.
Postgame Notes
Close but no cigar: The River Cats lost their fifth game this season when outhitting their opponents…have lost four games this season when matching their opponents hit total.
Marrero: First baseman Chris Marrero hit his first home run with Sacramento this season, a three-run shot and finished the night 1-for-5…he also committed his first error tonight and is now hitting .250 with the club.
Roth: Michael Roth got his fourth start with the River Cats tonight, setting a season-high with nine runs allowed (six earned)…also tied a team-high with nine hits allowed…threw first pitch strikes to 16 of the 26 batters he faced…on the road, the left-hander is now 0-3 with a 7.43 ERA (13.1 IP, 11 ER).
AL-style ball: Sacramento played their seventh consecutive game against an AL-affiliate tonight…after designated hitter Jae-Gyun Hwang's 2-for-5 night at the plate, River Cats DH's are now hitting .194 (13-for-67).
Bases chucked: The bases were loaded three separate times tonight (Sacramento twice and Fresno once)…of the River Cats five runs, two came by way of bases-loaded walks…coming into tonight, Sacramento has the second fewest walks in the PCL (68).
***
The Sacramento River Cats are the Triple-A affiliate of the three-time World Champion San Francisco Giants. The team plays at Raley Field in West Sacramento, consistently voted one of the top ballparks in America. River Cats Season Tickets, Mini-Plans, and Flex Plans can be purchased for the 2017 season by calling the River Cats Ticket Hotline at (916) 371-HITS (4487). For more information about the River Cats, visit www.rivercats.com. For information on other events at Raley Field, visit www.raleyfield.com.