Will Matthiessen's grand slam in 12th inning finishes wild walk-off win
Hoppers and Crawdads combine to score 24 runs from ninth inning onward in marathon game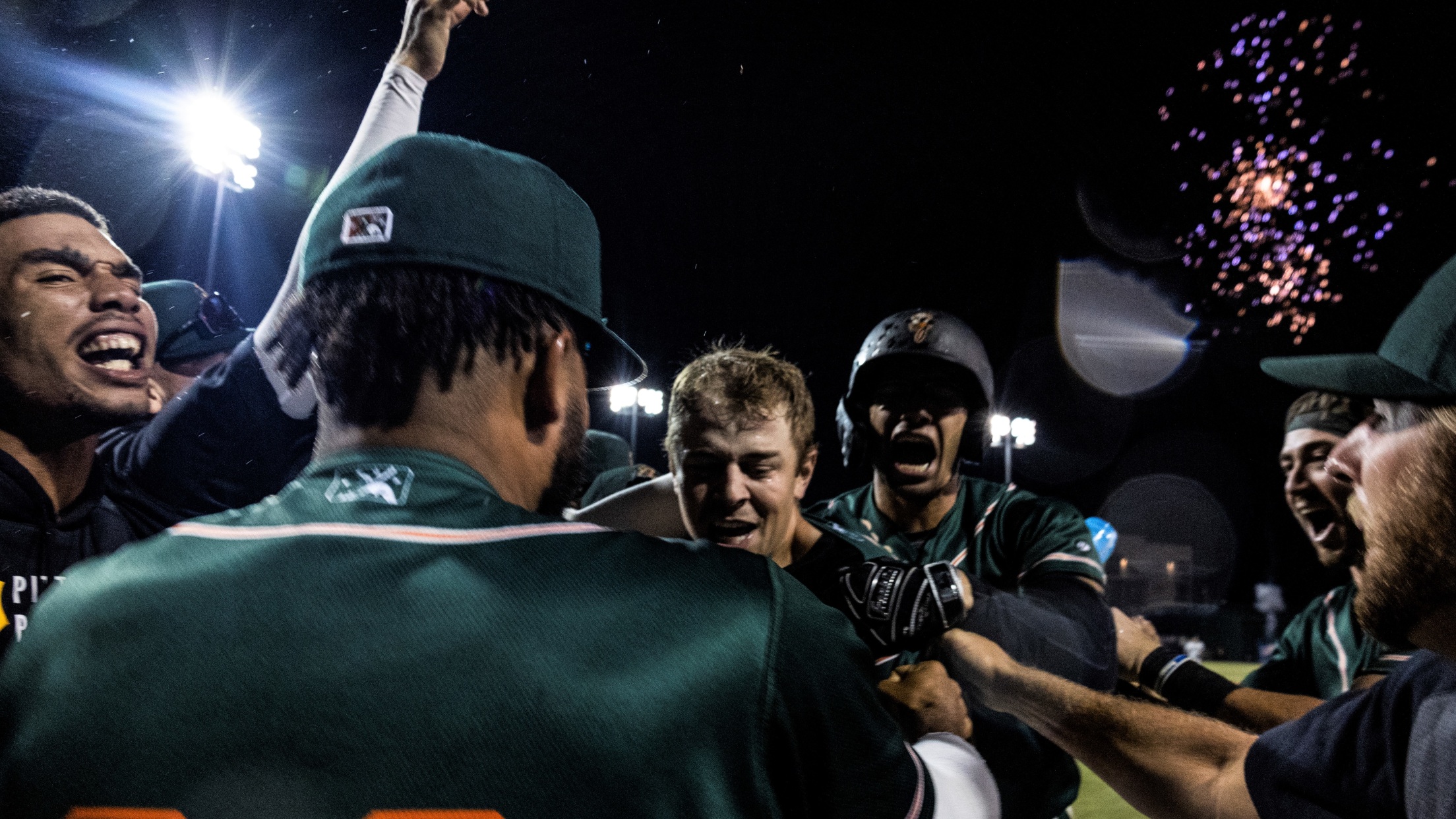 Greensboro teammates mob Will Matthiessen after his walk-off grand slam in the bottom of the 12th inning against Hickory. (Jak Kerley/Greensboro Grasshoppers)
THE TWILIGHT ZONE ― Did that game really happen? And if so, was it baseball or metaphysics? Where to begin? How about at the end. Winning pitcher Will Matthiessen's trip around the bases in the bottom of the 12th inning finished an unforgettable journey into a wondrous place whose boundaries
THE TWILIGHT ZONE ― Did that game really happen? And if so, was it baseball or metaphysics? Where to begin? How about at the end.
Winning pitcher Will Matthiessen's trip around the bases in the bottom of the 12th inning finished an unforgettable journey into a wondrous place whose boundaries are that of imagination. Signpost up ahead: victory.
Who woulda thunk it? No one, that's who.
After watching from the bench for 11 innings, Matthiessen ― a first baseman called upon to pitch ― hit a two-out, two-strike grand slam in the 12th to lift the Greensboro Grasshoppers to an improbable 15-14 victory over the Hickory Crawdads in a 5-hour-and-4-minute marathon on a Fireworks Friday night at First National Bank Field.
The Hoppers spilled out of the dugout and mobbed Matthiessen after he crossed home plate, tearing his No. 46 jersey from his back during the celebration as fireworks burst in the skies above the ballpark.
"That's got to be the craziest baseball game of my whole life," Matthiessen, 23, said. "I wasn't even supposed to be in the game. I'm on the bench for nine, 10, 11 innings, and then I come in to pitch as a position player. Crazy. I give up six runs, but then I come up to bat with the bases loaded. Crazy. I didn't even know I was hitting. I was supposed to be on deck, but I was still in the dugout. Someone says, 'You're up!' I get in the box and said to myself, 'Whatever happens happens.' All of a sudden it's a 2-2 count and I hit a home run to win it. Crazy. Just crazy."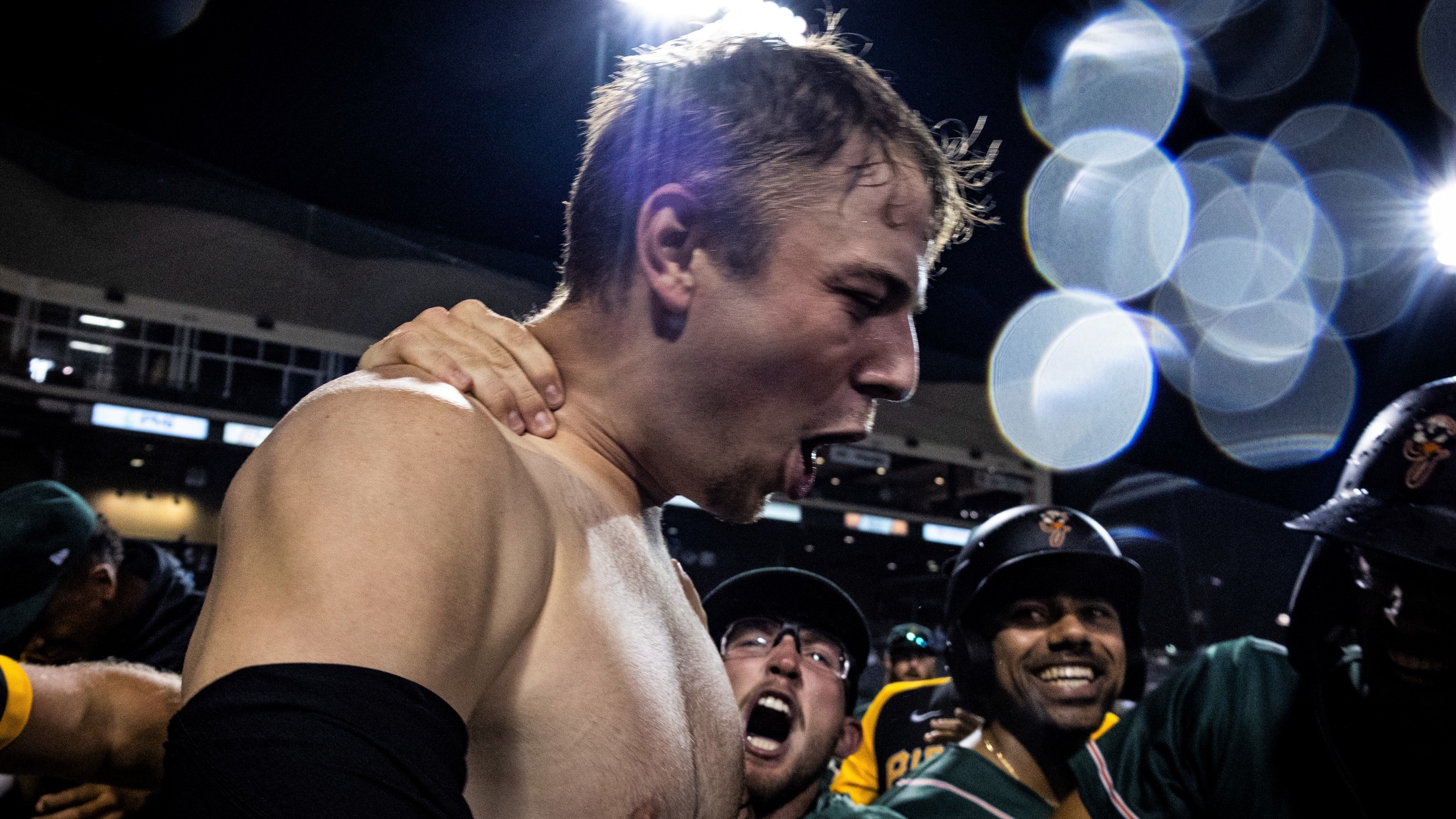 Indeed. You can't make this stuff up. Consider ...
Greensboro and Hickory combined to score 24 runs in the ninth inning and beyond.
Position players Matthiessen and Andres Alvarez both pitched for the Grasshoppers in extra innings. Greensboro had just two available relief pitchers heading into the game.
Matthiessen, a 6-foot-7 first baseman, pitched the 12th for Greensboro and got tagged for six runs, his fastball topping out in the low-80s mph. But his grand slam capped a seven-run rally in the bottom of the inning and made him the winning pitcher.
Grant Koch hit a game-tying three-run home run in the bottom of the 11th after Hickory scored three runs off Alvarez.
Chase Murray hit a two-out, two-run single in the bottom of the 10th inning after Hickory scored twice in the top of the inning.
Greensboro led 3-2 and was one out away from winning in the ninth inning when Hickory scored an unearned run off reliever Austin Roberts to force extra innings.
The Hoppers finished with 11 hits and nine walks. All twelve players who had plate appearances in the back-and-forth game reached base at least once, led by Jared Triolo, who went 2-for-6 with a solo home run in the seventh inning that snapped an 18-inning scoreless streak for Greensboro.
"I'm lost for words. And that's not like me," Hoppers manager Kieran Mattison said. "It's the wildest game I've ever been a part of, and nothing else I've been around comes close. I'm just so proud of my guys. They're relentless. They're a family, and they fight for each other. It shows the character of this team, man. They don't quit."
Injuries
In a frightening moment, Hickory lost its starting catcher in the 11th inning when David Garcia blocked a pitch in the dirt, only to have the ball bounce off the plate and strike Garcia squarely in the throat.
Garcia stayed down for a long time while he struggled to breathe normally. Medical staff from both teams tended to him, and he was taken off the field on a stretcher.
"They took him to the hospital," Mattison said, "and I heard from their guys that he's breathing better. It was scary, and we had prayers going up for Garcia for a speedy recovery."
Greensboro lost it's cleanup hitter in the second inning. Matt Gorski singled to extend his hitting streak to nine games, but he had to be helped off the field by a teammate after scrambling safely back into second base to evade a rundown.
Gorski felt discomfort in the back of his upper left leg, but he returned to the bench after getting checked.
Pitching
Ace right-hander Quinn Priester started the game and worked five innings for Greensboro. Right-handed relievers Oliver Garcia and Austin Roberts combined to pitch the next five innings.
But in the minor leagues, young arms are precious. Under guidance from the Pirates, no Greensboro relief pitcher has worked back-to-back days this season. Garcia threw 40 pitches in his two innings, and Roberts threw 52 pitches in his three innings.
Relief pitchers Bear Bellomy, Michell Miliano, Colin Selby and Will Kobos had all worked either Wednesday or Thursday.
And so in the 11th inning, Mattison went to position players to pitch.
"You have to understand, when (Alex) Manasa got called up to Triple-A, that put us a man short in the bullpen," Mattison said. "And the way things have worked out this week, it put us in a bad spot. We knew going in we only had Garcia and Roberts available, but they were on pitch-counts. You can't think about just today. You have to give yourself a chance the next day and the next day."
The 12th inning
Trailing by six runs, Greensboro rallied off Hickory reliever Nic Laio (0-1, 9.35 ERA).
Triolo's one-out RBI single started the rally. Aaron Shackelford, Blake Sabol and Jonah Davis strung together two-out hits to cut the lead to three runs. Laio pitched carefully to Koch, who had homered the previous inning, and walked him to load the bases.
That set the stage for Matthiessen.
"I swear," Mattison said, "I told the guys in the dugout, 'If they don't get (Koch) out, they're in trouble, because you don't want to face Will.' I had a really good feeling about it. ... He's a dangerous hitter when he's freed up mentally."
Matthiessen fell behind 0-2, took two balls and fouled off a pitch before driving a ball to the opposite field, over the fence in right field for his fifth home run of the season.
It landed in another dimension, a dimension not only of sight and sound, but of mind.
Notes
The Hoppers have seven walk-off victories this season, with seven different players driving in the winning runs in those games: Will Matthiessen, Chase Murray, Jared Triolo, Matt Fraizer, Matt Gorski, Lolo Sanchez and Nick Gonzales.
Greensboro (51-31) remains in second place, seven games behind Bowling Green (58-24) in the High-A East's South Division. The top two teams in the league ― regardless of division ― qualify for the championship series. The Grasshoppers trail North Division leader Hudson Valley (53-29) by two games in the playoff chase. The Hoppers and Renegades play 12 head-to-head games in the final 20 days of the season.
Greensboro has won 10 of its last 14 games and is 23-9 since July 1.
Gorski is on a nine-game hitting streak, going 11-for-30 (.367) with three home runs, three doubles and eight runs scored during that span.
Hoppers third baseman Triolo has hit safely in 25 of his last 28 games, batting .356 (42-for-118) with seven doubles, five home runs, 28 RBIs and 12 stolen bases in that span. He ranks fourth in the High-A East with 59 RBIs, and he has raised his batting average from .237 on June 1 to .299 through Aug. 6.
Lefty-hitting Blake Sabol went 1-for-2 with an RBI, and he has hit safely in 13 of his last 16 games, going 21-for-57 (.368) with four doubles and five home runs during that span.
In his career at the News & Record, journalist Jeff Mills won 10 national and 12 state writing awards from the Associated Press Sports Editors, the Society for Features Journalism, and the N.C. Press Association.