Mayfield goes 4-for-5 but Grizzlies fall 5-4 in series finale at Iowa
Fresno drops their first series since May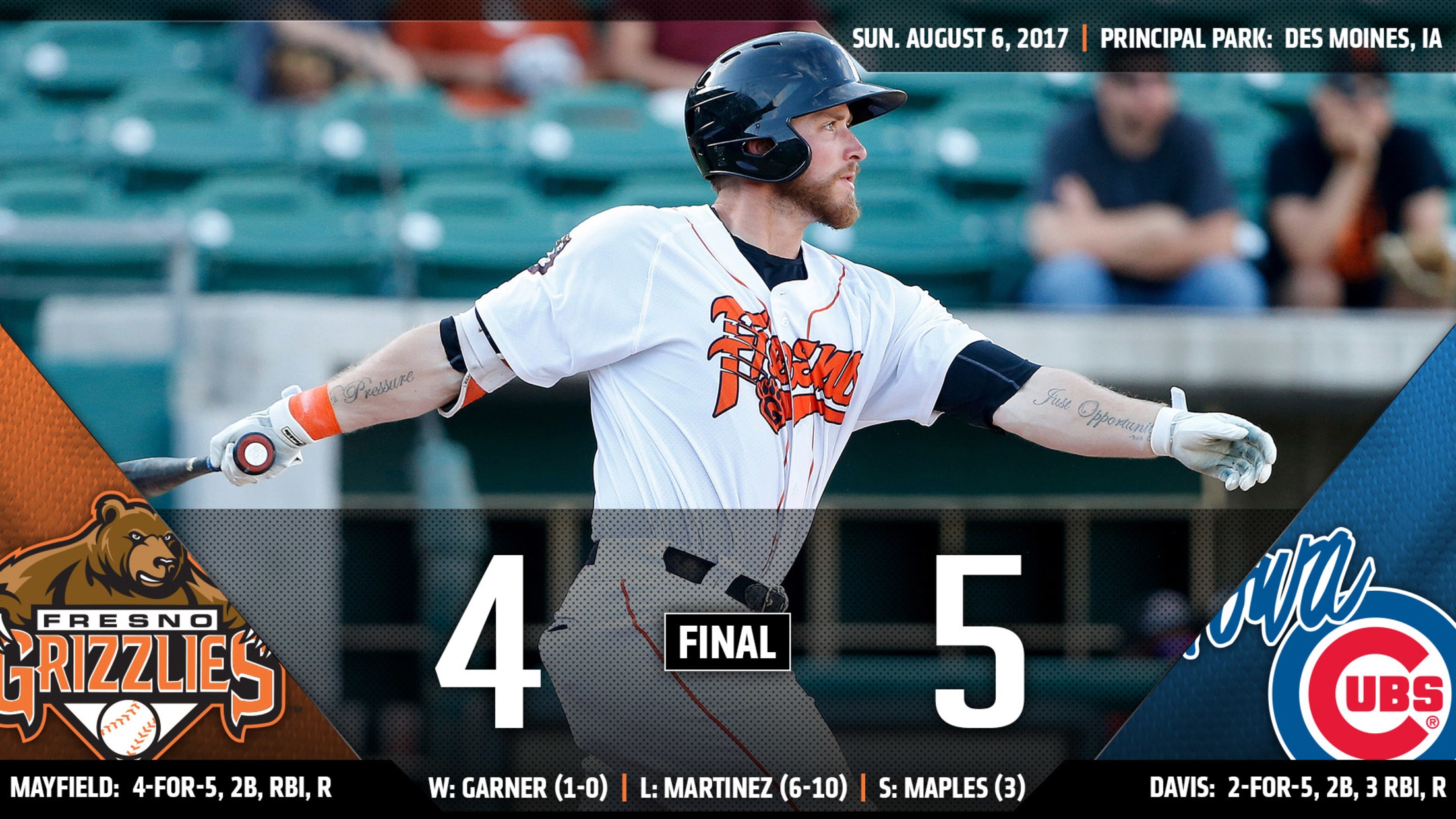 The Fresno Grizzlies (66-48) fell 5-4 in the series finale against the Iowa Cubs (52-59) on Sunday at Principal Park. Going 3-5 on the eight-game road trip, it was Fresno's first losing trip since May 6-14 at Colorado Springs and Oklahoma City (2-6). Despite the loss, the Grizzlies are 15-9
The Fresno Grizzlies (66-48) fell 5-4 in the series finale against the Iowa Cubs (52-59) on Sunday at Principal Park. Going 3-5 on the eight-game road trip, it was Fresno's first losing trip since May 6-14 at Colorado Springs and Oklahoma City (2-6). Despite the loss, the Grizzlies are 15-9 in one-run games this season.
Iowa got on the board first for the first time in the series by taking a 2-0 lead in the second. Taylor Davis (2-for-5) led off the frame with a single and scored on a Stephen Bruno sacrifice fly. Then, Elliot Soto (3-for-3) knocked a RBI single to score Jacob Hannemann who also singled.
The Grizzlies tied the contest quickly with two runs in the fourth. Jon Kemmer drilled a RBI double to score Jack Mayfield (4-for-5) who also doubled to get on before Kemmer went home on an error. In the fifth, Mayfield hit a RBI single that scored Preston Tucker who had also doubled to get on to give Fresno a 3-2 lead. With four hits in the contest it was Mayfield's second four-hit game of the season.
The home team took over the lead in the bottom of the fifth to go ahead 5-3. With the bases loaded, Davis doubled to center to score Soto, John Andreoli (single) and Mark Zagunis (walk). The Grizzlies tacked on one last run in the eighth to cut Iowa's lead to a 5-4 final. Drew Ferguson recorded his first Triple-A RBI with a double to score Kemmer (walk).
Grizzlies starter David Martinez (6-10) suffered the loss through 4.1 innings allowing four runs on four hits and two walks with four strikeouts. Iowa starter Eddie Butler lasted 4.2 innings and allowed three runs (two earned) on seven hits and a walk with seven punch-outs. David Garner (1-0) earned the win for the Cubs in an inning and a third of relief while reliever Dillon Maples picked up his third save of the season with a strikeout to end the game.
Fresno returns home to Chukchansi Park on Monday for a four-game series with the El Paso Chihuahuas. RHP Bryan Rodriguez (5-7, 4.70) will be on the mound for El Paso to face Fresno RHP Trent Thornton (6-2, 4.76). First pitch is set for 7:05 p.m.