Medrano's Mashes Spur Series Victory
Generals' second baseman first since 2015 with five-hit night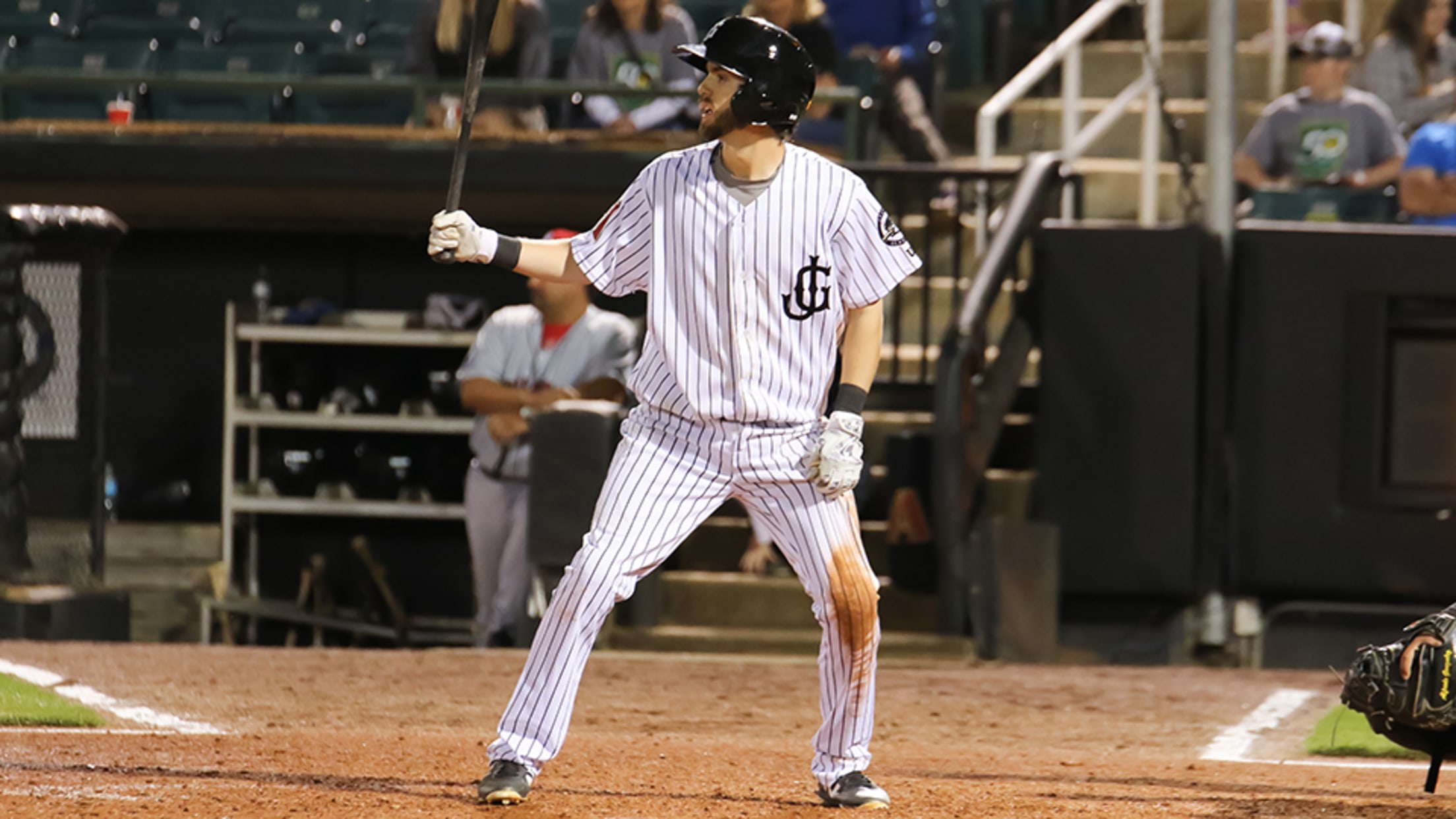 Kevin Medrano became the first General with five hits in a game since 2015, powering Jackson to a 10-5 win at Birmingham. Medrano extended his hitting streaking to 14 games, tying for the highest mark in the Southern League this year. (Cody Cunningham)
Birmingham, Ala. - Looking to take their final First Half series, the Jackson Generals ripped off 20 hits in a 10-5 victory against Birmingham at Regions Field on Saturday. Second baseman Kevin Medrano led the parade with a five-hit night, the first General to accomplish the feat since 2015.In downing
Birmingham, Ala. - Looking to take their final First Half series, the Jackson Generals ripped off 20 hits in a 10-5 victory against Birmingham at Regions Field on Saturday. Second baseman Kevin Medrano led the parade with a five-hit night, the first General to accomplish the feat since 2015.
In downing the Barons (25-43), Jackson took their second consecutive series victory, as well as their second straight win in a series against Birmingham. With one game remaining in the First Half, the Generals (37-32) hold a 7-2 record against the Barons.
Medrano's big night began in the second inning. Third baseman Dawel Lugo led off the frame by reaching base on an error, and outfielder Victor Reyes followed with a single. With Lugo and Reyes aboard, catcher Michael Perez cracked an RBI double to right field to score Lugo with the Generals' first run. Shortstop Raymel Flores followed with a walk to load the bases, but a force-out at home on a fielder's choice kept the bases loaded with Evan Marzilli reaching first base. After a strikeout, Medrano stroked a two-run single to give the Generals the lead, 3-1.
Taylor Clarke (6-3, 2.92 ERA) got the first out of the second inning before ceding a solo home run to Birmingham's Trey Michalczewski, closing the margin to 3-2. Clarke had previously allowed a solo shot to Birmingham's Jake Peter to lead off the game, but he kept the Barons off the board through his final three innings of work.
Meanwhile, Medrano came to bat for the third time in the fourth inning with one out and two on. The former Missouri State Bear delivered with an RBI single, driving in Raymel Flores to give the Generals a 4-2 lead. Kevin Cron did likewise, singling home Evan Marzilli to make the margin 5-2.
In the sixth inning, Medrano was again a focal point of a productive Jackson inning. After a one-out single by Marzilli, Walsh drubbed a run-scoring double to make the lead 6-2 for Jackson. Medrano, the team leader in batting average at .328, imitated Walsh with an RBI double of his own, pushing the lead to 7-2. Rudy Flores chipped in with an RBI single two batters later that scored Medrano, and Dawel Lugo plated Flores with a double for an 9-2 advantage.
Jackson's final run came in the ninth inning. Marzilli walked with one out, and Walsh came behind him with a single, drawing Medrano to the plate. Medrano had previously singled in the seventh inning, and he stepped to the plate with a bit of history on the line. No General had recorded five hits since Tyler Bortnick's quintet against Montgomery on August 27, 2015, but Medrano matched the mark, pushing a single through the right side for a five-pack of his own. Two batters later, Rudy Flores walked, retrieving Marzilli from third base for the team's tenth run.
Clarke finished with four hits allowed in five innings of work, walking just one batter while striking out six. Ivan Pineyro threw two scoreless frames in relief, with Brooks Hall and J.R. Bradley ceding three inconsequential runs to Birmingham over the final two innings.
Medrano's resplendent night featured a 5-for-6 line with four RBI, a run scored, and six total bases. Marzilli marched just behind Medrano in the parade, collecting three hits while scoring three runs and walking once. Ever General in the lineup got a hit, with multiple-hjt nights coming from Colin Walsh, Kevin Cron, Rudy Flores, Dawel Lugo, and Victor Reyes in addition to Marzilli and Medrano. Rudy Flores drove in a pair of runs, and Raymel Flores scored a pair in Jackson's 37th victory of the year. The Generals left 13 men on base, but they went 9-for-20 in situations with runners in scoring position. They did not make an error.
The First Half of the 2017 Southern League schedule concludes for the Generals in Birmingham on Sunday afternoon with a 3:00 pm CT affair. Josh Taylor (5-3, 2.86 ERA) will start for the Generals, taking on Birmingham's Jordan Guerrero (2-7, 3.89 ERA). Pregame coverage from Regions Field begins at 2:45 pm CT on Willie 94 FM & 1390 AM in Jackson, and online via the TuneIn Radio App.
After the All-Star Break, Jackson opens up the Second Half at home with five against the Jacksonville Jumbo Shrimp in West Tennessee. The opener is a Thrifty Thursday with $2 deals on general admission tickets, hot dogs, popcorn, soda, beer, ice cream and Fun Zone access. Game two is a Leaders Credit Union Food Truck Friday with local food trucks at The Ballpark! The team will also wear special Hub City Hippo uniforms that night! The game-worn and signed jerseys will be auctioned off at the season's end with proceeds going to the Boys & Girls Club of Jackson thanks to Tennessee811!
Saturday, June 24 is Pirates and Princesses Night brought to you by Leaders Credit Union, featuring a number of iconic characters and a Postgame Fireworks Show! The first 1,000 fans will take home a Generals t-shirt, and one lucky fan will win a Caribbean Cruise vacation!
The series wraps up Monday, June 26 with Splash Day! It's one of the most fun days all summer in Jackson, featuring all kinds of water games under the sun. Campers get in free, and lunch packs will be available to purchase for just $6!
Make sure to get your tickets now to see the 20th season of professional baseball in Jackson, and the first for the team as an affiliate of the Arizona Diamondbacks! Call the team at (731) 988.5299, stop by The Ballpark or go online to jacksongeneralsbaseball.com to secure your seats now!