Mets' Peterson dangles once again
New York's No. 13 prospect spins five one-hit innings in win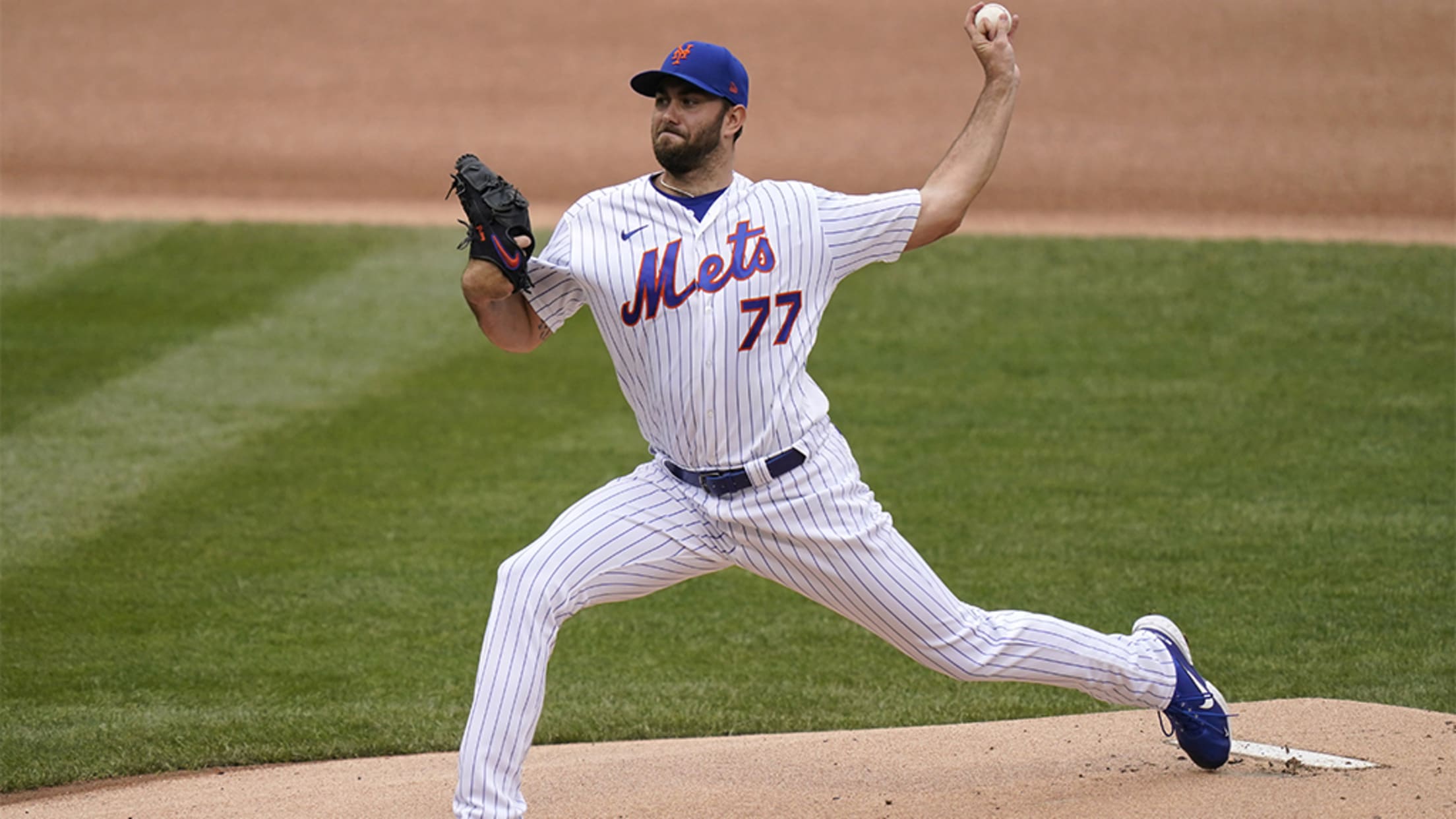 The Mets' David Peterson exited his start against the Nationals after just 74 pitches and five innings. (Seth Wenig/AP)
Although it's been just four starts, David Peterson has familiarized himself with a unique and precarious situation. Fortunately for the Mets, he's been up to the task so far. New York's 13th-ranked prospect yielded an unearned run on a hit and a walk while striking out three over five innings
Although it's been just four starts, David Peterson has familiarized himself with a unique and precarious situation. Fortunately for the Mets, he's been up to the task so far.
New York's 13th-ranked prospect yielded an unearned run on a hit and a walk while striking out three over five innings in the Mets' 8-2 victory over the Nationals at Citi Field on Thursday. Peterson (3-1) said he felt some regular shoulder soreness, and that his exit after just 74 pitches, 44 for strikes, was a simple precaution.
"He had a little bit of a shoulder fatigue ... a little bit of that common soreness that you get when you're having some stress innings out there," Mets manager Luis Rojas said, mentioning that Peterson's velocity dipped before returning to normal at the end of his outing. "We still have a lot of games to go. This kid is throwing the ball well. So nothing serious, we just played it safe with him."
Yan Gomes led off the fifth with a bloop single to right field to account for the Nationals' only hit off the rookie, but Peterson was put into an uncomfortable spot as soon as the game began. Walks to Trea Turner and Starlin Castro sandwiched around a fielder's choice and a throwing error by backstop Tomas Nido loaded the bases with nobody out for Juan Soto.
Soto, an All-Star outfielder, had already homered three times in the series -- one off veteran reliever Jared Hughes later in Thursday's game -- and was batting .423 going into the first-inning bout with Peterson. But the 24-year-old needed just three pitches to punch out Soto.
"My approach is to get a strikeout there," Peterson said. "That's kind of what we need there to get one out, and then kind of get a double play to end the inning. For me, it's not giving him anything to hit."
The #Mets' David Peterson shows off his artistic side, painting a happy little strike on the corner.

The finished product...

🔸5 IP
🔸0 ER
🔸1 H
🔸3 K'shttps://t.co/VJPdr0Tqy4

— Minor League Baseball (@MiLB) August 14, 2020
Peterson then got Howie Kendrick to bounce into a run-scoring groundout before Jeff McNeil saved a couple of runs, on a catch that sent him crashing into the wall. McNeil later was diagnosed with a contusion on his left knee.
"My first reaction was, 'That was a hell of a catch.' And it got us out of that tight jam," the 24-year-old hurler said.
Peterson has faced an All-Star with the bases loaded and nobody out in three outings during his brief time in the Majors.
In the third inning of his first Major League start at Fenway Park on July 28, the Red Sox loaded the bases in the third inning for All-Star J.D. Martinez. Peterson struck out Martinez swinging and got Rafael Devers to bounce into an inning-ending double play.
When faced with the same situation on Aug. 2 in Atlanta, Peterson walked Ronald Acuna on four pitches and limited the damage to two runs, which was no easy task against Dansby Swanson, Freddie Freeman and Marcell Ozuna in the heart of the Braves' order.
"He's always competing at the same level, whether it's nobody on or bases loaded," Rojas said. "This kid, that's the way he does things. And he's been showing it repeatedly. ... This kid maintains his poise, and he's at that level always and I think that's why he can execute clutch pitches in situations like that."
Much like those other starts, Peterson was able to settle in after running into trouble Thursday. He retired eight consecutive Nationals before causing a bit of a commotion by hitting Soto with a pitch -- both benches were warned and some lively conversation ensued -- to start the fourth. But he was able to buckle down and prevent Washington from putting a runner in scoring position in the fourth and fifth, despite allowing the leadoff man to reach base in each frame.
The 2017 first-rounder sports a 2.91 ERA and a 1.15 WHIP with 17 punchouts over four starts spanning 21 2/3 innings this season. Rojas mentioned Peterson wasn't among the six starters whom the Mets expected to enter the year. But the club is without Noah Syndergaard and Marcus Stroman for the season, and Michael Wacha temporarily, so Peterson has become extremely important to the rotation.
"I feel like I'm throwing the ball well and it feels good coming out," Peterson said. "For me, the biggest thing is just getting used to working with the catchers. We've had really good communication, and I feel really good with them back there. And then just preparing for lineups and seeing where my strengths play against different hitters, and just getting used to the level up here. Just contributing in every way that I can and giving the team everything that I have."
Third-ranked Mets prospect Andrés Giménez reached base twice on a hit and a walk and scored a run in three at-bats. The No. 93 overall prospect has hit safely in three consecutive games.
Nationals No. 11 prospect Seth Romero made his Major League debut with 1 2/3 innings of relief. The embattled left-hander yielded three hits, including a grand slam to Tomas Nido. He struck out four and walked three.
"We watched him down in [Fredericksburg, Virginia, at the alternate training site], and he was a guy that was throwing strikes," Nationals manager Dave Martinez told MLB.com. "That's important here. He was throwing a lot of strikes, he's always in the strike zone. He's got a lot of swing-and-miss stuff, and we need a left-handed pitcher."
Romero missed all of 2019 while recovering from Tommy John surgery and last pitched for Class A Hagerstown on Aug. 16, 2018.
Top Nats prospect Carter Kieboom (No. 23 overall) went hitless in four at-bats, striking out twice.
In other action:
Orioles 11, Phillies 4
Philadelphia's top prospect Alec Bohm pulled a curveball down the left-field line for a double in his first Major League at-bat in the second inning. It was the only hit for the No. 31 overall prospect in four at-bats. Bohm was a career .293/.368/.474 hitter with 21 homers and 97 RBIs over the past two Minor League seasons. The third overall pick out of Wichita State in 2018 finished his only full professional season at Double-A Reading last year. Box score
Cubs 4, Brewers 2
Playing in his first game out of the leadoff spot, Nico Hoerner rolled a double into left on the first pitch of the opening inning. The top Cubs prospect later scored on a groundout to third by Javier Baez. Hoerner, the No. 55 overall prospect, also walked and is batting .243/.310/.297. Box score
Dodgers 11, Padres 2
Los Angeles' No. 17 prospect Dennis Santana allowed just one baserunner -- a double by Greg Garcia in the eighth -- and struck out one in 1 2/3 innings of relief to reduce his ERA to 2.89. No. 21 prospect Edwin Rios went hitless in two at-bats. After a tough start in the Majors, Luis Patino delivered a scoreless outing in his third relief appearance. The No. 28 overall prospect twirled two innings, allowing a hit and a walk with two strikeouts for the Padres. The right-hander whiffed Cody Bellinger in the sixth and Joc Pederson in the seventh, giving him five strikeouts in 3 2/3 innings. Acquired in a trade with the A's in June, No. 15 Padres prospect Jorge Mateo made his big league debut. He played left field -- a spot he hadn't in the Minors -- and batted ninth, finishing 0-for-3. Box score
Gerard Gilberto_ is a contributor to MiLB.com. Follow and interact with him on Twitter, @Gerard_Gilberto._