Mets walk-off Reds, 13-12, despite Willems' cycle
19-year-old becomes just the second player in Greeneville history to accomplish feat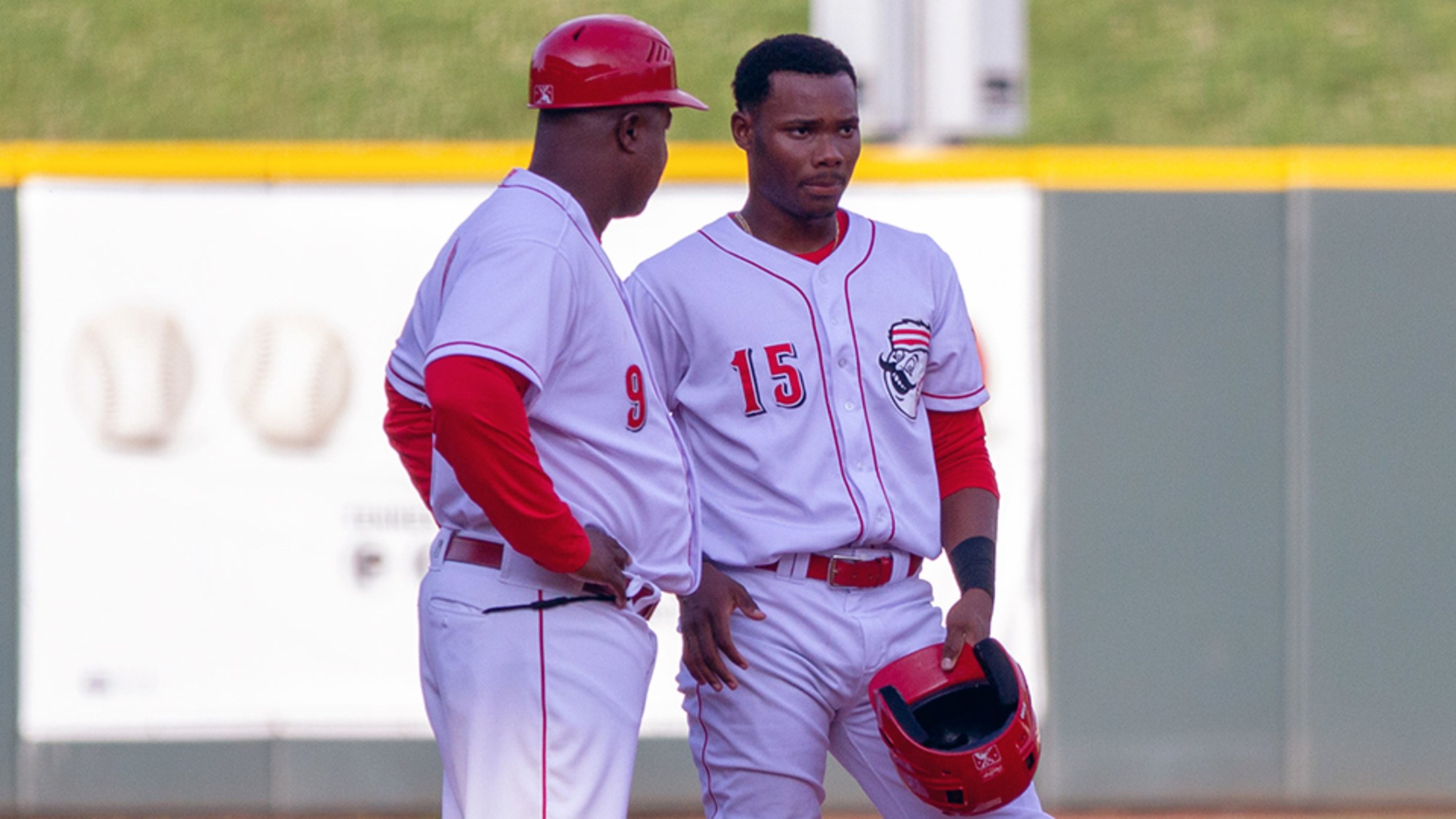 2B Jonathan Willems (15) talks to third base coach and manager Gookie Dawkins (9) during a game earlier this season. Willems became just the second player in Greeneville history to hit for the cycle in a 13-12 loss to the Kingsport Mets on Tuesday night at Hunter Wright Stadium. (Doug Gray / RedsMinorLeagues.com)
KINGSPORT, Tenn. -- With an eighth-inning double 2B Jonathan Willems became just the second player in Greeneville history to hit for the cycle, but it was not enough, as 3B Yoel Romero 's walk-off solo homer in the ninth gave the Kingsport Mets a 13-12 win over the Greeneville Reds on Tuesday night at
KINGSPORT, Tenn. -- With an eighth-inning double 2B Jonathan Willems became just the second player in Greeneville history to hit for the cycle, but it was not enough, as 3B Yoel Romero 's walk-off solo homer in the ninth gave the Kingsport Mets a 13-12 win over the Greeneville Reds on Tuesday night at Hunter Wright Stadium.
With the loss, Greeneville drops to 6-13 on the campaign. Kingsport's victory keeps them in a tie atop the Appalachian League Western Division with an 11-8 mark.
In a wild affair, Willems (4-5, 3 R, 2B, 3B, HR, 3 RBI) launched a solo home run in the first, a run-scoring triple in the fifth, an RBI single in the seventh, and finally achieved history with a double to left in the eighth. The history-making play came on a bang-bang play at the bag where the Curacao native avoided the tag to slide in safely.
The first was first accomplished by a Greeneville player on June 29, 2016, when then-Astros player Connor MacDonald did it with a seventh-inning triple at Hunnicutt Field against the Princeton Rays.
In a bizarre back-and-forth affair, both teams traded runs at will. In the first, Willems' home run - his third of the year - gave the Reds a 1-0 lead, but Kingsport responded with a run-scoring single from 2B Luis Santana (3-5, R, HR, 3 RBI, SO) to tie it in the bottom half.
The Mets grabbed the lead, 3-1, in the bottom of the third on a two-run single by CF Jarred Kelenic (2-4, 2 R, HR, 4 RBI, BB, SO). The Redlegs would answer with a run in the fourth on an RBI double by SS Miguel Hernandez (1-5, 2B, RBI, SO) and two in the fifth courtesy of Willems' triple and a wild pitch to take a 4-3 advantage.
In the bottom of the fifth, Kingsport jumped back ahead, 5-4, with a two-run blast by Santana. A two-run knock by LF Guillermo Granadillo (3-3, 2 R, 2 RBI, 2 BB) and a sacrifice fly to left by SS Shervyen Newton (1-4, R, RBI, 3 SO) capped a three-tally sixth to put the K-Mets in front, 8-4.
Greeneville proceeded to then erupt for a season-high, seven-run seventh inning to regain the advantage. Back-to-back RBI singles from Willems and 1B Rylan Thomas (1-2, R, RBI, 3 BB) - plus an additional throwing error - allowed three runs to score, bringing the Reds within one, 8-7.
LF Nate Scantlin (2-5, R, 2B, RBI, SO) and DH Hunter Oliver (3-5, R, 2B, RBI, SO) collected run-scoring doubles, sending Greeneville back ahead, 9-8. Following a pitching change, C Rob Boselli (1-4, R, HR, 2 RBI, BB, SO) launched a towering, two-run blast to left - his first G-Reds hit and professional home run - making it 11-8 Reds.
A two-run bottom of the seventh for the K-Mets trimmed the three-run lead down to one, as a result of consecutive RBI singles by DH Gavin Garay (1-5, RBI, 2 SO) and Romero (3-4, 3 R, 2B, HR, 2 RBI, BB). Kelenic gave the hometown team the lead, 12-11, in the bottom of the eighth with a two-run shot to right - his first Appy League dinger.
Greeneville managed to tie it briefly in the top of the ninth, as Boselli walked and was pinch-run for by Satchel McElroy with two outs. Following a wild pitch, CF Mike Siani (2-5, R, BB, SO) reached on an infield single, but the throw to first was wide, allowing the runner to score from second to even the contest at 12.
Neither starter received a decision on Tuesday night. RHP Miguel Medrano (5.0 IP, 8 H, 5 R, 5 ER, BB, 4 SO) tied a season-long with five innings for Greeneville, while RHP Daison Acosta (4.0 IP, 5 H, 2 R, ER, 2 BB, 2 SO) set a season-best with four frames for Kingsport.
Despite a blown save, LHP Andrew Mitchell (1.0 IP, H, R, BB, SO) earned his first professional win for the Mets. Reds RHP Aaron Quillen (0.0 IP, H, R, ER) was saddled with his second-straight defeat.
RHP Lyon Richardson (0-1, 13.50 ERA) is expected to toe the slab tomorrow for Greeneville, as look to even the series with Wednesday's matinee. Kingsport is expected to counter with the league-leader in ERA, RHP Jose Butto (0-0, 1.15 ERA).
The G-Reds Pre-Game Show will kick off the broadcast at 10:45 a.m. ET, leading up to the 11:00 a.m. ET start at Hunter Wright Stadium. Wednesday morning's contest can be heard on GreenevilleReds.com or via the TuneIn Radio and MiLB First Pitch apps.
Following the Kingsport series, the Reds will return home on Saturday, July 14 to open up a three-game set against the Bristol Pirates. It will be Star Wars Night at the ballpark that evening featuring special movie-themed uniforms, music, food, and on-field games. In addition, the first 1,000 fans through the gates will receive a special Lightsaber Giveaway courtesy of Consumer Credit Union. That night's jersey's will be auctioned off to benefit the United Way of Greene County.
Season and single-game tickets are still available and can be purchased online at GreenevilleReds.com or by calling the Reds' Ticket Office at (423) 609-7400.