Marlins Prospect Primer: Arms en route
Kolek returns from elbow surgery; Brigham, Perez ready to break out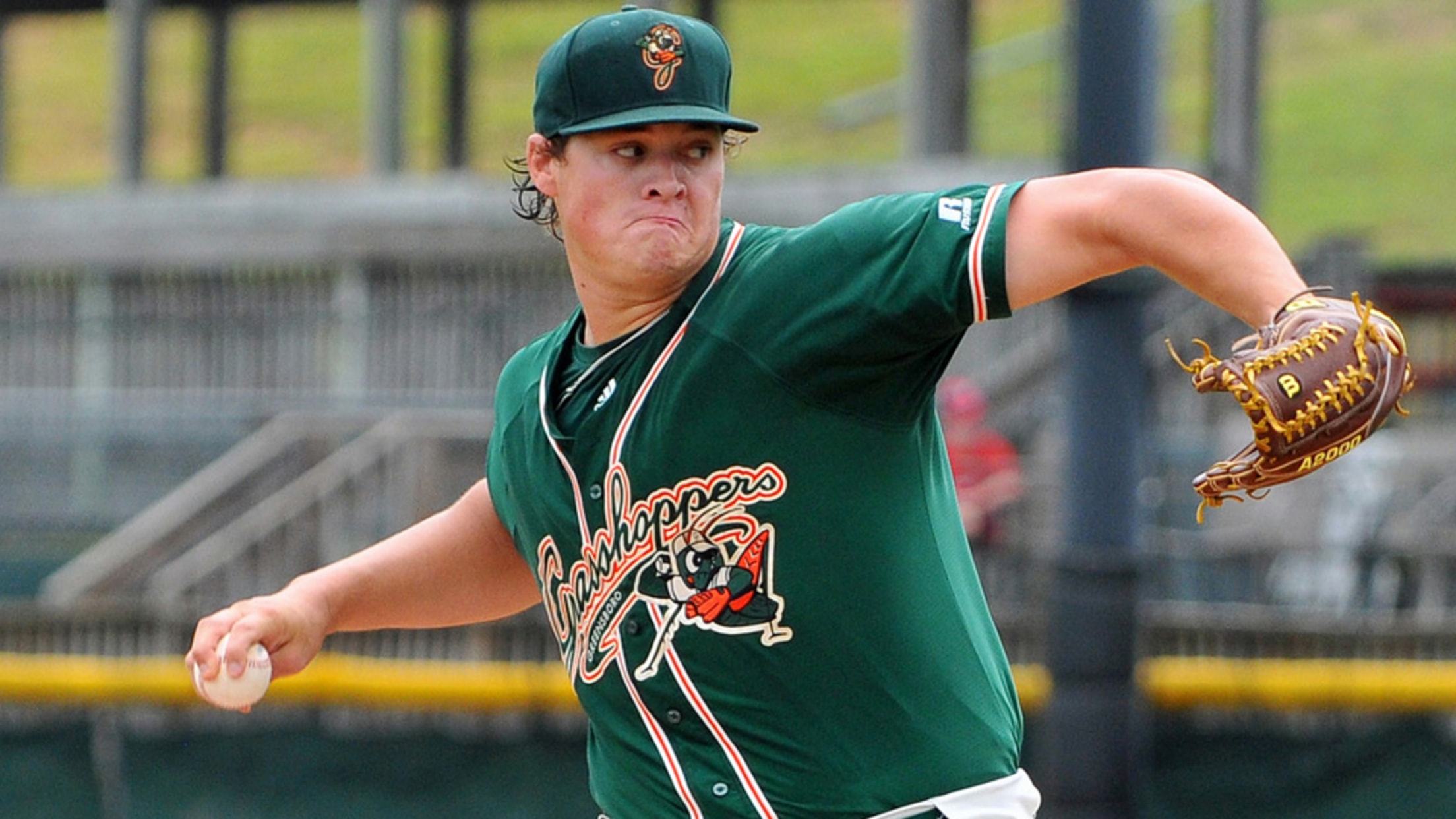 Tyler Kolek struck out 81 South Atlantic League foes in 108 2/3 innings in 2015. (Tracy Proffitt/MiLB.com)
Some players are on the verge of stardom, others are entering a crucial phase of their development and still others are getting their first tastes of full-season ball. With the 2017 season approaching, MiLB.com takes a look at the most intriguing prospects from each MLB organization.Back and healthy: Tyler Kolek,
Some players are on the verge of stardom, others are entering a crucial phase of their development and still others are getting their first tastes of full-season ball. With the 2017 season approaching, MiLB.com takes a look at the most intriguing prospects from each MLB organization.
Back and healthy: Tyler Kolek, RHP
Marlins fans had to go all of 2016 without seeing the club's No. 2 prospect pitch after Kolek underwent Tommy John surgery before the season even started. But it won't be long before the dominant righty is back on the mound.
"I think his recovery is going really well; he's in the rehab process now. We haven't had any setbacks to date," said. Marc DelPiano, Miami's vice president of player development. "As far as his arm and his delivery, everything's working good and things are syncing up. I think if stays on course, he has a shot to break sometime at the end of May, early June."
Kolek was selected second overall in the 2014 Draft, but hasn't had much time on the mound since. The 21-year-old is 4-10 with a 4.55 ERA, 99 strikeouts and 74 walks in 130 2/3 innings spanning 34 games (33 starts) in two pro seasons.
With a 70-grade fastball, Kolek is full of potential and Marlins fans can look forward to him finally showing that in a game this year once he gets back into the swing of things.
Loudest tool: Thomas Jones, CF
A year ago, Jones was considering several college football offers, the chance to be Vanderbilt's starting center fielder and the notion of going pro. After the Marlins selected him in the third round of the Draft, it was clear he belonged in baseball. So he took his plus-plus speed to the Rookie-level Gulf Coast League.
"He's a gifted athlete that has a [high] baseball IQ and he's a very smart kid. Someone that can affect the game at any given time," DelPiano said. "He also has an instinctive approach in things he does as well. So he's got a nice combination of athleticism and feel to play ... very, very driven kid."
Before turning 19, Jones posted a .234/.380/.313 slash line with 11 walks and two errors in 19 games. While his speed wasn't always evident in the stats -- he stole six bases in eight attempts -- Jones remains a threat on the basepaths.
"He's one of those kids who's young with upside and he has tools. I think when you have that combination, mixed with the aptitude he has, his tools are going to have a chance to play," DelPiano said. "It didn't necessarily reflect that in the Gulf Coast League in his first stint in pro ball, but I think he will see that as the season progresses."
Full-season debutant: Sam Perez, RHP
After dominating as a reliever for Missouri State, Perez was selected in the fifth round of the Draft, and the Marlins quickly started mulling over when they would put the right-hander in. Perez made eight starts in 16 games with Class A Short Season Batavia last season, going 1-1 with a 3.54 ERA, 36 strikeouts and 15 walks.
Perez proved to be a workhorse right away for the Muckdogs. Even though he didn't join the New York-Penn League until a week into the season, he led his squad with 48 1/3 innings pitched. DelPiano said the 22-year-old is slated to be a reliever this season, but added that the decision isn't officially yet.
"He has an ability to sink it and he's got feel for his secondary," DelPiano said. "They did some things in his delivery in instructional league that they refined some things, seeing his ability to repeat those so he can continue to develop consistency. I would like to see that out of him more than anything."
At the crossroads: Jake Esch, RHP
When Esch was drafted by the Marlins, they still went by the Florida title, not Miami. After six seasons and 125 Minor League games, the 2011 Draft pick reached "The Show" last August. The results were less than ideal -- a 5.54 ERA in 13 innings over three starts -- but it was a big step for the 26-year-old to don the Marlins jersey.
"I think he needs to continue to allow his athleticism to show up on the mound," DelPiano said. "At times, I think he overthinks and overanalyzes vs. allowing his athleticism to play. He has to continue to be athletic on the mound."
Esch repeated the Florida State League in 2014 and the Southern League last year, but made a positive return to the Pacific Coast League on Aug. 9 before receiving his first call to the Majors a few weeks later. The Minnesota native had a couple tough starts at big league camp this spring before being reassigned, but DelPiano still thinks this could be Esch's year.
"This was a good athlete at Georgia Tech, a two-way player. This guy is athletic, he has a delivery that repeats, he has three pitches," DelPiano said. "It's just [he] continues to unlock the athleticism and I think you'll see signs of that this year."
Breakout prospect: Jeff Brigham, RHP
It might seem easy to overlook Brigham and his career 4.13 ERA, but beyond past numbers, the 25-year-old is ready to turn heads. While the Marlins' No. 18 prospect may need to prevent scoring, he is pretty good at fooling hitters. Brigham ranked second in the system last season with a career-high 112 strikeouts for Class A Advanced Jupiter.
Prior to leading the Hammerheads, Brigham was a 2014 Draft pick fresh off Tommy John surgery at the University of Washington. In 2015, the Dodgers dealt the right-hander at the deadline and he quickly adapted to the new system. In six games (five starts) with Jupiter following the trade, Brigham notched a 1.87 ERA with 22 punchouts in 33 2/3 innings.
"He's got the ability to do certain things, got an electric fastball, he's got power to his breaking stuff," DelPiano said. "If he can continue to show the ability to repeat, he's going to have a chance. That's the thing we have to continue with him, which is his ability to repeat his delivery and pitches."
After a tough start to the 2016 season, Brigham bounced back better than ever. The Washington native went 6-4 with a 2.92 ERA in his final 74 innings. Brigham was assigned to the Arizona Fall League, but was sidelined after suffering shoulder tendinitis. DelPiano says he should return to action in early April.


Others to keep an eye on: This season will mark the anticipated debut of top Marlins prospect Braxton Garrett. The southpaw was selected seventh overall in last June's Draft and went to the instructional league, but he is ready to pitch competitively this summer. After a tough start to the season with Double-A Jacksonville, a triceps injury might have been the proverbial blessing in disguise for Jarlin García. In his return from the disabled list, the left-hander allowed just one run in 11 innings. While he had an OK stint in the AFL, the 24-year-old only allowed one run in eight innings in the Dominican Winter League to finish the year on a high note. Also, Roy Morales looks to shake off to injury bug as he continues to improve behind the plate.
Kelsie Heneghan is a contributor to MiLB.com. Follow her on Twitter @Kelsie_Heneghan.