Marlins Prospect Primer: Brinson eyes stardom
Trio of offseason acquisitions revive dormant Miami farm system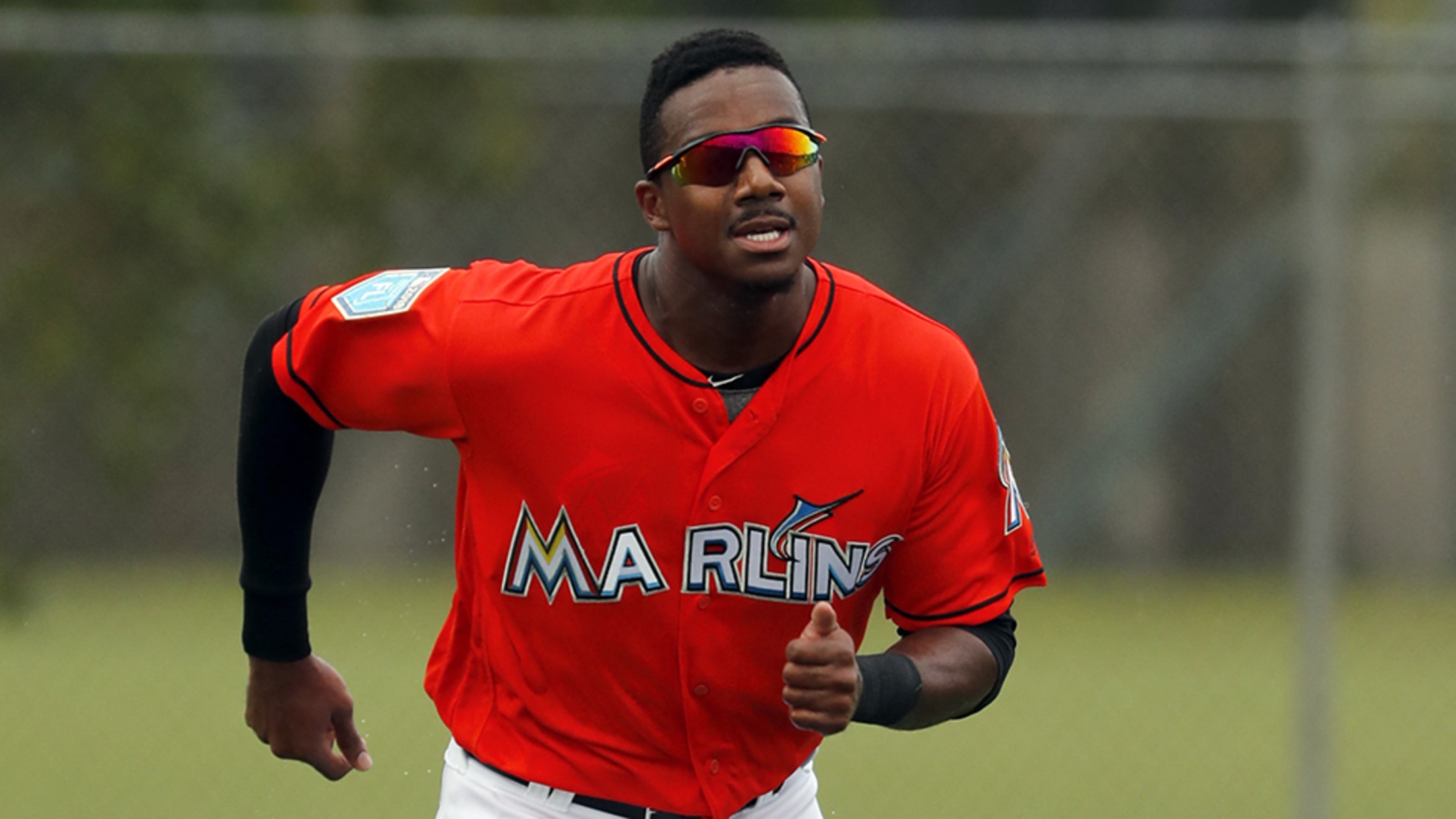 Lewis Brinson will enter 2018 as the Marlins' Opening Day center fielder after a strong spring. (Jeff Roberson/AP)
Some players are on the verge of stardom, others are entering a crucial phase of their development and still others are getting their first tastes of full-season ball. With the 2018 season approaching, MiLB.com takes a look at the most intriguing prospects from each MLB organization.Shining star: Lewis Brinson, OFThe
Some players are on the verge of stardom, others are entering a crucial phase of their development and still others are getting their first tastes of full-season ball. With the 2018 season approaching, MiLB.com takes a look at the most intriguing prospects from each MLB organization.
Shining star: Lewis Brinson, OF
The centerpiece of the trade that sent Christian Yelich to the Brewers in January, Brinson will have an immediate opportunity to show the Marlins received a solid return on their investment. The 23-year-old was informed on the last day of Grapefruit League play that he would be Miami's Opening Day center fielder after hitting .328/.365/.586 with 10 extra-base hits and nine RBIs in 58 at-bats.
"That would be the hope," Marlins assistant director of player development Brett West said of his club's top prospect chances of ascending to stardom. "He's kind of 'the guy' right now out of the newer players we received and he's the most polished and ready to contribute at the big league level. Now he's going to have an immediate and regular chance to do that."
Following a breakout season in 2015 and another solid season the following year, Brinson showed that his status as a top prospect was no fluke in 2017. MLB.com's No. 27 overall prospect batted .331/.400/.562 with 39 extra-base hits and 48 RBIs in 76 games for Triple-A Colorado Springs. Although his first go-around in the Majors was largely forgettable -- he hit .106 with two homers in 21 games with the Brewers last year -- the Marlins believe the sky's the limit for their new center fielder.
"We're extremely excited to have been able to add a player like Lewis," West added. "It was a tough deal to make, but we feel that we received equal, if not more value in return."
Breakout prospect: James Nelson, 3B
Offseason MiLB include
There are a lot of things a player can do to truly enjoy a breakout season. In the case of Nelson, winning Marlins Minor League Player of the Year honors was a fitting ending to an eye-opening 2017. The No. 11 Marlins prospect hit his way to Midseason and Postseason All-Star nods after batting .309/.354/.456 with 40 extra-base hits and 59 RBIs in 102 games with Class A Greensboro. As a 19-year-old, he fell short of the South Atlantic League's batting crown by a single point and also put together a 24-game hitting streak, the longest on the circuit last year.
Defensively, Miami's 15th-round pick in the 2016 Draft still has some work to do. A shortstop during his amateur career, the Marlins shifted Nelson to third, where he has made all 120 of his professional appearances in the field. He led the Grasshoppers with 19 errors in 80 games at the hot corner in 2017, although that bettered his ratio of 12 in 40 games during his pro debut in 2016. Despite his defensive hiccups, which Miami is unconcerned with at this stage, the Fish are convinced they have a pure hitter on their hands and one who could move quickly within their revamped system.
"We were very pleased with the offensive production from James, considering his age and the level he was at," West explained. "He was a juco guy [Cisco Junior College] and did what he did as a teenager against some pretty good competition. It's impossible to not be happy with what he showed us last year. With the bat speed he has and his physical strength, we believe the power will come, but he's still developing. It's something we're excited to see knowing what type of hitter he already is."
Loudest tool: Monte Harrison, OF
While Brinson was the clear target for Miami in the Yelich deal, Harrison was a close second. The Marlins' second-ranked prospect rebounded from an injury-riddled year in 2016 with an All-Star campaign last season. In his first true full season of pro ball, Harrison put together a .272/.350/.481 slash line with 21 homers, 67 RBIs and 27 stolen bases in 122 games. The Missouri native began the year with Class A Wisconsin and earned Midwest League All-Star MVP honors after homering twice and driving in three runs. Harrison was promoted to Class A Advanced Carolina two days later, on June 20. MLB.com's No. 71 overall prospect solidified his status as a player to keep an eye when he batted .283/.333/.604 with five home runs and 14 RBIs in 13 Arizona Fall League games.
Similar in style to Brinson, the Brewers' second-round pick in 2014 boasts more raw power and a build to match. Listed at 6-foot-3 and 220 pounds, Harrison generates enormous bat speed that, coupled with his tremendous strength, allows him to turn around high-velocity offerings. His swing can get long at times -- he's topped 100 strikeouts each of the past three seasons with a high of 139 last year -- but his power potential is immense.
"He's another guy we like a lot who mirrors Brinson in many ways," West said. "Monte is an extreme athlete and has a tremendous set of tools to impact both sides of the ball. He's not quite as finished a product yet as Brinson, but he has some of the highest upside in the organization. There certainly aren't many I can point to who have more upside than him."
Major League-ready: Magneuris Sierra, OF
Yet another of the Marlins' offseason acquisitions, Sierra was brought over in the deal that sent All-Star outfielder Marcell Ozuna to the Cardinals in December. Best known for his speed and defense, the 21-year-old can play any of the outfield positions with ease and a strong arm enabled him to rack up 10 assists last season in the Minors. Although he began the year with Class A Advanced Palm Beach, he earned a surprise promotion to the Majors on May 7, the first of four big league visits he made in 2017.
Sierra batted .310/.359/.317 in 22 Major League games, and in 101 games spread across three Minor League levels, he hit .270/.318/.368 with 20 stolen bases in 30 attempts. Signed by the Cardinals out of the Dominican Republic in 2012, the No. 7 Marlins prospect has shown glimpses of the type of hitter he can be, compiling a .292/.339/.378 slash line in five Minor League seasons. Although his bat still lags behind his glove, Sierra's speed and increasing ability to make consistent, hard contact projects him as a future top-of-the-order-type hitter. Having already played in "The Show," he will likely be one of the Marlins' first callups should a need arise.
"He's another outfielder we think very highly of," West said. "We've seen him a ton throughout the years, starting in the Dominican Republic and then when he came over to the [Gulf Coast League]. He caught our eye and we're certainly happy we were able to acquire him. He's a premium defender and we think he has a lot to give with the bat moving forward."
At the crossroads: Tyler Kolek, RHP
Injury -- Tommy John surgery specifically -- took its toll on Kolek, who struggled mightily in his return to action last year. The second overall player in the 2014 Draft jumped from the GCL to the South Atlantic League a year later, showing flashes but predictably struggling with his consistency.
Miami's top prospect in 2015 did not return to the mound until last July with the GCL Marlins. In five outings -- including four starts -- Kolek was roughed up for a 29.50 ERA while walking 14 and striking out one in 3 2/3 innings. Now the 28th-ranked prospect in the system, the Marlins went to work again with the 22-year-old Texas native in the offseason hoping to find the fastball that consistently sat in the mid-90s during his amateur career.
"Tyler had a rough year, but we don't think any less of him than when we drafted him," West said. "He's been pitching as good as we've seen him this spring and he's healthy. The arm strength is there, the velocity is there and his slider and breaking ball are as good as we've seen them since we drafted him. We're happy to see the way he's come into camp and gone about his business. He seems rejuvenated to be back on the field, and like us, sees this as a clean slate. I think he's going to have a very good season and surprise some people. He has a chance to take off in 2018 and put himself back on the map."


Others to keep an eye on: Sandy Alcantara will start 2018 with Triple-A New Orleans, but chances are he won't be there for long. The other chip in the Ozuna trade, Alcantara's high-octane fastball helped him jump from Double-A Springfield to the Majors last September. ... There are no professional stats to gaze upon, but Trevor Rogers has the Fish abuzz with his potential. Last year's 13th overall pick will make his debut in 2018, and his 6-foot-6 frame helps him dial up his fastball into the mid-90s. ... Not as heralded as the other two prospects who joined him, Jordan Yamamoto still brings an impressive repertoire and pedigree with him from the Brewers. The 21-year-old posted a 9-4 record with a 2.91 ERA and struck out 113 batters in 111 innings with Carolina last season.
2018 organization predictions:
Most home runs: Harrison
Most stolen bases: Brian Miller
Most strikeouts: Trevor Richards
Current prospect to get most Major League playing time: Brian Anderson
Non-Top 100 prospect to end 2018 in the Top 100: Jorge Guzman