King reigns among next wave of Yankees
New York's No. 22 prospect impresses with breakout campaign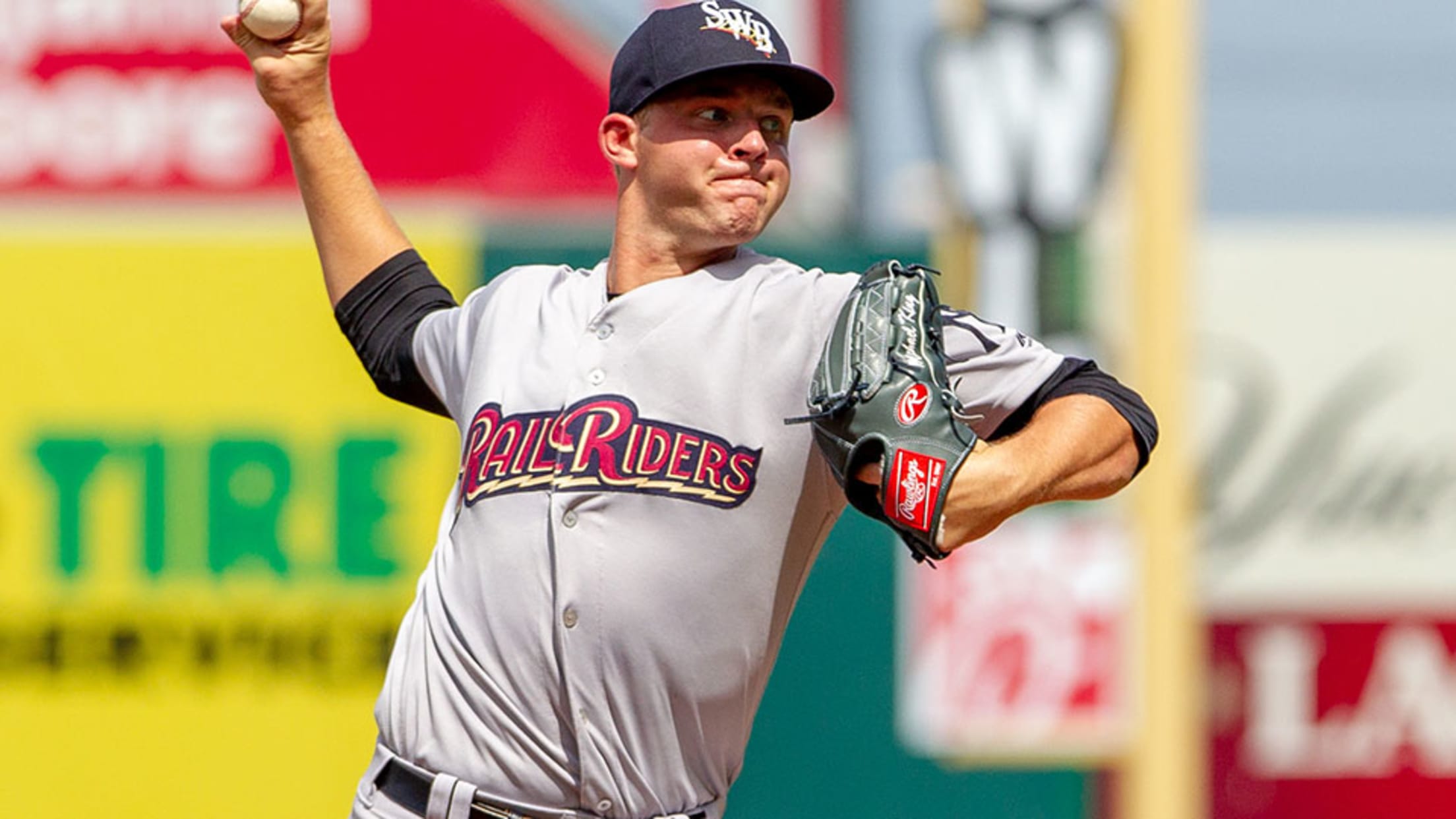 Michael King posted a 1.79 ERA and 0.91 WHIP over 161 1/3 innings across three levels this season. (Ken Jancef/MiLB.com)
Each offseason, MiLB.com goes position by position across each system and honors the players -- regardless of age or prospect status -- who had the best seasons in their organization. Click here to locate your favorite club.Remember when the Yankees claimed they were rebuilding, then made it within a game of
Each offseason, MiLB.com goes position by position across each system and honors the players -- regardless of age or prospect status -- who had the best seasons in their organization. Click here to locate your favorite club.
Remember when the Yankees claimed they were rebuilding, then made it within a game of the World Series the very next year? To the surprise of many, the process took the express lane in 2017 thanks to the emergence of homegrown players such as Aaron Judge, Gary Sanchez and Luis Severino.
An emphasis on restocking the farm system paid dividends again this season as emerging stars such as Rookie of the Year finalists Miguel Andújar and Gleyber Torres flourished in The Show. Not only that, but an abundance of young talent also helped the Yankees pull off trades that helped elevate the team's status to World Series contender once again.
Despite parting with several top-30 prospects over the last 16 months in an effort to achieve baseball's ultimate prize and end a nine-year championship drought, the Yankees continue to boast an impressive system that contained four of baseball's top-100 prospects at season's end. The organization also had two teams -- Double-A Trenton and Triple-A Scranton/Wilkes-Barre -- make it to the playoffs with the RailRiders coming within a game of the Governors' Cup.

Yankees Organization All-Stars
Catcher -- Jason Lopez, Charleston (72 games), Tampa (13 games):
Signed out of Venezuela in 2015, Lopez participated in his first full professional season this year and seemed to have little trouble with the adjustment. After appearing in 67 total games over the previous two years, the 20-year-old played in 85 games between Class A Charleston and Class A Advanced Tampa and sparkled. Lopez hit .272/.313/.430 while sporting a .743 OPS with 31 extra-base hits and 35 RBIs. Behind the plate, Lopez finished with a .994 fielding percentage and committed just four errors in 716 total chances.
"Jason really put himself on the map this year," said Yankees director of Minor League operations Hadi Raad. "He's made himself one of our higher catching prospects. He was splitting time in the beginning, but the more he played the more he improved. We always knew he could catch and throw, but now the hitting has come around, too. He really put it all together and he looks good for us right now, and we're happy with how far he's come."
First baseman -- Brandon Wagner, Tampa (87 games), Trenton (37 games):
The power stroke the Yankees have been looking for since selecting Wagner in the sixth round of the 2015 Draft was on full display this year. After clubbing a combined 19 homers over three previous seasons, the 23-year-old launched 21 dingers between Class A Advanced and Double-A. The Princeton, N.J. native posted a .267/.380/.461 slash line with an .841 OPS and drove in a career-high 67 runs while also showing a reliable glove. Wagner finished the year with a .997 field percentage over 89 games at first.
"I think the home runs really just speak for themselves," Raad said. "We've had a few coordinators say that putting up those home run numbers in the Florida State League is very impressive, so he definitely looked like the guy we thought we drafted. Now he's working really hard on trying to increase his versatility in the field, which would be huge for him and huge for us, too."
Organization All-Stars by MLB affiliate »
Second baseman -- Bruce Caldwell, Trenton (74 games), Scranton/WB (48 games):
The Yankees signed Caldwell on March 30 after the 26-year-old spent the first six years of his professional career in the Cardinals organization. In 122 games between Double-A and Triple-A, Caldwell hit .258/.342/.404 with 41 extra-base hits -- including tying a career-high with 30 doubles -- 57 RBIs and 53 runs scored. The 2012 15th-rounder was shuttled between the Eastern League and International League for most of the season as he played four different stints with the RailRiders, leaving his mark with an extra-inning grand slam to seal a 7-2 playoff victory.
"Bruce is a guy who can play anywhere, and we used him where we needed him between Double-A and Triple-A, and he was huge for us," Raad said. "He put together great at-bats all year, the coaches love him and he really saved us at times. I feel like he really found his niche there with us."
Third baseman -- Mandy Alvarez, Tampa (9 games), Trenton (99 games): Despite his season being cut short on Aug. 17 due to an injury, Alvarez put together his best season yet. The 24-year-old lasted just nine games at Class A Advanced before getting bumped to Double-A, where he continued to thrive. Without a homer all of last season, Alvarez clubbed a career-best 13 long balls, and he also turned in his first multi-homer game on July 3 with the Thunder. Four days later, the Eastern Kentucky product was named an Eastern League All-Star to replace teammate Abiatal Avelino -- who was promoted to Triple-A. Alvarez posted a .256/.314/.438 slash line and career highs with 56 RBIs and 99 hits.
"Ever since we drafted him all Mandy has done is hit. He's a pure hitter, he's a gamer and I don't know too many people who want to win more than he does," Raad said of the 2016 17th-rounder. "He really put together a great year for us, and it was disappointing when his season got cut short. But he's the type of kid who's not going to let himself fail, so we're just focused on getting him healthy again so that he's good to go next season."
Shortstop -- Diego Castillo, Tampa (120 games): The 21-year-old out of Venezuela continued his rapid ascension through the Yankees system with a full season in the Florida State League, where he didn't miss a beat. Castillo set career bests with 51 RBIs, 24 extra-base hits and 11 stolen bases. He also sported the lowest strikeout rate in the FSL while finishing third in the circuit with 122 hits (one behind teammate Isiah Gilliam). Castillo was also named to the FSL All-Star Game and earned MVP honors after leading the North Division to a 5-0 victory.
"Diego was playing very young for the FSL, but he's always been young for his level, and he still goes out there and makes every play," Raad said. "He's a great competitor, he's got great hands -- he can really play short -- and he put together a great year in Tampa for us. We're just working on getting him a little stronger, but he can do it all. His defense is outstanding, and his contact rates are awesome -- he's got a great eye at the plate. We're really excited about him."
Outfielders
Dom Thompson-Williams, Charleston (10 games), Tampa (90 games): Although Thompson-Williams is no longer with the organization after being included in last week's trade to the Mariners for left-hander James Paxton, the 23-year-old led all Yankees prospects with 22 dingers and was tied with Trey Amburgey for the lead in RBIs with 74. The 2016 fifth-rounder hit .299/.363/.546 in 100 games, while his 65 RBIs with Class A Advanced Tampa ranked fifth in the circuit. Thompson-Williams also received Player of the Month honors for August.
"We always knew his offensive potential, and I think he really put it together this year and surprised a lot of people," Raad said. "We knew he was a great player, but those numbers were ridiculous. It's like he got on a hot streak and then it never stopped. I have to say, we're very happy for him and we hope he gets a good opportunity [in Seattle]. He's got the ceiling to be an everyday Major League player."
Trey Amburgey, Trenton (125 games): Amburgey makes his second appearance as a Yankees Organization All-Star, but his first since his rookie campaign in 2015. After breaking onto the scene, the former 13th-rounder was derailed by injuries in 2016. The 24-year-old got his first full season under his belt last year with Class A Advanced Tampa, and with a clean bill of health appeared to regain his form in Double-A this season. Along with finishing tied for the lead among all Yankees prospects with 74 RBIs, Amburgey set career highs in homers (16), doubles (25), extra-base hits (43), hits (124) and runs (65). He was also named an Eastern League midseason and post-season All-Star.
"Trey's calling card is his bat, and he's got a lot of juice in there," Raad said. "I don't want to take anything away from his defense -- he's a great defender -- but he's just got great barrell awareness and he does a lot of damage against left-handed pitchers. That's really his bread and butter. I think he really got it together in the second half and just took off."
Ben Ruta, Tampa (83 games), Trenton (36 games): After battling injuries in 2017 and only appearing in 53 games, Ruta proved to be a complete player in 2018. The 24-year-old split time between Class A Advanced Tampa and Double-A Trenton, hitting .300/.350/.441 with a .791 OPS and 40 extra-base hits in 119 games. The 2016 30th-rounder played all three outfield positions and in 150 total chances he committed one error while picking up three assists.
"Ben just put together a really good year all around," Raad said. "He's a great player and incredible hitter. He's a pitcher's nightmare to throw to. He's another guy with great barrel awareness and he uses the whole field -- he can spray the ball everywhere. He's got pull-side power, can slap it the other way and he's great situationally. He just gets hits, that's what he does."
Honorable mention, Zack Zehner, Trenton (32 games), Scranton/WB (87 games): Zehner continued to show that he's reliable wherever he is playing. Getting his first action in the International League, the 26-year-old continued to produce at the plate and finished the year hitting .270/.339/.459 with a .798 OPS and career-best 14 homers while driving in 63 runs.
"Zack is a big, strong guy who puts the ball in play with some authority," Raad said. "I think we pushed him a level to Scranton and he rose to the challenge. He really put together some nice numbers there, and to go there and perform like that isn't easy, and he did it."
Utility -- Ryan McBroom, Trenton (25 games), Scranton/WB (96 games): McBroom joined the Yankees organization last year from the Blue Jays in a deal that sent Rob Refsnyder to Toronto, and the 26-year-old has been hitting consistently ever since. He was on the shuttle between Trenton and Scranton this season but continued to produce at both stops. He finished the season with a .302/.348/.458 slash line and .806 OPS. The 2014 15th-rounder delivered 40 extra-base hits and drove in 60 runs. McBroom also put his defensive versatility on display, appearing in 65 games at first, 36 games in right field and nine games in left.
"We asked Ryan to do a lot of different things for us this year and he really produced," Raad said. "He played a good outfield, we know about his glove at first, he's athletic and he's another guy with a lot of juice in his bat. He kind of reminds me of a Tyler Austin-type. He's got power the other way and he can put the ball deep into the seats. He bounced back and forth some, and he continued to produce at both levels."
Right-handed starter -- Michael King, Tampa (7 games), Trenton (12 games), Scranton/WB (6 games): Considered a "throw in" in the deal that sent pitcher Caleb Smith and outfielder Garrett Cooper to the Marlins last November, the No. 22 Yankees prospect made a thunderous opening statement with his new organization. The 23-year-old right-hander climbed three levels and could be knocking on the door of The Show come Spring Training. The Boston College product amassed a 1.79 ERA over 161 1/3 innings with an 11-5 record and 0.91 WHIP. A MiLBY Award winner in 2018, King fanned 152 while walking 29 and twirled his first nine-inning shutout for the Thunder on June 30.
"The numbers he posted are absolutely insane. If you watch him pitch, which I did a few times this season, the type of command he has of his fastball is ridiculous," Raad said. "He paints corners with his fastball, he's got a two-seamer with late, comeback life against lefties and his secondary stuff is coming around, too. He's fearless. He throws a ton of strikes, and anytime he took the mound you had a chance to win the game and, actually, you probably won that game."
Left-handed starter -- Justus Sheffield, Trenton (5 games), Scranton/WB (20 games), New York (3 games): Another player no longer with the organization, Sheffield proved throughout the season why he was rated as New York's top prospect. Sent to the Mariners in the aforementioned Paxton deal, the 22-year-old posted a 2.48 ERA in 25 games between Trenton and Scranton with 123 strikeouts over 116 innings. He also appeared in the Future's Game in Washington D.C. The 2014 first-round selection was called up to The Show on Sept. 18 and made his Major League debut in the Bronx the next night out of the bullpen.
"Justus is another guy we wish we could have kept, but we wish him the best. Every time he took the mound, he had the potential to put up monster numbers," Raad said. "He's got as good of stuff as anybody out there. He's got a power fastball, a wipe-out hammer slider, a change-up that was coming around. He really did a great job for us."
Relief pitcher -- Stephen Tarpley, Trenton (19 games), Scranton/WB (17 games), New York (10 games): Tarpley is not only another prospect who got his first taste of The Show this season, but the 25-year-old made a case for staying there. Acquired by the Yankees on in August 2016 from the Pirates, the left-hander spent substantial time on the disabled list last season before showing what he could do with a clean bill of health this year. Taken in the third round in the 2013 Draft by the Orioles, Tarpley dominated the Eastern and International leagues -- posting a 1.94 ERA and 0.96 WHIP in 36 relief appearances with 71 punchouts to 26 walks over 69 2/3 innings -- before making his Major League debut Sept. 2. The Los Angeles native allowed three runs on six hits and six walks while striking out 13 over nine frames with New York.
"Tarp is a cool story. I saw him pitch with Pittsburgh before we traded for him and I thought he had some potential. He showed a nice three-pitch mix. But then, when I got the chance to see him in Spring Training with us this year, I was blown away," Raad said. "I was like, this is not the same guy I saw in Pittsburgh. The sink he has to his fastball, it's like bowling ball action -- he's just a ground ball machine. Anyone with that kind of action is going to get a long look for a big-league bullpen."
Honorable mention, Joe Harvey, Trenton (5 games), Scranton/WB (38 games): The Yankees recently added Harvey to their 40-man roster to protect him for the Rule 5 Draft in December, and for good reason. The 26-year-old posted a 1.67 ERA and 0.99 WHIP over 59 1/3 innings (54 1/3 with Scranton) with 68 whiffs to 25 walks. The right-hander also held opponents to a .165 batting average in 43 games.
"Joe is probably the best competitor we have out there. As soon as he takes the mound, he's going right after guys," Raad said. "He's got a power fastball that's as good as anybody's, and he blows guys away with it. He's consistently 95-98 mph with it, but he can touch triple digits, and he's got a wipe-out slider that he's working on throwing with consistency. He always had this potential -- I remember seeing him blowing guys away when he was down in Charleston -- but I think he put it all together this year and we really didn't want to lose him."
Rob Terranova is a contributor to MiLB.com. Follow him on Twitter, @RobTnova24.