Milburn racking up K's in return to starting role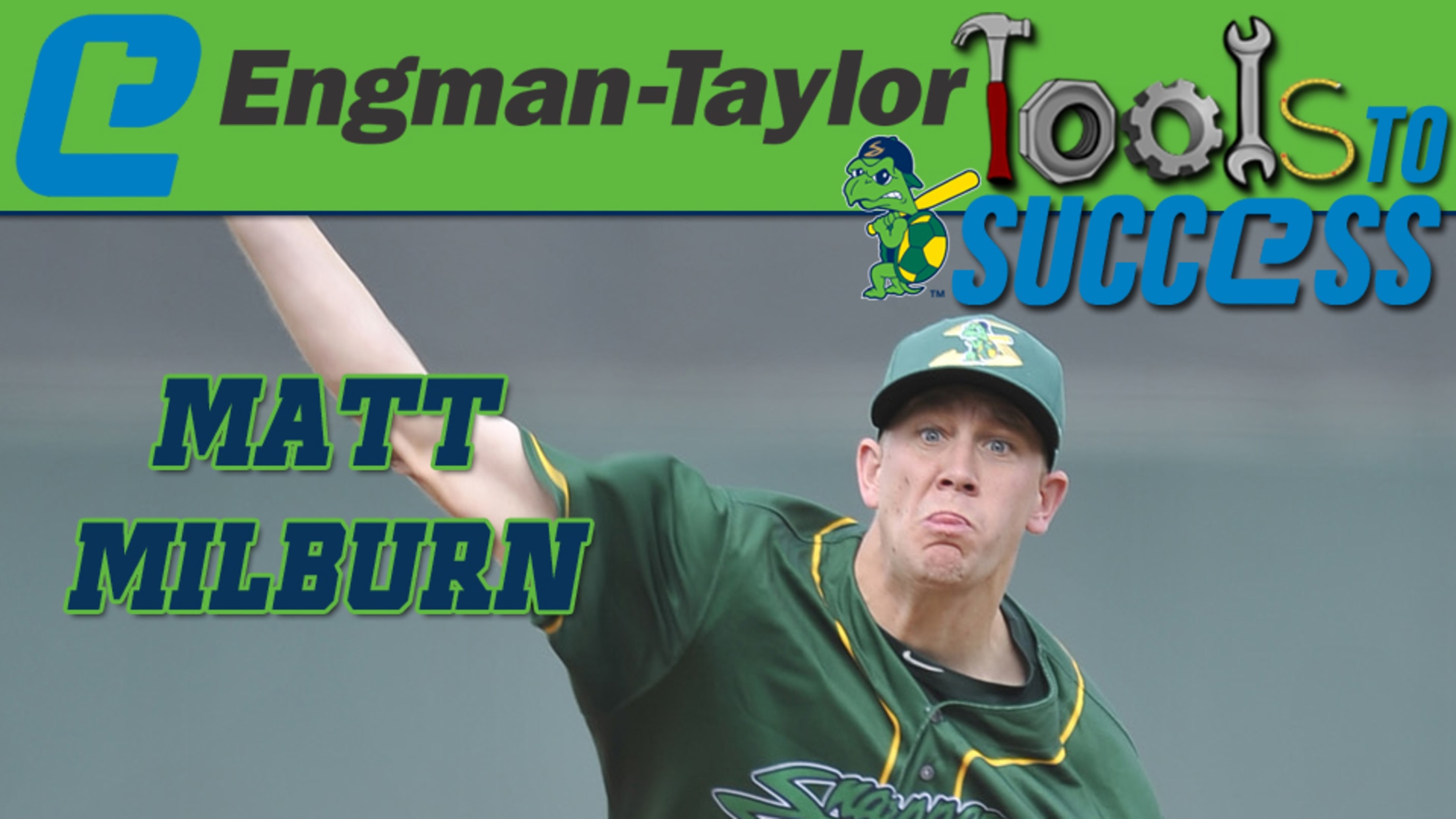 Similar to their 2016 season, the Snappers' starting pitching has been fantastic once again in 2017. Their rotation is a major factor in Beloit's 3.48 team ERA, which ranks fifth in the Midwest League. While the Snappers have seen starters such as Brandon Bailey and Athletics No. 11 prospect Dakota
Similar to their 2016 season, the Snappers' starting pitching has been fantastic once again in 2017. Their rotation is a major factor in Beloit's 3.48 team ERA, which ranks fifth in the Midwest League. While the Snappers have seen starters such as Brandon Bailey and Athletics No. 11 prospect Dakota Chalmers light up the radar gun and rack up strikeouts in 2017, there are other success stories on the staff that aren't as flashy and have flown under the radar as a result.
Among them is right-hander Matt Milburn, who leads all Snappers pitchers with 84 2/3 innings on the season. His 5-6 record and 4.36 ERA might look pedestrian at first glance, but those numbers aren't the most accurate representation of Milburn's performance.
Oakland selected the 23-year-old Dallas native in the 29th round of the 2016 MLB Draft. Milburn played collegiately at Wofford College (Spartanburg, S.C.), where he posted an encouraging 8.17 K/9 in 338 innings over his four-year career.
His first professional action split between the A's rookie league affiliate in Arizona and Short-Season A Vermont in 2016, Milburn primarily served as a reliever, a new role for him. He pitched to a 4.66 ERA over 36 2/3 innings, although his peripheral numbers were beyond impressive. Milburn struck out 44- good for a 10.8 K/9- against just two walks.
Milburn's first taste of Class A ball has been a mixed bag thus far, though his occasional inconsistency can be attributed to another change in role.
"I was a starter in college, and my first pro season I was a reliever, so I had to get used to doing that," he said. "Now I'm a starter again, so I'm transitioning back to that. I have no preference [for either], just whatever can help me move up the ladder."
It appears his conversion back to starting pitcher is complete. After posting a 5.58 ERA prior to the All-Star break, Milburn has turned it up in the second half. He's won three of his four starts since the All-Star break while posting a miniscule 1.44 ERA and striking out 32 over 25 innings.
"I've been more aggressive and more middle of the strike zone," Milburn said of his recent dominance. "Just trying to attack hitters early, because when I get in jams, it would always be because I was trying to be too fine with pitches, instead of just going after the hitter. My put-out pitches have been pretty good for strikeouts during this run as well."
Milburn's run was punctuated by a seven-inning, 12-strikeout gem in which he gave up just a run on three hits in Clinton, his first start after the All-Star break.
"That game was probably my most memorable [to date]," he said. "I'd never struck out that many guys in my life; I think the most I had in college was 10 in a game. That was great."
Milburn features an advanced repertoire for a Class A hurler. He throws both a four-seam and two-seam fastball, ranging between 88-92 MPH, as well as a cutter in the mid-to-upper 80s, which he added this past spring training. His assortment of off-speed pitches includes a change-up that hovers around 78-81 and a slider in the low 80s.
"[My slider is] definitely my most comfortable pitch," Milburn said. "I've been throwing that really well in pro ball. I didn't have it until my senior year of college and now it's been my go-to pitch."
Milburn's diverse arsenal has likely contributed to his high strikeout rate throughout his professional career, including his 9.7 K/9 with Beloit thus far this season.
"In college, I considered myself a contact pitcher for sure," he said, "and then it just turned into me being able to strike guys out, and now I would consider myself a strikeout pitcher- with [a two-strike count]. I would say with four or [fewer] pitches in the at-bat, I would consider myself a strikeout pitcher, but after that I flip my mindset to going for contact, try to limit my pitch count."
Milburn hopes to remain healthy and finish his first full season as a professional on a strong note.
"A goal for me coming into this season was to have a solid full season, stay healthy throughout the whole season, and I've done that so far," he said. "That's something I strive to do, and not really worry too much about stats, just how I feel performing everyday and working hard everyday."