Around the Minors: The week of May 31
Sights and sounds from action across Minor League Baseball
Another scary moment Three days after Rays pitcher Tyler Zombro was hospitalized after being struck in the head by a line drive in Durham, Eli Lingos was hit in the face by a line drive during Double-A Akron's game. Manager Rouglas Odor reported postgame that the Cleveland prospect walked off
Another scary moment
Three days after Rays pitcher Tyler Zombro was hospitalized after being struck in the head by a line drive in Durham, Eli Lingos was hit in the face by a line drive during Double-A Akron's game. Manager Rouglas Odor reported postgame that the Cleveland prospect walked off the field under his own power and he had spoken with Lingos while his pitcher awaited results of a CT scan at the hospital.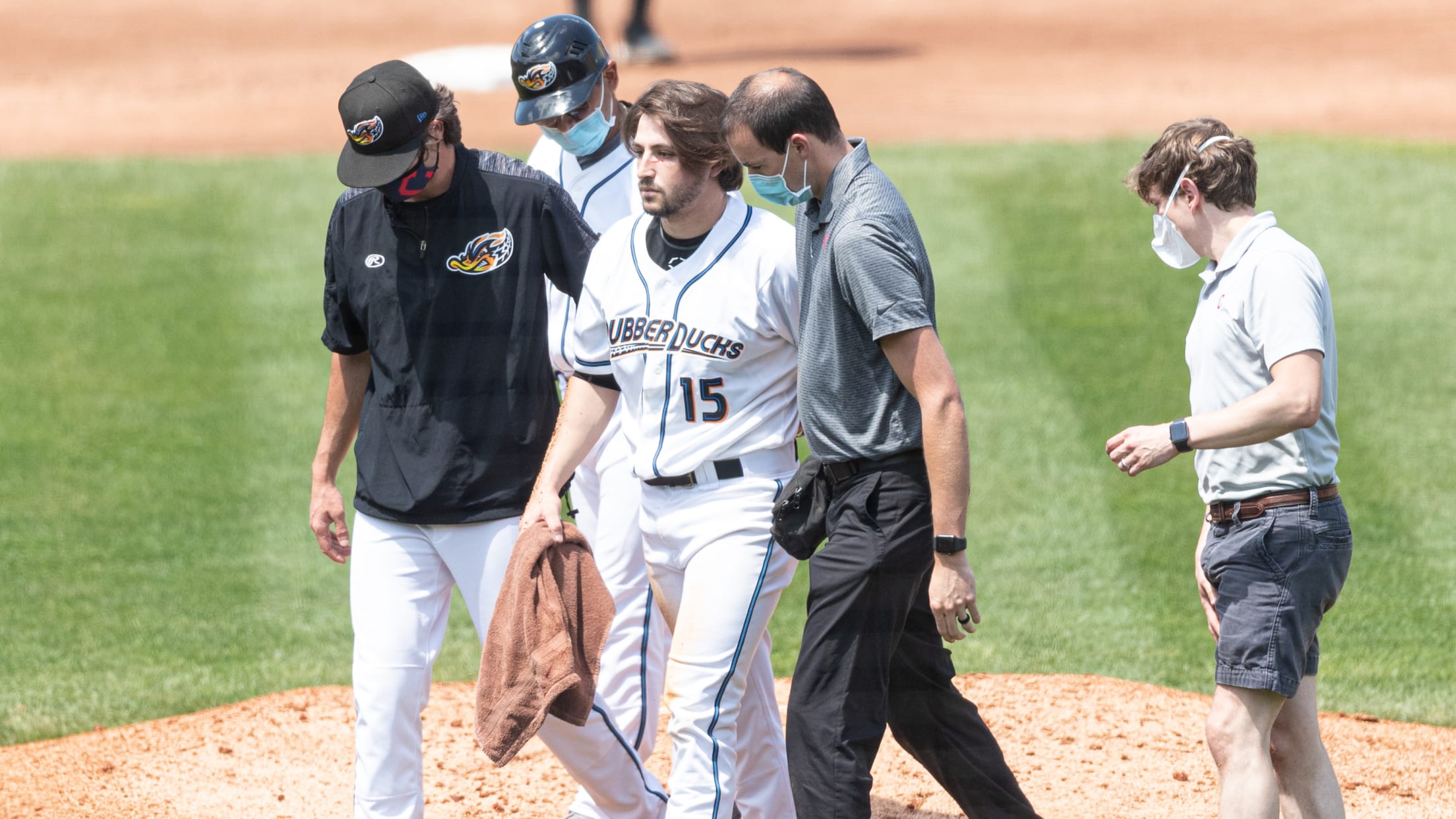 Post-Game update from RubberDucks Manager Rouglas Odor on today's SP Eli Lingos: pic.twitter.com/1wrZG0kIb0

— Akron RubberDucks 🐤 (@AkronRubberDuck) June 6, 2021
He's a people person
The No. 1 prospect in the game may be on the fast track to The Show but Wander Franco still takes time to show some love to the fans, mixing and mingling in the stands at Triple-A Durham's game against Norfolk.
Wander no longer, the top prospect in baseball does take time out to sign for fans. pic.twitter.com/PupV6gTaOF

— Minor League Baseball (@MiLB) June 6, 2021
Things that make you go 'Wahoo'
It was 15 up, 15 down for Marlins' No. 24 prospect Jake Eder. The Double-A Jacksonville left-hander struck out eight Mississippi batters in the process to decrease his ERA to 0.61.
Good things come in threes
Fifth-ranked Marlins prospect Lewin Diaz seems to have enjoyed the turn of the calendar to June. He's marked that occasion by homering in his third straight game for the Triple-A Jumbo Shrimp.
Adley gets acclimated
The No. 2 prospect in baseball has homered in back-to-back games for the second time this season. Adley Rutschman has gone yard eight times for the Double-A Baysox.
A new role for Frasier
Now everyone knows more than just Kelsey Grammer's name. The longtime star of "Cheers" and its spinoff "Frasier" put the first pitch over the plate for the Yankees' Double-A affiliate Somerset.
Cheers to Frasier star @KelseyGrammer with a perfect strike from the mound! 🍻 pic.twitter.com/x6GbnBfWrT

— Somerset Patriots (@SOMPatriots) June 6, 2021
The ultimate prize?
Although Aaron Barrett has a world championship as a member of the 2019 Nationals, there's nothing like the feeling of having your own bobblehead. The right-hander, currently with Washington's Triple-A affiliate Rochester, has been commemorated with a bobblehead by Double-A Harrisburg.
Can't believe I have my own bobblehead... pic.twitter.com/qMOPwdZfDl

— Aaron Barrett (@aaronbarrett30) June 6, 2021
Just like 1-2-3 ... or 5-4-3
Even though the Braves' Triple-A affiliate ultimately lost Saturday, the Stripers did hit a milestone -- the Stripers' Johan Camargo, Jason Kipnis and Travis Snider turned three against the Jumbo Shrimp.
June 5
Racking up K's
Reid Detmers has only made six professional starts since being selected with the No. 10 overall Draft pick last year, but the southpaw is making an immediate impression. Detmers tied a career-high with 10 strikeouts over five innings for Double-A Rocket City, bringing his total to 40 whiffs over 25 career frames.
Porch flex
Bobby Witt Jr. launched his ninth homer of the season to the top level of the home run porch in left field. The blast put the Naturals on the board, and then the 20-year-old got an assist on the style points from the dugout after crossing home.
¡Adios Pelota! 👋⚾️#LosNaturales cut the Tulsa lead in half on @BwittJr's 9th homer of the season! Ties him with teammate Nick Pratto for the league lead 😎 pic.twitter.com/kkdTZdcGgu

— NW Arkansas Naturals (@nwanaturals) June 6, 2021
Power Bee
Jo Adell not only found his power dial of late, the Angels outfielder has it locked on max. Adell homered for the third time in two games (and it's still only the first inning) to extend his Minor League-leading dinger lead to 15 with Triple-A Salt Lake.
Straight perfection
Tying the longest start of his career thus far, Rafael Marcano did not allow a baserunner through five frames for Low-A Clearwater. The Phillies prospect, who has been bouncing between the bullpen and the rotation this season, lowered his ERA to 0.90 in 20 innings pitched. The Threshers lost the bid for perfection in the sixth.
Rafael Marcano was straight perfection.

The #Phillies prospect now has an 0.90 ERA in six games for Low-A Clearwater. pic.twitter.com/U4Zwg24r6b

— Minor League Baseball (@MiLB) June 6, 2021
Express check-in
Gabriel Moreno clobbers a ball off the hotel in left-center field for Double-A New Hampshire and immediately finds himself in elite company. He is the first Fisher Cats player to do it since Vladimir Guerrero Jr.
GABRIEL MORENO!!! OFF THE HOTEL!!

First Fisher Cat to do it since Vlad Jr. in 2018.

Wow. pic.twitter.com/P8RZhyd5DM

— Gatos Feroces de New Hampshire (@FisherCats) June 5, 2021
Blowing out the candles
A very happy 22nd birthday to 2017 No. 1 overall Draft pick Royce Lewis. The top Twins prospect is currently on the 60-day injured list, but we can't wait to welcome him back to the field soon.
Happy Birthday, Royce Lewis! 🎂🎉🥳

We can't wait to watch you rake again. pic.twitter.com/t6S7xu6OsG

— Minor League Baseball (@MiLB) June 5, 2021
Teamwork makes the dream work
There are good starts, and then there's what Triple-A Rochester did on Saturday afternoon against Worcester. Less than 18 hours after being upended 12-1 by the WooSox, the Red Wings came to play.
Here's how the 1st inning started for us in Worcester...
1B
1B
1B
1B
2B
HR
HR
HR

The first 8 batters of the game score, capped by back-to-back-to-back homers by Brandon Snyder, Rafael Bautista, and Blake Swihart.

It's 11-0 Red Wings through 2 innings.

— Rochester Red Wings (@RocRedWings) June 5, 2021
June 4
Alone at the top
Jo Adell connected with his second dinger of the game -- this one cleared the wall in right -- and took sole possession of the Minor League home run lead with 14.
Standing Up 2 Cancer
The Low-A Fresno Grizzlies and all in attendance at Chukchansi Park took their stand against cancer together on Friday night.
MOMENTS AGO - all of Chukchansi Park stood as one in the fight against cancer as part of @SU2C Night presented by Premier Valley Bank. Learn more about Stand Up To Cancer at https://t.co/VsYt0qwDcA pic.twitter.com/VfsgdH0L3d

— Fresno Grizzlies (@FresnoGrizzlies) June 5, 2021
Jeterian effort
Isaac Paredes does his best Derek Jeter impersonation with this leaping jump throw from deep in the hole behind second to get the out for Triple-A Toledo.
Buzzing Bee
Think Jo Adell isn't champing at the bit to get back to The Show? The outfielder demolished his league-leading 13th dinger to a different area code for Triple-A Salt Lake on Friday night.
Not today, Andy
Padres farmhand John Andreoli covers a lot of ground from center and makes the leaping catch in left-center to rob a home run and take away RBIs from Andy Ibanez.
Andreoli, Andreoli, give me that robber-oli pic.twitter.com/UELl9PYeOm

— Minor League Baseball (@MiLB) June 5, 2021
Milestone night
Cardinals prospect Brady Whalen mashed a trifecta for his first career three-homer game. The 2016 12th-round Draft selection also tied a career-best, driving in six runs to power the 11-4 rout by High-A Peoria.
That's a good boy
It was a familiar and welcomed sight for Trenton Thunder fans as Rookie the bat dog returned to action for the first time in nearly two years. And, yes, he is still such a good boy.
My first retrieved bat since our Championship Game in September 2019. That was so much fun. Can't wait to do it all again tomorrow. Plus @TrentonThunder won game one of the doubleheader. pic.twitter.com/DbIGTebk42

— Rookie (@BatdogRookie) June 5, 2021
Delivering the goods
From Amazon delivery driver to being back on the bump, Twins' right-hander Rob Whalen made his first start in three years for Triple-A St. Paul on Friday and delivered three hitless frames with a trio of strikeouts.
Making his first start since 2018, @StPaulSaints hurler @RobWhalen38 strikes out the rehabbing Joey Votto as part of three hitless frames.

📦 https://t.co/4XCbGoeQ20 pic.twitter.com/CapJiCq7bq

— Minor League Baseball (@MiLB) June 5, 2021
June 3
Best wishes for Zombro
Minor League Baseball sends our thoughts and prayers to Tyler Zombro and his loved ones. The Rays hurler was hospitalized after being hit in the head by a comebacker in the eighth inning of the Bulls' game with Norfolk. Tampa Bay later reported he was in stable condition at Duke University Hospital in Durham.
Tonight's game has been suspended in the 8th inning after Bulls pitcher Tyler Zombro was hit by a batted ball.

Prayers to @T_Zombro24

— Durham Bulls (@DurhamBulls) June 4, 2021
Fine company
Nashville has matched a franchise record with its 15th straight win. The Brewers' Triple-A affiliate tied the 1999 and 2018 Sounds squads. The 1999 team had a 15-game winning streak from June 2-20. In 2018, the Sounds won 15 consecutive games from July 29-Aug. 14.
WWWWWWWWWWWWWWW! The Nashville Sounds top the Charlotte Knights and tie the franchise record with their 15th straight win! The team is in the history book along with the 1999 and 2018 teams that also put together 15-game winning streaks. The boys will go for the record tomorrow! pic.twitter.com/EHNTCLdzgy

— Nashville Sounds (@nashvillesounds) June 4, 2021
It's tougher than it looks
MLB's No. 31 prospect Nolan Gorman shows off his glove at second base for Double-A Springfield, making a sliding stop and getting the runner at first base.
Hang on to that one
A couple of young fans scramble to get the ball after baseball's No. 3 prospect Spencer Torkelson smashes one almost 450 feet onto the berm in the first inning for the High-A Whitecaps.
June 2
'He's running wild'
There was no slowing down David Hamilton on the basepaths. The No. 27 Brewers prospect tripled his previous career high with six stolen bases for the High-A Timber Rattlers against the Chiefs. Hamilton has nabbed 19 this season.
Sounds like a winning attitude
The Brewers' Triple-A affiliate stands one victory short of matching the franchise's longest winning streak after Nashville took its 14th straight on the strength of a fine starting performance by Zack Godley and the first Triple-A save by Jake Cousins.
WWWWWWWWWWWWWW.
This. Team. Won't Stop. 14 wins in a row with a 7-4 final in Charlotte. Jake Cousins records his first Triple-A save, Zack Godley wins it, and the Sounds keep rolling. Let's hear it for our guys!

— Nashville Sounds (@nashvillesounds) June 3, 2021
No shortage of defense either
On a night in which Greenville put 13 runs up on the board, Boston's High-A affiliate took care of business on the other side of the ball too. Red Sox infield prospect Nick Sogard dives for the ball and makes a pinpoint throw to get Asheville's Freudis Nova at first base in the eighth.
That didn't take long
Top Kansas City prospect Bobby Witt Jr. only needed to see one pitch to send his eighth home run of the year out of the yard for Double-A Northwest Arkansas.
One Mississippi, two Mississippi, three Mississippi
Two at-bats, two home runs for Shea Langeliers. After a slow start to the season, the third-ranked Braves prospect has been coming on strong for Double-A Mississippi over the past week. And the proof of that lies in the first three-homer game of Langeliers' pro career.
On the scene
Sam Dykstra headed to Hartford to take in the Double-A debut of Baltimore's top pitching prospect Grayson Rodriguez for Bowie. The MiLB.com reporter quickly got an eyeful of some triple-digit action at Dunkin' Donuts Park.
Grayson Rodriguez looked even more settled in his second inning. Climbed the ladder to hit 100 on his first Double-A K.

Last batter swung and missed at three straight pitches: 86, 85, 99

10 pitches, 7 strikes, 4 swings and misses in that frame

Only 21 pitches through two

— Sam Dykstra (@SamDykstraMiLB) June 2, 2021
Count us in
Minor League Baseball wholeheartedly supports Lou Gehrig Day. His legacy and the ongoing fight against ALS are important to all across the entire professional baseball landscape.
On MLB's inaugural #LouGehrigDay, we celebrate the life and legacy of "The Iron Horse" and pledge to continue supporting the ongoing fight against ALS. pic.twitter.com/XTHyqBNu0r

— MLB (@MLB) June 2, 2021
June 1
That's more than luck
The Brewers' Triple-A affiliate reeled off their 13th straight victory. The Sounds have outscored their opponents, 84-42, since starting the run on May 18.
WWWWWWWWWWWWW! That is 13 straight for the Sounds! @Luke_Barker17 comes in and closes out a tight 6-4 Sounds win in Charlotte. Two wins shy of matching the franchise record!

ARE YOU NOT ENTERTAINED!? pic.twitter.com/J9TMYSJ5by

— Nashville Sounds (@nashvillesounds) June 2, 2021
That's why he's No. 1
For the second time this season, baseball's top prospect Wander Franco has put together a four-hit game for Triple-A Durham. The latest came against Norfolk as Franco tallied three singles, a double, three RBIs and a run to raise his average to .299.
Speaking of a dozen...
Double-A Bowie left-hander Cameron Bishop fanned 12 Hartford batters over five scoreless innings. The left-handed Baltimore prospect allowed two hits and two walks while lowering his ERA to 4.43.
Lucky break
After breaking his bat two pitches earlier, Angels outfielder Jo Adell goes oppo for his Minor League-leading 12th homer of the season for the Triple-A Bees.
The first of many?
Fourth-ranked Mets prospect Brett Baty parks his first home run of the season for High-A Brooklyn. Even without any long balls, the infielder came into the game Baty-ing .317 over the first 18 games of the season.
May 31
This Giant is not sleeping
After going hitless for two games, top Giants prospect Joey Bart went 4-for-8 over the next two for the Triple-A River Cats to improve his slash line to .378/.429/.667.
Lucky 13
Cal Raleigh just keeps hitting for Triple-A Tacoma. Seattle's No. 8 prospect collected three more knocks -- including a double -- to raise his average to .361 and extend his hitting streak to 13 games.
Beyond the game
Remembering to stop and honor those who have fought so we can have the opportunity to play and watch the game of baseball takes on a particularly heartfelt sentiment on Memorial Day.
Beyond grateful.#MemorialDay pic.twitter.com/Q96HdSAXmW

— Minor League Baseball (@MiLB) May 31, 2021
The week that was
There was lots of action on both sides of the ball last week, pitchers throwing no-hitters and batters racking up three-homer games. Check out all that -- plus always-welcome doggos and more -- here.